Showcase
For better or worse, we get back to basketball
Sorry for the late letter today. Life gets in the way of this sometimes. In store:

---
Sports are good for a lot of things in life, including serving as a distraction from whatever it is that we don't want to think about.
Last night, the Knicks were back, and although I wasn't really looking forward to the game much throughout the day, I was excited as tip off approached (as I folded my daughter's laundry right up until about 7:05, funny enough).
The game started well enough, with the Hornets playing like a team that had lost eight games in a row and the Knicks playing like a team that was supposed to beat a team that had lost eight games in a row.
For a moment, I was sucked back into the place we've all visited throughout the year. We could again see the version of this team that the front office envisioned when it was assembled this summer, with Julius Randle as an efficient battering ram and Marcus Morris as his sidekick.
Just a few possessions after he checked into the game, Mitchell Robinson got an alley oop from Randle. Kevin Knox opened the second quarter scoring with a smooth midrange J that would have made Kobe proud, and then followed it up with maybe his best back to back defensive possessions of the season:
The Knicks were up 30-17 and feeling good, as were we, with our minds away from the tragic reality of life.
But tragedy is never far away with this team, and Charlotte outscored New York by 18 points the rest of the way, holding the Knicks to 62 points over the final 34 minutes of play. From the 5:43 mark of the third quarter, when Taj kicked out to Reggie Bullock for an open three, to the 5:52 mark of the fourth quarter, the Knicks had one assist.
One.
That, more than anything, defined not only this game, but why this season has been so frustrating, and why a welcome distraction turned into a reminder about how entrusting this team to the powers that be no longer seems like a cogent plan.
Let's hit some specifics.
One Big Thing
Dennis Smith Jr. played for the second time since returning from an oblique injury that kept him out for nearly a month. Unlike the three-and-a-half-minute stint against the Lakers last week that arguably lost New York that game, Smith looked spry for a good portion of last night. He got to his spots, was moving well, and even snuck into the paint for a few offensive rebounds that resulted in second chance points, including one that evoked memories of the Dallas rookie who looked like he might be a future star:
But there were other moments – including the "what the hell???" turnover that got him yanked from the game in the fourth - that made you remember why the Knicks have been outscored by 18.2 points per 100 possessions in the 357 minutes Smith has played this season.
Those moments weren't what annoyed me about last night though. It was the fact that Smith came out like a man looking to prove a point, and yet there have been so, so many nights this season where he looked like a player who had no point being anywhere near a basketball court.
We don't know for sure whether last night was a showcase game, and if that's why DSJ saw 15 minutes of action and Frank Ntilikina – coming off of one of his better games this season – saw none, at least until Mike Miller got desperate late.
But listening to Miller's postgame explanation for his backup point guard minutes' distribution (some poppycock about back to back games against penetrating guards - it would have David Fizdale proud) it was pretty clear that there was no actual basketball reason for the decision, and this was all about showing off Smith Jr. for a potential trade. Mike Breen himself used the word "showcase" twice on the telecast.
Smith Jr. certainly knew that, and he played like it. I reported earlier this season that Smith wanted out, and that the front office had agreed to try and accommodate him. That's fine. No one should have to play someplace they don't want to be.
But last night (along with both Dallas games this season), we were reminded that DSJ has far more in the tank than he's shown for much of this year.
And that is not ok.
I can't say for sure whether the Knicks lost Smith mentally the moment he wasn't handed the starting point guard job to begin the season, but such a theory would certainly seem to be borne out by the visual evidence. Such a player has no place getting minutes, even if those minutes are designed to help move him, not when other guys have been consistently showing effort and putting in the work all year long.
Speaking of which…
Humble Suggestion
How many times do I have to see Mitchell Robinson sprint like a gazelle up the floor and get in position for an easy lob, only for the ball handler to fail and get him the rock? Five times a night? Ten? I legitimately lost count yesterday.
I get that defenses are adjusting. I know the Knicks don't have a truly gifted passer who can thread the needle (although Frank is damn close). I hear everyone who thinks that Robinson needs to diversify his game so that he's more than just a lob threat (although once again, maybe giving him an opportunity or two to show what he can do on the short roll would shut everyone up on this front).
But there is no acceptable world where Julius Randle, Marcus Morris, Elfrid Payton, Bobby Portis and Reggie Bullock combine for 64 shots and Mitch ends the game with two - two - field goal attempts in 26 minutes.
If the Knicks were using the threat of Mitch to open up the offense elsewhere, fine. But they scored 92 damn points last night against a team with the 26th ranked defense in the NBA.
C'mon.
Last Thought
There are 81 players in the NBA averaging over 20 minutes a game with a usage rate of 23 or higher. Only five of them have both assist percentages and assist ratios that are under eight.
Of those five, three (John Collins, Jaren Jackson Jr. and Marvin Bagley III) are all young players who don't do a ton of ball handling, and either fire away from outside or get after it down low.
The other two are Kristaps Porzingis and Marcus Morris.
Julius Randle is the other Knick with a usage rate this high, and his advanced assist statistics (16.7 ast%, 13.2 assist ratio) aren't exactly anything to write home about either, especially when compared to other players around the league not exactly known for being the most adept passers (see: DeMar DeRozan [24.7/19.7], Devin Booker [28.8/20.3] and Jimmy Butler [28.9/24.5]) but have been helping make their teammates better this season.
This is what's so frustrating about watching this team right now, and why the concept of making adjustments deserves more than a response of "relax, they'll have 30-plus games to tank." There's a fundamental flaw here, one that can only be changed by adjusting attitudes and/or personnel.
Thankfully, the trade deadline is a week from tomorrow. Can't get here soon enough.
---
Player Spotlight
How can we talk about tonight's game without mentioning Ja Morant?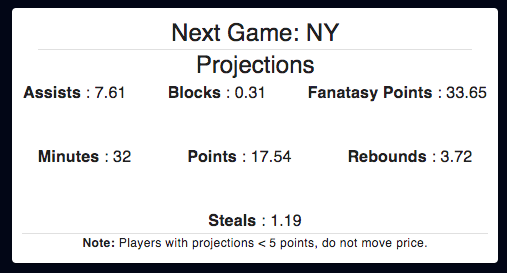 I'll be covering the game tonight, and as much as I'd love to say that I'm looking forward to seeing something on the Knicks' end, that would be a lie.
Morant has been better than advertised. He looks every bit the part of a future MVP candidate and eight or 10 time All Star. Here's what I wrote about him about two weeks ago:
Morant has single-handedly turned around the Grizzlies because he is an engine; someone who powers their offense in all the ways necessary in 2020. He gets to the line (4.4 attempts per game, second among rookies to Barrett), to the rim (17.4 drives per game, ninth in the league), is enough of a threat from deep (over 40 percent, albeit on low volume) and gets others involved (6.9 dimes per game, almost twice as much as the next highest rookie).
The Grizzlies go into tonight just a game below .500 having won three games in a row, and with a two and a half game lead on the Spurs for the last playoff spot in the West. There's not a human being alive who thought they'd be here, and no one is more responsible than Morant.
Somehow, Ja is trading on PredictionStrike at only $3.79 a share, up from the $1.11 he started the season at but below his high point of over four dollars.
I'm getting myself five shares now, so if he goes off tonight and does what so many stars have done before him and announce his NBA arrival with a grand show at the Garden, at least I can benefit.
If you'd like to as well but are new to PredictionStrike, just click here and use code KFS for $10 towards your first investment of $20 or more. Happy investing!
---
News & Notes
compiled by Michael Schatz (
@mschatz99
)
That's it…see everyone tomorrow!