*Sigh*
Ok...back at it.
News & Notes
The lottery occurred. A large novelty card with New York's logo on it was pulled during the proceedings.
"Sources Say…"
Tweet of the Night
Listen Up!
Post-lottery pod featuring The Strickland's Prez & I talking ourselves into the eighth pick (it helped!), followed by Bernard, Yash and I discussing the Will Smith Face Bracket at the end of a way too long day.
Ask Macri
There's going to be 8,000 fake trades proposed between now and draft night. Why? In short:
No one in this draft is a sure thing

The closest thing to a sure thing plays the most devalued position in the league

The highest upside guy plays the most devalued position in the league

The league is in the most uncertain financial position it's ever been in

Nobody knows which teams are secretly hurting in the wallet

Top draft picks make a good deal more than later ones

The team that just got the second pick has more of an incentive to trade it for a win-now player than anyone with a top-five pick has since the Cavs won the lottery in 2014.

Once more for emphasis: No one in this draft is a sure thing
With that as the backdrop, going from "we fell to 8th…this stinks" to "wait, we want to trade Mitch, WTF?" might seem an insane leap too far. And it probably is. At some point, you need to stop switching out the concrete mix and pour a goddamn foundation.
But the Warriors will absolutely look to move this pick. They have to. Their window is now. Yes, they're gearing up for a run at Giannis, but no, that doesn't change the fact that they'll try to win it all this year.
As they should. Steph is 32. Draymond is 30 and may fall off as an All-NBA defender any year now. They will shop this pick like it's going stale. They also have a committed payroll of $142 million next season - about $10 million more than the projected luxury tax number, and that's without considering the $7.2 million the 2nd overall pick is set to make.
I have no earthly clue what "win-now" players will be offered to Golden State for their draft choice (although I'll make some educated guesses in an upcoming column). I cannot imagine there will be too many no-doubt-about-it starters put on the table.
Even if any are, those players are probably scheduled to make a decent salary. Mitchell Robinson, notably, is set to earn $1.6 million. There is no better bargain - not for penny pinchers, at least - in the NBA.
Golden State's starting center for the majority of last season was free-agent-to-be Willie Cauley-Stein. Kevon Looney is under contract for next year, but suffered a season-ending hip injury and is an uncertainty. They have never been willing to play Draymond as a full-time five. If ever the stars lined up for a deal - especially with Robinson a year away from a significant pay raise - it is now.
And yet…I don't want to trade Mitchell Robinson. Not with Thibs on board as head coach, not with Kenny Payne coming on as perhaps the sport's preeminent big man whisperer, not with the enthusiasm Robinson has shown as a part of this organization, and not when the guy we'd theoretically be trading him for is anything but a sure-fire future All-Star (and I say this as someone who is incredibly high on LaMelo Ball).
For as much sense as a trade with Golden State makes sense on paper, and one the Knicks should probably pull off if we're being honest, I'd be fearful. I've seen the notion of trading Mitch and the eighth pick. That's a complete nonstarter. Mitch and the 2021 Dallas pick for two? Excuse me while I grab the Pepto…
So that's a "no" for now. And one that may not even be relevant, because for all we know, Ball is going number one.
---
Everything is Fine
It sucks to be a Knicks fan.
I mean, it's wonderful, because when they actually win it all and we get to emerge from our homes on Mars to celebrate the ticker tape lunar parade, it'll be glorious.
But for now, it still sucks. As I wrote yesterday, the Knicks never get lucky, and for just once in my life as a fan of this team, I'd have liked to get lucky.
It didn't happen last night. And maybe, if karma is waiting just one more year to shed its grace upon our souls, that is for the best.
More importantly, if ever there was a year for it to be ok to fall, it's this one.
I've talked up the need to get top end talent on this team a lot recently. And I feel strongly about that; New York has less of it than just about anyone.
But the top-end talent that they'd have been looking to add here - LaMelo Ball or Anthony Edwards - are the sorts of players who prompted one NBA general manager to say the following:
"I wouldn't even want the No. 1 pick. If I have it, I'm trying like hell to trade it."
…and another high ranking executive to say:
"This is an underwhelming draft at the top. It's as difficult for the No. 1 pick as I've seen in a long time."
Both of those quotes are courtesy of Stadium's Jeff Goodman, who I spoke with yesterday and who emphasized to me how little this draft was going to reward lottery luck.
Even so, the Knicks still would have been thrilled to move up. And, as I just discussed, if the right deal is available, they 100% should. Throwing darts is always easier when you're closer to the board.
But as I cited yesterday, there's a cavalcade of active NBA All-Stars who were taken outside of the top-ten, and there's no reason to think another example won't be added to the list come October.
Let's look at Tankathon's current Mock Lottery: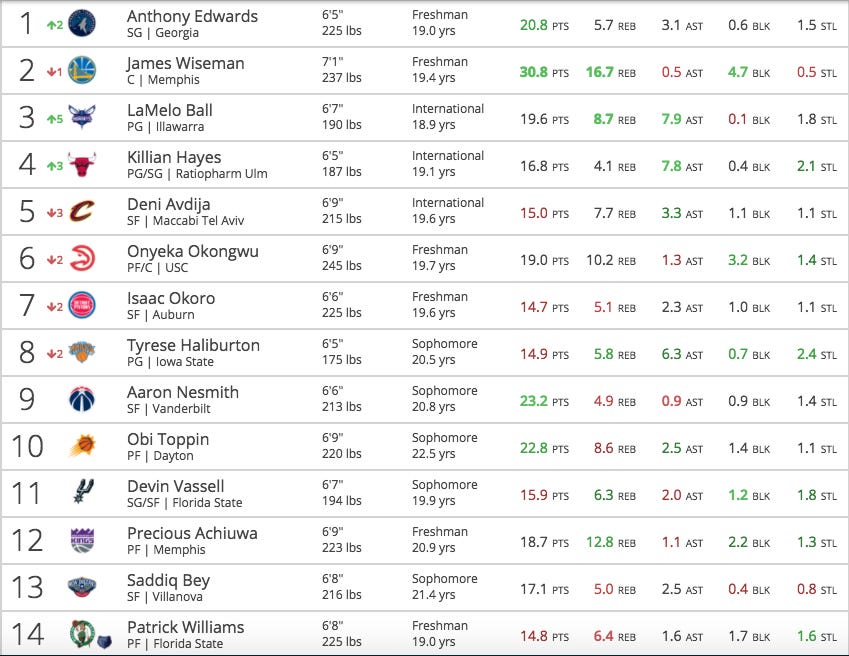 Ball, Edwards, and Wiseman are all safe bets to go off the board before New York picks. After them? It wouldn't shock me if any of the other players listed here fell to New York at eight - including Killian Hayes, who some feel is the best point guard available.
You'll also notice Cole Anthony, Kira Lewis and Tyrese Maxey aren't listed here. That's because there's no guarantee any of them don't fall out of the lottery. Who knows…maybe the Knicks will feel freed up to trade down without the pressure of taking a player that consensus says they absolutely need to. Crazier things have happened.
Or maybe they'll trade out of this spot altogether. The eighth pick will make $4 million next season. Onyeka Okongwu, Obi Toppin and Devin Vassell could all provide an incredible return on that investment for a cash-strapped team. Isaac Okoro is the type of big playmaking wing that every organization wants. Or maybe someone with more patience than the Knicks sees Patrick Williams as a future stud. Either way, there will be deals to be had.
My gut feeling? They will go into draft night with a completely open mind. That type of thinking will cast a wide net of options, and I'll be going through all of them in the coming weeks. If I had to guess right now though (and this is literally just a guess), I think the thing everyone's been expecting them to do for months - take the best point guard available at their draft slot and treat him as the long term answer at the position - has somewhere between a 25 and 50 chance of happening. I expect the unexpected.
The only certainty for now is this: The Knicks don't get to walk into draft night with a no-brainer selection on their plate. Leon Rose and his handpicked team in the front office will be thrust directly into the spotlight sooner than they might have wanted to be. Might as well hit the ground running.
It might be better to be lucky than good, but at some point you have to stop relying on luck and get good on your own. Do Rose & Co have it in them to overcome the odds? The odds say that at some point, someone running the Knicks will do just that.
We hope.
That's it for this week. See y'all on Monday. #BlackLivesMatter