Solving the Cube
With a possible Chris Paul trade once again a question fans are considering, we have to realize that there's no simple answer.
News & Notes
The NBA has targeted November 18 as a new date for the Draft, and while it's not official yet, the reporting seems to indicate that it will be soon. According to Woj, the delay is due primarily to teams wanting the salary cap for the 2020-21 season fully settled so draft night trades aren't made amidst a cloud of uncertainty.

Doing some quick projecting, if free agency still started two days after the draft (as was originally scheduled), then teams could theoretically have a two week free agency period, two weeks of training camp, and then play one or two preseason games ahead of a Christmas Day tipoff. Unlikely, but not impossible.

The Pacers are starting their head coaching search, which is rumored to include four candidates the Knicks interviewed for their top job - Will Hardy, Jamahl Mosley, Pat Delany and Ime Udoka - along with Becky Hammon and several others.

We're getting a Game 7 in Celtics / Raptors, and everyone should rejoice because this series deserves it. Amazing Double OT affair last night with several huge shots by both teams, more than a couple of which were by Kyle Lowry. After the game, I engaged in a text debate with a buddy about whether Lowry is a Hall of Famer if the Raps a) won it all this year and b) made one or two more All-Star games, and I say it's close but yes.

The Clippers beat the Nuggets to go up 3-1, which means we're now three total wins away from the LA/LA conference finals everyone has been waiting for since July. As for Denver…
"Maybe Kevin Knox isn't so bad after all" Tweet of the Night
Read This
In case you missed Matthew Miranda's fantastic oral history of 1970's Game 7 - told from the perspective of three fans who attended the game - it's more than worth your time to check out.
Ask Macri (with some "Sources Say…")
When I had Spencer Pearlman on for the first KFS 2020 Draft Preview Pod - I think it was sometime around the Carter administration, or whereabouts - I remember we spoke for a while about Mannion, who was top-ten-ish level recruit coming into this year that was initially in the conversation with LaMelo, Killian, Hali & Cole for point guards likely to go in the lottery.
That initial conversation happened in the beginning of the college basketball season, when the poor shooting numbers from the the kid who was supposed to be the best shooter amongst that PG lot hadn't yet raised any major red flags. The problem was that his shot never came around, the season ended early - he finished at 32.7 percent from deep - and his stock plummeted (there were also issues with his finishing - he relies heavily on floaters - and his size/length is a concern on defense).
But now there's a chance he'll be available when the Clippers pick comes up, and we're still talking about a kid who's closer to 19 than 20. No one questions his touch, and the assumption is that the shot will come around eventually. There's real shot creation / playmaking potential here.
From everything I've been told, the Knicks aren't remotely married to the idea of taking a point guard with the eighth pick. As I've said a few times here, I think they're targeting someone who they think can add shooting to their team first and foremost. Whether that's a point guard like Cole or Kira - two names I've heard they're currently exploring deeper - or Vass or Obi (ditto), I think that'll depend on how the draft shakes out.
If they bypass a point guard at 8 though, I'd absolutely target Mannion if he was still on the board at 27.
---
Solving the Cube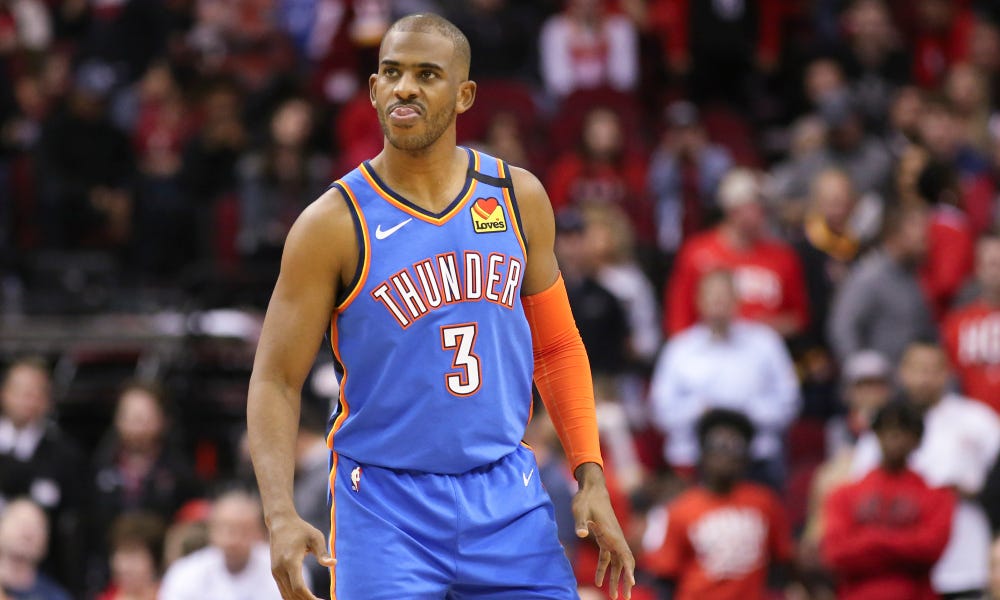 As Twitter debates on the merits of trading for Chris Paul intensified yesterday, I was reminded of the fact that Twitter is in fact the worst possible place to have in depth conversations about anything, including sports.
Yes, some things are worth talking about in 280 characters or less - comparing stats for players, Mike Woodson GIF's, yelling at Shwin…I think that's about it - but having a proper conversation about whether or not to make a play for the Point God isn't one of them, try as I might.
That's because the benefits and drawbacks of a move for CP3 are far more complex than your normal player acquisition - say, signing Danilo Galinari to a one-year deal or drafting Devin Vassell with the eighth pick. For the most part, those sorts of things can be analyzed by using a typical scale (of justice). There are pluses and there are minuses, and whichever there is more of, well…there's your answer.
But the Paul thing is different. Instead of a scale, weighing whether to make such an audacious swing-for-the-fences move is like trying to solve a Rubik's cube: Whether you like it or not, every aspect of a potential trade influences several other components of building your team moving forward.
Think about it…right now, and in the not-too-distant future, the Knicks should be exploring all of the following avenues for building their team moving forward:
The 2020 Draft

2020 free agency

Trading for talented players

Taking on bad salary in exchange for young players and/or draft assets

On-court internal improvement this season

Organizational/cultural improvement this season

The 2021 Draft

2021 free agency
Acquiring Chris Paul effects each and every one of these:

And just because one list is longer than the other is meaningless, because the weight that each of these items carries with it varies immensely. You could argue that organizational competence is more important than all of these combined. You could also say that the 2021 Draft should be prioritized over everything else because you may be able to have your cake (draft a 19-year-old future star) and eat it too (have that player lead your cultural rebirth). But of course the lottery is the greatest of the many great NBA unknowns.
Speaking of unknowns, there's immense uncertainty and variance surrounding each and every one of these individual considerations. How much worse will New York's lottery position get next year if they acquire Paul, and how significant a discrepancy will there be between those selections?
(JB texted me about this singular point yesterday and we went back and forth for a solid 15 minutes without arriving at a definitive answer. There's simply no way to know how bad they'll be without Paul, how much better they'd be with him, and how much weight that discrepancy carries against other factors. FWIW, we agreed to settle on a median outcome of 7th worst record without Paul and 11th worst with him, which would equate to a difference of 32 percent vs 9.5 percent for top-four lottery odds and 7.5 percent vs 2.0 percent for top pick odds)
Another one: How much better will RJ Barrett be for having played with CP3, and how much does that potential ceiling alter your trajectory as an organization?
The machinations are endless, to the point that even if you knew the answers to just one of the uncertainties surrounding this trade, let alone all of them, you'd still have a difficult time balancing risks versus rewards.
So no, I don't think this is the wisest discussion to have on Twitter (although seeing the vociferous disagreements amongst segments of the fan base, each of whom is wholly convinced its side is the right one, is something magical to behold).
In the end, here's where I come down:
Because it's so complicated, there is no one right answer, and I'll talk myself into whichever direction they decide to go (if it's even up to them); and

If we trust the front office, and by extension the coaching staff, to operate like a functional organization from top to bottom, even without a talent as special (or a personality as dominant) as Paul, they should be able to come out and look like a competent and coherent basketball team this year, if not a good one. I do not think any player of significance is coming to play with a 36-year-old Paul next offseason, and despite the fact that the lottery is not something that can be controlled, if there were ever a year where you want more ping pong balls in your favor than not, it is 2021. Lastly, while I think the organizational facelift Paul provides is quite real and very meaningful, I'm not sold on the idea that he can make RJ Barrett, or this year's lotto pick, or Kevin Knox (assuming he's not sent to OKC in the trade) appreciably better than they otherwise would have been able to get absent Paul's presence, nor do I think that the ceiling of any young player on this roster will be more influential on the long term trajectory of the organization than whoever they acquire on draft night next year.

(deep breath…exhale…)
Given all of the above, if the price to acquire Paul requires them to give up real stuff - and I think it will - I just can't get behind the idea, especially with the specter of desperately cash-strapped teams themselves willing to give up real stuff to use New York as a dumping ground for unwanted salary. Opportunity cost matters, folks.
And yet…even as I write all of that, I remain a staunch believer in the fact that playing bad basketball is never preferable to playing good basketball, and the "necessary evil" nature of it is made far less convincing with the new lottery odds.
Paul is the easiest way to prevent that from happening, but then again, Leon Rose wasn't hired to do an easy job. I say let's give him and the staff he's assembled to get down and dirty and start trying to lay the foundation the old fashioned way rather then the best quick-fix option available.
But that's just my two cents.
That's it for today! See everyone for the Friday Edition tomorrow. #BlackLivesMatter