Discover more from Knicks Film School
Where NBA fans learn about the Knicks.
Over 8,000 subscribers
Started From The Bottom
...and now Devin Vassell is here, staring the Knicks in the face as a pick they may not have the luxury to bypass.
News & Notes
Less than a month after Nash to the Nets, we got an even bigger NBA coaching shocker, as Doc Rivers' time with the Clippers is over. It wasn't expressly stated, but Rivers was pretty clearly fired, and the team's early candidates are Tyronn Lue and Jeff Van Gundy, according to Woj.

The Pelicans and Sixers, meanwhile, have already reached out to Doc about their openings, but there's no indication yet as to whether he plans on coaching next season.

According to The Athletic's Mike Vorkunov, Killian Hayes said on a Zoom interview yesterday that "he's been told by his agent to expect to go between No. 2 and No. 8 or No. 10," and has spoken with Frank Ntilikina about his experience in the NBA. Hayes previously interviewed with the Knicks.

LaMelo Ball, meanwhile, also said he interviewed with the Knicks, with Steve Popper reporting that this occurred before the lottery.

As I reported here earlier this month, Victor Oladipo wants out of Indiana, so confirms a new story by The Athletic's Jared Weiss.
"Water is Wet" Tweet of the Day
Ask Macri
As a reminder, I'm going to be dedicating a newsletter later this week to all the mailbag questions we didn't get on last weekend's pod, but I figure I'll steal a quickie today before that:
A few things:
I don't think the Knicks would have any issue parting with the 8th pick for the right player.

I don't think such a player exists on the market right now.

If you're forcing me to name the best player who I think they could get with the eighth pick, the two names who come to mind are Buddy Hield and John Collins.
Collins isn't someone I've written about before, mostly because he's always struck me as a guy who may not be terribly helpful to winning basketball games, and there have already been reports out there that he'll want the max. Collins simply isn't the level of shot creator, floor spacer or rim protector to command that type of money (even if he does show varying shades of all three).
If the Knicks were going that route, I'd rather they just took Obi Toppin, who is a slightly younger and much cheaper version of Collins. But I'd prefer them simply drafting whichever of Hali/Vass/Okoro drops to them over either of those options.
As for Buddy, my issue with him is that he already commands the hefty deal that Collins is looking for - $94 million over the next four seasons - and I have similar questions about his overall impact. Although he's one of the elite shooters in the game today, I just wouldn't be able to get behind giving up the chance to draft an impact player who is slated to make about a fifth of Hield's contract over the next four seasons for the right to find out if New York is the place where Buddy's impressive shooting numbers start leading to wins.
---
Started From The Bottom
A decade before Devin Vassell barely made the list of top-ten high school prospects in his own state, let alone a dent in the national recruiting scene, another lanky wing on the other side of the country was the victim of similar disinterest from big time colleges. He wasn't nationally ranked, was 20th in his own state, and as a result, ended up staying close to home.
Also like Vassell, the wing ended up staying in school for two years to build up his draft profile. He went from a fringe draftable guy to a first rounder to a legit lottery pick by the big night.
But before that, while he was still at school, the wing became just the third 1st or 2nd year player ever to average at least one block and one steal per game while also putting up at least 100 threes with a 41 percent conversion rate or higher. Thanks to his promising two-way play, the kid that nobody wanted ended up becoming a top-ten selection.
A decade later, Paul George has played more minutes, scored more points, and accumulated more win shares than anyone else in his class. Not bad for a 3 & D guy.
Looking back, the five-time All-NBA forward is as good an example as any of why you don't need to tank to acquire superstar talent…if you have a scouting and development staff to make the most of the draft. As Miami is set to kick off the NBA Finals with their four leading scorers having been drafted 13th, 14th, 30th and 45th overall, the Knicks know that November 18 is the first day of the rest of their life.
George, Kawhi, Giannis, Devin Booker, Domantas Sabonis, Donovan Mitchell and Bam Adebayo (and to a lesser extent, but still notable, Shai Gilgeous-Alexander, Michael Porter Jr and Tyler Herro) are all franchise-altering talents that have been drafted between 10 and 15 in the last decade. The odds are strongly in favor of a player of that caliber being available when the Knicks are on the clock.
If you were to create a list of guys who might still be on the board at eight and are likeliest to elicit a "how the f—- did he ever last that long" reaction in a few years, names like Onyeka Okongwu (Bam), Obi Toppin (Amar'e), Isaac Okoro (Jimmy), Cole Anthony (Kemba) and Tyrese Maxey (Mitchell) are probably near the top. On the opposite end of the spectrum, Vassell is seen as the safe choice. That's partly why he's so endeared himself to Knicks fans who just want a pick that won't flop.
Perhaps this is selling him short though. Getting back to the seemingly absurd PG13 comp, here's the entire list of NCAA freshmen and sophomores who have averaged a steal and a block (0.9 blocks actually), attempted 100 threes and hit at least 41 percent of them in a single season: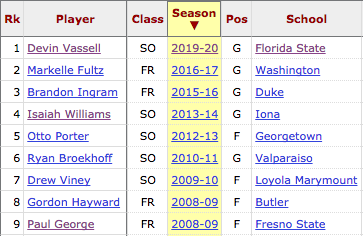 If you take out the three players who went to lesser schools (and thus faced easier competition), it's not a bad list.
It also brings to mind a conversation I had over Twitter during the summer with some of the Strickland cats about the value of a true three and D wing, as opposed to someone elite at just one and merely passable at the other. Turns out, such a thing is rarer than we might think. Here's the list of NBA players who have checked all of the same boxes as the college guys above (I skewed the criteria a bit: 0.8 blocks, 0.8 steals, 5.0 attempted threes per game and 37 percent from downtown), listed from best 3-point rate to worst:
Again, not a bad list, and certainly not a long one either.
To be clear, these two counting stats are by no means a wholistic (or even an accurate) measure of someone's value on the defensive end. Gambling for steals (Russ) and blocks (Whiteside) can actually be a glaring negative to the alternative of soundly guarding one's own position.
But when it comes to a guy like Vassell, I think those block and steal numbers are actually a perfect starting point into looking at what makes him so damn valuable:
Vassell (No. 24) doesn't make the block until the very end of this play, but it's a perfect encapsulation of why he might be the best off-ball defender in the entire draft.
From the first pass until the swat, Vassell never stops bouncing on the balls of his feet, reading the eyes of the quarterback the entire time, even as the quarterback changes throughout this possession. He's directing traffic, constantly changing his position based on the placement of the ball (like we saw in one clip of Williams yesterday), and ultimately times the help perfectly.
This swat led to a fast break and a bucket for Vassell, who ranked in the top seven percent of the country in both transition points per possession (1.411) and transition points factoring in both field goals and assists (1.586).
His blocks also aren't limited to the interior: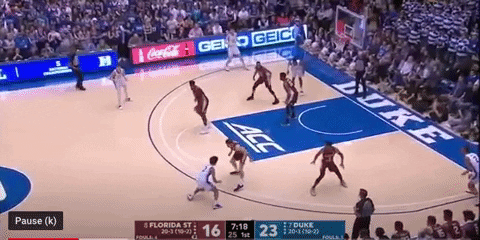 This is Vassell's 7-foot wingspan (right in the Mikal Bridges zone) at work.
That's a plus-five on his height, which is reportedly 6'7" - a two inch jump since he was first getting recruited and part of the explanation for why his stock has risen so much.
Vassell has also put on a significant amount of weight since he first arrived at Tallahassee. He was a string bean initially, weighing in at 165 lbs, but has since bulked up to nearly 200. He's not a heavyweight like Okoro or his teammate Williams though, which will limit his longterm ability to switch onto the bigger wings in the league.
That said, he is anything but shy about banging when the time comes:
Vernon Carey is a 265 human blockade and his ass promptly sends Vassell flying here, but Dev did enough to dislodge the entry pass and force the turnover. Also, sorry to sound like a broken record, but this is yet another example of Vassell timing his help defense perfectly.
Notice also that Vassell doesn't end up with a steal here. By looking at the box score, he was as impactful on this possession as one of the coeds in the stands. Yet his presence unquestionably saved two points.
Here's another example of the same thing from earlier in the game:
Again, if Vassell didn't arrive at the exact moment he did, that's a dunk for Carey. Another moment that doesn't show up in the box score, another moment that was the difference between a bucket and a change of possession. He's just a guy that helps you win games, even if he doesn't benefit individually.
If my arguments for Vassell are starting to sound a lot like my incessant stanning for Frank Ntilikina, fear not, anti-Frank-hivers. Devin has more in his bag than just deflections and sound rotations (although I should note that I could have filled up a week's worth of newsletters purely with his savvy off-ball stuff from this Duke game alone).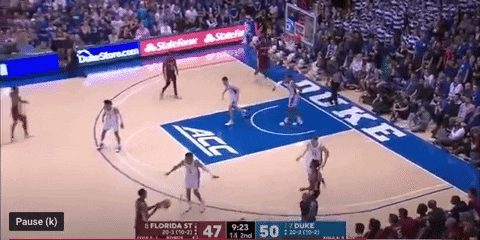 So this - an off the dribble step-back three - is not something we saw very often from Vassell, but I think that statement needs to come with a caveat.
First off, this was a dogshit possession for FSU up to this point. None of their actions led to anything good, and it was pretty much up to Vass to make something happen. And he did, at a key spot in the game no less.
Second, and more to the larger point, Devin Vassell was not the type of guy to hijack the offense. Quite the opposite, in fact. If he thought there was a chance that a better shot existed somewhere else on the floor, he wasn't going to put it up. The next bad or selfish look he takes will be the first.
On one hand, this doesn't bode well for his eventual ceiling as a first or second option, most of whom have a little gunner in them somewhere (although there have certainly been exceptions to this rule). More importantly though, Vassell didn't go out this year auditioning for the NBA; he went on the floor every night to try and win the game. There's a very real chance that certain parts of his arsenal might be more pronounced than he let on.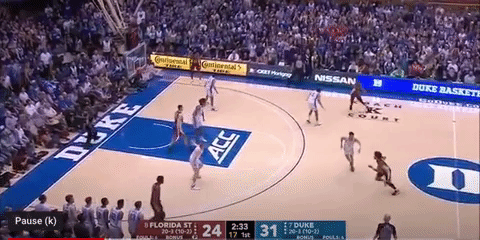 This little diddy isn't much to look at, as was the case for most of Vassell's midrange game and anything around the hoop that didn't come in transition or on cuts. To me, the Paul George comp I started the newsletter with isn't really in the bounds of reason because that level of shot creation simply isn't anywhere to be found in the evidence we have thus far.
And if he never adds that part of his game, it means his ceiling is probably Shane Battier.
But guess what? Shane Battier was really effing good, and if there was any way for me to get a 20-year-old version of that dude on the Knicks right now, I'd sign in blood to do so.
Even if that projection is still a little lofty, I feel like I've seen enough to know, without a shadow of a doubt, that Devin Vassell is going to help teams win basketball games for a very, very long time, even if he does need to beg, borrow and steal his way to that eventuality.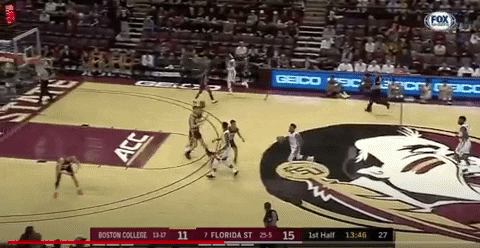 The Knicks need help. Soooooo, so much help. They need help in ways big and small, short and tall. They'd take help in a box, they'd take help with a fox.
Unfortunately, Sam I Am has been out to lunch for a while now. Chris Paul or no Chris Paul, this season needs to show evidence of a foundation that goes deeper than just a pepped up social media account and a coach who seems to be all about the things that matter and who has no time for the bullshit that doesn't.
Devin Vassell may not be the load bearing wall you need to win big in the NBA, but he's the type of piece they bypassed two years ago when they went Knox over Mikal. If they swing for the fences again, whether it be with Obi Toppin or Isaac Okoro or Cole Anthony or whoever, they better be right this time.
Because whoever ends up with this kid is going to be damn happy they did.
That's it for today! See you tomorrow for another edition. #BlackLivesMatter