Statistical Memory Lane
A look at some of the unheralded achievements in the last three decades of Knick history
I don't know about you, but for me, quarantine life has somehow been busier than regular life.
This is probably only because I have a small child at home who requires 24/7 attention and a wife who is also lucky enough to have a job that she can do from home. We've gotten pretty good at playing pass the baton, but by about 3:30 every day, we're both wiped. We have yet to find our daughter's secret hidden charging station (or her off switch).
It's kind of a shame, because heading into this whole thing, I figured I'd have a bunch of extra time to waste going down various BasketballReference.com rabbit holes. Instead, by the time my kid goes to bed, I barely have enough brain power to pick up the remote.
So you'll forgive me if I use this Throwback Thursday to make up for lost time. In lieu of going back and detailing a great game from Knicks' past, I'm taking the opportunity to go back and dig up some various statistical quirks from the 27 years I've been watching the team, starting with the year I became a fan…
Charles Oakley, 1993-94: 349 Offensive Rebounds
Just how many offensive rebounds is 349 in one season?
Let's start here: since the 93-94 season when Oak pulled off this feat - one aided by the fact that he appeared in all 82 games - no other Knick has grabbed as many as 300 boards on the offensive glass in a single campaign. Noted KFS favorite Enes Kanter came the closest with 273 in 71 games in 2017-18. On a per game basis, Tyson Chandler's 4.1 offensive rebounds in 12-13 was nearest to Oakley's 4.3 in 93-94.
Not only are Oakley's total and per game average Knick records, but his 349 has only been bested by four non-centers in the last 30 years: Elton Brand, Kevin Willis, Jayson Williams, and Dennis Rodman, who pulled it off an astounding six times.
The NBA record, in case you're wondering, is Moses Malone's 587 (although it should be noted that the league didn't start recording this stat until 1973, after both Russell and Wilt had retired. That said, Moses was a beast, topping 350 a dozen times.
They don't make 'em like they used to.
Patrick Ewing, 1993-94: 92.88 Defensive Rating
This was the second year in a row that the Big Fella led the league in individual on-court defensive rating, but that doesn't begin to capture just how unique an accomplishment it was - or how great a defensive unit Riley's squad was in their Finals season.
The 92.88 figure was the lowest for any player in the NBA over a 20-year stretch, from 1978-79 to 1997-98.
It's an amazing accomplishment given how much his knees betrayed him by the end of his career, but Ewing finished in the top-ten in this category every year but two from 87-88 until his final seaon in New York. He made up for what he lacked in hops with simply astounding timing:
Ewing was freaking awesome. He doesn't, however, hold the record for lowest defensive rating by a Knick ever. That honor goes to…
Marcus Camby, 2000-01: 90.56 Defensive Rating
This was achieved the year after Ewing was traded away.
It also led the NBA, besting David Robinson by a full point and a half per 100 possessions. It's the fifth lowest figure the NBA has seen in the last 40 years, bested only by Ben Wallace twice and David Robinson and Tim Duncan once a pop. It was the third straight season Camby finished in the top-six in the league as well.
Kinda wish we didn't trade him away for Antonio McDyess' jelly knees.
1993-94 Knicks: 14-0 month of March
Did you remember this happened? Because I didn't.
By the way, Happy Anniversary to these guys…26 years ago today they won their 15th straight, the longest streak in team history besides the 18 straight posted by the first championship squad.
Sadly, it would go no further. They lost three days later to the Heat in Miami.
John Starks, 1994-95: 217 3-Pointers
The NBA introduced the 3-point field goal in the 1979-80 season. Brian Taylor led the league that year with 90.
It took nine seasons for someone to break 100, when Danny Ainge pulled it off in 1987-88 with 148. It took another seven years before someone cracked the 200 barrier, and it was this guy:
Starks only held the record for a season, with Dennis Scott blasting his 217 by an additional 50 the following year, a record that stood for a decade until Ray Allen beat it by two. Steph Curry has since come along and created the 400 club (he is thus far the only member).
Does it lessen Starks' accomplishment that he did it in the first of three seasons the NBA shortened the arc to 22 feet? Nah. He was smart enough to realize what an advantage it was and jacked up 56 more attempts from deep than the next closest player.
It's also a reminder of how dumb the organization is now. A dozen players made more than 200 threes last season, and yet no one on the Knicks has even approached Starks' total despite the 3-point revolution. J.R. Smith came the closest with 189 in 2013-14.
Stephon Marbury, 2003-04: 719 assists
Funny story: I was so excited when New York traded for Steph that I drove the nearly 500 miles from Staten Island to Cleveland to see him play his first game as a Knick.
Well, that's not completely accurate. I had also been on again/off again dating a girl in college who lived in Cleveland and was home for Christmas break. Thankfully for me, the 500 mile booty call was more successful than Steph's debut; the Knicks lost by 11.
But Marbury had eight dimes that night, and would go on to top double-digits in assists in seven of the next eight games, averaging 11.8 over that span.
It was enough to spur him to the assist title that year, besting the two men he would forever be linked to in his career: Steve Nash, who would eventually replace him in Phoenix and finished second with 687, and Jason Kidd, who had previously been traded for Marbury in New Jersey and finished third with 618.
It's a shame that Marbury will always be compared with probably the two best point guards of the last 25 years, because he was damn good in his own right once upon a time.
He also represents something the Knicks haven't had since he left: a true distributor. Elfrid Payton led New York with 323 dimes this season, good enough for 28th in the league. Even sadder: no Knick has made the top ten since Chris Duhon finished ninth over a decade ago.
Carmelo Anthony, 2012-13: 35.6 usage rate
I was scrolling Twitter the other day and saw someone suggest that Melo should have been the MVP in 2012-13.
I remember thinking that this was pretty ridiculous, and that Melo famously kept LeBron James from being the first unanimous MVP award winner in NBA history (he received one first-place vote; James got the other 49).
That said, I never realized just how much heavy lifting Anthony did for that 12-13 squad. Not only did he lead the league in usage rate, but he posted one of the highest usage rates ever for someone who didn't run his team's offense: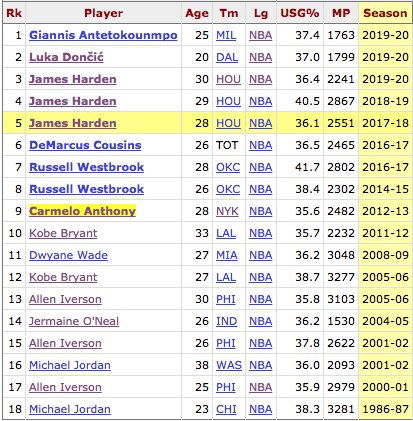 Maybe that single vote wasn't so ridiculous after all.
OK, one last one for my favorite player growing up as a kid…
Anthony Mason, 1995-96: 3457 Minutes
In all likelihood, had 2019-20 progressed without interruption, it would have become just the second year in league history in which a player failed to crack the 3000-minute threshold in a full 82-game season (James Harden was first in 2014-15 with 2981).
As it stands, only five players have met that mark in the last five seasons (and yes, two were coached by Thibs). But once upon a time, 3000 was NBD.
In 1995-96, 21 players crossed 3K (and in what can only be described as an odd coincidence, 11 of them would spend time on the Knicks at some point in their career). No one played more than Anthony Mason's 3447.
In fact, that total is the fourth highest since the 1978-79 season, trailing only Latrell Sprewell in in 93-94, Michael Finley in 99-00 and Allen Iverson in 02-03 (Wilt not only holds the record of 3882, but the next four highest totals after that).
The crazy part? It's arguably not even Mase's best show of durability.
The very next year, he led the NBA with 43.1 minutes played per game - tied for the second highest average the league has seen since the 70's.
Over the course of those two seasons combined, he played at least 48 minutes 14 times.
RIP Mase. You're still the man.
That's it! Huge thanks to BasketballRefereence.com for making this article possible! See everyone tomorrow for Friday Top Ten.