Still Better than Cleveland
Thank goodness for that.
In this newsletter:

---
Going to open today's letter with something I don't usually do, which is plug my podcast…but for good reason.
Like most sports fans in this city, I've grown up listening to WFAN. Over the last decade, thankfully for me and everyone else, that has meant listening to Evan Roberts.
Roberts, famously, is a Nets fan (booooooooo), so what better excuse to invite him on the pod than to talk shop ahead of the final Knicks / Nets matchup of the season?
He graciously accepted. We spoke for a half hour and it was as good as you might expect. Check out the iTunes version here, the Spotify version here, or just subscribe to the Knicks Film School Podcast on any major podcast platform and give a listen.
Thanks for indulging. Now on to yesterday's game…
One Big Thing
Over the weekend, the Utah Jazz made a quiet move (when is anything they do loud?), signing Royce O'Neal to a four-year, $36 million extension.
It's the type of thing done by steady organizations across the league: bring in talented players that need work, make them better in house, and then keep them in house at a price everyone can live with.
The Knicks, famously, never do this. We could go into all the reasons why this is the case, but it's Tuesday at 7:30 am and my principal really doesn't care for when I show up to work tipsy. Suffice it to say they have failed.
Last night, the best things about their win over the Cavs doubled as Exhibits 1 and 1A for my presentation entitled "How to be a Real Basketball Organization, for the Love of God." Frank Ntilikina (six points on five shots, three dimes, two blocks, and 20 minutes of absolutely suffocating defense) and Damyean Dotson (12 points on 5-for-7 shooting, plus five boards) both stood out. This was not an anomaly.
Frank Ntilikina and Damyean Dotson have now played 972 minutes together in the NBA. Here is the Knicks net rating by year when they share the court, followed by the overall team net rating in that season:
2017-18: plus 1.0 in 278 minutes (Knicks: minus 3.4)
2018-19: plus 1.4 in 477 minutes (Knicks: minus 8.9)
2019-20: plus 7.3 in 217 minutes (Knicks: minus 7.9)
In the NBA, a 100-minute sample size might be an accident, a 200-minute sample size a trend. I don't know what 972 minutes is, but it's enough to sign each of these dudes to a nice, tidy, Royce-esque extension this summer.
Look, Frank and Dot aren't perfect. Far from it. O'Neal, meanwhile, is hitting 43 percent from deep this season and plays 30 minutes of dogged defense every night.
He's also a quirky fit - essentially a 6'4" wing - and averages a grand total of six points per game (the same, oddly enough, as Frank & Dot). The Jazz made it work, because organizations like Utah always seem to make it work with talented if imperfect players who are clearly part of the solution, not the problem, if only someone smart enough comes along to figure it out.
It's time for the Knicks to figure it out with these two, even if it is just to make them their backup 1/2 combo for the next four years.
The advanced stats speak for themselves. Ntilikina has made steady improvements as an all-around offensive player (up to .450 eFG%, up out of "we might not be able to play this guy" territory and into "barely passable as long as he does all the other stuff well (which he does)"). Dotson has grown as an off-ball defender and pick & roll ball-handler, and even though he's slumping from deep this year, is at 35 percent for his career.
Both players will be eligible for an extension this summer. My guess is that Frank and Dot can each be had for a fair number.
Sometimes getting the small stuff right is a precursor to bigger things. This one is a layup.
Fact Check
Someone on Twitter last night gave me shit for not praising Elfrid Payton's defense as well as Frank's. Colin Sexton, after all, was guarded by Elf too, so shouldn't he get some of the praise?
Maybe, maybe not.
I went back and watched every one of Sexton's shot attempts. Here's the breakdown of his night, split up into when he was guarded by Payton vs when he was guarded by Ntilikina:
Payton on Sexton: 25 minutes, 5-for-15 shooting (4-for-14 with Payton guarding), one stolen pass, two blocked shots
Ntilikina on Sexton: 10 minutes, 1-for 5 shooting (1-of-4 with Frank guarding), two blocked shots, one drawn offensive foul
Ntilikina's hounding of Sexton through and around screens pops in a significant way, and anyone watching (including me) came away the perception that he was the stronger defender on the night. This feeling is only backed up by plays like this:
This was one of a handful of times Payton got whirligigged by Sexton, who just happened to miss on several of those occasions.
But Payton also came away with a block and two swipes. Does he gamble for steals too much and offer little defensive resistance when these gambits don't pay off? Yeah, you might say that. But those turnovers also count, and helped contribute to the cause.
So I'll whisper a "mea culpa" and say that, yes, Payton's defense was, all in all, a helpful contributor to the win.
He's just not in the same category as Frank.
Humble Suggestion
Mitchell Robinson played 27 minutes last night and finished the evening with one - one - shot attempt.
After the game, I saw some people complaining about Robinson, saying that he isn't doing enough on offense. I'm sorry, but this is patently rediculous.
A little basketball 101 folks: Robinson is a dive man. He's not KAT or Jokic - centers you can build an offense around because they do so much incredible stuff. But he's also not Andre Drummond, or his precursor, Dwight Howard - inefficient post-up players who nonetheless demand their allotment of paint touches, even if it hurts the team.
This is a good thing. There's a reason why according to Cleaning the Glass, the Knicks score 5.4 more points per 100 possessions (and are a more efficient team across the board) with Robinson in the game despite the fact that he averages less than six field goal attempts per night.
Last night, we saw some of the good Mitch can do even when he doesn't touch the ball, but also how the Knicks still aren't using his minutes as effectively as possible.
I spotlighted four plays from the later part of the first quarter to spell this out. In the first play, a quick fake from a driving Randle to Mitch in the dunker's spot is enough to make Nance bite momentarily and give Julius an open lane to the hoop: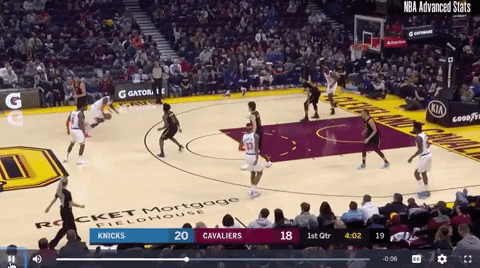 Mitch won't show up in the box score here, but without his presence, there's a good chance the play doesn't develop like it did.
On this next play, Mitch sets a high screen for Marcus Morris and then proceeds to dive to the rim. With Cedi Osman dislodged, Tristan Thompson has a choice: come up to guard Morris at the foul line, or stay back to prevent the lob to Mitch.
He chooses to stay home, and Mook makes him pay:
All night long, we saw Thompson make this choice. The Cavs made the decision ahead of time that whoever was going to beat them would beat them, but it wasn't going to be Mitchell Robinson.
Teams have been making that decision more and more, which is part of the reason Robinson has attempted four or fewer field goal attempts in five of his last eight games.
And if the Knicks make smart choices like they do on the above two plays, that's totally fine! The problem is that they haven't been smart enough, as their 97.2 offensive rating with Robinson on the court over those last eight games shows.
In the third play, we see an example of this:
Here, Thompson again backs off, but unlike the previous Morris jumper, Osman recovers nicely, forcing Mook into a tough step back. He takes this shot despite having a wide open Frank and Portis at his disposal, both of whose men are shading towards the paint because they're worried about the threat Robinson presents.
Morris doesn't make them pay.
Similarly, on this next play, Damyean Dotson gets a step on Darius Garland thanks to Robinson's screen. I paused the play at the pivotal moment, when Dotson has a free runway to the hoop because Donte Exum doesn't want to leave Knox in the corner and Thompson is shading closer to Robinson than Dot:
Why Dotson pulls up here is beyond me (sorry, I know I praised him earlier, but this was his one boneheaded play of the evening). If he keeps driving, he forces Thompson into an impossible choice, potentially opening up a lob opportunity for Mitch…but that never happens.
The Knicks needs to wise up if teams are going to continue to make these choices when Mitch is on the court. They also might be smart to work some plays into the playbook for Robinson to show some other abilities besides being tall, springy and having great hands.
I've now covered four games this season, and before every one, more than two hours before tip off, there's Robinson on the court, going through the same shooting drill with Knick assistant coach Pat Sullivan. It's an "around the world" style drill, starting just a few feet away from the hoop, extending out to the midrange, and then culminating in some corner threes.
Point is, it's not like he isn't putting in the work.
It's about time for the Knicks to reward his efforts.
Final Thought
Wins are nice. The minutes/shots distribution isn't where most fans want it, but the occasional victory is still important to prevent morale from completely falling off a cliff and reminding the kids that their hard work is paying off.
A happy night when all is said and done.
---
Player Spotlight
Quick one today, just because if I write for too long about this person, it will send Knick fans into convulsions…
Kyle Kuzma comes to the Garden on Wednesday night. Hopefully, it is the last time he sees the Garden floor this year, that the predictions I've made will be wrong, and New York won't be the team to execute a trade for the not-really-a-star Laker wing/big.
But someone is going to trade for this dude. Los Angeles is a piece away and he's the only trade chip they have. When he does get moved, I'd count on his new team upping his usage in a big way. That means a good opportunity to make a buck: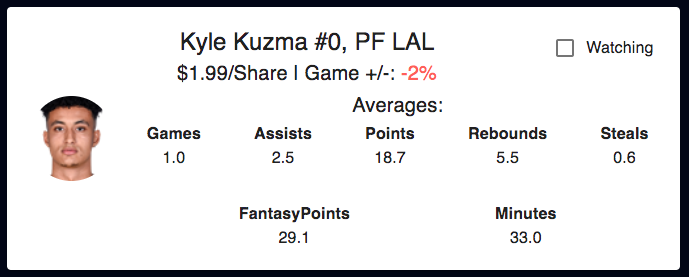 You can get the Kuz for under two dollars a share right now. I think he's going to be putting up a bunch of meaningless stats for some team (just hopefully not ours) over the last 30 games of this season. The time to get in might be now.
Want to get in on PredictionStrike, but haven't had a chance yet? Click here and use code KFS for $10 added to your first investment of $10 or more!
---
News & Notes
compiled by Michael Schatz (
@mschatz99
)
That's it…see everyone tomorrow!