Swiss Army RJ
Exploring the possibilities of RJ Barrett
Give David Fizdale this: the man had stones.
In the first game of a season that would almost certainly determine his livelihood, this f——- guy trotted out a 19-year-old wing and told him to run point, on the road, against the most well-prepared team in the league.
It went…about as well as you might have expected:
That's not to say ole' Fizzy's idea of a good time was totally off base.
Should the season indeed be over, RJ would become just the 30th rookie in the last 30 years to average at least 14 points, 4.5 boards and 2.5 dimes according to BasketballReference.com. Of those, only he, LeBron, Melo and Luka were teenagers. He'd also be one of 12 on that list who weren't his team's primary ball-handler but had an assist to turnover ratio above one. The others:
Blake Griffin

Reggie Williams [!?!]

Caron Butler

Shane Battier

Lamar Odom

Vince Carter

Antoine Walker

Michael Finley

Chris Webber

Tom Gugliotta

Larry Johnson

Lionel Simmons
Be honest: if you were a betting man, you'd probably wager that RJ will have a career commensurate with the average of these dozen names, no? (I'd happily sign for Michael Finley right damn well now, thank you very much).
Point is, it's pretty clear that while Point RJ will never, ever become a thing, Swiss Army RJ certainly might.
But what exactly will that look like, and just how much responsibility can he take on? Does he always need to be on the court with another "engine," or would it suffice for him to share the floor at times with a "nominal" point guard - say, a Pat Beverly/Darren Collison type (or, present company included, Frank Ntilikina)?
Because my wife won't let me leave the house without one of these, I went back and rewatched every one of Barrett's assists and turnovers from this season to help us try and answer these questions. All homerism aside, I was encouraged.
Let's start by taking a look at a typical RJ assist: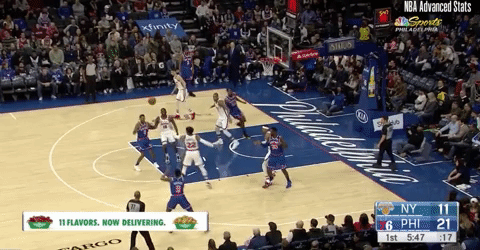 If there's one word that I'd use to describe RJ's passing, it's deliberate. He's rarely in a rush, and he usually has a very clear idea of what he wants to do and when he wants to do it.
On the surface, these aren't great qualities for a ball-handler to have. It can make them predictable, which is especially problematic when the player you're talking about doesn't have blinding speed.
That said, two qualities we see here that come up again and again are Barrett's timing and his precision. More on these in a bit.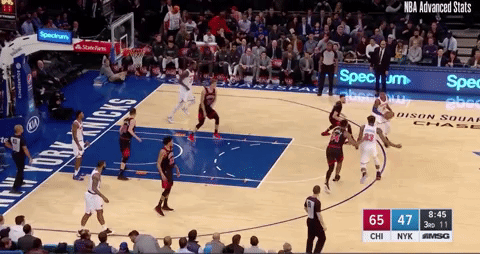 The other thing you'll notice in that first pass to a cutting Payton and in the dime to a rolling Mitch here is RJ's other main weakness, and the one that got him into the most trouble this season: he makes most of his passes after picking up his dribble.
This could be a function of a couple of things. For one, Barrett likely isn't fully confident in his handle…nor should he be. Looking back at his turnovers, a fair number of them occurred when a defender got a well-placed hand into his immediate personal space. The good news is that this should improve with time and work.
I'd say that it might also be a vision issue (i.e., his ability to read plays as they're unfolding), but as we'll see, this doesn't seem to be a problem.
My guess? It's a comfort issue more than anything else.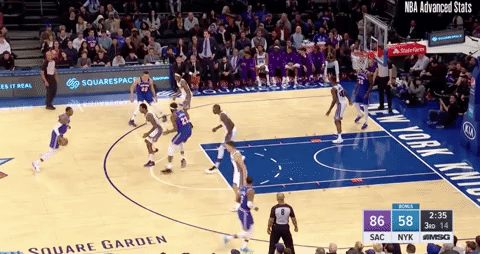 Take a look at this.
It's a beautifully placed, perfectly timed lob to Mitchell Robinson, something that RJ became quite comfortable with over the course of the year. But notice that Barrett kind of "pulls up" as he releases the ball. This is something that came up again and again, and might just be his preferred mode of release.
Interesting aside: regardless of which center he played with, Barrett was equally comfortable dishing to either. For as great as he was finding Mitch on lobs (he had 25 dimes to Robinson, almost all of which were on alley-oops) he knew how to get the ball to Taj in all of his favorite spots as well. Barrett had 26 assists to Gibson out of 28 made field goals…on only 43 attempts.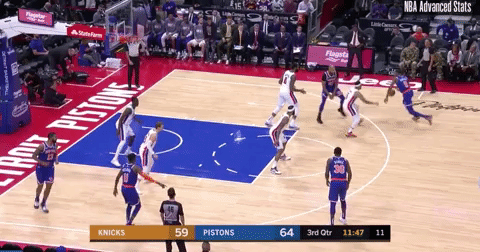 This assist here was RJ's first of the season in which he kept a live dribble on a drive and hit a 3-point shooter on the opposite side of the court.
First and foremost, that he even sees Morris here is an accomplishment, and bodes incredibly well for his future as a secondary creator who can take on lead-ball duties from time to time in certain lineups. Second, and just as importantly, he's actually able to make the pass, even if he does have to hesitate for a moment before going into his windup.
That was more the norm than the exception: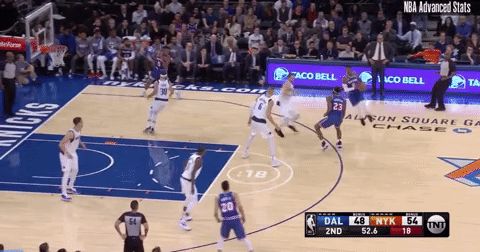 Again, like the plays above, we see RJ kind of stutter step and hesitate a bit before launching this pass to Randle.
Of all of Barrett's live dribble passes, the ones that traveled a long distance tended to have some hesitation before release (with a few notable exceptions, one of which we'll get to soon). On short live-dribble passes that came off drives (i.e., lobs to Mitch), he'd usually make them at full speed, which is a good sign.
More good news: in this clip, Barrett has done just enough to get Randle's man to bit and dig far enough into the paint to open up this pass. That's the important part.
Of course, these types of cross-court passes didn't always have as happy of an ending:
Of Barrett's turnovers, 100 were of either the "lost ball" or "bad pass" variety.
Aside from the type I referenced above (where a defender picked his pocket) and basic lazy passes (not nearly enough of these to be a concern. Plus, he's nine-friggin'-teen), the most common error was the type we see here, where Barrett tries to make a live-dribble or semi-live-dribble pass on a drive and throws it into a thicket of arms between himself and his intended target.
That this happened so often is likely the other reason Barrett was so hesitant to let it rip on the fly. In time though, this deliberateness should subside, and he'll start to think beyond Option 1 before he starts his drive.
There were also a few times when he jumped before knowing exactly what the hell he was going to do (although these were admittedly rare):
There's a reason that lineups which featured RJ without one of Frank, DSJ, Elf or Kadeem Allen struggled massively to score - just 101.1 points per 100 possessions according to Cleaning the Glass, which ranked in the fifth percentile of five-man units league-wide.
Luckily though, by and large, the good signs for Barrett's overall passing outweighed the bad.
Check out this fancy little number in just Barrett's 11th game as a pro, one in which he totaled nine assists against only two turnovers.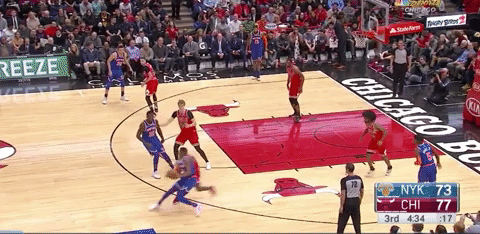 Does Barrett likely have Knox in mind as his intended target the entire time? Sure. Does it matter? Not in the slightest.
Passes like this are why projecting RJ as someone who might someday (if, for the love of all that is holy, he can play with more spacing) average five dimes or more. Of all of his live-dribble assists, this was probably the prettiest, and the one that exhibited the highest degree of difficulty.
Aside from showing the ability to keep his dribble live and hit a difficult target, Barrett showed that he had a few other tricks up his sleeve throughout the season.
This might seem like a routine pass to Damyean Dotson at the top of the arc, but check out where Dotson was when Barrett released the ball in relation to where he ended up when he catches it: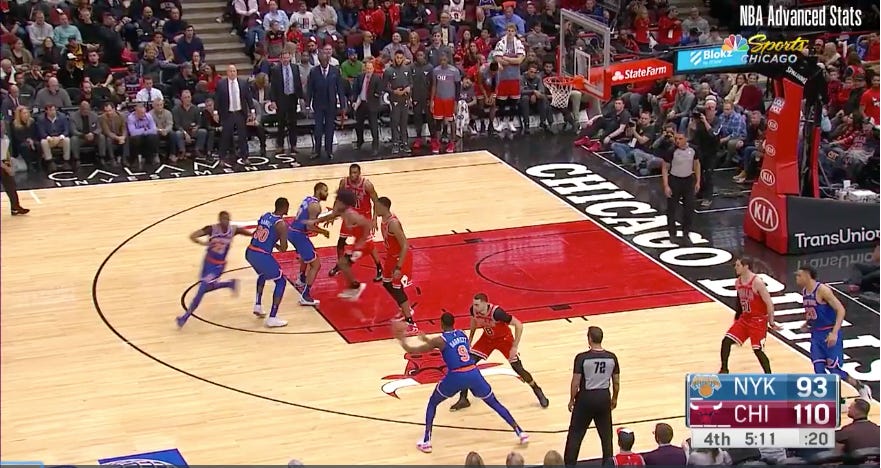 Of all of his best passing qualities, proper placement of the ball at the exact right time is probably he best.
Several other times throughout the season, RJ was able to drive and know how and when a man was coming open even without seeing that player in his direct line of vision, like with Taj here: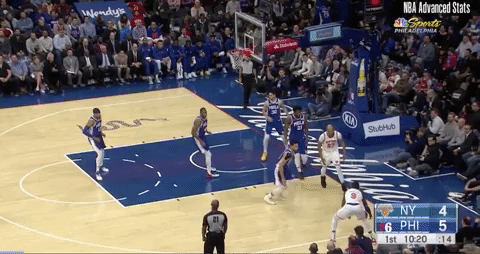 Again, we see the importance of his ability to keep a full head of steam as he accelerates, as opposed to decelerates, into the pass. Of every skill Barrett needs to hone as he gets older, this would be number one on my list.
Unfortunately, it's the type of thing that can only come in live game action. Sure, he can work on his handle and burst off the court, but he'll need reps with the ball in game situations more than anything else.
As the Knicks decide what they want to be next season, the front office needs to give consideration to a simple fact: there may never be a better time to get Barrett these repetitions than right now. He's no longer a rookie, so putting the ball in his hands more often isn't likely to be the abject disaster it was at times this year. At the same time, it will be a painful process, but one that should bear fruit in the long run.
Like, check out one more dime before we go: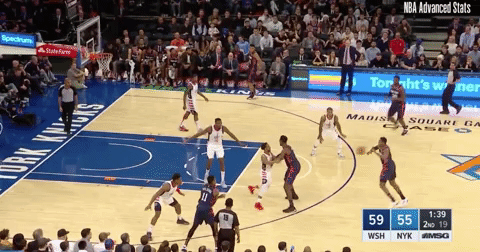 The type of touch and timing on display here can't be taught.
If you put this kid on a team with a lob threat like Mitch and bunch of movement shooters and/or smart cutters who know how and when to move with a purpose, Barrett could do significant damage, either as a secondary creator alongside a true offensive engine, or even as the engine himself on rare occasions.
Along with Robinson, he is the closest thing the Knicks have to a true building block. It's time they start doing what good organizations do and taking the proper steps to nurture such players instead of making patchwork quick-fixes around them in the hopes of having their cake and eating it too.
I haven't had cake in a very long time, and I'd like to have some before I die.
If the Knicks handle Barrett appropriately, who knows how far he - and they - can go (and how much cake we'll be able to eat).