The Best Move the Knicks Can't Make
As the trade deadline approaches, process has to come before progress
In this newsletter:

---
Let's start here, because nearly 48 hours out from the deadline, I don't know where else to begin:
Do you trust a front office with this track record and in this situation to execute a trade that will not only have implications on this season's Knick team, but for years into the future?
If you didn't think we were eventually going to have to ask this question, you've been kidding yourself. Whether the Knicks moved Marcus Morris (once again the Knicks' best player last night, leading them to a 139-134 defense-optional win in Cleveland) or what they got for him were always going to be the subplots of this trade deadline.
Mook stays, Mook goes, whatever…it doesn't materially alter the future of the franchise, which is part of why I've had difficulty gaining energy for the handwringing that will inevitably take place if he's still a Knick 72 hours from now.
No, the lead story here is whether this front office can (or, perhaps, will be allowed to) pull off a deal that will convince James Dolan to keep them employed for another year, and whether that deal will actually be in the best interest of the team in the meantime.
If they make such a splash - D'Angelo Russell is the obvious name here - it will have dramatic and far reaching implications. Some or all of the fallbacks people (including me, at times) have used to defend this front office - ongoing cap flexibility, a handful of intriguing young players, a surplus of picks - would go out the window, vanishing quicker then Elfrid Payton on a well-set screen.
(Sorry Elf. You were awesome last night. But I had to.)
And maybe that is for the best. This draft, it would seem, is not great. The Dallas picks, in all likelihood, will not be great. Kevin Knox and Frank Ntilikina, while each raw and unfinished to some extent, are most certainly not great, and if you believe the theory that you kind of know what a guy is by the second half of his second season, they will never be great, or anything close to great.
That last part pains me to say, because I'm a massive fan of both players. I also can't deny cold, hard facts. According to Basketball Reference, here is the list of players who came into the league this decade that have taken over 1000 shots and have an effective field goal percentage under .450: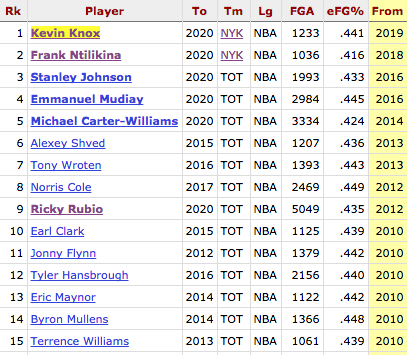 Aside from the high comedy of five of the top seven names having been Knicks, this isn't exactly an encouraging sign.
Aside from Rubio, who might be one of the three or four best passers in the NBA and is an elite defender, there aren't a ton of survivors on this list, let alone positive NBA contributors. There is a good reason why, as Mike Vorkunov noted in his astute piece on trading for Russell from earlier today, that "one NBA executive laughed at a proposed deal that would include Kevin Knox and Ntilikina."
Vork also mentioned the sunk cost fallacy, which is the notion that it's wrong to continue to value sometime higher than you should simply because you devoted valuable resources to it at some point in the past.
He is correct to do so, even though the question of whether Ntilikina and/or Knox are indeed sunk costs is up for debate. They are 41 years old between them. Many other players appeared on the above list at one time or another over the last 10 years and shot their way off of it.
Thinking they will improve simply because of their age, however, is no more sensible than saying the Knicks must hold onto them because they are recent former first round picks. There are no hard and fast rules in the NBA. It is a business of adjusting on the fly, which is why ultimately, regardless of what Steve Mills and Scott Perry said this summer or who they did or did not choose to go after, if the Warriors were to accept a package centered around, say, Knox, Ntilikina, and Dallas' 2021 first round pick, the Knicks would probably be crazy to say no.
(Trading this year's pick is more complicated. On one hand, dealing an unprotected pick when you have 15 wins in February, even in a bad draft, is not sound practice. On the other hand, including protections that would defer the pick is perhaps an even more fraught path, especially with the 2021 and 2022 drafts looking far better and deeper than this one. If you want a Knicks pick lingering into the future much longer than that, with the track record this franchise has had, please raise your hand, and slap yourself with it.)
Golden State, of course, will likely say no to such a deal because 23-year-olds who average 23 & 8 and shoot 38 percent from deep on nearly 10 attempts per game do not grow on trees. In the right situation, Russell could thrive and help a team win, as he did with the Nets last year.
But Russell is also not a franchise-changer. This is not James Harden, Steph Curry, Dame Lillard or Chris Paul…players who raise the ceilings of everyone on your roster the moment they take the floor. He's not even Kemba Walker, Kyrie Irving, or Jrue Holiday (defense matters, kids) either. Please don't mention his name in the same breath as Ja Morant.
As for why, let's start here: for as great as he is from long range, in many ways, D'Angelo Russell is the anti-Harden. According to Cleaning the Glass, fewer than one out of every 10 of his shots come at the rim, while nearly half of his attempts come in the midrange. Those rates are in the bottom five and top five percent of the league, respectively.
He also avoids the free throw line like the plague, averaging just 4.4 free trips per night, third fewest among the 20 players who average the most field goal attempts per game. So of the three most efficient shots in basketball, he largely eschews two of them - part of why he was exposed so drastically in last year's postseason, to the tune of a 41 eFG% over those five games.
When he doesn't have the ball, he also doesn't help you as nearly as much as the best point guards in the league, sporting an assist ratio just above 20 this season (last year, in more of a traditional point guard role, it was 23.4 - better but nowhere near elite).
The cost - $30 million a year for the next three seasons - should't be a huge concern for an organization that can't seem to get anyone good to take their money, but it also can't be ignored. There is a reason the only teams knocking on Golden State's door for his services are the Knicks and the Wolves, where Russell's close friend just so happens to play.
When you look at all of this together, it completes a picture that is more than a bit askew. Sound organizations start to get good first, and then package their better-than-decent young players for a star to help speed up that process. We saw this with Boston in 2008, Philly with Jimmy Butler, the Thunder with Paul George, and the Rockets with Chris Paul.
The Knicks are not good, and that has been either the cause of or the effect rendered by their young players being less than decent, which is why they can't trade those players for a true star, only a flawed one, and one that will not materially move the needle for this franchise.
And if you think there is not a Blake Griffin-to-Detroit-level outcome here, please wise up. The Pelicans had a star in Anthony Davis and Boogie still didn't work out there. Melo to New York was what it was, and there is no Amare here (nor is Russell anywhere close to Anthony).
I'd site more examples of mediocre to terrible teams making this type of trade but I can't because it so rarely happens. Does that mean it shouldn't happen more? I don't know. Maybe Mills and Perry really are the smartest guys in the room. Or maybe history is a savvy educator here.
But of course, Russell won't be the last move, which is where things really get frightening. The same front office that got us into this "not quite/less than/if only" quagmire to begin with would then be tasked with making the proper follow-up moves to complete the puzzle, and given that they'd have just traded for a 23-year-old recent All-Star, my guess is that James Dolan would absolutely give them the chance to take a few more swings, both this summer and next season.
And here is where the idea of a sunk cost comes into play yet again. Scott Perry and Steve Mills are not yet sunk costs. They can be let go tomorrow, or the day after that, or the day after that, or two and a half months from now after this misbegotten Frankenstein's monster of a season has finally taken its last undying breath.
If Kevin Knox and Frank Ntilikina are still on the team then, it is hard to imagine their value will be any lower than it is today. If a new front office with a track record of development comes in, might their value tick up a few notches? What about the value of future picks, now in the hands of someone who theoretically knows what to do with them.
Look at organizations like Toronto, San Antonio, Oklahoma City, Utah, Miami, Denver, Portland, and yes, Brooklyn.
(hold on, I have to swallow some vomit…give me a sec…there we go)
The way it seems like the Knicks are operating ahead of this deadline would seem antithetical to everything those franchises stand for.
Is there a chicken & egg argument here? Sure. Getting a little better greases the skids on other moves that help you get even better, and so on and so forth. You can't build a house without a foundation, and the Knicks have been digging in quicksand for years.
But that only returns us to where we started: are these the architects you trust to build this home? Giving up a fair bounty for something like the 35th best player in the NBA is an easy move, and maybe a move where the asset balance tilts in the Knicks' favor in the long run.
It also doesn't mean it's the right move. More importantly, it doesn't mean the current front office - the ones who drafted Knox after his college coach said he would be a three-year project, claiming they were now an organization who could mold talented lumps of clay like him into productive NBA players - gets the right to make it.
Why should they? Why should we trust that the moves that follow will be any better than the ones that proceeded it? What does it tell you that Terry Rozier - a player who has been a massive negative for the Hornets this year, and who the front office should be counting its lucky stars wasn't willing to sacrifice a guaranteed third year this summer - popped up in trade rumors last night?
At some point, you either trust the decision-makers or you don't. I don't.
So forgive me for OD'ing on my usual allotment of crazy pills, but I don't want the Knicks to trade for D'Angelo Russell, not for Mitchell Robinson (still my gravest fear, and one I would bet anything has at least been discussed), not for Knox, Frank and the Dallas picks, not for anything.
(Well, maybe not anything. If there's a way for me not to endure 30 more games of Bobby Portis and/or Julius Randle, the phone lines are open).
But in all seriousness, the next move this team makes that doesn't include dealing Marcus Morris for the best available offer should be made by someone who doesn't work here yet.
For as much as I was (correctly) lambasted for my tweet a few weeks ago stating that I was worried the Knicks would put together a Godfather package for Ben Simmons, this is the reason why I said it. Building a successful basketball team is hard. We've seen better men than Perry & Mills fail at it in spectacular fashion over the last two decades, despite having the likes of prime KG, Anthony Davis, and yes, Melo. If you think this front office is above failing with D'Angelo Russell, I'm sorry, but you haven't been around very long, have you?
That's it. Sorry if this was perhaps my ultimate downer newsletter of the year, but someone I trust recently reminded me that I have this platform, and if I believe in something, I should use it to promote that. So for anyone reading this who may have the ear of someone who could prevent any nonsense from occurring over the next two and a half days, feel free to pass this along.
I might not be an expert, but at least no one is getting hurt in the process.
At this point, I hope I can say the same for Knicks fans by late Thursday night.
---
Player Spotlight
Quick one today, because with everything going on, who knows what players will be where the next time this team plays.
Dennis Smith Jr. had himself a night yesterday, netting 15 points on 11 shots to go with six dimes and four steals. It was his second straight positive performance, this time with decent shooting.
In short, Smith Jr. is playing more, which, if you read between the lines, is all he thinks ever separated him from playing at this level. Maybe he's right. Maybe it's too much to ask a 22-year-old kid to approach every game with the same spirit and vigor of a Frank or a Dot, irrespective of the role they might have. A millennial is as a millennial does, after all.
In any case, IMO, one of two things is going to happen for the rest of this season:
DSJ is going to stay, and continue to get a chance to shine, and hopefully produce at this level from here on in, or…

DSJ is going to get traded to a team where he has a chance to shine, and hopefully produce at this level from here on in.
In either scenario, his stock is only going to go up. After yesterday's game, DSJ is up a whopping 25 percent…to get to a grand total of $0.12! That's how vastly he has underperformed this season, but it doesn't mean he'll continue at that pace. I'd get in now, especially since it won't cost you much at all.
First dip into the PredictionStike pool? Click here, enter code KFS when signing up, and get $10 towards your first investment of $10 or more.
---
New Podcast & I need your questions!
Two things:
1) I'm going to do a mailbag pod before the deadline, probably tonight, so if you have any questions you'd like me to answer on the show, email them to KFSMailbag@gmail.com.
2) Jeremy, Andrew and I recorded a pod last night going through all the trade rumors. It was fun:
---
News & Notes
compiled by Michael Schatz (
@mschatz99
)
Sorry I didn't recap last night's game here. I thought the D-Lo stuff was more important. If you missed the game, here's Joe Flynn's writeup on P&T to get you caught up. For my part, I will include this clip here of Frank Ntilikina's defense, which, if I get to continue watching him do stuff like this in a Knick uniform after Thursday night, I will be a happy man:
Tommy Beer wrote about the pros and cons of a trade for D'Angelo Russell.
That's it! See everyone tomorrow!