The Day of Reckoning is Upon Us
Not really. But it sounds cool.
Let's start with some news, rumors, and recommended reading…
News & Notes
Only one news item, but it's someone substantial. According to Shams & Sam Amick:
There "has been a swell of support," both inside and outside of the Kings organization, for Scott Perry to become Sacramento's next general manager.

The report notes that Sacramento would need to request permission from the Knicks to speak with Perry about the opening, but also notes that Perry and Kings majority owner Vivek Ranadive "have kept in touch since their time together came to an abrupt end nearly three years ago."

I reported earlier this week that Perry and Sacramento have already been in touch. Here are two dots : feel free to connect them.

(In truth, I have no earthly clue if Perry and Ranadive have spoken. But he has been in touch with the Kings. About what, and was the GM situation specifically broached? I can't tell you that for certain. But I know my guess.)

Finally, "a source with knowledge of his situation said [Perry] would be interested in returning to the Kings so long as he had the final basketball say."
"Sources Say…"
Only thing to note here is that at least one person with knowledge of the situation feels that is Perry goes to Sacramento, one or both of the remaining scouts hired under his watch are likely to go with him. On that note, the Knicks are believed to be beginning the process of conducting interviews to fill out the scouting department. Tom Thibodeau is involved with that process.
Good Reads
Pumping up the Strickland one more time, because it's that good. Some highlights:
Also, excellent piece from Vork yesterday with a ton of thoughts on Thibs courtesy of Jeff Van Gundy.
Good Listen
Jeremiah Jensen, who covers the Jazz for KSL Sports in Utah and is as knowledgable about them as anyone not working for the organization, joined the pod again to give the low down on Johnnie Bryant. We also got into Donovan Mitchell, naturally. Give a listen on iTunes, Spotify, or anywhere fine podcasts are found.
Ask Macri
In a vacuum, yes. Favors is basically a better version of Taj Gibson (and that's no shade to Taj) who would be the perfect veteran mentor for next year's team and has more than a little left to give on the court. His .618 eFG% last season marked a career high, as did his somewhat absurd 14.5 rebounds per 36 minutes. Perhaps surprisingly, his on/off net rating differential of +8.2 was the best on the Pelicans this season.
But there are some caveats:
He'd have to be OK coming off the bench, which he hasn't done since 2013. That's because…

He's exclusively a center at this point in his career. The nice thing is that he'd probably be the best backup five in the NBA, and given how next year's presumed starting center has had foul issues in the past, and will (likely) be adjusting to a completely new defensive scheme, having a serviceable option to come in and play 25 or 30 minutes if need be is a must.

He'd be particularly important if we were breaking in a rookie point guard who is predominantly a pick & roll player. A Favors screen is as legit as the come, and while he's not the vertical threat Mitch is, his timing is perfect, which would be nice for a young player to work with.
As an added bonus, he spent most of his career working with new Knicks associate head coach Johnnie Bryant in Utah, and is familiar with the drop coverage scheme that (I hope) Thibs runs more of next year.
Whether he's willing to come on a one-year contract is anyone's guess. It seems like he's been in the league forever and should be approaching 40, but Favors is still somehow only 29 years old. He might want multiple guaranteed years, and I could see a team giving it to him.
Depending on how the rest of the summer shakes out and who else is available for what the Knicks are willing to offer, I'd be comfortable giving him somewhere between the Taj deal and the Portis deal - so one fully guaranteed year at between $10 and $15 million - simply because having the dude who ran sidecar to Gobert all those years might be worth his weight in gold alongside Robinson for one season.
---
Bouncing Balls
Sometimes lottery night approaches with the feeling that it could change the course of franchise history for one or two lucky teams.
Other times, it feels like a good night to finally finish season two of The Kominsky Method.
(shameless plug for this wonderful little gem of a show)
Today feels like the latter. Here's the thing about lottery night though - well, two things, actually:
It almost always changes the course of franchise history for at least one team, and…

It rarely if ever turns out the way we expect.
Think about it. Over the last 33 years, only three 1st overall picks have won a title with the team that drafted them, and even that's a misnomer because one of them (Kyrie) wouldn't have won shit without another one (LeBron) leaving and then deciding to come back.
At the same time, until last season, every NBA Champion in history with the exception of the wholly anomalous 2004 Pistons has featured a player drafted by the organization as one of their top two guys.
Maybe the 2019 Raptors are a sign that that trend is changing. Or maybe Masai is just that good. Either way, it's tough to argue that nailing the draft doesn't matter. It's just that you don't usually know you've nailed it until years after draft night, and you certainly don't have a clue on lottery night as to what's in store, for better or for worse.
Take the Knicks. Let's say they get the first pick in 2015. Karl-Anthony Towns is the guy. The Knicks then don't sign Joakim Noah the next summer, and instead spend the money elsewhere, probably on someone else who sucks, but still. Either way, it's tough to see Towns acting as pissy as KP did heading into the Summer of 2017. Phil probably keeps his job another year, and the triangle offense remains in some form or fashion. Ntilikina probably gets a longer leash, and Timmy never comes home. Who knows who they pick in the 2018 draft, but it probably isn't Kevin Knox.
Are things better now? Worse? Your guess is as good as mine.
But there's no doubting that the 2015 lottery changed the course of Knicks history for at least the next half decade, and probably longer.
Which brings us to tonight. The odds are that a Giannis or a Kawhi or a Jokic or a Draymond or a Klay or a Jimmy Butler or Donovan Mitchell or a Pascal Siakam or some other non-top-10 pick who will alter a franchise gets drafted a little less than two months from now, but when and by whom is a mystery.
Perhaps it's a more a mystery this year than any other, where no top pick is a certainty and a seven-footer who's been playing against beer-league caliber players in middle school gyms in Greece might wind up being the jewel of the draft.
But just like I was desperately pining for the top pick in 2015, I will be glued to the television tonight, be a tad distraught if they don't move up, and be elated beyond belief if they do.
Why, after I said on Sunday's pod that I thought it was more likely than not New York comes out of this draft with LaMelo Ball regardless of where they end up, is this the case?
For one, we're fans, and anytime there's something to be won and something to be lost, we root for the thing that is there to be won. Its in our DNA.
More than that though, if it's one thing the Knicks have had precisely none of in the last 30 years, it is luck.
Think about it. Today, with your help, I'll complete a 32-team bracket of Knicks indignities that could have easily been expanded to 64 or 128 entries. If I was to make a bracket filled with entrants that displayed Knicks good fortune from the last two decades - the Jada Pinkett Smith Face Bracket, perhaps…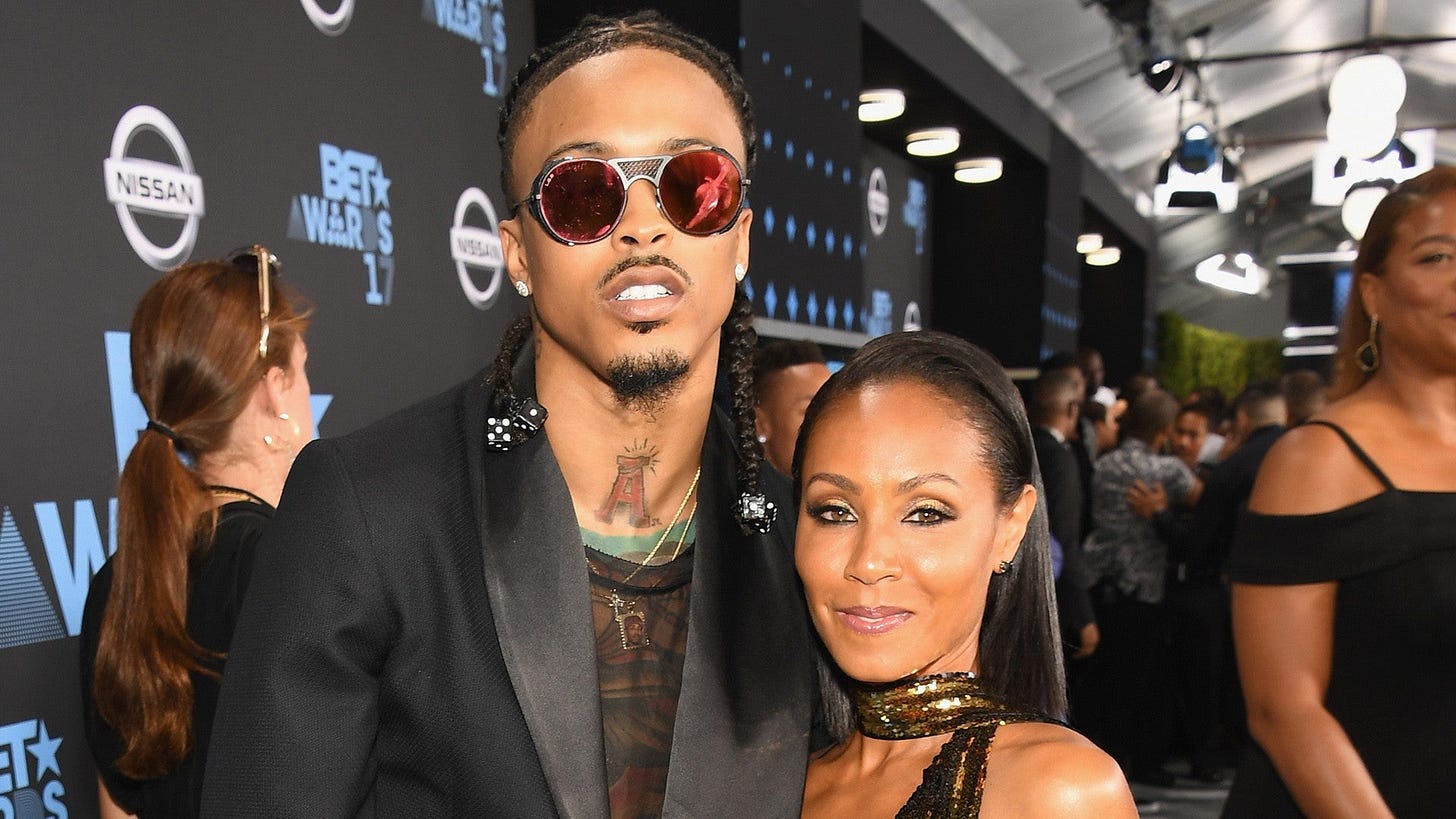 …how many slots would I need? Three? Five? There's 40 games of Amar'e, Linsanity, '12-13, and KP's brief run of glory, but all those ended in disgrace, dismay, or both.
Sure, luck is self-created to an extent, but sometimes, luck is just…luck. And for once in my goddamn life rooting for this team, I would like to get lucky.
Even if it is in the worst draft ever to get lucky in.
Fire up the freezer, boys. The ghost of David Stern is comin' for ya.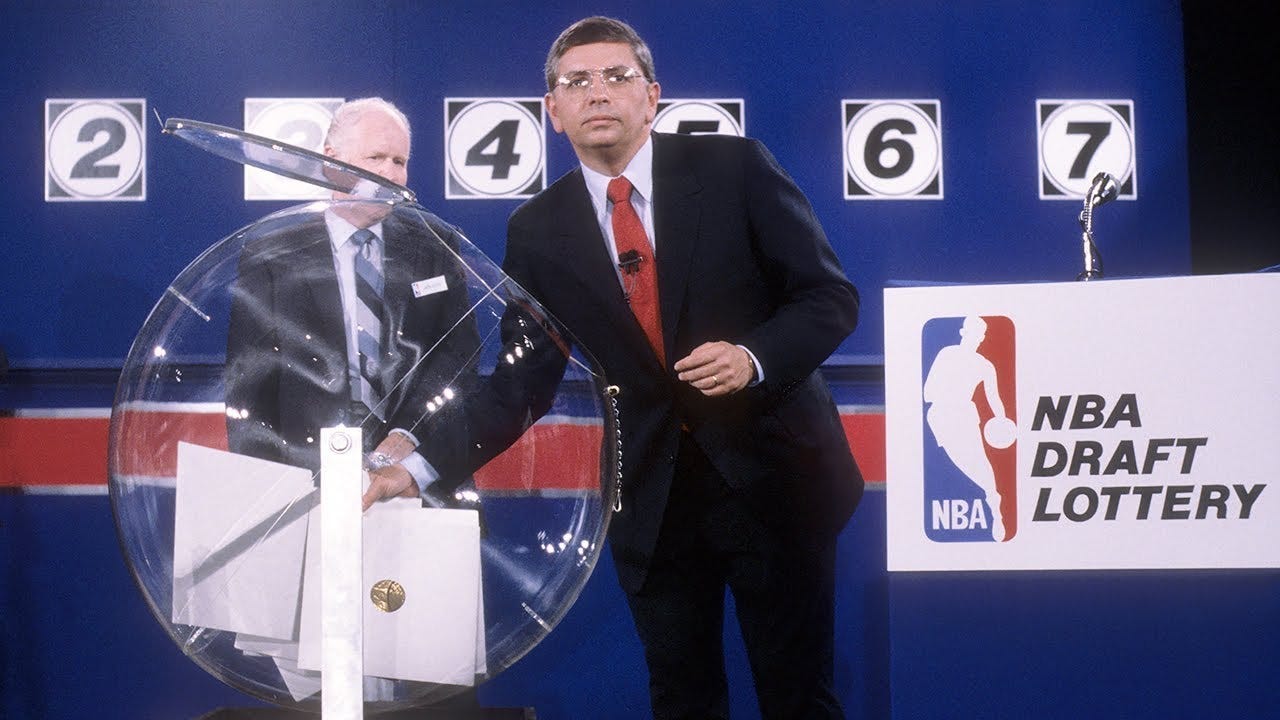 ---
Speaking of that Bracket…
We have our finalists in the Knicks "Will Smith Face" Bracket Challenge! The poll will be open today as my pinned tweet from 8 am to 6 pm, at which point I'll crown a champion. And what a matchup we have in the Finals…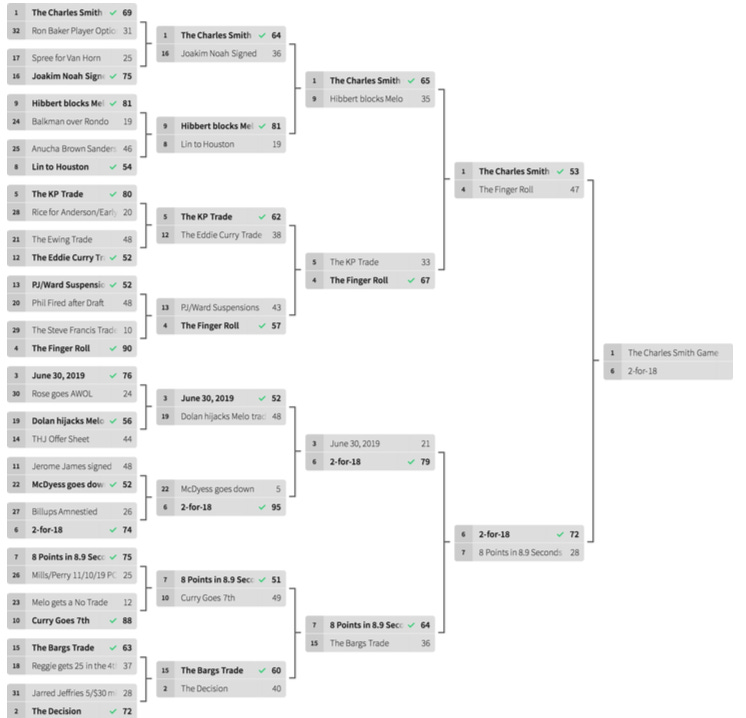 Was it ever going to come down to anything other than the Charles Smith Game and 2-for-18? Probably not. I imagine this will be close.
See everyone tomorrow, hopefully with the first pick. Also, check me out on Knicks Fan TV tonight from 8:20 to 9 pm as we watch the lottery results live. #BlackLivesMatter