The Glass Me-Knick-erie
Jeremy Cohen takes inspiration from one of his favorite playwrights to examine why trading young assets isn't always a bad thing.
Morning folks! To start off the week, Jeremy Cohen takes us through his logic on why the Knicks might be closer to swinging a big trade than many people think. His piece goes hand in hand with today's new KFS Podcast, so definitely check that out as well (and feel free to subscribe, rate and review to help me keep this whole operation afloat!)
Lastly, before we get to Jeremy, a quick update: no new news on Kenny Payne, the Kentucky assistant coach who I've been told is on the verge of coming to the Knicks. Terms have apparently been agreed upon and according to a league source, the decision is in his hands. Baring a last minute change of heart, expect an announcement sometime in the middle of this week.
Now without further ado, Ladies & Gentlemen, Mr. Cohen…
The Glass Me-Knick-erie
by Jeremy Cohen
This article is memory. Being a memory article, it is dimly lighted, it is sentimental, it may not always be realistic. I am the narrator of this article, and also a character in it. The other characters are you, the fans, and the star we yearn for, whose NBA career isn't fleeting.
I'm going to take you back to the year 2015, June 25th, 2015 to be exact. We're in an especially gentrified area of Brooklyn, where multi-millionaire real estate developers turned a community into a basketball arena. Do you hear that? That thunderous noise? It sounds like… booing? Yes, yes it is booing. It's Knicks fans, booing a teenager named Kristaps Porzinigs, a person they had never heard of until a week ago. There's a slight tinge of xenophobia because European players are generally considered busts at this point in time, especially after Andrea Bargnani, who is from an entirely different part of Europe than Porzingis, but now is not the time to get into the concept of prejudice. Pay attention to how mad Knicks fans are that Porzingis has been drafted. The draft was billed as a three-man draft and the Knicks picked fourth. They didn't even walk away with future Hall of Fame point guard, Emmanuel Mudiay, that night.
Hey! HEY! Stop trying to warn people about coronavirus. They cannot see you, as this is a memory article. It's now a couple weeks later and we're in Las Vegas. Porzingis looks promising in Summer League. He's shooting, he's scoring, and he's protecting the rim. There's a sense of optimism among Knicks fans, but let's be honest: This is mostly against players who will never appear in the NBA. It's uplifting but we should wait until it's against NBA talent.
All right, we have one more stop befo-- what did I just say in Brooklyn? No book is taking bets on a possible pandemic. This isn't a dystopian version of Back to the Future Part II. Stumblejohn! Come along, now.
It's now the first month of the 2015 regular season and New York can't get enough of Kristaps Porzingis. The putback dunks over LaMarcus Aldridge, Kevin Love, and Greg Monroe have sent shockwaves through the fanbase. The steal, spin move on Paul Millsap, and the coast-to-coast dunk? Electrifying. Breen's very first "Blocked by Porzingis!", coursed through every fan's veins, as they felt a sudden rush of dopamine, euphoria, and maybe a little bit of pee. Porzingis was the bright light at the end of the excruciatingly long, dark tunnel. What Porzingis represented, that level of excitement, even for a team that later peaked at 20-20, is here. 
Well, it was there. There was a mixture of unbridled joy and pride wafting through the city streets. As beloved as Carmelo Anthony may have been by some at the time, the Melo era had grown stale. Porzingis rejuvenated a franchise that was rapidly becoming moribund. He was so young and so exhilarating to watch that you knew only good things would come from this.
"Why?" you abruptly inquire. "Why are you stirring up old emotions, and opening up wounds that refuse to heal, for a player some of us fans simply can't forget, as much as we try? Why are you treating my fandom as if it's a Tennessee Williams play? Are you going to talk about Laura Wingfield's glass unicorn and draw some analogy to a martyred, anemic, and fragile seven-footer?"
Well, you see, those emotions I'm eliciting are the same ones that will return as soon as a young player can capture that same magic Porzingis had, and revitalize an entire organization. The mere thought of Zion Williamson in orange and blue was enough to excite even the most pessimistic of Knicks fans. If the Knicks can get a proven household name in the door before he hits his prime, on-court brand perception changes like that. I needed you to take a stroll down memory lane to remember how divine .500 basketball felt, let alone contention. This brings us to the more recent past, the present, and the future.
The Savior?
This past weekend, Jon and I spoke about Donovan Mitchell.
Should Mitchell not want to re-sign with Utah and the Jazz decide to honor that wish, the Connecticut native would cost quite the pretty penny to acquire. To preface this discussion, I don't see a potential deal materializing until the trade deadline at the earliest. Too much has to occur between now and then, so yes, this is definitely putting the cart before the horse, as Jon so aptly named this week's pod.
If you don't like Mitchell, that's totally fine. If you don't think the Jazz trade him, that's fair too. However, if you feel like he's not worth a cache of picks, you're probably asset-hoarding and you must not have seen what he's capable of doing on his best days. If anything, Mitchell serves as an example for the price point of any young All-Star on the block, should the situation present itself. And while I'm still unsure he can be an alpha for a true contender, that doesn't mean Mitchell can't be a focal point on offense and play a significant role in turning the team around.
We still don't have a salary cap for next year, but with the bubble working (*breaks knuckles from furiously knocking on wood*), there's a strong possibility the NBA can function in a bubble next year. What that does to the salary cap remains up in the air, as the salary cap is about projected revenue, not past revenue. If you're not able to sell tickets for the upcoming year, you're probably going to struggle to make money.
Let's assume that the salary cap doesn't crash but is instead held at the same number as this past season of $109,140,000. Leon Rose said the Knicks don't have a timeline. Do I believe him? Sort of. I doubt there's a mandate to win right away, but the Knicks could easily consolidate their assets and secure a star that fits their timeline if they have the chance.
RJ Barrett could become anything from a decent starter to a top-25 player. Chances are you're a Knicks fan reading this and you lean more towards the optimistic end, partially because you believe it and partially because you want to believe it. Donovan Mitchell, meanwhile, is a top-25 player right now. He's turning 24 this September and might be the only star who isn't about to enter unrestricted free agent who has a remote chance of becoming a Knick. Getting that player in your building changes everything. 
The Offer
Knicks fans often wish to keep their best assets and deal their middle or worst ones for a star. If you don't want Dennis Smith Jr., the team trading its star talent probably doesn't want him either. Like I've said before, if you think you've offered enough, you likely haven't. The framework for an All-Star during the last year of his rookie contract was set by Porzingis: Two first round picks (one unprotected and one protected), a young player with promise (at the time of the trade at least), and dumping some long term money. 
With all this in mind, one of RJ Barrett/Mitchell Robinson and two unprotected Knicks picks that fall between 2020 and 2023 for Donovan Mitchell and any potential salary filler sounds like a solid starting point. A third (protected) first round pick in that span could easily be in there as well.
Think that's a tad unrealistic? Ian Begley spoke with one executive in April who said that any Spida deal would start at one of Barrett/Mitchell Robinson and two first round picks. That's only one executive he spoke with, but again, the deal described is the starting point.
For what it's worth, gun to my head, I would much rather trade Robinson before Barrett in any deal for a star. Rim protection at the 5 is key for contenders but Robinson's lack of a shot puts pressure on the players around him spacing wise. NBA teams can get away with a 4-out offense but the best ones have elite offensive talent around the player who is 1-in. Will the Knicks be able to add that level of talent - and spacing - while Robinson is under contract? All while he's earning upwards of $15-20 million a year? Frankly, I am a bit skeptical. Right now, because he costs under two percent of the salary cap, Robinson's overall value may actually be at its apex.
If Gobert is still on the Jazz, Robinson doesn't make sense in Utah. The Knicks could always try to flip Robinson to a team like the Warriors at the 2021 trade deadline for the 2021 Timberwolves first round pick instead of dealing Barrett to Utah. It works, although it's also more abstract and convoluted than using Barrett in any scenario here due to the fact that a third team would need to be involved. So let's use Barrett for the sake of simplicity.
Perhaps if the Knicks move up in the 2020 lottery or trade up using their Clippers pick, recent history tells us that Barrett, the player drafted with New York's top-four 2020 first round pick, New York's 2021 pick (protected 1-10), and an unprotected 2023 pick is something the Jazz may strongly consider if Mitchell's time in Utah is certain to end soon. That would, of course, mean that the Knicks technically used Barrett and four picks to get Mitchell.
You might be convulsing at that offer. "That's too much! All this for a player who isn't an alpha?" To that I gently remind you that Porzingis wasn't an alpha either and look at what he yielded while being injured: A struggling guard drafted ninth overall a year and a half earlier plus two first round picks. What's more, the Mavericks will have traded three first round picks in a five-year span to acquire their core of Porzingis and Luka Doncic. They did not and do not own the rights to another team's first round picks. The Knicks currently hold the rights to three first round picks that didn't originally belong to them. They can afford to part with some assets. In fact, they must consolidate their assets to get the most out of it.
Anthony Davis is a top-five NBA player. While he is going to be an unrestricted free agent who only wanted to play in a couple specific cities, here's what Davis cost: A former second overall pick with a blood clotting issue in Brandon Ingram, a former second overall pick who couldn't shoot in Lonzo Ball, the fourth overall pick in a draft with a steep dropoff after the third overall pick, a cheap rotation player in Josh Hart, a protected first round pick in 2021, and an unprotected first round pick in 2024 or 2025.
Two future first round picks and a recent lottery pick versus three future first round picks, two recent lottery picks, and a recent late first round pick. Feels pretty fair to say that Mitchell would cost somewhere between those two offers. Also, if the Knicks choose to build more slowly next year and their 2021 pick finishes in the top 10, New York will have received Donovan Mitchell and still have two chances to land great talent in the draft. The draft picks would then shift to 2022 and 2024, and while that could affect the potential double draft in 2022, it's a blow the team can stomach knowing the future is already in good shape.
Even if the Knicks don't move up in the lottery, and if Mitchell were to effectively cost the Knicks a combination of Barrett, the 2020 lottery pick, the 2020 Clippers first round pick, a protected 2021 first round pick, and an unprotected 2023 first round pick, New York would still be at pick equilibrium, holding seven first round picks over the next seven years starting in 2021. I also haven't even mentioned the three second round picks (38th pick this year and likely two picks from 31-40 in next year's draft) New York has, which means that between 2021 and 2027, the Knicks would still have 10 top-40 picks over the next seven drafts if they trade Barrett and four firsts.
The Vision
Donovan Mitchell's presence would be crucial to reviving the brand on the court, because lord knows the Knicks don't need much rebranding off the court. Trading for Mitchell before his rookie contract expires would be imperative. His low cap hold in 2021 ($15,586,503) would allow for the Knicks to then say "Hey two max players, how would you like to make a lot of money playing together with a young All-Star in Donovan Mitchell and an elite rim-runner in Mitchell Robinson, in an easier conference, in New York? We can fill out our roster with the room exception, the bi-annual exception, and minimum contracts this year and then gain the full mid-level exception next year." 
All of that feels like fan fiction, right? That's what it is, at least right now, but you have far more credit in that scenario than saying, "Well, we have an elite rim-runner in Mitchell Robinson and a 21-year old in RJ Barrett who, despite not having the right surrounding pieces and thus wasn't named to an All-Rookie team, could become an All-Star. We also can't promise that. But it could happen." There are too many ifs with RJ in that situation.
And I can once again hear you muttering to yourself that you just want to rebuild in peace, but again, if you trace the lineage of elite teams, you'll see that much of the foundation is because of trades and free agent signings. Plus, even if you strike out in the 2021 offseason, entering the 2021-22 season with Donovan Mitchell, Mitchell Robinson, and one to two first round picks from a loaded 2021 draft class gives you one of the best 25-and-under teams in the NBA. And you still have ample cap space to appeal to the game's best free agents over the next few years.
Noted fed and Louis Farrakhan lover Kevin Durant mentioned that the Knicks aren't considered cool by young players. Durant is on the money with this one. I'm 25 and my earliest memories of the Knicks are circa 2003, when they were quite putrid. Mind you, that's me speaking as a Knicks fan. Any player who is my age and not a Knicks fan won't reflect back to that time. Chances are the youngest players to fondly remember when the Garden was truly Eden in 1999 were around eight years old at the time, meaning they would be 29 today. If you're a 29-year old human, you are, on average, more than one-third of the way through life. If you're a 29-year old NBA star, you're essentially in your mid-fifties from a career standpoint. Your career is too short for you to resuscitate the Knicks, especially by yourself.
Durant also talked about how playing with players who are both young and older appealed to him. The Knicks could have afforded Kyrie Irving and DeAndre Jordan but they lacked a Caris LeVert type player. They also drafted projects like Knox and Frank Ntilikina, whose timelines didn't sync up with the stars'. It's easy to see Donovan Mitchell being a much better version of LeVert in this hypothetical scenario for 2021, and the dream gets even better if Tom Thibodeau can help Mitchell Robinson further develop.
What's more, just this past week on the R2C2 podcast, Kemba Walker said he very seriously considered joining the Knicks in free agency. Why? He thought New York was going to land another star. Walker denied that the other star was Kevin Durant but let's be real, who else would it have been? Kawhi Leonard was never rumored to join the Knicks and no other player would have made sense to pair with Walker. Ryan Ruocco talked about Knox not being ready to play winning basketball, and while it's low-hanging fruit, he's not wrong at all. Look no further than Knox's season this past year. Building a roster with talent that can begin competing from Day 1 is the key.
This is where Donovan Mitchell comes in to play. Having an All-Star who grew up as a Knicks fan and who would be acquired by his former agent is how you build from mediocre to good right away on the court, and then go from good to great the next year. You may be thinking, "So the Knicks are going after elite free agents, all the while trading Barrett, who could be better, for an undersized scoring guard." On the surface, this may feel like the antithesis of what I personally look for in terms of building a successful team. It's easy to fall in love with the flashy player. It's not quite that in this case though. 
No disrespect to Rudy Gobert, who is a better player than Mitchell, but look at the perception of how Mitchell turned Utah from a team that lost Gordon Hayward for nothing to a team with overnight star power? A sure-thing is in Utah's building and he has already had the chance to forge relationships with fellow stars. He has been able to network better than a rookie like Barrett has. I've said it a thousand times and I'll say it once again: Networking is vital in a business, nay, a world where connections are everything.
"Perception, perception, perception. We get it, dude. You don't trade for perception though."
You don't, and yet, you do. Remember when fans wanted to trade for Kyrie Irving? My stance then was a firm no, not because Irving wasn't (and isn't) talented but because it would have crippled the Knicks and left their asset cupboard bare. Donovan Mitchell isn't Irving but he's not that far off either. And this time, if Mitchell does become available, the Knicks will have the draft capital to acquire him. 
It's also easy to see how Mitchell and Thibodeau could work together, seeing as how Thibodeau had success with a shorter, extremely athletic guard who consistently drives to the rim in Derrick Rose. It was because of Rose's explosiveness, conveniently timed with Thibodeau's arrival in Chicago, that Rose got to the free throw line more and bolstered his MVP case. Before Thibodeau arrived, Rose attempted 4.3 free throw attempts per game and had a free throw attempt rate of 24.6%. In Thibodeau's first year, Rose attempted 6.9 free throws per game and had a free throw attempt rate of 34.8%. This makes sense, especially since his usage rate went up from 27.2% to 32.2%.
Compare this with Mitchell, who is taking 4.7 free throws per game this season and has a free throw attempt rate of 24%. The numbers, when compared with Rose, are nearly identical. There is obviously more to this than free throw attempts but something about it feels all too familiar. And while Mitchell isn't the passer MVP Rose was, MVP Rose was never the shooter that Mitchell is. Quin Snyder is a fantastic coach and the Jazz are a phenomenal developer of talent. Perhaps, though, with a change of scenery and a head coach who has a longer resume with maximizing player development, Donovan Mitchell could take a larger leap in New York than he would in Utah.
The Comparison
Barrett could be better than Mitchell. After all, when Donovan Mitchell was Barrett's age, he was in college. I'm just not sure what proof there is other than hoping Barrett turns out better.
And truthfully, I don't love comparing them to one another because I would rather see them share the floor than trade one and acquire the other. If we must compare them though, check out how each has done in their first year in the league. Here is Player A's rookie shot chart, courtesy of Cleaning the Glass:
And here's Player B's rookie shot chart:
You probably surmised as such but Player A is RJ Barrett and Player B is Donovan Mitchell.
Now check out their shooting stats, also courtesy of Cleaning the Glass.


The differences are pretty stark. That is a ton of blue for Barrett, who is shooting worse than Mitchell in every single metric listed.
Again, you can point to the difference in age and the spacing around Barrett, and I fully acknowledge and do not disagree with those points. It's just that it feels like we're falling into the same trap of "One player is younger so we can't compare them to other players as it isn't fair." And this is coming from someone who, a couple years ago, naively said to Andrew Claudio, my former pod co-host and current pod producer, to compare Frank Ntilikina's stats with Donovan Mitchell's stats in two years. Here we are two years later, and as you can see, I was quite wrong! It differs from player to player, but what's in front of us is in front of us, and what we want to be in front of us isn't. Maybe it could be, but the truth is, it just isn't.
What's more, you can acknowledge that Donovan Mitchell at 21 could easily have been better than what RJ Barrett will be at 21 without it being a sign of disrespect too. However, if you feel that Mitchell has shown that his ceiling surpasses the combined ceilings of Barrett, the player drafted in 2020, and the player drafted between 2021 and 2023, then the answer on whether or not to make a play for Mitchell, should the opportunity present itself, is clear.
I've also tweeted this and said it on the most recent pod, but Walt Perrin's eye for talent, his relationship with Donovan Mitchell's agent (Ty Sullivan) before the 2017 draft, and his intimate knowledge of which 2020 draft prospects the Jazz like and dislike as a member of their front office as of this past May are all… fascinatingly coincidental. Remember, connections.
The Conclusion
You have to give to get. The Knicks don't have too many assets but they would be best served packaging what they have into something better. Whatever New York's next big move is, it should be viewed as the next step in the process, not as a finishing touch.
I talked about the energy Kristaps Porzingis brought with him during the first part of his rookie season but that same palpable feeling existed when Amar'e Stoudemire played at a MVP level in 2010 or when the Knicks traded for Carmelo Anthony in 2011. You didn't have to love either move in the long term but you could feel steps being taken. Yet signing an injury-plagued big man to an expensive, uninsured contract and then trading your assets so you're at a deficit is not the same as trading for Mitchell or any young All-Star. 
Much like Laura Wingfield's most prized possession, the Knicks' glass unicorn is being cared for by someone else. The candles have been blown out in the Wingfield residence and the bright lights of Madison Square Garden have been shut off since last March, although they began to dim on February 6th, 2018. We hope and we pray that a star comes walking through the door again sometime soon, whether it's via the draft, trade, or free agency.
A player like Donovan Mitchell has the chance to set the tone and put a plan in motion that can change the Knicks' trajectory as we know it. Whether it's Spida or someone else, until that person is in a Knicks uniform, us fans waste away, waiting for the basketball equivalent of a gentleman caller to fill that void and sweep us off our feet.
---
Knicks "Will Smith Face" Bracket Update
Oh, hey Will!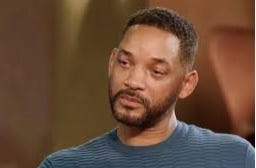 A few of you have asked for an update on where the bracket stands. As of today, here's where we're at: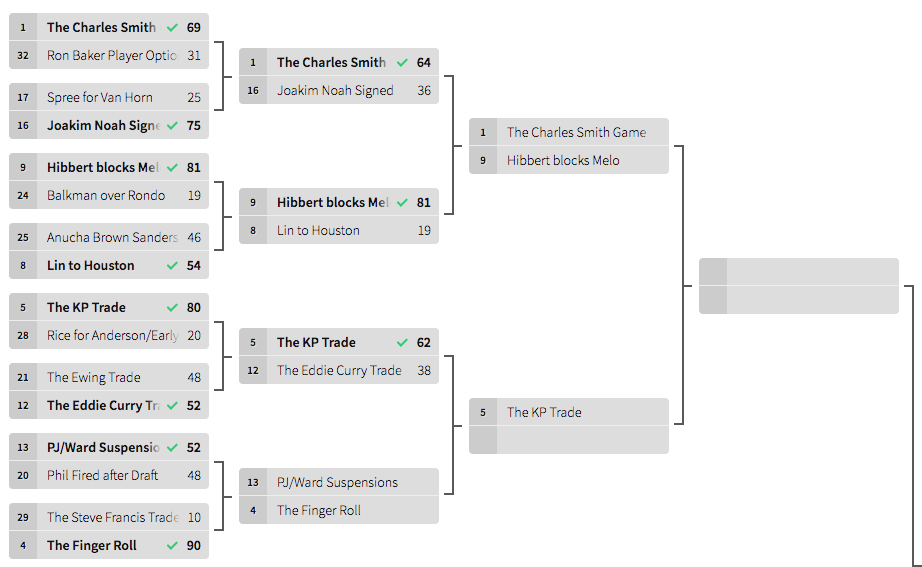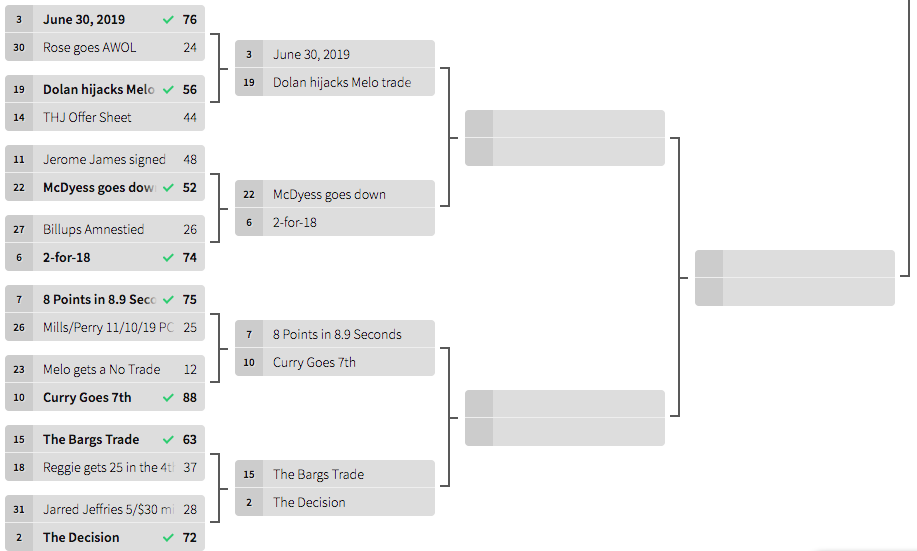 I'm predicting a Finals between (9) Hibbert Blocks Melo and (3) June 30, 2019.
Damn Millennials.
Don't forget to check my pinned tweet every day to vote on the latest matchup!
That's it for today…see everyone later this week! #BlackLivesMatter