The Knicks Best Kept Secret
Lamar Peters never got his chance to shine in the NBA this season, but that doesn't mean he shouldn't be a part of New York's plans. I spoke to him to find out why.
As we await the end of the Neverending Coaching Search, with some time to spare before we all make wild prognostications about what the hire will say about the direction Leon Rose is going to take with this team, I wanted to take a minute to highlight the player in the Knicks' organization who was perhaps robbed more than anyone by the league's premature shutdown.
It wasn't someone on their NBA roster.
If Lamar Peters isn't a name you know yet, you should. That's because this season for the Westchester Knicks, he had himself a campaign.
Let's start here: Peters was one of two qualified G-Leaguers this season (and just the third one ever) to average 17 points and seven assists while also hitting at least 40 percent of his 3-pointers. Josh Magette, the other player to accomplish the feat this year, is a 30-year-old journeyman. Peters is a rookie who just celebrated his 22nd birthday.
Despite this fact, Peters was nowhere to be found on any of the three All-G-League rosters. That's probably because the Westchester Knicks weren't very good, finishing with a record of 17-24 and a dead even net rating.
Just don't hold that against Peters. Westchester played about the same number of minutes with Peters on the court as without him thanks to a midseason injury that cost him a month. Their net rating with him on the court was 6.4 points per 100 possessions better than with him off, the second best difference among regulars.
Better yet, his performance with Westchester's two highest profile players suggests a unique two-way talent. When Peters shared the court with Knicks' second round pick Iggy Brazdeikis, the team had a 113.4 offensive rating, which would have been tops in the league. When he played with Kenny Wooten, they had a 100.6 defensive rating…which also would have been tops in the league.
The evidence is clear: Peters is an NBA player just waiting to get his shot.
When I spoke with Peters this week for the latest episode of the KFS Podcast, I asked him if this year was more exciting because of the success he attained or disappointing because he never got that elusive call up. All he could think about was how seeing the speed and spacing of the pros only confirmed for him that he could play at this level. "I've never lacked for confidence."
Despite this belief, Peters told me that he took inspiration from former undrafted G-Leaguer Fred VanVleet being up for maybe the biggest free agent contract in the NBA this summer. "It's possible. We're not that different…he knocks the three down, he's a pest on defense, he makes the right plays. I don't see him as much different from me." He knows it's only a matter of time. "As long as you prepare the right way and work hard, the basketball gods are going to reward you."
Part of Peters' progression as a player this year involved improving in several areas that counted as significant question marks coming out of Mississippi State, the first of which was decision making. While his assist to turnover ratio improved during his three years of college, it never approached 2-to-1, one of the main reasons he went undrafted.
This year, those issues surfaced again, as Peters had four or more turnovers in 14 of his first 26 games. Then came a month-long absence due to knee soreness, and with it, a period for Peters to sit and learn. "When I was out hurt, I was just able to watch the games, see how the game is played, and see the things I was doing wrong." Peters says that time let him know exactly how he wanted to play when he came back, and it showed.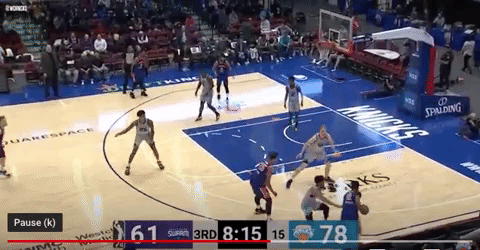 "Breath first." That's the best advice Peters has gotten about running point at this level. "See what you got before you just go run in to it"
That increased patience was on display in a big way late in the season. In the six games Peters played after he returned from injury, he averaged 9.8 assists and just 2.1 turnovers over those final six games. That included this gem against the Greensboro Swarm, in which he set a team record with 19 dimes:
Overall, Lamar's ability to lead a second unit offense will probably be the difference in him not only getting his shot in the NBA, but sticking once he gets there. The progress he made late in the season only makes that a more likely scenario, mostly because Peters has never lacked for vision or passing ability.
Take this play from that 19-dime effort: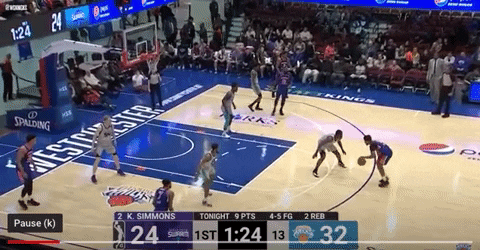 If you take that ability and subtract the decision-making issues that have plagued him from time to time, there's the outline of a player who can be very useful at the next level.
Although his height is always going to be a worry for some when it comes to guarding his position, Peters says that to him, defense is about one simple thing: not being bullied. Like any six-foot point guard around his age, he looks to Chris Paul for inspiration, particularly on the defensive side of the ball.
But defense isn't what's going to get him that elusive call up. Nor will passing, or driving, or finishing, or any other of the many components to Peters' well-rounded game. No…he'll be rocking an NBA jersey at some point next season because of this baby right here: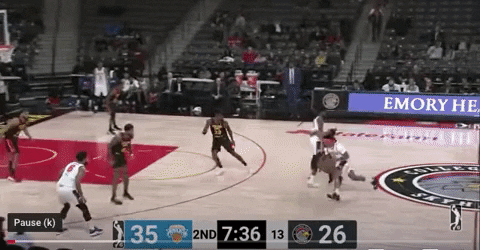 Peter's step back 3-pointer, once a novelty for him massing around on the playground, has became a major weapon over the course of his young career. Considering how many of these he put up, the fact that he was still able to cross the 40 percent threshold on deep balls is somewhat astounding. It's a major leap from his three years of college where he shot just under 35 percent.
Ironically, Peters attributes his success on this shot to those days just playing around when he was a kid. "Before I could even shoot, I would just work on moves." The problem came when the shots started going up…and none of them would go in.
"Million dollar move with a five dollar finish." That's the ribbing he used to take which ultimately forced him to get that shot to the point where no coach could tell him it was bad because it went in so damn much.
As for what the future holds, Peters, like anyone in the G-League, just wants his shot at the big time, but he certainly wouldn't mind if it was in New York.
"I loved playing for the Knicks," echoing that he'd again cherish the opportunity to once again come to training came to compete for a spot on the team.
We've heard in recent days how Leon Rose's first Knicks roster may be more veteran laden than some fans expect, but that doesn't mean there won't be a few spots on the bench for the right young talents. Whether it's Tom Thibodeau or Kenny Atkinson, there's an argument to be made that Lamar Peters is exactly the type of player who could come in and thrive for a coach who values toughness and willingness to buy into a system, and who just needs a chance to shine.
"I just hope it happens one day with any team, just so I could show the world what Lamar Peters is made of."
Here's hoping he gets that opportunity exactly where he started.
To listen to the full interview, check out the latest episode of the Knicks Film School Podcast:
---
Fundraiser Update!
Spots are running out! Thanks so much to all of you who have reached out so far and want to donate $30 for a 5-minute appearance on an upcoming episode of the pod. If you'd still like to do so, and support a great cause in the process by helping me raise money for Higher Heights for America, DM me on Twitter @JCMacriNBA or email KFSMailbag@gmail.com.
That's it for today…barring any coaching news in the next 24 hours, I'll see everyone on Monday! #BlackLivesMatter