The (Not So) Great Knox Debate, Part 2
It's time to dig into the film. Avert your eyes.
Because I just absolutely needed to fit a bunch of Kevin Knox clips into today's newsletter, I'm skipping most of the usual sections and getting right to the article because otherwise this would have been too long to send. You can thank me later.
News & Notes
Ian Begley said yesterday that even with reports from several outlets (including this one) that Fred VanVleet will be a Knicks target, one source he's familiar with "strongly disputes the idea that New York has any offer prepared for VanVleet at the moment," and that trading for Chris Paul or drafting a point guard would greatly reduce the chances that they make a big play for VanVleet.

Begley also noted league sources who suggest that "VanVleet is indeed among the free agent options under consideration by New York." So what gives?

My read on the situation hasn't changed from my initial report that the Knicks were all in on VanVleet as their top free agent target. I still think he's atop their board, but as Begley points out, that board can and should change drastically depending on how things go leading up to free agency. One would think that a Paul trade would occur before the draft, which is also when they'd potentially scoop up their point guard of the future.

If New York gets past draft night with no CP3 and no young lead guard of the future, however, I have no reason to believe their stance on VanVleet has changed.

For the conspiracy theorists out there, Devin Booker just sold his Arizona home.

Marc Berman had a story stating that "Pacers' guard Victor Oladipo is expected to be a higher priority" to the Knicks than Chris Paul, according to NBA officials. I reported on this a few weeks ago and can say that from what I'm continuing to hear, Oladipo is still very much on the Knicks' radar.
---
The (Not So) Great Knox Debate, Part 2
You know the feeling you get when you have to break up with someone and you really don't have a good reason to tell them? You try to search for the right words to express "I really just don't care for your presence anymore," but none come, so you inevitably end up saying precisely the wrong thing? And it winds up ending in an even more painful way than it otherwise would have if you'd just been honest?
(I once broke up with a girl from a payphone at a Staten Island bowling alley. The reason I gave? "Your shoes bother me." Luckily my quarter ran out before I could feel the full wrath of her response.)
Well despite the fact that I am now a happily married man, I once again find myself in a tough spot. And that's because I'm considering putting Kevin Knox…in the friend zone.
(As opposed to the "be a part of our young core 'till death do us part" zone)
He seems like a great kid, he comes from a great family, and the front office that drafted him should be tried for crimes against humanity for how they brought him along. All of that makes me want to like him as more than a friend, but that would mean ignoring the empty feeling in my heart where the warm and fuzzies are supposed to reside.
And it's not even that things are all bad. His improvement on defense was real, with numbers that bear that out, as we'll get to in a bit. He also did his best to become a more efficient player, moving eight percent of his shots from the midrange to long range last season.
But when it's not there, it's not there, and no amount of wishing, wanting or waiting is going to change that. And with Kevin Knox, there just seems to be something missing. The avert-your-eyes numbers I went through yesterday were a sign of that, but numbers never tell the whole story, especially on a team as bad and poorly constructed as the Knicks have been over the last two seasons.
Unfortunately, the film isn't much better. For this piece, I started out by going through all of Knox's field goal attempts from the last 15 games he played and clipped the stuff that stood out, either good or bad. Here's what my movie file looked like by the time I was done: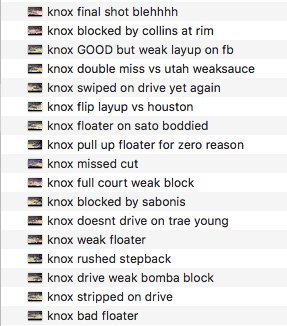 I certainly didn't intend to save five different clips with a variation of the word "weak," but if there was one word to describe Knox on offense last year, it was that.
Before I get to the gruesome details, let's start by taking a look at this clip from New York's February 24 game against the Rockets, when Knox attempts to drive on the recently waived and soon to be 34-year-old DeMarre Carroll:
It's tough to tell by watching the clip at full speed, but check out where Knox both picks up his dribble (pic 1) and elevates for the shot (pic 2) against a Houston defense playing without a center and no player in a red uniform within a foot of the paint:

This, in a few images, was Kevin Knox's season in a nutshell.
Drive after drive after drive, he'd be in more and more of a rush to get to the rim, almost like someone who just wanted to get the possession over with. No patience. No drawing contact. No counter moves once he put his head down. Nothing.
Variations of this same pattern came in all shapes and sizes:
There were the times he'd get diverted by guys who absolutely had no business pushing him off his spot, resulting in some of the ghastliest shot attempts you could ever want to see, like the one against 165-pound papier-mâché doll Trae Young here.
Then there were the times when Knox barely got up a shot attempt, and was relieved of the ball en route to the basket: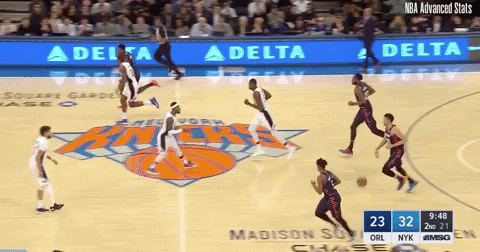 (Knox's turnover percentage was about the same this season as it was last year, and although I didn't go back and watch all of his offensive possessions as a rookie - even I have my limits - it struck me that he was stripped an awfully lot on drives to the hoop this year, including on many occasions like this one that went down as a shot attempt)
And then finally, we have those moments where he got all the way to the hoop and was easily turned away by a larger human waiting there once he arrived: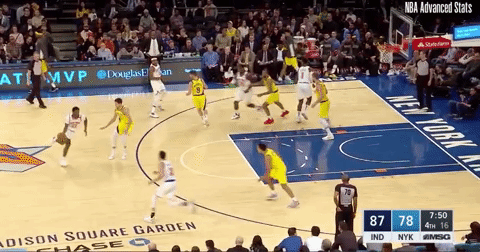 What makes this especially unfathomable is that Knox was not this bad during his rookie year. Sure, the numbers were terrible and there were some low lows, but there were also some nice highs, as we'll get to in a bit. Many of those highs included some nice aggressiveness around the basket, including a dunk on Ben Simmons that I can still feel in my bones.
And yet, there was a nine-game stretch towards the end of this past season when Kevin Knox played over 140 minutes and attempted two free throws.
TWO.
You know how few two is? It's one more than one. And two more than zero. It's really not very much.
Here's the thing though: we know Knox has it in him to be more aggressive on drives because we've already seen him do it, and not just on that Simmons dunk either.
Over the last 11 games of his first season, Knox attempted more free throws than any rookie besides Trae Young. He took 50 in 366 minutes, which isn't anything special, but is a far cry from the depths to which he sunk this year.
Overall, Knox was fouled on roughly the same percentage of shot attempts this season (10.5%) as he was last (11.0%), but the percentage of and-one's he drew was nearly sliced in half, from 17.8 percent as a rookie to 9.8 percent last year, according to Cleaning the Glass. The latter figure put him in the 12th percentile league-wide, 11th lowest of 229 players who saw over 1000 minutes last season.
This is the same dude who had moments like this earlier this season:
This isn't the strongest finish in the world, but at least Knox challenged a guy at the rim who was once a two-time All-Defense First Teamer.
It came during an Knox's first 11 games this past season, when he averaged 2.9 free throw attempts in 23.6 minutes per game and sported a solid but unspectacular 53.5 effective field goal percentage.
Over the rest of the season, his free throws dipped to 1.3 in 16.8 minutes per game, and his effective field goal percentage was like a roller coaster ride where the good part comes in the first 10 seconds: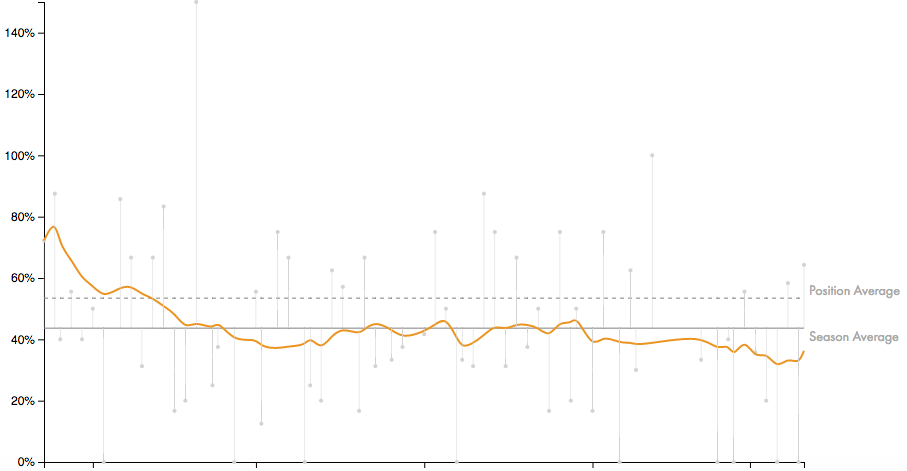 That early season surge wasn't altogether surprising given how Knox finished up his rookie year.
No, the team wasn't good when he was on the court - they were outscored by a dreadful 16.1 points per 100 possessions during the 366 minutes he played over the final 11 games of his rookie year, as opposed to just 2.3 points per 100 in the 162 minutes he sat - but he was given free reign to do some stuff. And some of it was rather encouraging: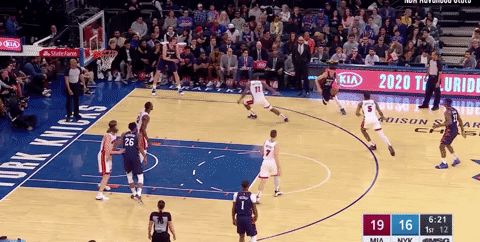 He still wasn't going hard that often, but at least it was a part of his game, as opposed to this season, when hard moves to the rack were almost non-existent by the time the shutdown occurred.
The other major thing we saw a lot of towards the end of Knox's rookie season was a level of patience and craftiness that seemed to completely disappear during his sophomore campaign.
This year, once Knox started a drive, he'd rarely if ever stop en route to a shot attempt, instead choosing to flip up some garbage on the move. He had his fair share of ugly attempts as a rookie as well, but there were also some moments that made you think he was well on his way to developngi a level of old-man craft to his game that was rare for such a young player:
For as often as Knox went to his floater this season, the results left a lot to be desired. When he shot it on the move, he rarely got himself under control enough that it felt like a quality shot. Stopping and using a few dribbles maybe wouldn't have been the worst idea in the world. Was anyone from the team telling him as much? Or that he had completely stopped trying to initiate contact at the rim? Who knows.
Knox also showed flashes as a rookie of being the beast in transition that everyone got so excited about after that glorious week in Las Vegas:
I know other personnel has a lot to do with it, but check out the discrepancy for the Knicks' numbers in transition when Knox was on the court between this season and last:

Part of Knox's appeal was his ability to grab, go and finish strong. Instead, this season we got stuff like this: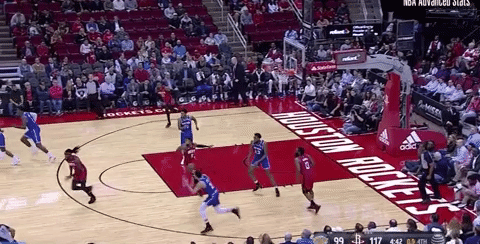 The transition game, the finishing, a regression in the variety of moves he'd employ when he made the decision to go to the hoop, the complete lack of interest in drawing contact, the massive increase in the arc on his shot…it's as if every aspect of his offensive game got markedly worse between his first and second seasons.
Blame this all on Knox if you want. I can't…not fully, at least. The kid is a hard worker and brings a positive attitude to the building with him every day.
You might also say that he focused too much on improving his defense, and maybe you're right. After all, he went from the 6th percentile (+6.2) to the 66th percentile (-2.0) in terms of how much his team got better or worse on defense when he was on the floor. You might be tempted to attribute that rookie to sophomore jump all to playing more minutes with Mitchell Robinson and Frank Ntilikina, but the numbers say otherwise. Via Cleaning the Glass:
To me, I'm putting this at least as much on Steve Mills, Craig Robinson and the organization's non-existent development plan since the day they drafted Knox. A kid doesn't go from yamming it in the face of Ben Simmons to doing this against the same team…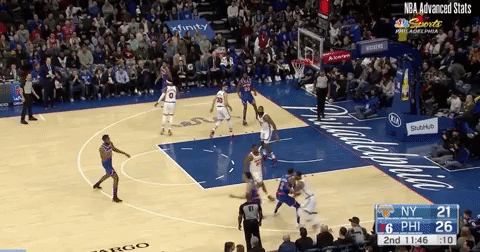 …all by himself.
Someone (or multiple someone's) should have taken the faint signs of hope Knox showed as a rookie and honed in on those in an attempt to make him a serviceable contributor at both ends. Instead, he was buried on the depth chart before the calendar flipped to July.
For Leon Rose, it's useless to cry over spilt milk. He inherited this version of Knox, and it's this version of Knox it will be up to him to make the most out of, either as a trade asset or a player. My guess is that other teams see what I saw and won't consider him to be the prized piece in any transaction.
And maybe that's for the best. Despite the numbers, I still think there is a version of Knox that is productive player…combine the signs of hope on offense we saw as a rookie, a jumper that seems destined to get straightened out, and the defensive progress from this season, and who knows where we end up.
But it's going to be one heck of a long climb.