The Plot Thickens...
The Knicks make one hire, with another one around the corner
Another busy 48 hours in Knicks land, including a new front office hire, some tidbits about how the team will look next season, and of course, an update on the coaching search, but first, a spotlight on the fundraiser I announced Monday…
Be a guest on the KFS Podcast!
ICYMI, I'm dedicating an upcoming episode of the Knicks Film School Pod to raising money for Higher Heights, an organization dedicated to getting more representation from Black women in politics, both by helping them get voted into office and increasing their presence at the voting booth. Winds of change are blowing, but sometimes a teetering building needs a little extra push, and I'm hoping you'll help me in providing it. Let's help make this the kind of country where everyone has an equal voice and not let this moment pass us by.
A reminder: in exchange for a 5-minute spot on the pod, I'm asking for a $30 donation. I'm hoping to record the spots on the weekend of July 25/26, and I already have almost half of the slots filled, so please let me know ASAP if you're interested in being a part of this, either by DM'ing me on Twitter (@JCMacriNBA) or emailing KFSMailbag@gmail.com.
Now onto the news…
---
The Front Office Facelift Continues
Say hello to this handsome devil…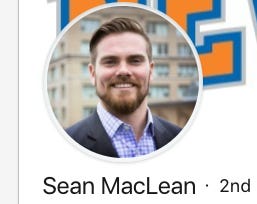 (Yes, apparently I know someone who knows this dude. But then again, I don't think I've ever turned down a LinkedIn connect, even from complete strangers, so really…)
This is, of course, Sean MacLean, the Knicks new hoops strategy guru (my title), and I must say, I like this hire very much. And it's not just because our last names share the same first three letters.
Let's start with the genesis of MacLean's hire. Brock Aller, Leon Rose's new VP of Basketball & Strategic Planning/Chief of Staff/consigliere, used to be Dan Gilbert's right hand man. As first noted by Mike Vorkunov, Gilbert was a major early investor in Krossover, a sports analytics company that specialized in, among other things, helping NBA teams prepare for the draft by assisting in the analytics end of the scouting process.
MacLean worked for Krossover from 2014 to 2017. As reported by Alder Almo, it was Krossover's Founder and then-CEO Vasu Kulkarni who first introduced MacLean to Aller. I spoke with someone high up at Krossover who worked very closely with MacLean, and they not only confirmed this, but went a step further. Apparently Aller came to Vasu with the role of Basketball Strategy Lead in mind, and MacLean was Vasu's first recommendation for the job.
"Sean has always wanted to work for a pro sports franchise," I was told. The former employee of Krossover characterized MacLean as a "data nerd," but also something of a jock, which made him unique in what he was able to offer the company. "When you're looking for someone who can translate data into basketball talk, and present it clearly to people across the organization, Sean was without a doubt one of the best possible people for the job."
There's also the matter of MacLean being a Wharton grad, which is still a designation (with some notable exceptions) worth bragging about.
Will he be able to shine in a role he's never had within an industry that is somewhat unfamiliar? I have no idea, but the Knicks have long brought up the rear in the analytics department (a department that consisted of one individual, last I heard), so the more nerds, the better.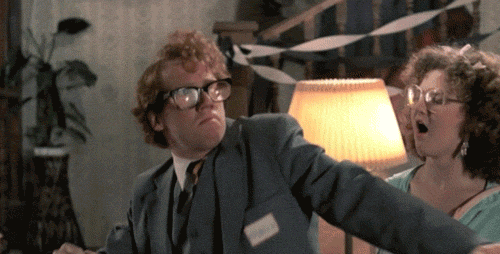 ---
Veteran's Day
With the possible exception of the name of a certain 7'3" Latvian, there has emerged no dirtier term in Knicks Twitterdom than the dreaded "V" word.
So when Ian Begley went on the radio Monday night and predicted that New York's rotation next season would have a "heavy veteran presence," the more vocal part of the fan base predictably lost their shit.
To those fine fine folks, let me say loud and clear: I hear you, I feel you, and I wish I could take away your pain.
Alas, I cannot. But I can offer you a teaspoon of reason.
The issue, friends, has not been that the Knicks repeatedly resort to stocking the roster with veterans at the expense of young players; it's that the Knicks repeatedly resort to stocking the roster with shitty veterans at the expense of young players.
From Othella Harrington to Al Harrington to Andrea Bargnani to Enes Kanter, the issue is always the same: the whole is never greater than the sum of its parts because the individual parts are always looking to get theirs at the expense of the whole (or, in the alternative, the individual parts just suck).
I don't have the energy to write an entire column on this today because I've probably written it before and I'm sure when the summer signings and trades come to pass, I'll have to write it again, but in short: if you give a lot of time to kids, the only way you'll be good is if you have a blue chipper or two on your roster, and with all due respect to RJ Barrett, he's not yet that particular shade of blue.
The Knicks need to accomplish one of two things this year: either tank their hearts out, or look like a competent roster/team/organization. If you're mad they aren't going to open Door No. 1, more power to you. Part of me wishes they would too. It ain't happening.
If you desire to pick Door No. 2, success won't come with a rotation featuring all of RJ, Mitch, Knox, Frank and DSJ, plus three rookies, to say nothing of Iggy, Dot, etc, etc. As my friend Jeremy Cohen put it today: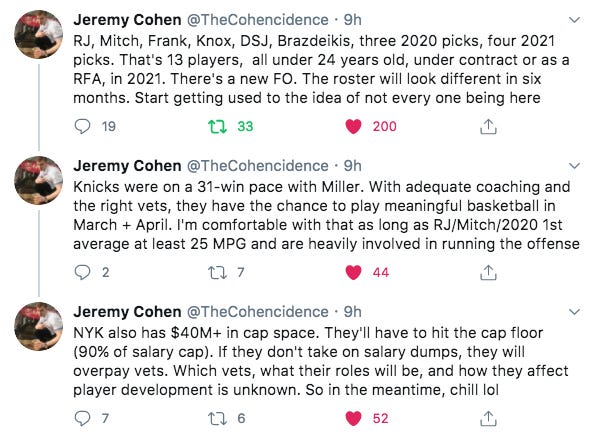 Yes, the more kids you make room for and actually play, the greater the odds that you unearth a diamond in the rough. That's how a guy like Spencer Dinwiddie gets traded for flotsam and then waived, only to find his home on a team with no better options. His teammate, Joe Harris, was also cut once. Khris Middleton is another example - a rookie throw-in in a deal that likely would have happened with or without him. Christian Wood has made the rounds. And just over the last two seasons, Duncan Robinson and Kendrick Nunn were undrafted rookies who blew up in Miami. Would that have happened if those roster spots were occupied by needless vets?
But guys blowing up after leaving their first or second franchise is an extreme rarity - the exception, not the rule. The cream, generally speaking, rises to the top, and does so pretty quickly. We all knew, for example, that Mitchell Robinson would be special within a few weeks of him first taking the court.
Robinson is going to get a major role on this team next year, regardless of who else they bring in. Ditto for RJ Barrett, and whoever they pick at the top of the draft, and likely one or two other younger players.
Next year is as much about putting those four or five players in the best position possible to succeed as it is anything else. Last year was so frustrating not because a guy like Damyean Dotson was glued to the bench, but because he was glued there so someone like Bobby Portis - who makes no one better and who doesn't improve the outward perception of the team's potential one bit - could get minutes.
Hopefully the revamped front office does more homework towards crafting the rest of the roster than their predecessors, who seem to have looked at the back of a few basketball cards and picked guys based on that alone.
If they do, and do it well, no one will be complaining that "only" a handful of younger players will be getting minutes, especially if they can foster an actual developmental system where non-rotation players improve even when they aren't seeing time on the court.
Who will stay and who will go? As I've said repeatedly, I'd be shocked if Dennis Smith Jr. was back. I think Frank stays, barring someone making a better-than-expected offer for his services. Dotson may come down to whether anyone makes a competitive bid in restricted free agency. I have no clue where Iggy stands in the organization.
As for the draft, it would shock me if all these selections were actually used. If they don't move up to the top four on lottery night, it would seem to make sense that they'd try to use the extra picks to do so before the draft. I continue to believe that some way, some how, LaMelo will be a Knick.
That just leaves Kevin Knox.
I've fretted as much as anyone over Knox and how the team would be doing an extreme disservice to draft a high pedigree kid in the top ten only to trade him two years later. I think he can thrive in the right situation, and while thriving likely won't mean what it did on the day he was drafted, he still has the talent to be a productive player in this league.
But if he does add his name to the above list of players who succeeded with a team that didn't draft them, it would be virtually unprecedented. I can't think of another example of a player a) taken in the top 10 who b) was labeled a bust while with his first team despite being given multiple years to succeed but then c) went on to succeed in a significant way elsewhere. Ben McLemore, who had himself a nice little career resurgence this season in Houston, is the closest example I can think of. If I'm forgetting someone, you know where to @ me.
In many ways, I look at Knox as the swing piece in this entire conversation. If he stays and looks decent, as do their top rookie, RJ and Mitch, no Knick fan in their right mind would complain, regardless of whatever else happens. If, on the other hand, Knox is an ancillary piece in a bigger deal and someone like Portis once again gets 30 minutes a game, I could see some folks being justifiably upset. The hope is that the team's new talent evaluators will make the right decision, one way or the other.
We'll see what happens. I'd just be careful about going batshit over this news. If they do this the right way, no one is going to mind.
---
Oh, and about the coach…
The fat lady hasn't sung, but she sure seems to be warming up…
If anyone gave me 10-to-1 odds on either Kenny Atkinson or Jason Kidd, I'd still happily put a c-note down on either, because I've never been above lighting good money on fire.
But this thing seems all but done. The Kidd report by Berman screams of positive spin for a guy that the Knicks (and Worldwide Wes in particular) might want to help increase his profile for an eventual third HC job. I've heard elsewhere that Wes is a big fan of Kidd, and whether that's legit or similar spin for the same purpose, it doesn't do enough to make me think he's getting the gig.
As for Kenny…who knows. He might be the best guy for the job. But he's also someone for whom you need to project how it'll look when he takes a team from nascent beginnings to 50-win contender.
There is no such imagination required with Thibs, who if nothing else profiles as the adult in the room this team has lacked since his mentor walked out the door almost 20 years ago.
All this being said, don't believe anything you hear right now. A league source told me yesterday that Leon Rose is playing this one extremely close to the vest, and while everyone has been trying to get info from the Knicks' end of things, it hasn't been forthcoming.
Stay tuned, as always.
That's it for today! See everyone later in the week, maybe with news of a coaching hire. #BlackLivesMatter