The Rumor Mill Begins...
Plus, Marc Berman Pod & entry rules for our PredictionStrike contest!
In this newsletter…

---
Before we get to meat of the letter, a couple quick PSA's…
First: I don't usually go out of my way to plug the podcast here, but when you get to talk to a legend, you like to shout it from the rooftops.
There has been no more legendary New York sports media personality this century than Marc Berman of the New York Post. He has been a fixture at the Garden for more consecutive years than any person who actually works there (save for a few ushers, perhaps), and his knowledge of the inner-workings of this team is second to none.
He gave me some great stuff on the pod, including additional context to the Chris Paul rumors (more thoughts on him in a bit), something you haven't heard but maybe suspected about Julius Randle, and a prediction that prompted me to shout right there in my kitchen when I heard it. It's good stuff, and I thank him again for coming on.
Second: CONTEST TIME!!!!
If you've been reading this newsletter all year and have been skipping over the player preview section, a) don't feel bad, DFS was never my thing either until now, but more importantly, b) it's a good time to start paying attention.
That's because PredictionStrike is giving away $50 in investment cash to the most savvy investor among my readers. The contest is absolutely free to enter and there's no requirement on how much you need to invest to win; biggest gainer takes the prize.
Here's what to do if you're already a member:
Snap two screenshots, one of your total portfolio value and one of your current portfolio of players and their current stock price. Here's mine as an example:

Email the shots to KFSMailbag@gmail.com by Monday at 7:00 pm.

Whoever's portfolio goes up the most in dollars between this Monday and Thursday, April 9 (not including that night's games) will win $50 in investment cash.
That's it! If this sounds like a fun way to end the season but you don't yet have an account, you can sign up now and get $10 towards your first investment of $10 or more by clicking here and entering code KFS. So $10 gets you $10 free, right off the bat, with a chance to win $50 more. Not a bad deal.
Now, on to today's big story…

Just how good a year has Chris Paul had? For one, his PredictionStrike share price (which rises and falls based on performance against expectations) has more than doubled from its season opening number of $8.20.
In real life, his value has probably had an even larger bump.
Think about this: less than eight months ago, the Rockets sent two top-four protected first round picks (2024 & 2026), plus top-four protected swap rights in 2021 and top-20 protected swap rights in 2025, all to take on a contract that itself was arguably among the most difficult-to-move deals in the NBA.
Now? Now the Thunder have an All-Star who in all likelihood is going to end up on an All-NBA Team. Madness.
With Frank Isola reporting yesterday that the Knicks "could look to trade for him" this summer (something Marc Berman backed up to me on the pod), Knick fans must now begin to ask themselves some difficult questions.
Before we get to them, to be clear: "could look to trade for" is a far cry from "will mortgage their future to obtain."
My guess? Leon Rose would probably do what Steve Mills and Scott Perry eschewed last summer and take on Paul's remaining salary without giving up a young player and/or draft asset in a heartbeat.
For Knick fans thinking that OKC will pay a price to deal away CP3 for expiring money, keep dreaming. They are not a free agent destination for the summer of 2021 and they know it. They have absolutely zero incentive to give up damn thing to unload Paul's money, especially with how well things have worked out with him there.
That also doesn't mean they'd hold the Knicks hostage if Rose really did want to make a play for his former client. Looking around the league, there really isn't another logical landing spot if Miami is indeed looking to preserve its cap space.
RJ Barrett will not be put on the table. I would imagine the same is true of Mitchell Robinson, although impending fears over how Klutch will navigate his contract negotiations make me think twice about that prediction.
I mean, is it really that hard to imagine New York taking on both Paul and Steven Adams ($67 million combined next season) for a package of Robinson, Randle, Portis, Elf, Ellington and DSJ (the math would just work out)?
Would I cry myself to sleep every night watching SGA toss lobs to Mitch in OKC (not that far from his hometown of Chalmette, LA, by the way) for the next decade? Yes. Yes I would.
Would the Knicks do such a deal? Who knows. I'm sure there would be other constructions that involved Knox and, say, one of the Dallas picks (although who knows how much the Thunder value future late first rounders when they seem to have cornered the market on such assets last summer), but the gist is simple: the Knicks are not going to get Paul for expiring money and a sack of basketballs.
Marc Berman talked to me on today's podcast about the notion that Leon Rose wants to go star-chasing. We also talked about the attendance at MSG (Wednesday marked the lowest reported crowd in nearly a decade and a half), and just how nervous another bad year would make James Dolan.
Could I see the Dolan and Rose talking themselves into a "win now/win later" scenario where a core of Paul, Barrett, Summer Signee X (Joe Harris, anyone?), Knox or Robinson (whichever one stays) or Adams (should Robinson be dealt), Taj, Frank, and this year's three picks basically replicates what OKC did this year and makes the playoffs as a middle-seed?
Would they talk themselves into this over the reasonable alternatives of running it back (bleh), tanking (don't see it), or paying someone like Fred VanVleet somewhere between 66% and 75% of Paul's salary for twice the years and hoping for a result that would be a surer thing under the Point God?
If they did, would they be wrong? If you think the answer turns on whether they include Mitch and/or one of their own future picks in the trade, I think you're spot on. If it's just about taking on Paul's salary, I think it's worth a longer discussion (I have a feeling Jeremy and I will get into it on the next podcast), but in short, it's not as clear cut as it seems.
Just another storyline we'll have to monitor in the coming months.
Never a dull moment 'round these parts.
---
Tank Talk
by Jeremy Cohen
I must say that when the biggest story of the day is speculating a soon-to-be 35-year old will become a Knick, you're not having a bad day.
Frank Isola wants the Knicks to trade for Chris Paul because it's a disaster no matter what happens. On one hand, the Knicks win too many games with CP3, don't stay the course, and likely fall short of the playoffs. On the other hand, New York acquires CP3 and goes nowhere, and then he can crush Leon Rose. Damned if they do, damned if they don't.
I guess I would be fine with a trade, depending on what the Knicks give up, of course. You do have to look at the opportunity cost – and that's something Jon and I will probably discuss on the pod.
Recapping Last Night

Not a great night for the tank. The Hornets second round pick improved and the Clippers pick didn't get worse. The Warriors did lose though, and while they're unlikely to be caught by the Knicks anyway, a win wouldn't have been a bad thing in the end. 3/10.
Tank Standings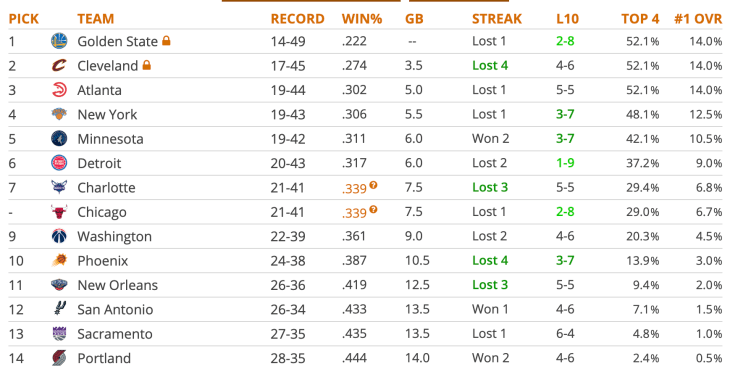 Sim of the Day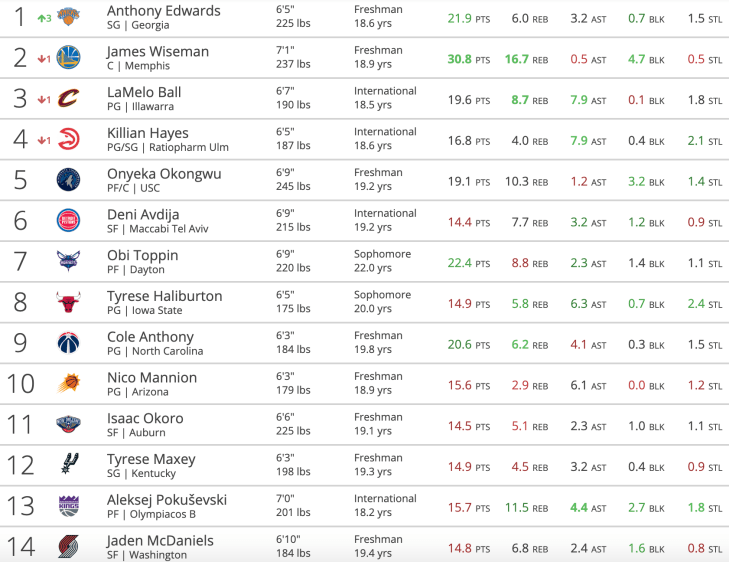 One dear reader suggested that I include the player the Knicks would draft at the position they fall. I love that idea, so that's exactly what I've done.
I'm a little surprised that Tankathon would have Anthony Edwards going to the Knicks at number one, considering LaMelo Ball a) could be the better player and b) the Knicks are likely looking for a ball handler.
Average pick: 3.8
Average jump/fall: 0.6
Games This Weekend
Friday, March 6th
Hawks vs. Wizards
The Hawks have a ridiculously schedule coming up. They lost to the Wizards on the road and demolished them at home. This game will be in Washington.
Who we want to win: Hawks
Yeah, we want the team doing worse than the Knicks to do better. This is an easy one.
Pacers vs. Bulls and Magic vs. Timberwolves
Two teams around the Knicks in the standings.
Who we want to win: Bulls and Timberwolves
Easy decisions. Let's ensure that the teams near where the Knicks are win games.
Saturday, March 7th
Let's make this easy: let's go Hornets, Pistons, Cavaliers, Hawks, and Warriors.
Sunday, March 8th
Today's pretty easy: let's go Bulls, Timberwolves, Lakers, and Cavaliers. The real matchup is…
Pistons vs. Knicks
I mentioned earlier this week that I wouldn't include Knicks games unless they were against teams we needed to lose. Well, here we are.
Who we want to win: Pistons
I get rooting for the Knicks, I really do. The problem is that the Pistons have next to no talent on their roster, and if the Knicks keep winning, they'll have to rely on lottery luck on draft night. There's a difference between praying you rise and hoping you don't fall too far. You can control how far you fall but you can't control how high you rise. At the risk of sounding like a broken record, losing games (especially if they feature veterans) makes sense when we're dealing with inferior teams.
---
News & Notes
compiled by Michael Schatz (

@mschatz99

)
Great stuff from Ian Begley on what opposing scouts think of Kevin Knox's progress

ESNY's Danny Small has some praise for Frank Ntilikina from some members of the Jazz.

Finally, Jackie Powell with some great stuff on Iggy Brazdeikis.
That's it…see everyone on Monday!