The Worst Knicks Ever
I attempted to rank the unrankable. It was...not easy.
We did it!
We made it to Friday in whatever the hell this version of life is. Give yourself a pat on the back, or find someone with one of these to give you a pat from a safe distance away: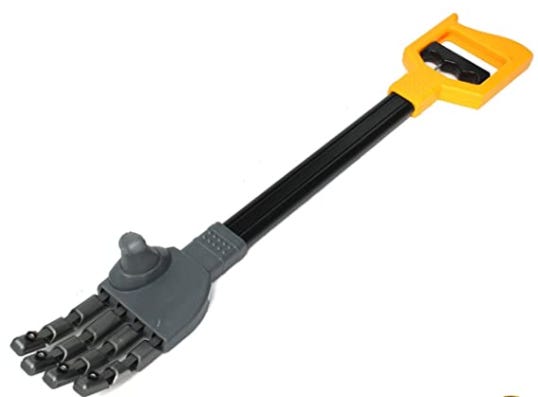 I don't know how you've been dealing with that quarantine life, but I've been starting happy hour earlier and earlier each day. Speaking of which…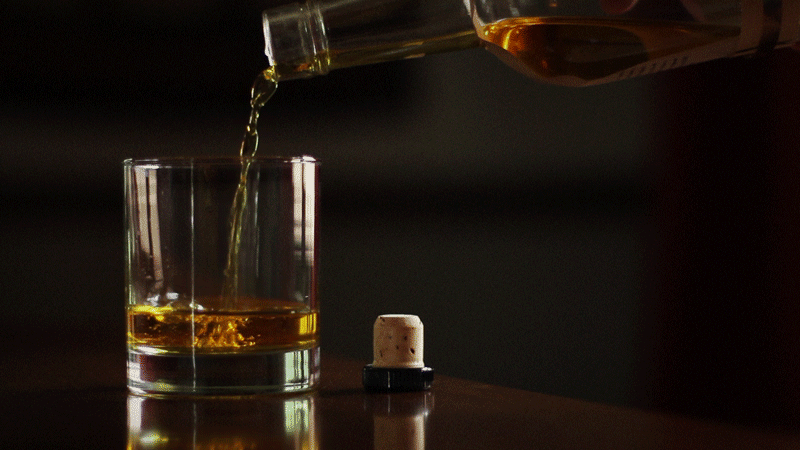 Ahhhh…
On to today's topic: Friday Top 10!
For our inaugural edition, I'm leaning on a Tweet from last week by noted Frank hater and advanced statistics truther, Bro:
I originally replied that this was an impossible exercise. In short, how do you compare a player like, say, Chris Smith (who played 117 total seconds in his NBA career) with someone like Bargitty Barg Bargs, who gave us over 2000 minutes worth of indelible memories like this:
It goes without saying that Bargnani is "better" than Smith, and many other players who weren't good enough to see much court time throughout Knick history, but making a list full of scrubs wouldn't be much fun at all, so how about this:
Instead of "worst" Knicks of all time, I rank the 10 Knicks who were most detrimental to New York's success. This is much more useful because it brings opportunity cost into play, not only in terms of the roster spot the player occupied, but also…
their contract, both in terms of years and dollars

how far they were below replacement level and

if traded for, what it took to acquire them
The depths and comedy, intentional or otherwise, of the player's lowlights will also be factored in, as well as whether they were useful for a period of time, and how long that lasted versus the not-so-good times. Younger players will be given more of a break.
Lastly, I've only been watching since 1993, so this list won't go back farther than that. Sorry to anyone over 40 who is offended.
With all of this as the backdrop…
Honorable Mention (in receding date order)
Dennis Smith Jr.: I have never seen a professional basketball player look as bad as DSJ when he was at his worst this year. Of the 393 players who appeared in more than 20 games this season, his negative 17.2 points per 100 possessions plus/minus ranked dead last by a comfortable margin.
But he was a helpful player when he initially got here, and he's still a kid, both on and off the court.
Enes Kanter: Let it never be forgotten that even with 2018-19's dumpy diaper of a roster, the Knicks were better when Kanter sat than when he played. Also, I hate him.
DeAndre Jordan: Speaking of on/off stats, the Knicks were outscored by 18.9 points per 100 possessions with DJ on the floor last year, although the real crime is that the US Postal service missed a golden opportunity to land the perfect mascot. They even could have adopted this as the new official hat for their uniform: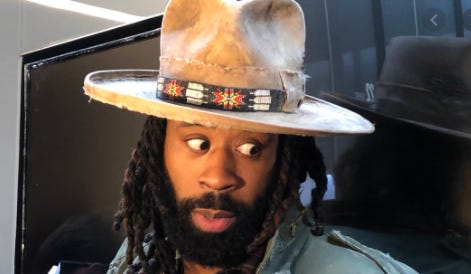 Emmanuel Mudbutt: For like three weeks he was a halfway decent point guard. Sadly, the season lasted six months.
Derrick Rose: Undeserved, but his complete and total inability to navigate a screen drove me insane, as did his disdain for contact. Dude could have had 10 free throws a night if he wanted; he averaged four. Oh, and he went AWOL one night for shits and giggles.
Jose Calderon: probably the worst defensive point guard I've ever seen.
Cole Aldrich: Just because he's big and goofy. Actually, you know what?
The 2014-15 Knicks: I mean, just look at this outfit: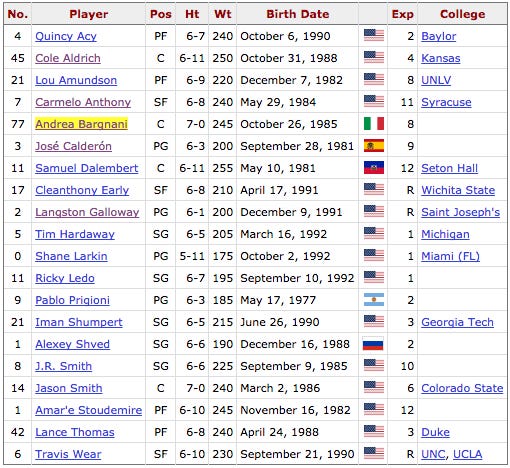 My Lord.
Earl Clark: Doesn't belong on here, but I wanted to include him so I can tell everyone that he was in the tent next to mine at the Palms Pool Party during my bachelor party weekend.
Ronnie Brewer: Do you realize that Brewer played more minutes for the '12-13 team than Amare Stoudemire? Sad but true. Brewer shot 36 percent from the field and was the second worst thing about that glorious team (we'll get to the worst in a bit).
It's also Ronnie's birthday today, so if anyone knows him, feel free to pass this newsletter along to brighten his day.
Renaldo Balkman: Good thing we took him instead of Rondo.
Jordan Hill: We dropped to 8th, NBD.
Steve Francis: F——- hated every minute he was on the court.
Keith Van Horn: Wasn't terrible, but I will never forgive them for trading my favorite Knick this side of Ewing and getting nothing but this wet noodle in return.
Travis Knight: Occupied space on the roster for three years (one of which the Knicks were still good!) and had nearly as many personal fouls (186) as points (187) during that time.
Felton Spencer: We actually signed this turd bucket - a 33-year-old center coming off a season when he averaged under two points per game - to a two-year contract during a summer New York was coming off a conference finals appearance.
Bra - vo.
Charles Smith: Not putting him in the top ten. Can't do it. They would have lost Game 7 anyway.
More importantly, for as much as Smith shrunk in the shadow of guys like Oak and Mase (and really, who wouldn't have?), he's better than 75 percent of the guys that have played for the franchise this century. New York also managed to get a first round pick when they traded him to the Spurs in 1996, so you know he couldn't have been that terrible.
Ok, enough foreplay…on to the list.
10. Mike Bibby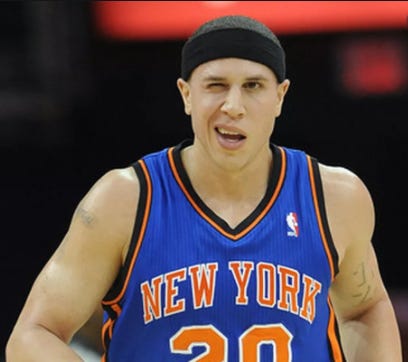 Not someone I expected to be anywhere near this top ten when I began the exercise, especially since he was signed for the vet minimum, and without his utter atrociousness, there's a genuine possibility Linsanity never occurs.
But Linsanity did indeed happen, and that's because Bibby kept gettin' 'dem checks for one year too long. Throughout Knick history, 292 players have played at least 500 minutes for the club. Only one - Bibby - ever shot under 30 percent from the field.
And to think this dude played the fifth most minutes on the team in their first round playoff series versus Miami.
9. Othella Harrington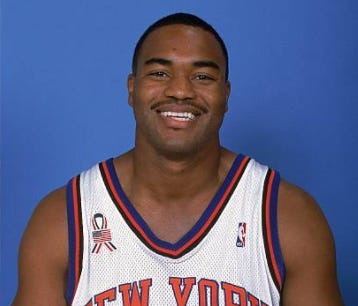 More than Shandon Anderson or Howard Eisley or Clarence Weatherspoon, when I think of the utter mediocrity that the early 2000's Knick teams aspired (and failed) to reach, I think of Harrington.
Do you realize we traded a first round pick for him? Yup. Scott Layden, in his infinite wisdom, thought that Harrington was enough of a difference maker that he grabbed him from Vancouver in the middle of the 2000-01 campaign in exchange for the pick that became Jamaal Tinsley. Tinsley was OK; Tony Parker - the guy drafted right after him - was better.
Harrington, meanwhile, remained on the roster for three more seasons, averaging six points and four boards a game.
8. Cleanthony Early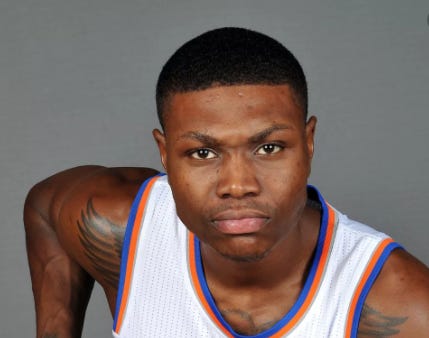 Joins Iman Shumpert and Frank Ntilikina atop the list of Knick draftees I desperately wanted to be good (or "want" in the case of Frank - the hive lives!).
Remember that Early was the first pick of the Phil Jackson era, taken with the selection acquired from Dallas in the Chandler/Calderon trade. There was still an air of invisibility about Jackson left over from his coaching days, and hopeful fans like myself convinced ourselves that anything he touched would turn to gold.
Early was perhaps the first indication that this would not be the case. Of the 53 players in his draft class who ever saw a minute of NBA action, his negative 0.39 win shares per 48 was second to last. It also doesn't help that three of the next seven picks after him were spent on Jerami Grant, Spencer Dinwiddie and Nikola Jokic.
7. Mike Sweetney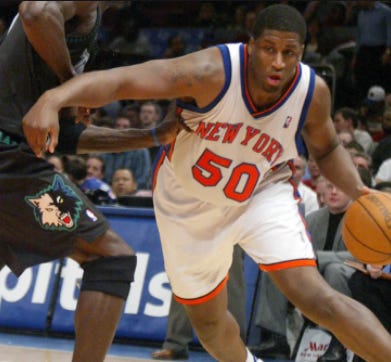 Probably unfair to even put him this high. There was no one drafted in the handful of picks after he was taken that we lost sleep over, unless you have a particular affinity for Nick Collison.
It's just that, every time I watched LeBron or Wade do something amazing over the last 17 years, or think of what we gave up for Melo, somewhere in the deep recesses of my brain, Sweetney's fun bags are just jiggling around, reminding me of what could have been if a few ping pong balls caromed a different way.
6. Jared Jeffries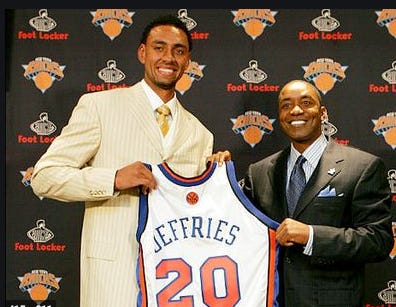 The player here who I have the biggest soft spot for. Why?
It wasn't his fault Isiah gave him all that money, or that…

Thomas didn't have the the forethought to plan accordingly for the Summer of 2010, and that Donnie Walsh needed to attach a first to dump Jeffries' deal so he could get to double max space. Mostly though…

Jeffries always, always played hard, and was a better, more versatile defender than most Knicks since the 90's
Was he particularly good at basketball? No…no he was not. But he also doesn't deserve the ire that he gets.
5. Amar'e Stoudemire
4. Eddy Curry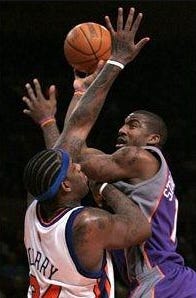 Let's start with Stat.
Was Amare's performance over the first ~50 games of the 2010-11 season arguably the best, most sustained period of excellence by any Knick this century? With apologies to Melo in 12-13, yeah, I'd say so.
Did D'Antoni do him any favors by running him into the ground? No. No he didn't.
But Stat was handed the richest contract ever given to a player in the history of this franchise, and for that pact, New York received someone who played in 255 out of a possible 365 games, only 161 of which he started (I'm only counting 53 games in the final season of the deal; he was waived after that point).
Punching his hand through the glass casing surrounding a fire extinguisher during the 2012 playoffs was embarrassing, and he never once graciously accepted a reduced role when Melo-at-the-four was clearly working, even though it was clearly in the best interest of the team. Check out these numbers:
2011-12: Knicks with Stat on court: minus 1.9 points per 100

2011-12: Knicks with Stat off court: plus 8.2 points per 100

2012-13: Knicks with Stat on court: plus 2.7 points per 100

2012-13: Knicks with Stat off court: plus 5.1 points per 100
He was indeed the worst contract in the league for a hot minute there, and deserves to be this high.
As for Curry, I grouped him with Stat because their careers as Knicks weren't all that dissimilar.
Like Stoudemire, Curry had a moment where he was legitimately dominant. In 2006-07, Big Eddie appeared in all but one game, averaged 35 minutes a night, put up 20 & 7 while finishing fifth in the NBA in eFG%, and got to the line over eight times a game.
But also just like Stoudemire, the high highs weren't enough to escape the low lows, and perhaps no Knick has ever had lower lows than Curry. He played a total of 74 minutes over his last two years in New York.
Nothing he was ever going to do would have made up for what Isiah gave up to get him, but that he crashed so hard and so fast meant that the trade will forever live on in infamy in Knicks lore.
Speaking of what Isiah gave up…
3. Joakim Noah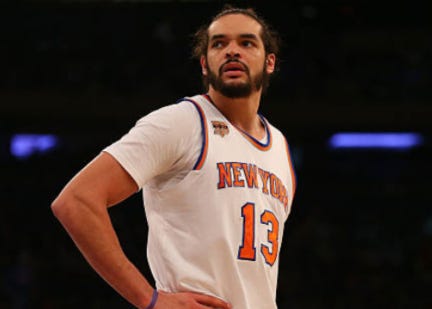 Well, because he thought it was good sport. Because some men aren't looking for anything logical…They can't be bought, bullied, reasoned, or negotiated with. Some men just want to watch the world burn.
Replace "world" with "72 million dollars" and you have a fair and accurate representation of Phil's decision to sign Joakim Noah.
Despite a man-bun and shooting form that was better placed in a bad porno than a basketball court…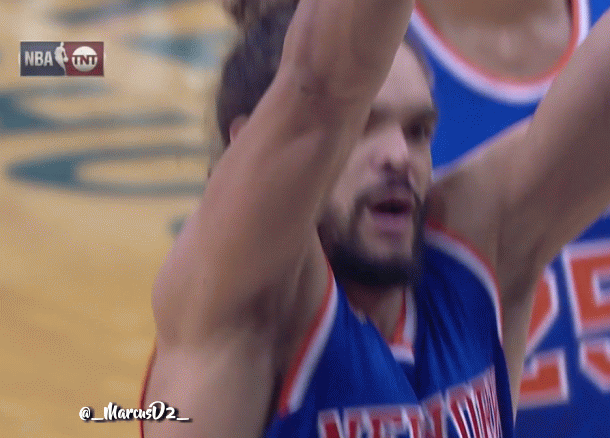 …Noah wasn't actually that terrible on the court, at least in comparison to some of the other names mentioned here. He was just a shell of the player taken by the Bulls with one of the Knicks' picks in exchange for Curry (LaMarcus Aldridge, of course, was the other selection).
I'll never forget one night when I was walking around the city at Christmastime in 2016 and passed a pizza place that had a picture of Noah in the window. Noah looked stoned out of his gourd in the photo as he held up a slice of pizza with either hand.
Too lit for the New York, indeed.
2. Jerome James
1. Andrea Bargnani

Throw a dart between these two. There's no difference, really. I flip-flopped myself a few times.
In terms of what they each did on the court, Bargs actually put up decent counting stats, whereas James had 93 total field goals in four years, or roughly three for each million he was paid.
But there was something about Bargs that requires him to top the list, and it wasn't the trade that brought him here either (which, for my money, was worse on its face than the Curry deal. There was at least a chance that Curry would continue improving, and New York would be good enough such that those picks didn't come back to bite them. The Bargs trade was absurd on its face the moment it happened, with the Knicks sending assets for someone the Raptors probably would have given a pick to dump).
No, it was Bargnani's complete and total disdain for every minute he had to be on the court that did it for me.
I'm not sure I've ever watched a professional athlete detest the sport he played like Bargs did while he was with the Knicks. His demeanor was that of a dog who knew it was being put out to pasture, except the fans were the ones repeatedly being brought into the barn with their owner and a shotgun.
But yeah, hats off to both of these guys. Now if you'll excuse me, I need a refill.
That's it for this week! See everyone Monday! Stay safe, stay healthy and STAY INSIDE!