The Worst Trade Ever Made (and the Best Trade Never Made)
Looking back at Bargnani's time in New York while wondering about Kyle Lowry as a Knick
Over the last few weeks, my What If Wednesdays have admitedly taken on an anti-Melo bent.
What if the Knicks picked Anthony over Lin in the 2013 offseason? What if Jackson never gave Anthony his no-trade clause? I had a few suggestions this week for "What if the Knicks waited out Anthony and signed him outright in 2010 instead of giving up the farm to trade for him?"
I figured it's time to go in the other direction today, combining a pro-Melo "What If" Wednesday with a little bit of Throwback Thursday, Bargnani edition.
For as hard as I am on Melo (and for as much as I wish he made a few more concessions over the years that I believe would have paid massive dividends), it's impossible to ignore the following:
He's the greatest Knick this century,

He did more to live up to his reputation upon coming here than any other big name who arrived in the last two decades, and it's not particularly close, and

He never had enough help.
Even in 2012-13, there was no legitimate second scoring option on the team besides him. Amar'e had already been converted into the petrified version of his Phoenix self, and there was no one else on the roster who could create a shot with any semblance of regularity.
As a result, the following summer, James Dolan listened to his good buddy Leon Rose and traded for Andrea Bargnani, except the only shots he created were at bars frequented by Knick fans every time he touched the ball.
The 2013-14 New York Knicks opened the season with Bargnani coming off the bench, beating Milwaukee by seven. Bargs played 17 minutes, was -11, and finished 3-of-9 from the field for six points to go with two (two) rebounds.
Obviously, this stellar performance prompted Woody to move Bargnani into the starting lineup, where he joined Tyson Chandler, Carmelo Anthony, Raymond Felton and Iman Shumpert. The results were borderline comical.
That quintet started the next three games, with the Knicks losing all three before a Tyson Chandler knee injury forced another lineup change by default. The Bargs/Melo/Chandler/Shump/Felton lineup would go on to start a total of eight games, playing 91 total minutes and achieving a negative 21.1 net rating in that time. Here's how Melo, Chandler, Shump and Felton fared when they played with literally anyone else: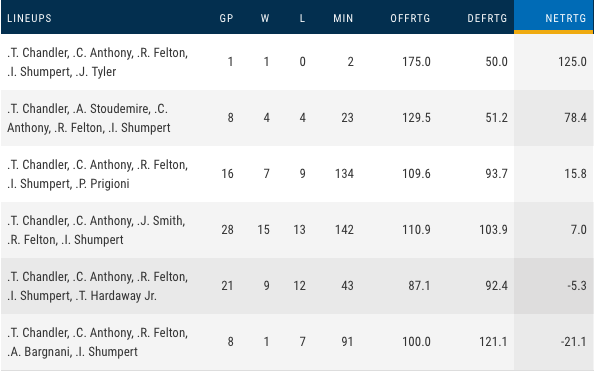 Not great, Bargs.
On the surface, Bargnani actually had a hot streak (for him at least) after Game 4. Over the next 14 games, he averaged 17 & 6, hitting 46 percent from the field and 34 percent from downtown while playing 34 minutes a night. He was -2.8 per 100 possessions during that stretch, worse than the Knicks' overall -1.8 number over those 14 games, but not the main culprit for their 4-10 record in that time.
(That would have been Amar'e Stoudemire, who was an almost unfathomable -18.4 in the 171 minutes he played during that run. New York was +4.0 when he sat. But sure, tell me again how I unfairly included him in my 10 Most Detrimental Knicks list a few weeks back).
Anyway, on the morning of December 11 the Knicks sat with a record of 5-15. According to reports, it was right about then that they came the closest to swinging a trade for Toronto's Kyle Lowry. Lowry himself confirmed as much to Jeff Zillgitt in 2016, when he said "that deal was done" and it would have sent Sump and a 2018 first round pick to the Raptors.
The original report also had Ray Felton going to Toronto, which would have made sense.
Would it have made a difference? As it stood, the Knicks went 32-30 the rest of the way. Their point guards during that stretch were Felton and Pablo Prigioni, who had +1.6 and +3.0 on-court net ratings, respectively, from December 11 onward.
Lowry, meanwhile, took off right at the same time. He went from a +1.0 net rating in his first 20 games to a +5.7 in his last 59, perhaps after knowing his place in Toronto was secure. Individually, he went from averaging 14 & 6 on 41 percent from the field and 36 percent from three to 19 & 8 on 42/38 percentages.
Is it fair to say the Knicks would have made the playoffs if the deal had gotten done? Given that New York only missed the playoffs by a game, yeah, I'd say so (and that's even with Bargnani fully going off the cliff after his first 18 games, averaging just 11 & 5 while hitting 19 percent from deep over his last 24 appearances. He'd miss the last 40 games with an injury. Not coincidentally, the Knicks went 22-18.)
So what then? Two things, I'd bet:
Phil Jackson doesn't have the currency to fire Mike Woodson, and he comes back for another season, and…

He never trades the backbone of the team, Tyson Chandler.
Chandler staying is even more of a certainty since Phil swapped Felton for Calderon in the trade that sent the Knicks' center back to Dallas. If they'd had Lowry, they'd theoretically have been set at point guard (if we assume he re-signed that offseason, which we'll do), so there'd have been no need to trade for Jose.
The other rumored reason Jackson dealt Chandler was because he and Melo had something of a falling out and Phil didn't want any impediment to Anthony re-signing. However, New York making the playoffs would have likely eased any frustrations. Plus we know Melo liked his cheddar. He wasn't going anywhere.
Theoretically, the 2014-15 season doesn't then become the 17-win dumpster fire it ended up as, and Phil never salary dumps JR Smith, along with Iman Shumpert, to Cleveland. Lowry made his first All-Star team in 2014-15, and Melo had arguably his most well-rounded season as a Knick. It's likely the Knicks make the playoffs again, especially considering the Nets were the 8th seed that year with just 38 wins.
That means no KP in the draft, and a big decision on Tyson Chandler in the 2015 offseason. The Knicks would have had $41 million tied up in Melo, Lowry and JR Smith, but a relatively clean balance sheet otherwise, and the cap just went up to $70 million.
Remember the Suns ploy in the summer of 2015, when they signed Chandler to a four year, $50 million contract in the hopes that his good buddy LaMarcus Aldridge would follow him to Phoenix? Remember also that the Aldridge free agent meeting with New York was cancelled, apparently because Phil was set on LMA playing the five (or, more likely, the Knicks were just trying to save face because they knew they had no chance)?
I say New York ends up with both Chandler and Aldridge (assuming Chandler takes a slight discount to hang around, or they'd have been able to salary dump JR Smith). Melo, Lowry, Aldridge and Chandler could done some damage.
The top of the East in 2015-16 was occupied by Cleveland with 57 wins, the Raptors with 56, and several teams tied with 48. Considering the Raptors would have leaned into a tank after trading Lowry, New York would have bolted to second in the conference, maybe even beating the Cavs in the East finals before falling to the 73-win Warriors.
That would have set up a second battle between New York and Golden State that summer, this time for Kevin Durant's heart. The cap spike would have put the Knicks in position to have just as good of a shot at KD as the Warriors, and given what we now know about Durant's love of the Big Apple, the smart money says he chooses the Knicks.
Which means Melo would be looked at as a God and probably the greatest Knick of all time, and no one could care about the Bargs trade - the one that brought the Raptors Jakob Pöltl, who was part of the Kawhi trade that helped deliver Lowry his ring in Toronto.
Oh well. Julius Randle spin moves were a nice consolation prize instead.