Thibs Time?
Plus, an update from the Frank Hive
In this newsletter…

---
Greetings friends. I hope this newsletter finds you well, and that the little bit of news I reported last night didn't prevent you from having a solid night's sleep.
(What, bad Knicks' news doesn't affect your ability to have a nice, happy life otherwise? Well gold star for you, heathy, well-adjusted individual.)
To be clear, the crux of the article was supposed to be that Leon Rose is all but set to take over as Knicks President, and that the move could happen as soon as this week. In the process of researching that story, I heard from someone I trust that Thibs was also a heavy favorite to become the head coach.
I can't emphasize this enough: a lot can change between now and the end of the season, especially with the possibility that other coaches could unexpectedly be fired or emerge as willing candidates for this job. But based on what the Knicks' seem to be thinking right now, I'd be shocked if the Iceman himself isn't the man that ends up with it.
Based on my replies and mentions last night, that doesn't seem to be sitting well with a lot of people. And I get it. Thibs didn't exactly leave Minnesota on a high note, getting fired midway through last season with a record of 19-21 after failing to bring his special brew with him from Chicago to the Wolves.
I'm not going to get into a full Thibs breakdown right now, because there's something else I want to focus on today, but here are a couple of thoughts that might help the less well-adjusted of us get through our day:
Prior to taking the Minnesota job, Thibs was widely regarded as one of the top-five coaches in basketball. It's amazing how quickly we forget this.

For as disastrous as his time in Minny is perceived to be, he had a 97-107 record during that time. They've been 33-64 since.

Like everyone else in the game today, Thibs should have never been granted dual POBO/HC authority. Someone he listens to and respects (i.e., his former agent) needs to have full oversight, including on things like player minutes.

Speaking of minutes, for all the handwringing over how he played guys too much, KAT & Wiggins averaged the exact same number of total minutes combined in 2018-19 after Thibs' was fired as they did before (Towns played about a minute and a half less per game while Wiggins played about that much more). Jimmy Butler, now two years older, is playing just two fewer minutes per game this year than he did during 2017-18, his last full season with the Wolves.

During that 2017-18 campaign, Minnesota was fourth overall in offensive rating, and more famously, 25th in defense. However, with Jimmy Butler on the court, they had (barely) the equivalent of a top-ten unit (and one that would have ranked dead last without Butler). Also of note: KAT's much derided defense has arguably regressed since Thibs left town (more on this in a bit). Speaking of which…

I just finished my advanced copy of Yaron Weitzman's book on The Process in Philly (order your copy today; you won't regret it), and let's just say there are some passages in it which make it quite clear that Jimmy Butler felt KAT & Wiggins, and not Thibs, were the problem.
Which brings us to today, or more accurately, a few weeks ago. I mentioned it here but in case you missed it, Taj Gibson was in the locker room right before the break talking about his former coach with both the Bulls and Wolves, and said in no uncertain terms that if you have players who are willing to be coached, Thibs is the guy you want.
Would the Knicks surround Thibodeau with a group of such players, or would they count on Thibs to do what he couldn't do in Minnestoa, and transform some of the existing softies into the players we all wish we could see every night?
Jeremy and I got into this on today's podcast, so if you're interested, give a listen to that convo (and rate, subscribe, review…all that jazz…)
Of course, if all of this seems like lipstick on a pig, as you'll hear me say on the pod, I don't think you're wrong. This move - should it happen - reeks of the Knicks once again trying to win the back page by hiring a name most fans recognize and many still revere in high regard.
Does that mean it won't work? Not necessarily. But it's an early sign that thing under Leon Rose may be business as usual.
All of that will become clearer in the coming weeks, but for right now, we still have a Knick team playing games and Knick players seeing important minutes. One of those players is someone who would seem to be a glove-like fit in any Thibodeau scheme, Frank Ntilikina.
It feels like I started a war between the Frank Hive and the Never Ntilikinas last week when I had a few guests on the podcast to offer some less than flattering views on New York's young point guard (still just 21, folks!)
After what was one of his better outings on Friday night, the argument only seemed to get louder, as the NN's used the FH's excitement over the game to once again prove their point: when the kid so much as ties his shoes correctly, we in the Hive collectively lose our shi-, er…honey.
One such thought was particularly interesting to me:
While the conversation about whether Ntilikina is any good has gotten old, the one about whether he's actually a point guard is at least somewhat interesting, if only because there's a legitimate argument that his best role in the NBA is, in fact, alongside a primary ball handler (knocking down shots at the rate he did on Friday night would certainly help).
While I think @knickcity would admit that his "Randle would have had 30" line is a bit hyperbolic, it doesn't mean his main point is wrong, especially with Frank's propensity to avoid the paint like the plague at times.
I wanted to know more, so I went back and watched every possession from the moment Ntilikina re-entered the game late in the third quarter until the end.
When Frank came back in, the Knicks were down by 19. He was flanked by Damyean Dotson, Kevin Knox, Bobby Portis and Mitchell Robinson.
(FYI: That quintet has been together for 69 minutes of action since October - one of nine 5-man units to see over 50 minutes of court time this season. They are far and away the most successful group, with a net rating of plus 19.5. The next closest is at plus 4.4. FWIW, the same group with DSJ in place of Frank is minus 7.4 in 64 minutes of action)
On the first offensive possession, we get this lovely little three-man action resulting in an easy Mitch slam:
In just under five minutes together, this group gave up five points total and cut the lead to 12. Over that span, the Knicks had the following shot attempts:
a Ntilikina made two

an aborted Dot/Mitch pick & roll resulting in a contested 16-footer from Dotson (miss)

a Portis 3-pointer assisted by Ntilikina

back to back wide-open missed threes from Knox and Portis, both off passes by Frank, and

a Ntilikina made three
At that point, Mitchell Robinson drew a charge that was overturned on a coach's challenge, forcing him to sit with five fouls and bringing Julius Randle into the game. This was the first subsequent Indiana possession: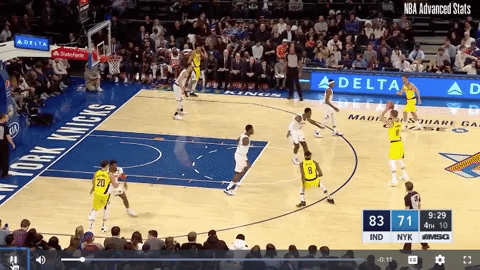 Thanks for coming in ready to play, Julius.
Interestingly enough, according to Cleaning the Glass, when Frank shares the court with Randle, the Knicks give up 112.5 points per 100 possessions, whereas when he plays without Randle, that number drops to 103.4. Even more curious: when Randle plays with Elfrid Payton - a demonstrably worse defender than Ntilikina - the Knicks defensive efficiency gets just over three points better than when Randle is on the court with Frank. It's almost as if playing with his point guard of choice motivates Julius on the opposite end of the court.
And what of our original premise - that Randle would have ended up with 30 points had Ntilikina just gotten him the damn ball?
Well it turns out that almost every offensive possession after Randle checked in went through Julius himself or RJ Barrett, with Frank initiating things only a few times over the final nine minutes of action.
One of those was here, the sole Ntilikina/Randle pick and roll of the final quarter:
You can see Julius expecting to get the rock back here, as he probably should. The shot Frank puts up is a lower percentage one than Randle would have gotten, even with Myles Turner and Domas Sabonis converging (he'd also have been able to kick out to Knox in the corner).
Of course, you wonder if Frank's take here was a result of what happened on the possession immediately prior, when Randle had the ball at the top of the arc with a streaking Frank heading full steam ahead to the rim thanks to a beautiful screen by RJ Barrett:
Randle, of course, didn't throw the pass, instead opting to hand it off to RJ, who made a tough contested two.
It echoed what we saw early on in the game, when a designed dribble handoff by Randle was hijacked to put up an, umm…less than desirable attempt:
If you've been watching the Knicks all season, none of this should come as a surprise. Two more different players than Julius and Frank you could not find. One guy couldn't care less if he even gets a shot attempt up as long as his team is getting good looks, and the other…well, the other is Julius Randle.
I actually complimented Randle after the game on Friday night for knowing that it wasn't his night and not forcing the action much in the fourth. He was 1-for-8 entering the final frame.
Think about this. I was moved to praise someone for being mature enough to decide "it's not my night" after such a stat line, as opposed to reacting with "well, of course he's going to try and get other's involved. He's hit one goddamn shot all night." But that's what Randle (and Portis and even Morris, to be fair) has conditioned us into thinking.
That - that - above all else is the conundrum Leon Rose will have to solve as he takes over this team.
Part of the reason this season has had so many fans so annoyed is that rarely have the Knicks looked like a team in the truest sense of the word. Most of their best moments have come when individual actors take it upon themselves to make stuff happen. When you consider the paucity of talent, it's no surprise they're 17-39.
There have been moments of great team play, not only including Frank-led bench units but also Elfrid Payton-led starting groups, but whenever either Fiz or Miller have tried to mix and match the ingredients to get better results, they just end up swapping the sugar for salt and the whole thing tastes like shit.
No one on this team - not Frank, not Randle, not even RJ or Mitch - is the be-all, end-all solution to what ails the Knicks, nor has any one player been the problem. Hell, even Bobby Portis, when put in lineups where he can simply space the floor and not do anything stupid, has been a wonderful addition when he has the right wingmen to clean up his mistakes on defense.
(One of my favorite stats of the year:
Portis with Frank & Mitch: 101.7 defensive rating in 299 possessions

Portis without Frank or Mitch: 120.6 defensive rating in 815 possessions
Maybe always play him with those two other dudes. Maybe.)
It's going to take a deft touch to reconfigure the roster to figure out what pieces fit and which ones don't. Part of that will be figuring out Ntilikina's role, whether he's still salvageable as a primary ball handler (even a backup one), or whether, as many seem to think, he's more a jack of all trades type who wasn't worth the eighth pick in the draft but can still help a team immensely if surrounded by the right pieces.
And of course, getting us back to where we started, he'll need to figure out how the next head coach - Thibs or whoever else - can jive with this particular group.
Here's hoping he's up to the task.
---
Player Spotlight
What the hell…let's talk about KAT (and by extension, Thibs)

Karl-Anthony Towns, in case you haven't heard, is out for at least two weeks with a broken wrist. It's unclear just how much the Wolves will miss him.
One one hand, according to Cleaning the Glass, he is about as helpful on offense as any player in the NBA. The Wolves score an almost unfathomable 13.6 more points per 100 possessions when he plays, which is in the 99th percentile league-wide.
On the other hand, they give up 8.8 more points per 100 when he's in the game, which is in the 3rd percentile. He's like the Bizarro World version of Frank Ntilikina.
Thinking about Thibs and whether he truly did leave his defensive chops in Chicago, it seems like the problem is that he was handed two players (KAT and the equally defensively challenged Andrew Wiggins) who he could not salvage as even passable stoppers. Part of this is no doubt on him, but the players themselves have to also shoulder at least some of the blame.
Here's how the Wolves' faired with KAT & Wiggins on the court in comparison to when they were off during Thibs two full seasons
2016-17 - KAT on: +5.4 DefRtg (14th %); Wiggins on: +5.4 DefRtg (14th %)

2017-18 - KAT on: -4.8 DefRtg (87th %); Wiggins on: +0.6 DefRtg (45th %)
You'll notice a stark contrast. That's due to the presence of Butler. One look at the on/off stats for when KAT and/or Wiggins played and Jimmy didn't and it's an entirely different story.
Here's the point: give Thibs at least some positive defensive players and he can still figure out a way to mask the deficiencies of others. If this Knick roster remains remotely the same heading into next year, that's probably a good thing.
On the PredictionStrike front, getting a player of KAT's caliber at $1.14 a share is about as good as you'r ever going to do. Even though he's out for a while, his price won't change while he's not playing, but I'd still advocate for getting in now. If ever there was someone who'll put up some meaningless stats over the final month of the season, it's Towns.
(New to PS? Click here and enter code KFS for $10 added to your first investment of $10 or more)
---
News & Notes
compiled by Michael Schatz (
@mschatz99
)
Lot's of tank talk nowadays, and some of the recent writing has reflected as much:
Lastly, ICYMI, here's the P&T recap from Friday night.
That's it…see everyone tomorrow!