Thibs Time, Part 1
With New York seemingly on the verge of making Tom Thibodeau their next head coach, it's time to get to the bottom of whether he's still got it.
Quick: without thinking too much, tell me what you see here:
If your answer was "it's a three, stupid," you would be correct. Congrats.
If you also guessed, by recognizing Derrick Rose, Jimmy Butler and/or Deron Williams in their respective uniforms, that it's a play from sometime in the early to middle part of the decade, you'd also be right. December 10 of 2014, to be exact.
But do you notice anything else?
How about the fact that on the floor for Brooklyn, we have Jerome Jordan and Mason Plumlee, who had attempted zero career 3-pointers between them when this game tipped off? And that because of Plumlee's lack of range in particular, Taj Gibson is able to hang off him, thus sticking himself between the ball handler and the rim in the process.
You probably caught that too.
Did you also happen to notice that the man in the corner is Sergey Karasev, who never once shot above 30 percent from deep in his career? Or maybe you're an insane stat head and recall that coming into this game, Alan Anderson - the shooter here - was hitting 27 percent from three on under two deep attempts per contest?
I doubt it, but hey…some of y'all got a lot of time on your hands.
Well here's one thing I'm willing to bet that you didn't know: This shot was the last 3-pointer the Nets made all night.
That's right…Brooklyn finished 3-for-14 from deep that evening, and hit the other two earlier in the first quarter.
Think about that: an NBA team that entered the 2014-15 season with the fourth best title odds went 40+ minutes without hitting a three - not 30 years ago, not 15 years ago, but five.
The best part is that for these Bulls, it wasn't even an anomaly. In the preceding weeks, Chicago held various opponents to 2-for-14, 2-for-15, 3-for-9, and 4-for-6 shooting totals from deep, just like they'd hold others to similar stat lines as the year went on.
Four for six.
Anytime you're wondering just how much the NBA has changed in the last half decade, think of those three words.
---
If the first half of the 2010's is indeed a bygone era unto itself, Tom Thibodeau's Bulls dominated it.
Thibs' teams didn't just sport good or great defenses over that span; they were the best by a considerable margin. Via Cleaning the Glass:
2010-11
4th in % of opponents' FGA's that came from three

6th in % of opponents' FGA's that came at the rim

1st in 3pt FG% allowed

8th in FG% at the rim allowed

1st in eFG% allowed

1st in overall defense
2014-15
2nd in % of opponents' FGA's that came from three

10th in % of opponents' FGA's that came at the rim

3rd in 3pt FG% allowed

1st in FG% at the rim allowed

2nd in eFG% allowed

11th in overall defense
You want to know the craziest part of the above clip? Anderson's three, while not a great shot (although to his credit, a successful one) was probably as good an option as any. Derrick Rose did a good enough job sticking with the one action on the play - Deron Williams curling baseline and coming up to the arc - and with the shot clock already at 10 after a Chicago deflection earlier in the possession and all lanes to the paint blocked, Anderson was justified in firing away.
Possessions like this were nothing new for Chicago. They routinely played against teams that were trotting out two, three and four non-shooters at once, and they perfected how to attack them.
With that level of spacing, teams could only be so creative springing shooters for easy looks. If anything, a possession with a lot of movement might look something like this:
It's more than a little clunky, but it manages to spring Williams for a semi-open look, albeit one with a high degree of difficulty.
Meanwhile, take a look at Pau on this play. Yes, his head is on a swivel and he's playing a vital role on the defense, but he never has to leave an area that's a total of about five square feet. Same deal with Taj in the first clip. Their entire purpose is to protect the rim, and because the men they're guarding aren't threats, it's not an issue.
This was largely the norm just five years ago, and it's partly why there was only one team that averaged over 30 3-point attempts per game in 2014-15 - Thibs' last season as Bulls coach - whereas 11 teams averaged below 20 (including the Nets, at 19.9).
Fast forward five years. The same team that led the league then still leads it now, but instead of putting up 32.7 attempts per game, the Houston Rockets average 44.3. Forget lineups with multiple non-shooters; Daryl Morey's team now plays entire games without ever sending a non-shooting threat onto the court.
They may represent an extreme, but they're anything but an anomaly. This season, all but four teams (of which the Knicks were one, because of course they were) averaged over 30 threes a game.
Because of all the increased spacing on the court, you're now apt to turn on a game and see something like this:
This is from a game that took place on December 10, 2018 - four years to the day after the Bulls / Nets affair from above. All five players touch the ball in under five seconds without ever once taking a dribble, and the entire play happens behind or near the arc. Such a possession was unheard of not too long ago.
Both games, of course, took place during Tom Thibodeau's last season with those respective teams. In the first instance, he walked out of the building for the last time as a coaching god. In the second, more like a coaching pariah.
There's no doubt that the game has advanced by leaps and bounds in that time. The question is whether there was anything more he could have done to catch up.
---
By now, you no doubt know the big ticket numbers that led to Thibs' downfall in Minnesota: 28th in defense in 2015-16, 27th in 2016-17, and 25th on the day he was fired.
Over the weekend for SI.com, I took a bit of a deeper dive into the numbers surrounding Thibodeau's career to begin to make heads or tails of what the Knicks seem to be on the verge of getting themselves into. The piece is a little long, but if you want an in depth sense of how his defenses faired in Chicago vs how they did in Minnesota, give it a read. In short:
Thibodeau's Chicago defenses were always elite at preventing opponents' threes, but they were especially elite at taking away the most efficient threes - those taken from the corners - to the point that they finished first or second in that category every year he coached them.

The reason why was simple: they overloaded the strong side (where the guy with the ball is) and ICE'ed (forced) pick and rolls sideline and baseline. This made it hard for drivers to get passes to the weak side, and even if they did, the result wouldn't usually be very good. Here's a play from Thibs' last Bulls season against the Jazz - the definition of a league-average team at the time (16th in offense, 15th in frequency of threes):

Often, the available pass - if there was one - was to someone who wasn't a 3-point threat, and thus, would be inside the arc. That's because the help man who hedged to the strong side was a big (Noah, here), and bigs guard other bigs. Most bigs didn't shoot threes five years ago.

In the above clip, that lucky winner is Derrick Favors. Favors makes the shot, but it's one any defense is happy to give up. The goal here was to make Trey Burke's life difficult on the drive, and mission accomplished. He barely saw the rim.

Also notice what Mike Dunleavy is doing. He needs to be on his toes, but by and large, his job isn't all that difficult. His man - Alec Burks, a nominal deep threat - is stationary, and partially because the rest of the floor isn't well spaced, it's not like there's much else Burks can do here to position himself to get the pass.

The other obvious fact (and one that's easy to get lost on anyone who's watched too much Knicks basketball over the last few years) is that offenses are far more sophisticated now. Rare is the possession that doesn't have a ton of movement.

Here's another play from the same game:

The ball gets to the weak side, but the defense is still sound because a) Burks isn't willing to catch and fire, and b) the guy who is willing to catch and fire is named Enes Kanter.

Yes, please.

Nowadays, if you're an NBA wing who isn't willing to pull the trigger as soon as you get the pass Burks inherits, you ain't seeing the court. Plus, the guy in Kanter's spot probably has more than seven career threes to his name, which is what Kanter had at the time of this game.

As we see in the above clips, the point of this defense isn't to take away threes, but to wall off the rim. Should a player ever get there, Chicago made any shot attempt a truly miserable experience. Even the best often struggled:

James was better at passing over the top of the defense than anyone, and he had Kevin Love to space the floor. But even with these benefits, Thibs' defense did as respectably against LeBron's teams as anyone.

Over his Bulls' tenure, Thibodeau's teams were almost always at or near the top of the league in both taking away shots at the rim and opponents' field goal percentage at the rim. Simply put, the plan worked.

Until the very end, that is. In his final playoff run as Bulls' coach, the dam finally burst. Chicago gave up 27.0 threes per game to the Cavs during the six-game series that ended their season. The previous high for a Bulls playoff opponent was 20.2. It was a sign of things to come.

In Minnesota, the Wolves started off bad at taking away threes and got progressively worse under Thibs' guidance. They were also fairly poor at taking away the rim, right up until his final two months - which ironically came after Jimmy Butler got dealt - when they started switching up their schemes and became quite solid at walling off the paint (8th best in basketball over those final 27 games).
Lastly - and this is what should matter most to Knicks fans - the league has done a complete 180 in terms of the best way to defend opponents in 2020.
When Thibs exited stage left in 2015, the best defenses did what his Bulls did: they took away threes. They also took away the rim (because no successful defense in the history of basketball has ever succeeded giving up a ton of close range looks) but not to the same extent:


(another big shout out to Cleaning the Glass, which continues to offer the best value in paid hoops content)
You'll notice that the two best defenses in the 2014-15 season (top chart) were in the top five in taking away threes. Portland and Chicago, who took away threes at the highest clips, finished 10th and 11th in overall defense.
There were some notable outliers. Memphis, using a defense that would soon be adopted by David Fizdale, allowed a fair amount of threes but took away the rim completely. Coach Bud also snuck Atlanta into the top five with a defense that allowed a greater frequency of threes than anyone in what was clearly a precursor to his Milwaukee tenure. Still, by an large, giving up a bunch of 3-pointers was not seen as good business.
Boy, has that ever changed. At press time, four of the top five defenses in the NBA now give up a ton of threes by design, goading opponents into taking the threes that they want to give up while still protecting the rim at all costs.
The problem with Thibodeau's Minnesota teams is that up until the very end, they didn't take away a blessed thing.
This leads us to the $64,000 question (well, a few questions, actually): can we derive some proof that Thibs' schemes, either from his Chicago days or in Minnesota, can be fundamentally sound in the league today and moving forward? If the answer is no, do the changes required need to happen with the type of personnel he puts on the floor, or with the scheme itself? How much blame goes on the Wolves' players? And does the film from the end of his time in Minnesota offer any hope that he's willing to make these changes?
Stay tuned later this week for Part 2 of Thibs Time, where I'll be answering all of these questions and making some predictions/recommendations about what needs to happen for Thibodeau to be successful at his next stop.
You know…wherever it may be.
---
And Now, For Something Fun
Like a lot of you, I'm becoming a bit antsy over the lack of a coaching announcement in New York. So there I was, scrolling through Twitter over the weekend as I am occasionally wont to do, and I came across this:
It should shock absolutely no one that the person who posed this question is a Knicks fan, at least according to their Twitter bio.
And sure enough, as I continued scrolling throughout the weekend, I keep seeing different RT's from Knick fans of all ages, all with their personal pick for worst Knicks moment. Every one felt like a shot to the heart.
I thought to myself "My God, there are so many valid contenders for this title, how on earth could anybody possibly pick just one?"
So I decided to do something about it.
The New York Knicks "Will Smith Face" Bracket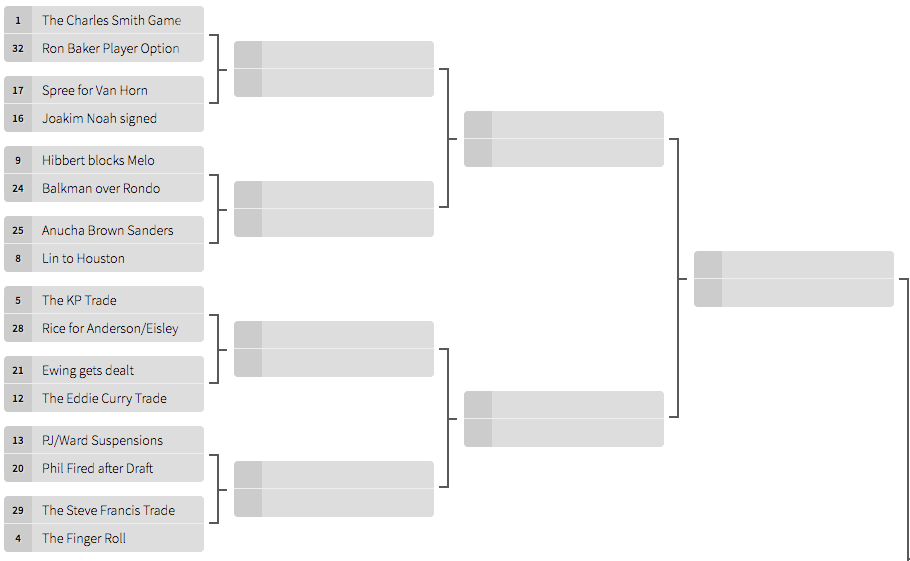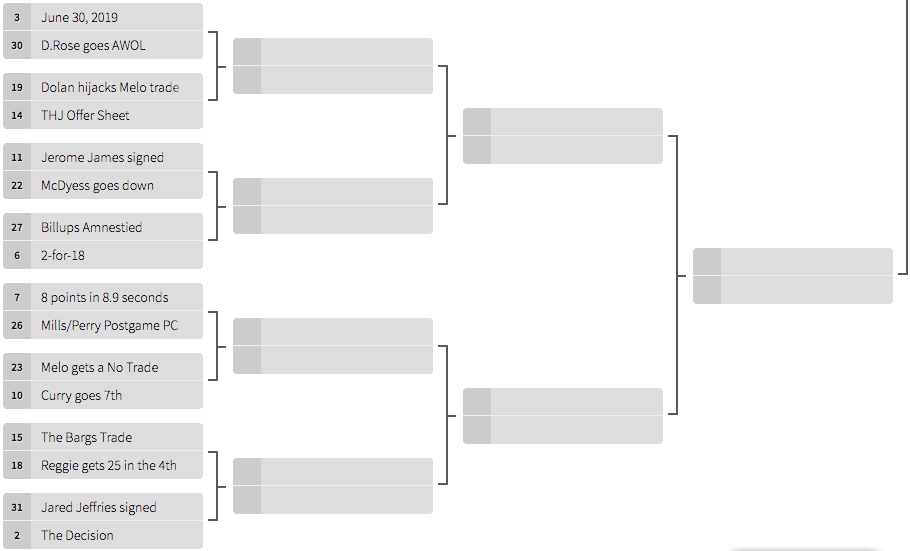 The Rules & Perameters:
I only picked moments starting from when I first became a fan of the team (and I had to fudge this a bit because I wasn't fully invested when Charles Smith happened, but I mean, how do you leave that out…)

I did my best to power rank these from 1 to 32. If you look and see something ranked in the 20's that you think should be in the top five or vice versa, my apologies.

I tried to keep it only to basketball and basketball-related stuff; i.e., no Dolan/media/PR nonsense. That said, I had to make a few exceptions, simply because it felt disingenuous not to.

As far as the criteria, I guess…which one embodies the Will Smith Face more? This isn't an exact science. Go with your gut.

I'll do the voting on Twitter, so if you're not already following me and want to participate, change that: @JCMacriNBA

If my math is correct, there will be 31 contests. If we do one a day, eliminating Sundays, we'll crown a winner on the day of the draft lottery. My logic: Only by exercising three decades worth of demons will good fortune smile upon our wretched souls.
Or we'll just add another shitty thing to the list. One of the two.
Lastly, I'm fully aware that if any other outlet did this, Knicks fans would get their pitchforks and torches out of the garage, post haste. This would be the correct response.
But as all of you know, I am and will always be a fan first, and I think this is something that those of us who have been through the pain of the above misfortunes can share in with some modicum of playful enjoyment.
First poll drops at noon today.
---
Fundraiser Pod Update!
There are still spots left for anyone who wants to participate in next weekend's call in edition of the KFS Pod - just shoot me a DM on Twitter or email KFSMailbag@gmail.com to reserve your 5-minute-spot in exchange for a $30 donation to Higher Heights for America. For everyone who signed up, I'll be reaching out today to work out the details of your appearance!
And speaking of pods, here's the latest one:
That's it for today…see everyone with another edition very soon! #BlackLivesMatter