Things as they are
Why the idea of trading for Chris Paul is more complicated than it seems.
In this newsletter:
---
"Learn to see things as they really are, not as we imagine they are."
This is a quote from the 20th century author and philosopher Vernon Howard. His books include There is a Way Out, Secrets of Higher Success, and Conquer Harmful Anger 100 Ways, all of which have at some point made the the New York Times Top 10 "Books I wish I could force James Dolan to read" list.
I've been thinking about this quote a lot lately as I contemplate the direction of the team, whether it is completely hopeless or whether that is indeed a media-driven narrative, and what is the best path forward.
These aren't new questions, but this weekend they all gained some new perspective for me as I saw the basketball world react to the firing - excuse me, the "mutual parting of ways" - of Kenny Atkinson by the Nets.


It's a good reminder that the way things are covered and the way narratives are shaped don't always equate to the way things actually are.
At the same time (as I'm fond of saying and you're no doubt sick of hearing), perception in the NBA is more important than it's reality. Thinking about Howard's quote, even if we imagine the Knicks to be nothing like the waking dumpster fire they're made out to be, if that's what everyone who matters says they are, does the reality of the situation even make a difference?
This story took a new turn on Friday night, when it became a lot harder to argue that all the negative noise surrounding the Knicks doesn't really make a difference:
Arguing that SpikeGateGate or "Sell The Team" removals (or the absurdity of playing loud music to drown out said chants) or any other Dolan tomfoolery is all utterly meaningless becomes a lot harder when the President of the NBA Player's Association and arguably the most respected and influential player in the league aside from LeBron James airs your dirty laundry right there on the court. Kendrick Perkins and Matt Barnes cracking jokes on The Jump is one thing. The Point God making his feelings known is quite another.
Which leads us all to this: if we accept the fact that Dolan is always going to Dolan, and that as long as he does, the perception will always exist that Knicks gonna' Knick, does it make a trade for Chris Paul all the more appealing?
Follow my logic here for a moment:
As Knick fans are fond of pointing out, all of the noise will subside (or fall on deaf ears) if and when the Knicks become good. That said, in lieu of acquiring a great player, their path towards respectability will have to be navigated using baby steps - going all in on development and analytics, showing organizational patience, fostering functional systems, having trust from top to bottom - you know, all the stuff the Knicks are never able to do.
One could argue that such a method of progress has been made that much harder by Dolan (whether due to the perception of him or him actually) and that the best path forward is to bypass the early part of the journey, jump right to "basic competence," and go from there.
If this logic is to be believed, seeing things as they really are instead of how we imagine them to be could lead the franchise to do the one thing Steve Mills promised us he'd never do (and then tried to do anyway, just very poorly): skip steps.
That's what trading for Chris Paul would be, right? It's essentially admitting "we can't foster proper leadership and development on our own, so we need to bring in one of the most influential players of his generation (both on and off the court) to do those things for us."
That they'd have to do so for the low, low price of $85.5 million over two years and the cost of (at least) one young player and/or draft asset speaks to how desperate the situation would be.
Just how crazy of an idea would this be?
For starters, by the time he finishes this season, Chris Paul will have played close to 36,000 career regular season minutes. In NBA history, the only point guards to finish their career with a higher total are Allen Iverson, Derek Harper, Steve Nash, Tony Parker, Mark Jackson, Andre Miller, Jason Terry, Gary Payton, and Jason Kidd. None of those players had the injury issues that have occasionally befallen Paul.
Of that group, the only ones to make an All-Star team after crossing that minutes threshold were Kidd (who made it twice) and Stockton (once, and who also might be an alien). Payton and Nash also made it during the seasons they crossed 36K, but never again.
(I refuse to include Allen Iverson, who was voted in every year by the fans right down to the end, but was a shell of himself by that point. He retired after 14 NBA seasons and 37,584 minutes played)
Aside from wagering that you could hold off his inevitable decline, a trade for Paul would further complicate the organization's ability to acquire an in-his-prime (or pre-prime) star. Trading for Paul means tanking is off the table (unless of course he simply misses a massive amount of time due to injury. 4D chess, baby!).
That leaves trading for a disgruntled star or signing one in free agency, and really, do we think anyone is going to nudge their way to New York to play with a soon-to-be-35-year-old point guard who will be 36 by the summer of 2021?
Put it all together and it seems like the best result of a Paul trade will be selling out a few playoff games at the Garden (assuming the coronavirus has subsided and fans are allowed back in arenas by that point) and then turning back into a pumpkin at midnight.
Or…
This is a situation that demands logic be put to the side and requires the Knicks to look themselves in the mirror and admit what many around the basketball landscape have said for years: we will continue to be the butt of every joke until we aren't.
The fact is, one of two things happens if New York trades for CP3. It either fails miserably, and they inadvertently tank once again, except this time in a much better draft (and please, Lord, do not allow them to include any of their own future picks in a deal), or they start winning some games.
The latter scenario is one we haven't seen much of, but it begs the question of just how much it will cause the narrative around the franchise to change (especially if the engine behind the winning is, as noted, one of the most influential players in the game today, and it also results in further improvement of young players), and what dominoes start to fall thereafter?
Winning doesn't always beget more winning, but in a place like New York, it just might. Just look at the Nets last summer. What were Kevin Durant and Kyrie Irving really coming to, if not a culture, a coach and Sean Marks' boyish charm? Simple: they came to a city, and they picked the team that seemed most able not to trip over its own two feet.
If the Knicks trade for Chris Paul, maybe they'll be the beneficiary of a similar fate. Who knows?
One thing's for sure: it's going to be an expensive bet to make.
---
Player Spotlight
First off, thanks to all of you who entered our PredictionStrike contest. I'll have periodic updates on the top of the standings as we go further along.
For tonight, the Knicks once again play the Wizards. Their games against Washington have all been at least interesting this year, including two of their lower points of the season: falling to a team of G-Leaguers in December, and getting waxed at home last month.
The Wizards are in an interesting spot, mostly because they're in the 9th spot in the East, but are closer in record to the Knicks (3.5 games up) than the eighth-seed Magic (5.5 games). In any case, they're definitely still trying to win games.
As I wrote for SI.com over the weekend, the Wizards are one of the fasted teams in the league, and New York has given up an average of 111.6 points to Washington in games they've faced them this year. All of this is to say that someone is likely to go off tonight.
If you entered the contest and are looking to make a quick buck, I'd put a few shekels on Rui Hachimura.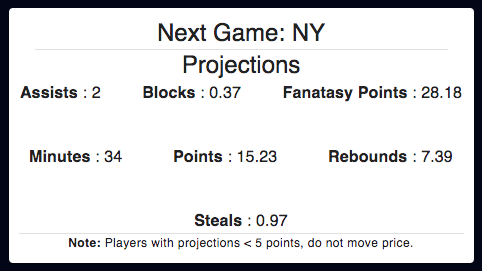 Rui is coming off easily his worst stretch of the season. He's gone 0-for-14 from the field over his last two games, and as a result, his PredictionStrike stock price has dropped 12 percent, down to just $0.56 a share. That screams "buy low" to me.
His projections for tonight are still a bit on the high side (see above) but if you believe in a regression to the mean, it might be worth taking a shot. Hachimura averaged 14.5 points, 5.7 boards, 2.1 dimes and 1.2 steals in the 10 games prior to his recent cold streak.
---
New Podcast!
---
News & Notes
compiled by Michael Schatz (

@mschatz99

)
Here's Coby Green of SNY about the similarities between the Mets GM and the new Knicks POBO

Should the Knicks hire Kenny Atkinson? P&T weighs in.

Will Elfrid Payton be a part of the Knicks' future? The Post's Peter Botte weighs in.
That's it! See everyone tomorrow!