Throwback Thursday: The Final Game 7
Remembering Ewing's Last Stand
Yesterday, for the first edition of "What If?" Wednesdays, I wrote about what might have happened if the Knicks never traded Patrick Ewing.
In my haste, I didn't really give the Big Fella his due. We are talking about the greatest Knick of all time, after all, and my premise - that he should have been treated as an expiring salary, even if he desperately wanted out - was a bit cold-hearted.
To make amends, for today's initial go 'round of Throwback Thursday - a weekly feature in which I'll look at a past great game or moments in franchise history - I'm highlighting the last great, relevant game of Ewing's career: Game 7, Knicks vs Heat, 2000 Eastern Conference SemiFinals.
It also happens to be the most recent Game 7 the Knicks have played. I remember waking up on mornings of winner-take-all affairs (well, I use the term "waking up" loosely, because it's not like a slept much) filled with the nervous energy of a cat chasing a laser pointer. I'd be wired.
We played - appropriately enough - in seven Game 7's during the Ewing Era.
This one was the closest.
The Backdrop
As the opening montage highlights, this was the fourth consecutive season the two teams had faced off in the playoffs. Every series went the distance, and every one had something notable:
1997: With the Knicks up 3-1, PJ Brown flips Charlie Ward, and David Stern promptly enforced the "How Can I F—- the Knicks in the A——-" Rule, suspending several key players and allowing the Heat to come back and win the series.

1998: The image of Alonzo Mourning, Larry Johnson and a rag doll named Jeff Van Gundy was forever etched in our brains. Even if he'd never coached another game in his life, Van Gundy never pays for another New York meal because of that night. Knicks in 5.

1999: "The Shot," courtesy of Allen Houston, is still my favorite basketball memory. Knicks win (again) in 5, on their way to the most improbably Finals appearance in NBA history.
It all led up to this. The muscle memory for both teams had retained all of those previous battles, every one of which went the distance. By this point, they were like Rocky and Apollo, only if the ref forced them to continue fighting until the literal death…and then added another three rounds.
Only once in the seven-game series did either team break 90 points, when New York eked out 91 in Game 4. The average margin of victory was four, and neither squad ever won a game by double digits. Five times a team failed to crack 80.
Those, as they say, were the days.
(Also, for the love of God, whenever basketball resumes, can we please go back to investing time and money into the pregame montages? Just watch the first 1:15 of this and try not to get chills:
Great stuff.
Also, Riles: eff you)
The Game
The first play of the game was an indication of exactly the kind of diabolical torture Zo had in store for his mentor on this evening: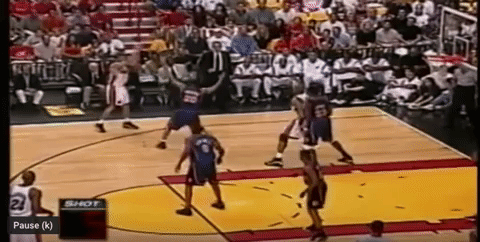 Despite that bucket, the Knicks actually got off to a 6-2 lead, punctuated by a pretty pass from Ewing to someone who would save their collective asses over the first half of this game, Latrell Sprewell:
Things looked promising.
Sadly, Mourning was undeterred.
On the very next possession, Zo once again placed both of his hands on Patrick's lunch box, calmly stated "I will be taking this now," opened it, and availed himself to a bag of Cheetos:
(Yeah, on second thought, maybe it was OK that I was hard on Pat yesterday. Dude had given the franchise every ounce of whatever he had in him for a decade and a half, but physically, he was cooked. It was almost like he was begging Van Gundy to bring the double team.)
It just kept getting worse. Mourning continued to play like a man possessed, and Ewing just stood there like he already had a Mai Tai in his hand and a foot on the beach.
Like, this isn't even fair: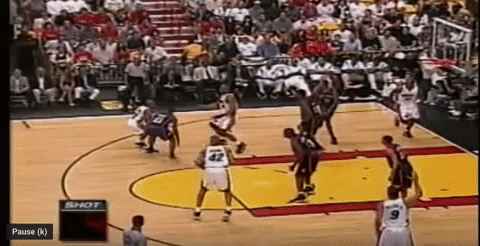 There was more savagery, but I don't have the heart to include it here.
Mourning finished the first quarter with 14 points and five boards, nearly outscoring New York by himself. The Knicks were down 26-14 after one. It looked like it would be the first battle in this long war to end with a white flag raised despite troops being alive and well.
And then, like a bat out of hell, Spree happened: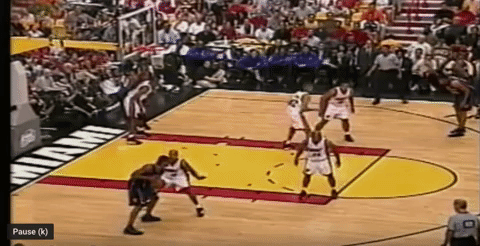 That's Bruce Bowen who Sprewell drags to the rim. Bowen was a season away from making the first of eight consecutive All-Defense teams, but he stood no match for a man possessed. This is not the face of a man with answers: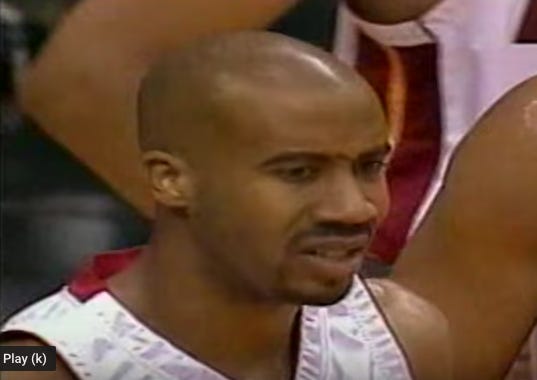 Sprewell repeatedly went to his preferred spot just outside of the left block and kept getting his way. He ended up equalling the Heat's point total for the second quarter with 14, and went into halftime as the Knicks' leading scorer with 20 points.
As an aside, for my money, Spree is the best big game player the Knicks have employed in the last 40 years. I recognize this statement is probably controversial, especially since I wasn't around for Bernard King. But when you consider the stakes of the games Spree played in and how big he came up each time, it's at least an argument:
1999 Conf. Finals, at Indiana, Game 5, series tied 2-2: 44 minutes, 29 points on 19 shots

1999 Finals, vs San Antonio, Game 5: 35 of New York's 77 points & 10 boards

2000 Conf. Finals, vs Indiana, Game 3, Knicks down 0-2: 32 points on 23 shots, 8 boards

2000 Conf. Finals, vs Indiana, Game 6: 32 of New York's 80 points

2001 1st Round, vs Toronto, Game 5: 29 points on 23 shots; played for all but 1:38
Dude averaged over 40 minutes in 41 playoff games as a Knick. He was the truth.
Spree only finished with 24 in this one, but without his outburst in the second quarter, New York probably gets blown out. Instead, they were up 45-39 at the half.
It was clear that at some point, the Knicks would need Ewing - who only had six points in the first half, four of which came at the line - to show up. It was also clear that he would need to rely on instinct and guile to make it happen (not to mention some help from his friends). Check out the dime by Charlie Ward here from early in the 3rd: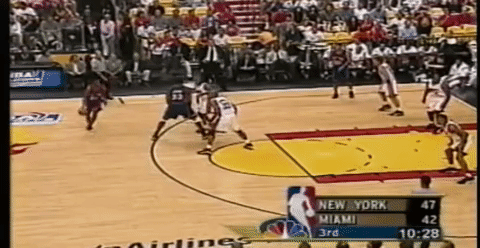 Is it too soon to call Ward's career in New York underated? Over the five-year stretch from 96-97 to 00-01, Ward started 255 of 344 games and 46 of 60 in the postseason, averaged 26.5 minutes a night (24.4 in the playoffs) and the Knicks won seven of 12 playoff series. Not bad.
As for Ewing, he followed up that basket by making his presence known on the very next Miami possession: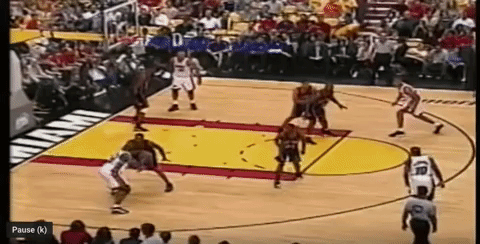 Jamal Mashburn had a lot of great big-game performances in his life, but this wasn't one of them. Monster Mash - often guarded by Sprewell - finished with seven points on 3-for-15 shooting.
Mourning, on the other hand, would not go so quietly into the night:
Zo finished this one with 29 points, 13 boards and five blocks, all game highs. Unlike Reggie Miller and Tim Hardaway Jr., each of whom I loathed with the fire of a thousand suns, I always loved Mourning even though his exploits caused such pain. I'll never forget the All-Star game he started and played Game 7-level defense from the opening jump. They don't make 'em like that anymore.
Ewing, meanwhile, was doing his thing as well. He got to the line six more times in the third, converting every time, and finished the quarter with 10 points.
Heading into the fourth, the game was tied at 65. Things looked dire when the Heat rattled off the first six points of the final frame, including this easy two from Zo on an absolute dime by Timmy: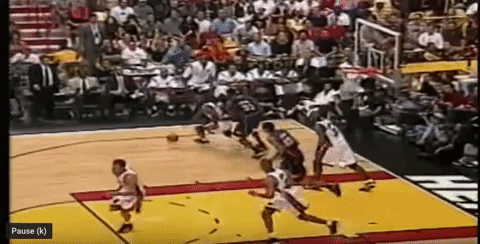 Then an unlikely hero emerged for the Knicks: Chris Childs.
Starting with his 3-pointer with just under a minute to go in the third quarter, Childs scored 13 consecutive Knick points. No New York player besides Childs scored a point for over nine minutes of game action, and the only Knick other than Childs to make a field goal in the final quarter was Patrick Ewing.
Thanks to his effort, New York was up two with just over 90 seconds to go, and then Tim Hardaway Jr. hit a three from the top of the arc that I can't clip here because it brings back too many bad memories.
(I distinctly remember watching this game at the house of my girlfriend's best friend. We had been dating for less then two months but already had several fights over her perception that the Knicks meant more to me than she did. You'd think I'd have been smart enough to lie and tell her otherwise.)
Following that Hardaway trey, Patrick summoned whatever strength he had left and made what is still one of the five or so most memorable Knick buckets of my life, and really, the last truly meaningful one of his career:
It was the last bucket of the game. Miami's final possession ended with a Clarence Weatherspoon midranger that never had a prayer. The Knicks dared someone besides Zo or Tim to beat them, and it worked.
83-82 final. Knicks move on to face Indiana in the Conference Finals. Riley and the Heat head home, for the third consecutive season, at the hands of the team he abandoned.
The Aftermath
We may not have realized it at the time, but this game represented the end of an era in more ways than one.
Primarily, it was the end of the second-greatest rivalry the 90's Knicks ever had (Indiana will always be first in my mind. It had a longer history, with even bigger moments, and even greater stakes).
It was also the end of the road for these two franchises as NBA powerhouses, at least for the time being. The Knicks, of course, would lose to Indiana in the next round in six games, and the series wasn't really that close. Ewing would miss games three and four, which were tellingly the only victories New York had. He was done.
Both teams would make the playoffs the following season, but neither made it out of the first round. The Knicks (stunningly, at the time at least) were upset by the upstart Raptors in five games.
The Heat, meanwhile, got smoked by the Charlotte Hornets. Several former Miami players were responsible for the onslaught following an offseason trade that sent Mashburn and Brown to Charlotte and Eddie Jones and Anthony Mason to Miami.
For the Heat, their downtime would be short-lived. After two years out of the playoffs, they snagged the fifth pick in the 2003 NBA draft and selected a kid who our current President of Basketball Operations knows a bit about.
The Knicks, of course, wouldn't be so lucky.
Could anything have avoided New York's fate? A reader asked me yesterday to do a future "What If?" on how things would have turned out if Riley never got his panties in a bunch and stayed on with the Knicks, but such a thing is beyond the bounds of reality. Even if he had made it to the point where Dolan took over, that relationship would have never stood a chance.
But Riley will forever be the figure most associated with a style of basketball that defined the 1990's more than anything besides MJ himself. It started with the Pistons team he once defeated in the Finals in LA and ended with Game 7 of the 2000 Eastern Conference Semifinals. The league would move on, as would Riley himself, from the sidelines to the front office, and more rings in the coffers.
He continues to lord over the league as perhaps its most prominent off-court figure, and if I had to bet, has at least one more championship run left in him.
But for one glorious three-year stretch, he was tortured and tormented by the franchise he left for dead.
Can't win 'em all, I suppose.
That's it! See everyone tomorrow for Friday Top 10!