Trade Winds Blowing
An early look at the landscape of trade season
In Today's Newsletter:

---
Yesterday in this space, I wrote extensively (and quite harshly) about how allowing a front office on thin ice to make almost any trade is a notion that is fraught with peril on its face.
In response, someone on Twitter asked the obvious question: "Well then why not just fire them now?"
It's a fair response. My reply: I think both Steve Mills and Scott Perry deserve the rest of this year, and as I wrote here about a week and a half ago, there is a still a scenario where this season turns around to the point where at least some consideration should be given to retaining them past this season.
That scenario, though, is looking less and less likely by the day.
As far as how the front office should be allowed to operate, I think it would be completely within James Dolan's right to veto any trade deal (@Dolan_J_Trump, here's looking at you) that involves a future Knick pick or young player going out in the transaction.
Will he? Probably not…which is a little frightening, as I opined yesterday.
With that as the backdrop, I thought I'd spend a few minutes going through the league and giving a feel for deals that I think the Knicks could look at. Before we do…
ALL CAPS COROLLARY: UNLESS OTHERWISE NOTED, THESE ARE NOT PLAYERS I WANT THE KNICKS TO ACQUIRE. IT'S JUST GUYS I THINK THEY MIGHT LOOK AT, FOR THE LOVE OF GOD.
Now that that's out of the way…
Kyle Kuzma
I still need to go back and listen to the podcast where I brought up the idea of Marcus Morris and DSJ going to the Lakers for Kyle Kuzma, a bunch of salary filler (including KCP, who can block any trade) and one of the Dallas picks, because several people claim I said I liked this trade for the Knicks.
Let me be 100% clear: this would be a disaster. It's also the most likely thing I could see the Knicks doing.
Why? Aside from the fact that Kuzma is represented by CAA, who has a long and storied (in a Scary Stories to Tell in the Dark kind of way) history with the Knicks (which includes repping both Julius Randle and Elfrid Payton), he's exactly the type of guy the front office would be able to sell. In short, he's a name that is backed by signifiant counting stats in the recent past, and he's young(-ish. Remember, he was 22 when he entered the league).
He's also not anywhere close to the player his reputation would have you believe.
But much like the Knicks with Morris, the Lakers are probably going to trade this guy for the best deal they can get before the deadline, and most of the league might not care as much about the name brand value he brings as the Knicks would.
Would I make this trade if the outgoing pick was the 2023 top-ten protected Dallas first? No, because assuming you can get a late first or multiple early seconds and/or an interesting-ish young prospect for Morris, you're essentially giving up two late first round picks for one free year of Kuzma before CAA holds you over a barrel and demands far more than he's worth in restricted free agency. No thanks.
If there were no picks going out? I doubt the Lakers make that trade, but for argument's sake, I guess then I'd have to look at what else is on the table for Morris.
Regardless, keep your eyes peeled on this situation. Fingers crossed that the Real Slim Shady keeps spitting on my onion rings 3000 miles away and not while wearing a Knick uniform.
Chris Paul
In my estimation, he's the only guy New York could obtain that would turn around their season enough to make James Dolan seriously consider keeping this front office employed for another season.
A couple things…
Chris Paul is still awesome. He's arguably been playing at an All-NBA level this season, and if he was put on a team with Marcus Morris or Julius Randle (I'm assuming one of them goes out in this trade for salary purposes, along with Bobby Portis) and the rest of the Knicks current roster, they would probably win more games than not over the rest of the year. Hell, if you made the trade tomorrow, they might actually make a run at the eighth seed in the East.

If, as many people assumed before the season, OKC was willing to give up an asset to unload Paul's contract, I'd take it on in a heartbeat. You want to develop your kids and begin the slow crawl to respectability as an organization? Bring in Chris Paul. The $44 million player option he's owed in 2021-22? Guess what: if you're respectable enough at that point for Giannis Antetokounmpo to want to come play here, and all it costs is a future pick or picks to unload Paul's deal? Count your lucky stars and move on. You also may have enough room to sign Giannis outright, but again: dreams.

Sadly, that ship has sailed. Paul has played so well that OKC would demand an asset in any CP3 trade. What asset? That much I can't say, but my bet is that if the Knicks' brass were desperate enough to take on his contract in the first place, they'd probably go a little overboard in what they'd be willing to give up to get him.

Would that cost be too much? I'd have to see. But this is one I wouldn't dismiss outright before seeing the specifics.
Dennis Schroeder
He'll cost $15.5 million in each of the next two years, and has played better than any Knick point guard has this year, even raising his 3-point percentage to nearly league-average on over five attempts per game.
He's also not the difference-maker that Paul is, and won't elevate the play of the young guys on the roster in anywhere close to the same fashion. Defensively, he's…not what you want.
But he's young (turned 26 in September) and fits with the Knicks "timeline," whatever the hell that means at this point. Like with Paul, Thunder GM Sam Presti has taken a player everyone considered a liability at his salary and turned him into an asset, and would demand a return commensurate with that status.
In other news: Sam Presti is really good at his job.
In a vacuum, is Schroder worth, say, the 2023 T-10 protected Dallas pick (and Bobby Portis, for salary purposes). Yeah, probably. Does that help New York get to where it ultimately wants to go, in terms of building a sustained winner where the young players are doing more of the heavy lifting, as opposed to simply kicking the development can down the road? I can't say it does.
Pass.
Jrue Holiday
I have to think the price would be so exorbitant that the conversation wouldn't get very far. Sorry Yash.
DeMar DeRozan
Like…why?
Seriously…even for this front office…why?
He's going to opt out of his $27.7 million player option because he's one of the top 10, maybe even top five unrestricted free agents on the market this summer by default.
He's also famously a non-shooter, as is (for the foreseeable future) RJ Barrett. How in God's name would New York propose to have a functional offense with these two guys as starters, plus a non-shooting point guard, plus a traditional center, plus (for the moment) Julius Randle?
Also, unless the Spurs want to take back Randle's salary (why would they with Aldridge there), I can't see how the money works for DeRozan to come back to the Knicks, what with Marcus Morris theoretically not being involved. Portis, Taj and a young player and/or pick?
I'm going to stop typing, for fear that my continuing to do so will make this any closer to happening.
Bogdan Bogdanovic
I may write a much longer column about him, because I think he's the type of guy who might be way better than some people - including his current employers - realize.
My hesitation is that I think some team might throw something close to the max at him in restricted free agency this summer (perhaps even the Knicks, assuming they don't trade for him), so do you really want to give up the assets it takes to get him now and have to pay him a ton of money starting next season? My inclination is to say no.
Lauri Markkanen
I really don't know if he's even someone the Knicks would look at. I also have no idea if the Bulls would want to move on, nor do I have any idea how high their asking price would be if they did.
But if there's one maybe gettable young player in the league that I would strongly consider overpaying for, it's Lauri. He's the guy you get using the Knicks own 2020 first, tell the media "we feel he's better than anyone in this draft," and mean it.
His scoring, rebounding and 3-point shooting are all down this season. The Bulls also have rookie Daniel Gafford, who they seem to like, and last year's lottery pick Wendell Carter Jr., who they just lost for at least a month with an ankle sprain. Maybe there's a chance in hell Chicago listens to offers for someone who would be the perfect compliment to Mitchell Robinson.
They've lost five in a row and sit at 13-25, but are just four games out of the eighth seed. Would they want a veteran to help them win now? How big of a priority is it for them to unload the $7.5 due to Critiano Felicio next season?
I know I said "no trading future assets," but this is the one guy I'd make the exception for.
Well…maybe one more:
Dario Saric
As Zach Lowe wrote about today, Saric "hasn't cracked 20 minutes in any of Phoenix's past five games, and didn't even reach 10 in two of them."
He's only hitting 32 percent from deep this year, but coming into the season he was a hair under 36 percent for his career. He's restricted this summer, so there's always a chance that someone will swoop in with a big offer.
But he's been marginalized in Phoenix to the point that he might come at a steep discount despite the Suns trading down in the draft to obtain him. Robert Sarver has gone after flashy objects in the past, but there's no room right now for Julius Randle in their starting lineup, and I can't imagine he would take kindly to being a sixth man.
But if Randle let it be known that he would be amenable to such a situation? Tyler Johnson and Saric for Randle works financially, and you might even be able to get the Suns to send back a second round pick to sweeten the deal (they owe their '20 and '21 seconds; would they put '22 on the table?)
This is also a sneaky Bobby Portis destination, although the Knicks would need to send back more salary in the deal, and unless it's a young player, I'm not sure it moves the needle enough for the Suns to say yes.
Jeff Teague
I'd actually be shocked if he wasn't a Knick within a month. Portis and Dennis Smith Jr. works financially, and the Wolves have an extra 2022 second-round pick coming via either Philly or Denver (whichever is more favorable) which is about what Smith Jr. is worth at this point.
That's all I got. Sure enough, none of these trades will happen, and instead, something completely out of the blue will transpire (with the exception of a Marcus Morris trade, which I think will happen, as Jeremy and I discussed extensively on Sunday's podcast.)
Let the fun begin!
---
Player Spotlight
All year long in this section, I've highlighted mostly buy-low candidates…guys for under a buck, or just more than a buck, that you could steal on the cheap and hopefully make a little bit of moolah on if they outpace expectations.
Let's switch it up today.
Brandon Ingram started the season on the PredictionStrike exchange at a not cheap but also not modest $16.67. Since them, buoyed by a 25/7/4 stat line that's also seen him hit over 40 percent from deep, Ingram has made the leap from "guy I thought three months ago that I'd be putting in the above column" to "untouchable piece of New Orleans' future and soon-to-be max contract recipient."
His stock price has responded accordingly, and he's now up to $51.33. It's the highest it's been all year, but maybe not the highest it will get. His projection for tonight's game, for example, is still only 43.98 fantasy points, a number that he's exceeded in his last two games.
Is it prudent to wait until he has a dud and buy then? Yeah, probably…but where's the fun in that. Plus, are you really going to be shocked if he lights up the Garden tonight, especially if Marcus Morris isn't there to guard him?
Me niether.
Remember, if you haven't yet gotten in on PredictionStrike, click here and use code KFS for $10 towards your initial investment of $10 or more. Happy investing!
---
Podcast Alert!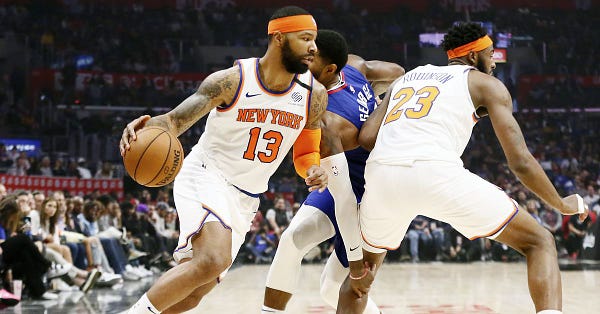 postingandtoasting.com
The Dallas Palace of Analysis: Winitiating the Offense, Part 1
Loading up the Pistol
---
News & Notes
compiled by Michael Schatz (
@mschatz99
)
Julius Randle is still out for personal reasons. We have not gotten any reporting other than that, although he was apparently observed having an animated conversation with Scott Perry after the Lakers game (apologies to whoever posted this on Twitter; I remember seeing it and can't find it now, but I promise I'm not making this up). So who knows.
---
On This Date: Starks hits 8 threes to shock the Indiana Pacers
In the first game since the contentious 1994 Eastern Conference Finals matchup, John Starks tied a then-team record with 8 three-pointers made to stun Reggie Miller and the Indiana Pacers by a score of 117-105. Starks led the Knicks with 31 points and hit 8-11 from downtown and 10-16 overall from the field.
That's it…see everyone on Monday!