Trade Winds Blowing
Setting the landscape for what should be a busy week...
In this newsletter:

---
First off, congratulations to the Kansas City Chiefs, your 2020 Super Bowl Champs.
This should be a happy day for us all. For one, we might have just witnessed the coronation of the dude most poised to take the mantle that LeBron took from Tiger and Tiger took from MJ as this generation's grandma athlete: the guy who transcends sports and dominates not just the field but every headline. It's early, but Mahomes has just unofficially taken the poll position, and as a fan of sports, that's always cool to see.
More importantly for Knick fans, Andy Reid just won the Super Bowl. If that can happen, anything can happen, including the Knicks becoming relevant for the right reasons in our lifetime.
To that end, the trade deadline is now three days away. These newsletters sometimes contain my attempts at flowery prose to put to the pain into perspective, but with all the news and rumors sure to be flying around over the next few days, I'll be taking more of a utilitarian approach.
Let's get to it…
Dennis Schroder
In the very last line of his Marcus Morris piece over the weekend, Stefan Bondy dropped a nugget, noting that "the Knicks are looking for a point guard and, according to a source, are high on OKC's Dennis Schroder."
I had heard Schroder's name mentioned in connection to the Knicks over a month ago, so this is clearly not a passing fancy.
Regarding a return, Scoop B noted that a particular young Knick could be of interest to the Thunder:
Every smart team in the league should be trying to get their hands on Knox and make a bet that his issues have more to do with New York's lack of ability to develop players than anything inherently wrong with his game.
FWIW, I'll double down on what I said a month ago: trading Knox for a middling return is a fireable offense for this front office. Knox's own college coach said he would be a three-year project, and we're barely halfway there. His work ethic is unquestioned and he's a good kid. If they trade him, it's an admission that either a) Mills or Perry have given up on development as an organizational priority (something that would seem odd for a 14-36 team) or b) they simply don't know how to draft. There is no answer choice "c".
Of course, we'd be sold on the fact that you have to give up something good to get something good, and to be clear, Dennis Schroder is good. But he's also not the type of point guard who is going to change the trajectory of this team in any significant way. This isn't trading for Chris Paul or Ricky Rubio - players who automatically make everyone around them 10-20% better.
Not to get off topic too much, but are you familiar with assist ratio? It measures what percentage of a player's possessions end in an assist. Rubio is the king of this, at the top of the league among heavy minutes players at 36.5 percent. LeBron and Chris Paul are both around 29. Our own Elfrid Payton is at 35.2, which is part of why New York scores 7.1 more points per 100 possessions when he's on the court - in the top 10 percent of the NBA according to Cleaning the Glass - despite the fact that he can't throw the ball in the ocean from the beach.
Dennis Schroder's assist ratio is 17.7, which is much closer to what you'd see from a shooting guard than a point guard - his nominal position.
Trading for Schroder would be akin to trying to get rid of some of your square-shaped blocks by carving out yet another round hole on a team already full of mismatched pieces. His defense is also, umm…not great. In short, it's not what you want, especially if you need to give up a 20-year-old kid who has barely scratched the surface in the process.
Some other names of note:
Mo Bamba
Scoop B also noted that the Knicks have been in touch with the Magic about Bamba, who is notably a Harlem native (check out Scoop's full story here).
This comes on the heels of Marc Berman's report that the Magic have inquired about Dennis Smith Jr. (as have the Timberwolves, first reported by Ian Begley over a month ago).
"In touch" and '"inquired" don't amount to a hill of beans come trade week, but a theoretical swap involving these two would make some sense. Bamba has one less year of service time than Smith, but has never reached the heights as an NBA player that DSJ has when the Carolina product has been at his best.
We saw that as recently as Saturday night, when Smith ran the show well and defended admirably. It was a reminder of what he could do when properly motivated, even if he was just 2-for-9 (although the two buckets he made were pretty huge).
"When properly motivated" continues to be the issue here though, and for Smith Jr., motivation seems to wax and wane with playing time.
Berman added at the end of the piece that "one source familiar with Smith's thinking said, 'He just wants to play.'" I still think Smith Jr. mentally checked out the moment he didn't get the starting job. Do the Knicks really want to go any further down this path? Is it worth it to essentially cave and grant a starting spot in exchange for peak effort? Or do they move him for a guy like Bamba - someone who hasn't exactly lit the world on fire in his own right? My bet is that they'd pull the trigger.
D'Angelo Russell
According to SNY's Ian Begley, the Knicks are one of the teams that the Warriors have been in touch with regarding shedding salary that would help Golden State duck the NBA's luxury tax.
Marc Stein also reported that the five-time defending Western Conference champs have been willing to "listen to pitches" on D'Angelo Russell.
Before you get your hopes up, the Warriors are not going to salary dump Russell, but their willingness to discuss him is probably tied to finances. I wasn't a fan of paying Russell this summer, although I was at least willing to be convinced I was wrong about his value. Giving up what it would take to get him just for the right to pay him the rest of that contract is where I draw the line.
No thank you.
Andre Drummond
I bring him up only because on his latest pod with Bobby Marks, Adrian Wojnarowski brought up the Knicks in conjunction with Drummond as a team that had shown interest.
Woj made it sound like the sticking point was that the Knicks weren't willing to give up a first round pick for a guy they could just sign outright this summer (and thank the good Lord for that). This backs up Begley's initial reporting that talks between the two teams were more than just cursory.
I, for one, remain frightened that this trade will happen, along with a trade for Schroder, and the team will hover around .500 for the rest of the season, and everyone gets to keep their jobs for next year.
If I need to explain to you why this is a worst case scenario, please seek help.
(Although if these trades actually happen, I'm sure I'll write far too many words at the end of this week as to why such a trade deadline would be a bad thing).
That's it for today. More rumors to come tomorrow, I'm sure.
---
Player Spotlight
Let's talk about Darius Garland, who the Knicks face in Cleveland tonight, not because he's been good, but because he's similar to another player I have my eye on in the upcoming draft.
Garland's counting stats aren't terrible - 12.3 points, 3.7 assists, 35 percent from deep on 5.2 attempts per game in just over 30 minutes - and the team has been slightly better with him on the court than with him off. He's been basically as advertised.
The reason I thought of Garland is because I texted Spencer Pearlman over the weekend and asked if there's a non-zero chance that Cole Anthony becomes Dame Lillard in the pros. He assured me that there was, indeed, a possibility.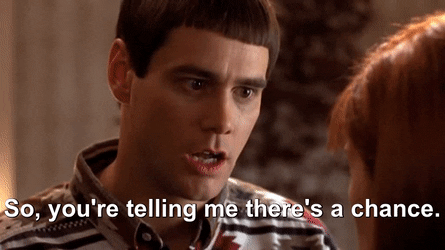 Garland came up in our convo because Spencer said that Anthony was probably more similar to Dame than Darius was at this point last year. The fact that Garland's translation to the pros has been better than decent is encouraging to me as a huge fan of Cole Anthony. Lillard Light? Hey, crazier things…
In any case, Garland's decent season aside, he's one of the best available bargains on PredictionStrike, thanks mostly to his projections consistently outpacing his production: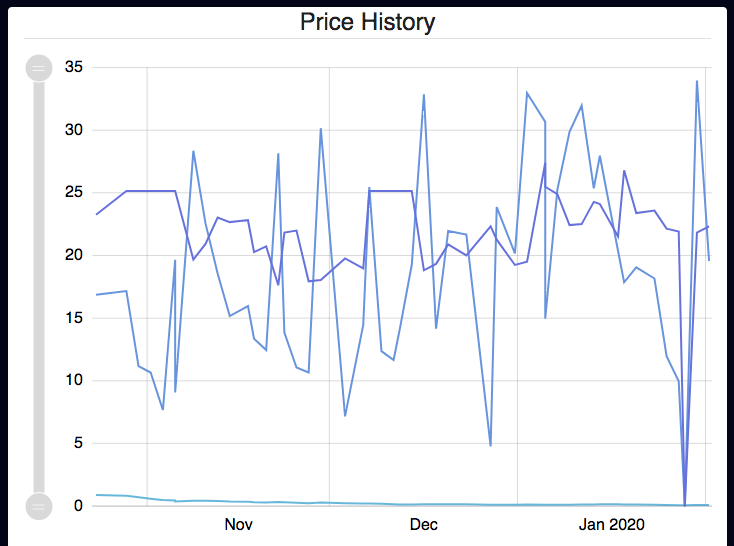 The dark blue line at the top is Garland's projected production, the light blue line below it is his actual production, and the lighter blue line waaaaaay down at the bottom is his price - he's currently trading at just $0.13 a share.
He's exactly the type of guy that makes me love this form of fantasy…you can get a few dozen shares right now for the cost of a cup of coffee, and hold onto him for years into the future, when he (presumably) inverts those two lines above. I'll be keeping an eye on him tonight.
If you're into it but haven't yet joined, remember to use code KFS when signing up to get $10 towards your first PredictionStrike investment of $10 or more. Happy Investing!
---
New Podcast!
New pod to start your week. It's a fairly ridiculous one, featuring me and my law school buddies comparing current Knicks and other notable NBA personalities to Oscar-contending films and other movies. You will laugh, at the very least. Or just listen to us laugh. One of the two for sure.
More Trade Talk!
If you're like me and hope that the Knicks are looking to offload some veteran talent in exchange for a young player they might be able to get below cost, you'll probably really enjoy the following piece.
It's by Jeff Serin (@Knicks_Lifers on Twitter - give him a follow!), who does a full scouting report on four possible Knick trade targets: Malik Monk, Jalen Brunson, Landry Shamet and Jerome Robinson. It's comprehensive and really well done, so if you want to get up to speed on some possible guys the Knicks could be looking at, give it a read here.
Here's a snippet of what you'll find (the below is about Monk):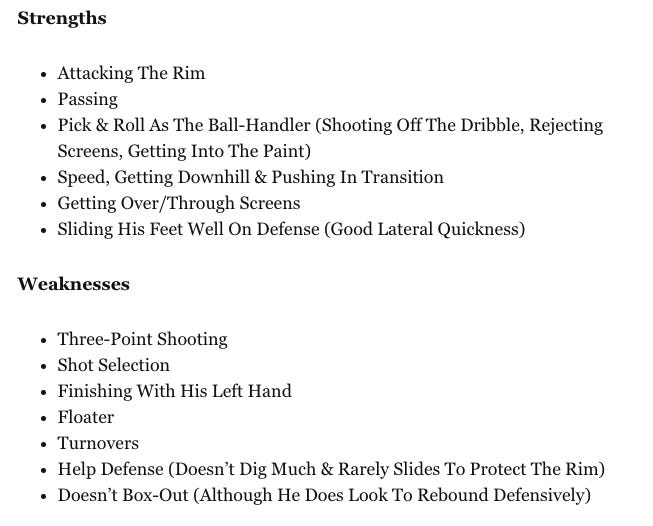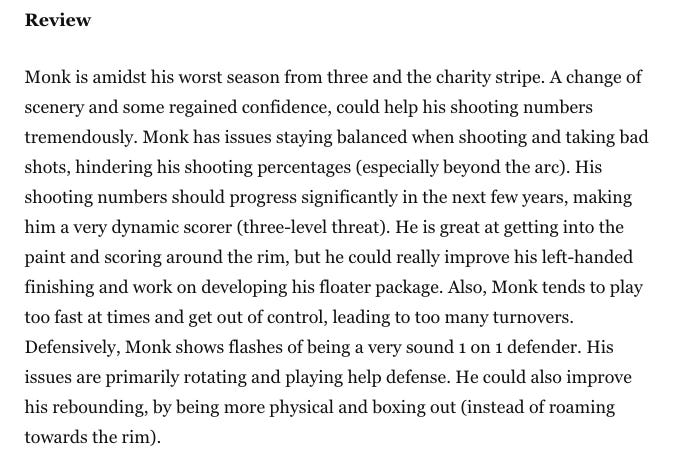 ---
News & Notes
compiled by Michael Schatz (
@mschatz99
)
That's it! See everyone tomorrow!