Trading Down
What history tells us about having extra bites at the apple.
Morning everyone.
It's Monday, which usually means the beginning of a new week. This is supposed to be a fresh start, with a new set of responsibilities, but also possibilities.
I don't know about you, but as we enter week 2 (and what should probably be week 4 or 5) of a very different America than we're used to, the hardest part for me has been not knowing whether it's week 2 of 5 or 6 or week 2 of 15 or 18 (or even month 1 of 15 or 18, if the Imperial College report is to be believed and adhered to).
The reason that this is so tough is because, like anyone else who writes about sports, either for a living or as a hobby, everything we're doing right now is essentially biding time.
Biding time can be incredibly productive and enjoyable. I often find that the best moments of my day are when I have 10 or so minutes to kill and can read an article I've been putting off. This always feels like a moment well spent, both because I'm not putting off some larger task that I could be tackling if I had more time and also because I know I'll have enough time to get through the whole thing. It's an excused distraction, if you will.
I'd like to think that's what this newsletter (and my podcast) will continue to be, both for me and for you. Like most NBA content being put out right now, it's a chance to look at draft prospects & strategies, theorize about what becomes of the NBA and when, writing about the past, and so on and so forth.
But like daily distractions, not knowing how much time I have in front of me to do this makes me wonder about when an excused distraction will verge into the territory of wheel-spinning, at least in comparison to other endeavors.
All this is to say, bear with me. Like you, I'm sure I'll figure out the right path forward in the coming days/weeks/months. And for the time being, I'm going to stick to the path I laid out last week (Tuesday Film, Wednesday What If, Throwback Thursday, Friday Top-10), with one minor change: Monday Q&A, starting right now!
(If you want to get a question in for next week, hit me up at KFSMailbag@gmail.com)
Today's question comes from Ray M, and he asks:
If the Knicks pick anything below 5 (a possibility) what is the best option: Hold your nose and pick a flawed prospect who could make Frank look like Clyde; or trade back for more assets and package everything you have in the draft (at least three 1's and a 2) for a living, (non-coronavius) breathing youngish shooter who can space the floor and let Mitch and RJ be Mitch and RJ.
Let me start my answer with a text exchange I had over the weekend with our resident draft expert Spencer Pearlman: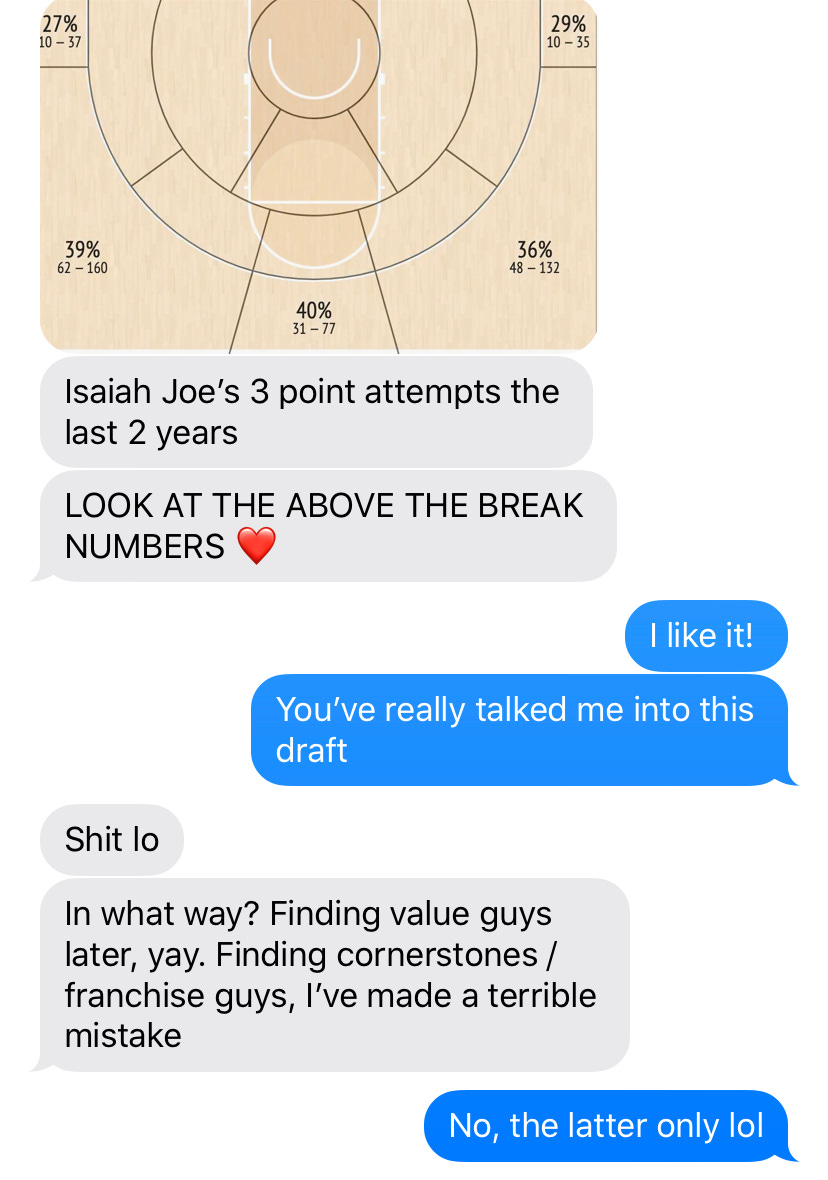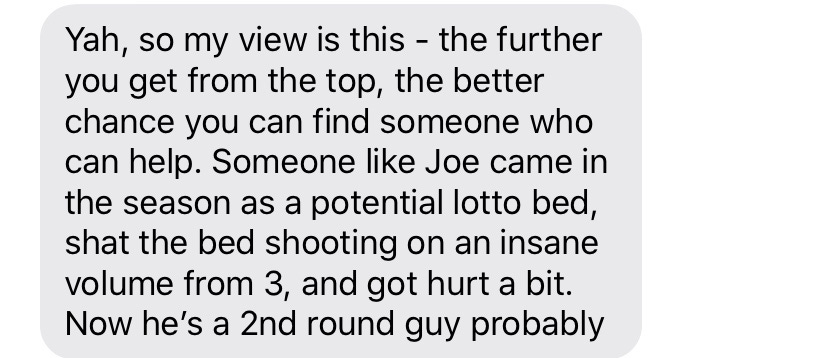 A couple of conclusions:
We're both massive losers (dare I even use some early 90's parlance and call us herbs?), and should probably be thinking about something else on a beautiful Saturday afternoon, and…

There's a potentially massive opportunity for a smart team in the top 10
My initial thought when reading Ray's question was that no team is going to be dumb enough to give up anything of value for a top-ten pick in what many people seem to think is one of, if not the worst, drafts this century. Looking back at some recent history, though, tells a different story though. In short, desperate teams can always talk themselves into a dream.
Before this one, the top ten of the drafts in 2013 (the Anthony Bennett year), 2016 (a drop off after Ben Simmons and Brandon Ingram) and last year (top-two or three heavy, depending on who you asked) were perceived to be the worst of the last decade. Despite this, there were six draft-night trades involving top-11 picks in those drafts.
We can neatly group those trades into three categories:
Trade-downs to pick up extra picks in the same draft:

2013: Trey Burke (9th pick) for Shabazz Muhammad (14th pick) and Gorgui Dieng (21st pick)

Trade-downs involving other stuff:

2016: Marquese Chriss (8th pick) for Georgios Papagiannis (13th pick), Skal Labissiere (28th pick) the right to Bogdan Bogdanovic and Detroit's 2020 second.

2019: De'Andre Hunter (4th pick), Solomon Hill's expiring contract and a 2023 second for Jaxson Hayes (8th pick), Nickeil Alexander-Walker (17th pick), Didi Louzada (35th pick) and Cleveland's 2021 and 2022 seconds (technically it was a top-10 protected first, but there was almost no chance it would convey as such)

2019: Jared Culver (6th pick) for Cameron Johnson (10th pick) and Dario Saric.

Trades for an established player:

2013: Nerlens Noel (6th pick) and a 2014 first (10th pick - Elfrid Payton) for Jrue Holiday

2016: Domantas Sabonis (11th pick) and Victor Oladipo for Serge Ibaka
Let's tackle the last category first, because it most directly addresses Ray's question.
If I thought for a second that the package of draft assets the Knicks have could net the type of player Ray is asking about (a young-ish volume floor-spacer), I'd be up for at least thinking about it.
Two problems:
I don't see that player available, barring Sacramento selling way low on Buddy Hield and deciding that they simply want to be rid of his recently signed contract. Also, Hield is 27…not exactly on Mitch & RJ's timeline.

I would kick the tires on Kevin Huerter just to see if Atlanta would listen, but even if they did, I can't imagine an ownership group that wants to win sooner rather than later would want a bunch of picks instead of a vet.

(By the way, a scenario I just concocted in my head and am already falling in love with: Knicks get the first pick, and trade down with Atlanta (to somewhere in the mid-lottery, I'm assuming) so they can take Anthony Edwards and the Hawks give us Huerter. Please let this happen, basketball gods, as a reward for my dutifully continuing to write this newsletter)

More importantly, history frowns on shitty teams trading picks for established players.
The Ibaka trade was an utter disaster for Orlando. Jrue Holiday was and is awesome, but where did that get New Orleans? The Knicks have their own example of this, maybe the greatest failure in the history of such trades: the 7th pick in 2002 (Nene) for Antonio Mc Dyess. Roy Hibbert (17th pick in 2008) and stuff for Jermaine O'Neal was another bomb, although Indiana returned the favor a few years later when it send the pick that became Kawhi Leonard to San Antonio for George Hill. Even superstar acquisitions (see: Butler, Jimmy) aren't a slam dunk.
The clearest "win" I can find for a team sending out a pick is when the Rockets (who notably already had Yao Ming and T-Mac) shipped out the 8th choice in 2006 (Rudy Gay) for Shane Battier.
But Daryl Morey pegged Battier as a vastly under-appreciated asset thanks to their early use of advanced stats. Raise your hand if you think the crack scouting team at MSG has developed such a tool in 2020 for identifying diamonds in the rough.
I thought so.
So to answer the question, no, this isn't the route I'd take. Instead, take another look at scenarios one and two above. Put aside for a moment what the teams who traded down did with those picks. The takeaway is that the teams who traded up gave a lot for the right to do so.
What did they get for their trouble? Trey Burke and Marquese Chriss are fringe NBA players, and while it's too early to tell what Hunter or Culver will become, it's a safe bet that neither is ever going to be a franchise-changer.
Now look at what the teams that traded down got. Of the four trades, the two most successful ones were for the teams who had more bites at the apple. Sure, Georgios Papagiannis was a terrible selection the moment it was made, but that Bogdan Bogdanovic guy isn't bad. Jaxson Hayes and Nickeil Alexander-Walker have also shown decent promise, and those Cavs' picks are looking damn good.
This all reminds me of one of my main takeaways from Yaron Weitzman's new book about the Process Sixers, Tanking to the Top. Sam Hinke believed more than anything that the draft was a crapshoot. There was no way to guarantee success - only to increase your odds by getting more rolls of the dice.
Nerlens Noel may have been a bust, but the pick that came with him - the Pelicans' 2014 first-rounder - put Philly in a position to draft Elfrid Payton…and then immediately trade him to the Magic for the draft rights to Dario Saric, the 2018 first that became Landry Shamet, and a 2015 second that was used to draft Willy Hernangomez. Hinke then immediately shipped him to the Knicks for our 2020 and 2021 first rounders.
The Payton trade, like the Chriss trade above, is one of several examples throughout recent NBA history where the team trading down gets the better of the deal. Dougie McBuckets (11th) for Jusuf Nurkić (16th) and Gary Harris (19th) in 2014 and Eddie Griffin (7th) for Richard Jefferson (13th), Jason Collins (18th) and Brandon Armstrong (23rd) in 2001 also come to mind.
And then of course there's the most famous trade never made, with the Hornets opting to select Frank the Tank 9th overall instead of swapping out the pick for Danny Ainge's package of draft goodies.
While trading back can sometimes backfire (Donovan Mitchell, taken 13th, was traded by Denver for Trey Lyles and Tyler Lydon, taken 24th), as long as you can be sure you're not trading away a future star, getting more choices seems to be the way to go.
That's especially true of this draft, as Spencer makes clear in his text above. While the top-ten is littered with uncertainty, there are several NBA-ready contributors who don't have star or even starter potential but bring very specific skills to the table, including (for the Knicks' purposes) shooting.
Depending on where they land, the Celtics (currently slated to have the 17th, 26th & 30th picks), Mavs (18 & 31), Sixers (22 & 34), Wolves (16 & 33), Kings (12 & 35) and Hornets (8 & 32) should all have multiple selections in the top 40. What if, say, the Celtics thought they could get their dive man of the near future in Onyeka Okongwu, and were willing to give up the rest of their draft for the Knicks' pick so they could grab him?
Kira Lewis Jr., Aaron Nesmith, Aleksej Pokuševski, Nico Mannion, Tyler Bey, Tre Jones, Isaiah Joe and draft & stash prospect Carlos Alocén all profile as late first/early second round selections who can step onto the Knicks roster and help immediately. How nice would it be to bring in four or five of these names? Somewhere, Sam Hinke would be smiling.
In such a dream world, the Knicks current young core - RJ & Mitch, and whichever two or three of Frank, Knox, Iggy, DSJ, Dotson and Trier stick around - could be surrounded not by the Randle's and Portis' of the world, but by players who might actually be here for a while and who would allow the core pieces to get more reps. Keep a couple of vets around and cut bait with the rest.
The best part? This team likely wouldn't be very good, entering them into the Cade sweepstakes for next year, but unlike 2018-19's Tank for Zion, it wouldn't be an all-or-nothing proposal. There would be an actual, honest-to-goodness young foundation to build around (assuming the front office learns how to, you know…develop players).
If ole' JD is concerned about selling tickets, and if the youth movement doesn't do the trick (I bet it would, FWIW), sign Melo for the vet minimum (as Jeremy proposed on last week's pod) and bill this year as a farewell tour.
That's the way that I'd go, at least. We'll see what they decide to do.
Now I'll sit and wait quietly for the Knicks to trade their entire draft to the Bulls for Zach LaVine.
---
New Podcast!
---
News & Notes
Marc Berman talked to some NBA people about RJ Barrett.

Dolan and Oakley are going to a mediator. Just FYI: these things are usually mandatory as part of the appeals process. I wouldn't read much into it, if you still care about this story at all.

Finally, here's Ken T with his latest piece of Revisionist History for the Knick of Time Show.
That's it! See everyone tomorrow for Tuesday Film Session!