Trending Up
What effect have individual players had on the Knicks in the Miller era?
In this (slightly late) newsletter:

---
Tonight will be the 15th game the Knicks have played under Mike Miller. This is both a good and a bad thing.
It's bad because now when I go to the NBA's stats page, I won't be able to look at only the Miller games by using the nifty drop-down menu because that only goes up to "Last 15 games." Now I actually have to input something in the "Date from" field, which takes a good 8-10 second longer. These seconds really do start to add up after a while.
It is largely good though, because any lingering questions about how real or fake all of this actually is should go finally by the wayside. Not only does 15 games feel like a very representative sample size, but after playing the Lakers, Miller's Knicks will now have faced half of the teams with the top 10 net ratings in basketball, including three of the top five, as well as five of the six teams that have 25 or more wins.
Compare that with only four games against teams with one of the ten worst net ratings, and you can now officially shove your arguments about how whatever is happening isn't legit.
And stuff is happening. Aside from the downright respectable -1.1 net rating under Miller I referenced yesterday, as well as their improved defensive and offensive shot profiles I've written about a few times, the Knicks have climbed up from the cellar in several basic but still key areas. Perhaps most importantly, they have the 21st-ranked effective field goal percentage in the league with Miller at the helm after being dead last under Fiz. Elfrid Payton is a lot of things, but a shooter ain't one of 'em.
They're also taking much better care of the ball now. Their 12.9 turnover rate since December 6 ranks sixth in the NBA over that timeframe, whereas their 15.3 figure before ranked 18th. On a related note, they have the 12th best assist to turnover number under Miller; it was 29th with Fiz.
One thing that was thought to be going well with David Fizdale was rebounding, and it was, to an extent. The Knicks were the fourth best offensive rebounding team under his watch, but only 16th in defensive rebounding rate and 16th overall. Thanks to more consistency on both ends under Miller, they've been 6th.
Last, and perhaps most surprisingly, after playing at a snail's pace (27th in the league) for the first 22 games, the Knicks have been the 11th fastest team in the NBA under Mike Miller, as Tom Piccolo brilliantly wrote about last week.
Now for the truly crazy part: they might be leaving a good bit of productivity on the table.
Check out the below two charts, courtesy of Stats.NBA.com, showing individual on-court data for all of the current Knicks during the Miller era…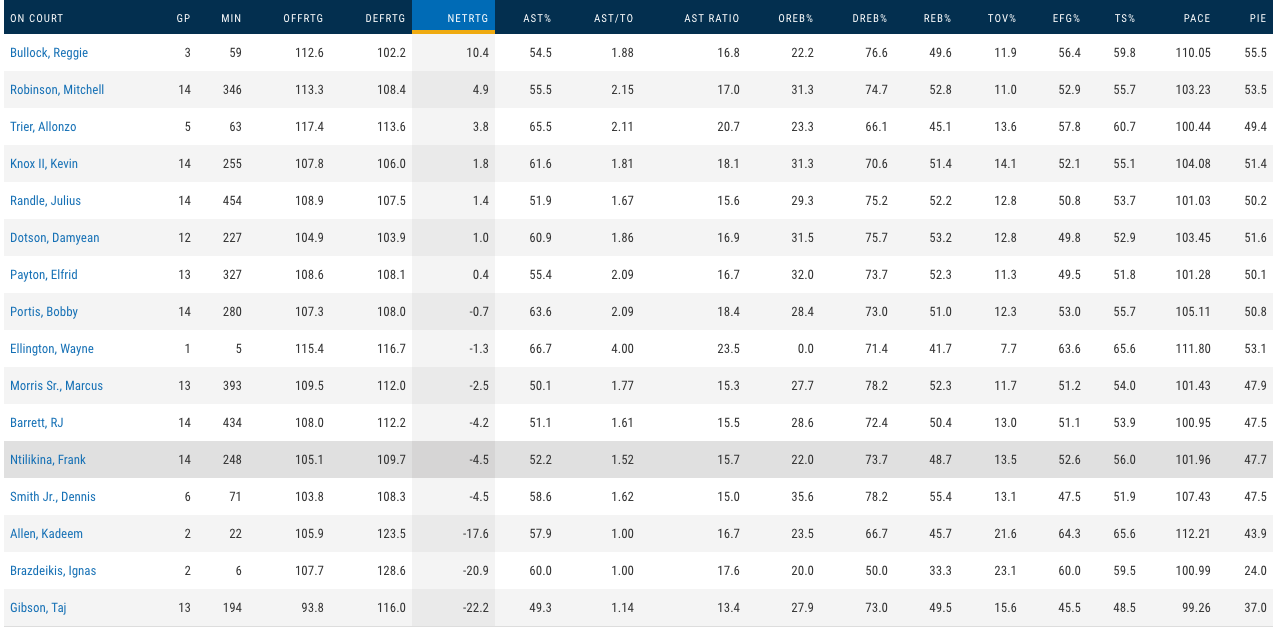 and what the corresponding numbers are when they're off the court: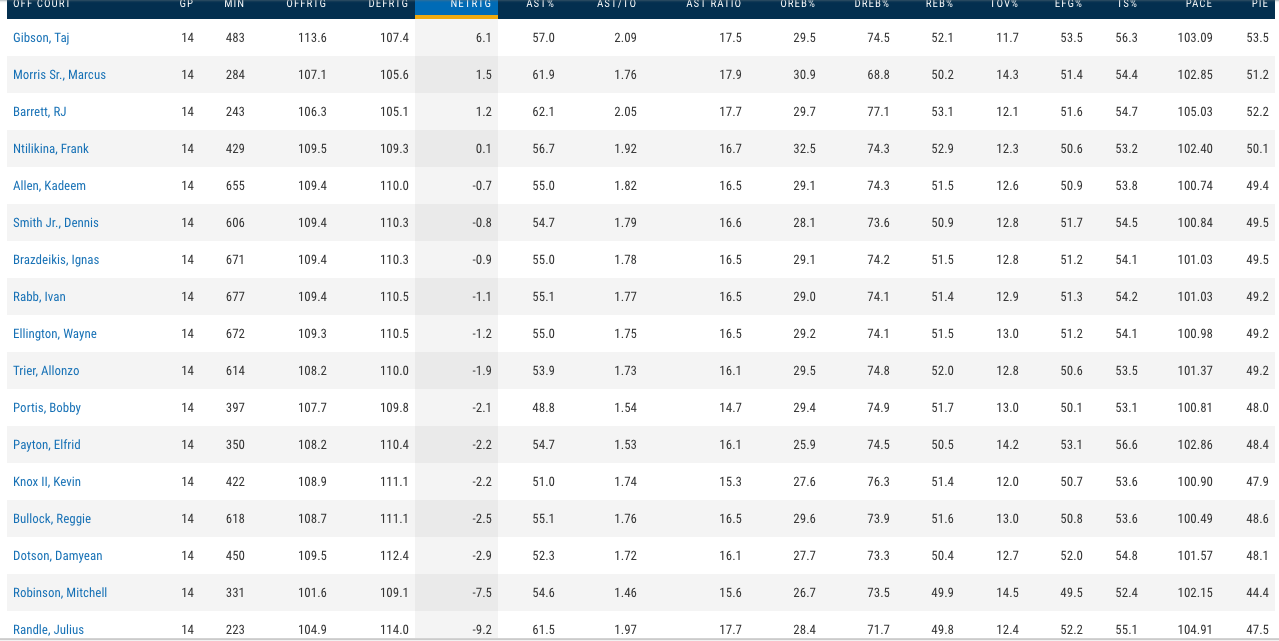 Some things that really stand out:
The Knicks have struggled immensely in Taj Gibson's minutes, with a minus 22.0 net rating. That's…really terrible. The 116.0 defensive rating is worst-in-the-league bad, but not unconscionable. 93.8 points per 100 possessions, however, is. The Knicks are shooting it eight percent better (using eFG%) when Taj is off the court than when he's on.

To be clear, this isn't really on Taj; he does all the things that you'd expect him to do at this point in his career. It's just that the combination of him and several offensive players already prone to stagnation is a bad, bad combination. On the other end, the lack of rim protection is felt mightily.

Mitchell Robinson, on the other hand, is the jolt of what Dave Chappelle is looking for in this meme:

Under Miller, when Mitch is on the floor, the Knicks are scoring at a rate nearly commensurate with the Milwaukee Bucks, who sport the third best offense in basketball. They have a 2.15 assist to turnover ratio during those 346 minutes, which would lead the league by a healthy margin. Basically, the offense comes incredibly easy for them when he's out there because of the massive matchup nightmare he is for opponents. Nothing needs to be forced.

And that's without him even doing stuff like this on a regular basis:

Forget shooting jumpers; if Mitchell Robinson can do, like, anything at all on the short roll, it's game over.

Couple other small takeaways…

The team plays a lot slower when RJ Barrett and Julius Randle are off the floor. To anyone who's watched them, this isn't exactly a surprise, both because of how Randle likes to play and the fact that when RJ hits the bench, there's a shooter on the floor in his place. That helps open things up for quick offense in both transition and the half court. I think playing Barrett at the three would help lessen this discrepancy (another benefit for moving Mook). As for Randle, the team has absolutely fallen apart when he sits over the last 14 games, so you'll happily take the slower approach there.

It's the smallest of small sample sizes, but the Knicks have a 56.4 effective field goal percentage with Reggie Bullock on the court. He's been awesome thus far. Their offense is like a kid that had a toy car with blocks for wheels who just got round ones in their place. Fun.

Lastly, for those who think the Knicks will fall apart if they trade Marcus Morris, it's encouraging to note that they've been four points per 100 possessions better with him off the floor than with him on. Not saying he's suddenly become a bad player (as we saw Sunday), but there is a style of play that they unlock when him and Randle don't share the court, and Randle isn't going anywhere.
With all that in mind, let's see what happens tonight against the behemoth that is the LA Lakers. If it's half as fun as Sunday's game, we'll all be in good shape.
---
Player Spotlight
Yesterday I recommended Danny Green as a buy-low candidate ahead of tonight's game. Look at it this way: if he somehow doesn't light them up and has a dud, the Knicks will probably be in a close game, and you'll be happy anyway.
If you want to invest in someone on New York's own roster for the short term, why not take a look at Kadeem Allen.
The smart recommendation here would have been for me to write him up before the Clippers game, but in my defense, I didn't know Elf would be sitting that one out when I wrote this section on Friday.
As of right now, we're still not sure if Payton will play tonight. Allen's stock price is $2.25, up 50% following Sunday's extended action. His projections won't adjust all that much yet, so there's still a nice opportunity to make a buck, even if you do wind up selling right afterwards.
If you're new to the PredictionStrike game, don't forget to click here and use code KFS for $10 towards your initial investment of $10 or more. Happy investing!
---
News & Notes
compiled by Michael Schatz (
@mschatz99
)
---
On This Date: Knicks sign Langston Galloway
On this date, Langston Galloway made history by becoming the first-ever call-up from the Westchester Knicks. The Knicks signed him to successive 10-day contracts and eventually signed him to a two-year deal with the team.
That's it! Sorry today was a bit late. Back on schedule tomorrow morning!