Unprecedented
The NBA walked off. As they should have.
News & Notes
The Milwaukee Bucks players staged a wildcat strike of yesterday's Game 5 of their playoff series with the Orlando Magic. The game was officially postponed by the league soon thereafter, followed by the announcement that both the Rockets & Thunder players and Lakers & Blazers players decided to take the same action for their games as well. The Bucks later read a statement outside of their locker room, which you can see here.

The Knicks also released a statement, stating that they support the league's decision to postpone the game and "strongly reiterate our condemnation of racism and violence." It was, naturally, met with both praise (by fans simply happy they put out something quickly) and criticism (by media people who quibbled over its wording and overall weakness). On the list of things I choose to analyze this morning, this does not make it into the top 100.

Later in the evening, there was a meeting amongst the players in the bubble, at first with coaches, and then without. There are various reports that have emerged, but it seems as if there was some consternation over the Bucks' initial action, a split on whether to continue playing or not (with the Lakers and Clippers emerging as the teams against the notion of continuing to play), a demand for more action from the owners, and an agreement that more discussion is needed, which will take place at 11 am today.

At the same time, the NBA's Board of Governors will meet to discuss possible courses of action. There is a sense that today's three scheduled games will not be played. The NBA season, it would seem, is in jeopardy.

Regarding yesterday's events, as I tweeted at the time, the question to ask is not "what will this accomplish?" but rather "how has it come to this?" When a group of individuals are so broken so as to make this sort of decision, it is yet another reminder that kneeling, raised fists, social justice jerseys, and slogans on a basketball court only do so much.

Part of why I decided to do my podcast campaign for Higher Heights for America was because I felt like talk was cheap. Many of us tweet and post and IG our support for a cause we believe is right, all the while either failing to reach or further emboldening the person who thinks differently than we do.

I really don't know where to go from here. A quick scroll of Twitter (even the non-bots) reminds us that some people don't get it and never will, or worse, believe they do get it and will fight to the death against what I and maybe you consider to be common decency. I don't know what to say, nor do I believe at this point that words will do much good. So if you're expecting some lengthy prose from me today to try and put last night in perspective, I'm sorry to disappoint you.

What I do know is that I love the NBA more than I have ever loved any part of my life besides my immediate family and a few close friends, and yet there is no question in my mind that last night's actions were not only warranted, but necessary - not as a final statement, but as an opening salvo, hopefully with much more to follow, from all sports, including those which white America cares about far more than the NBA.

Again, I have no idea what precisely this will accomplish, and I could not care less that that remains an uncertainty. People have taken notice. As Chris Webber said last night, just because you don't know that what you're doing will fix the problem doesn't mean you do nothing at all. If not now, when?

In a world where every ill or evil can be traced back to someone trying to attain or retain a position of power, often due to fear of those who they deem are trying to take it from them, a group of largely Black men have exerted their power in the most forceful way they possibly could have, and in a way that had never been done before.

That, if nothing else, is a good start.
Read This
Former KFS Podcast guest Robert Silverman had a thoughtful piece on why yesterday's events are not only incredibly important, but also were a long time coming for a league that often makes itself out to be something it has never actually been…until now.
"Sources Say…"
Not that it's very important today, but I'm told to take yesterday's report that the Knicks are expected to pursue Davis Bertans with a grain of salt. This is not to say that New York wouldn't be interested in his services - I have no reason to believe they wouldn't be - but I have the sense that they know Washington is willing to overpay to keep him (especially since they refused to part with him at the deadline) and that this may not be of interest. Remember always: player agents have every incentive to create the illusion of a bidding war for their client's services.
That's not to say the Knicks don't have getting a stretch-four as a high priority. As Ian Begley has reported for months, I'm told it is.
---
Maximizing Assets, Part 4 - Boston Celtics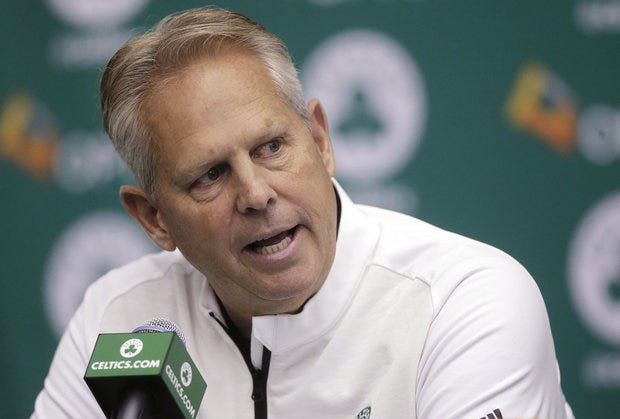 Proposed Trade: The 8th pick for the 14th, 26th and 30th picks
Where's Jimmy Johnson's draft pick value chart when you need one?
Would Boston do it?
Here's the thing about Boston: they're good.
Like, really good. I have no idea what will happen against Toronto, or potentially against Milwaukee (or Miami) after that, or even maybe in the Finals after that, but regardless of any of those outcomes, they will enter next season fancying themselves as a legitimate title contender. As Danny Ainge knows better than anyone, those windows need to be maximized when they are open.
And they should be confident. They're the only team in the NBA with three top-35 players, one of whom is a 22-year-old who should be in the MVP race next season.
They also have, for the most part, a roster that is set. With the pandemic rendering the amount that teams will invest into free agency this offseason an uncertainty, it's a safe bet that Gordon Hayward will not opt out of the $34 million coming his way. Every other member of their core group is under contract for next season. Robert Williams appears ready to step in if Enes Kanter opts out of the $5 million coming his way, and they hold restricted free agency rights on backup point guard Brad Wanamaker.
Given the logjam, there is barely room for one rookie to actually make an impact on Boston's rotation next season, let alone three.
So it is perhaps not the best of timing for Boston to be the only team to hold three first round picks in this year's draft. It's easy to say "trade them," but to whom? If there are more cash strapped franchises out there looking to sell off late firsts, it's doubtful there will be a bull market.
First rounders, remember, must be signed to fully guaranteed rookie-scale contracts. Yes, drafting and stashing a first rounder is an option (hello, Bolmaro!) but again, that's not exactly maximizing the current window that exists. With Kemba now 30 and Giannis a year away from potentially forming the NBA's next super team in Miami, Golden State or Dallas, the time to go for it is now.
The question, of course, is whether there is a player available at the 8th pick who they feel would help them in that effort. There are two names that jump out at me, for very different reasons: Devin Vassell and Obi Toppin.
Vassell, should he translate to the NBA as seamlessly as some Knicks fans seem to think he will, would fit with Boston's wing-heavy arsenal like a glove. His shooting and defense would obviously be welcome, and he wouldn't be forced outside of that tidy comfort zone as a rookier, a'la Jayson Tatum two years ago.
And then there is Toppin, who would represent something of a swing for the fences pick that gives Boston the one thing they don't have: an athletic big who can sort of play make and would add another dimension to their offense. The question here would be how much they'd be able to get away with him at center in the playoffs. As we watch offenses dominate the postseason like never before, maybe they bet that he can.
Or perhaps they see Onyeka Okongwu as the best player in the draft and their center of the future who can also contribute right away. That would seem like an Ainge move if there ever was one.
I say they pull the trigger. I'm sure they'd ask for the 38th pick back, and maybe the Knicks give it, but because of the bear market I explained above, I think they'd be able to hold firm. The tougher question is…
Would the Knicks do it?
Sports is often a numbers game, so let's start with this number: 7
That's how many guaranteed contracts the Knicks have on their roster for next season, belonging to RJ Barrett, Mitchell Robinson, Julius Randle, Frank Ntilikina, Kevin Knox, Dennis Smith Jr. and Iggy Brazdeikis. I think, based on nothing but pure speculation, that there is a non-zero chance DSJ gets moved for a future second round pick to some team who feels like taking a shot on his talent.
For argument's sake though, let's assume he stays. Let's also assume they extend a qualifying offer to Damyean Dotson (or extend him outright, in my dreams, perhaps) and guarantee Reggie Bullock's '20-21 salary for $4.2 million, a relative bargain.
That brings us to 10. They will have, assuming Taj Gibson, Elfrid Payton and Wayne Ellington are non-guaranteed and Bobby Portis' team option is declined, around $76 million in committed salaries, not counting rookie salary slots or roster charges. If the cap does indeed stay flat at $109 million, as has been reported is very possible, that only leaves $33 million to spend.
$33 million to spend on five players to get to a full 15-man roster is actually not a lot, but will be enough to make due if that roster consists of someone like DJ Augustin, maybe Gallo on a big one-year deal, and the return of one or two of their own free agents - say, Taj Gibson and Moe Harkless (perhaps signed using an exception). That also only leaves one spot on the roster for a rookie.
But what if New York actually is able to pry Fred VanVleet away from Toronto? At somewhere around $20 million annually, those rookie scale contracts from the middle of the first round or later are suddenly looking awfully pretty. About $13 million for four players isn't much.
And then of course there is the matter of this draft, which, perhaps more than any other in recent memory, is likely to produce a scattershot of the best results all throughout the first round and even into the early second. If ever there were a draft to want more bites at the apple, it is this one.
If the Knicks swung this trade and ended up with the 14th, 26th, 27th, 30th and 38th picks, that's exactly what they'd get. It would also allow them to further diversify their portfolio with three picks at the back end of the first round, and not feel as bad about trading away DSJ to somewhere he actually wants to be.
Want to take home run swings at guys like RJ Hampton or Jaden McDaniels? Have at it. Wanna grab Desmond Bane and/or Xavier Tillman, two guys who Spencer Pearlman is convinced will be have long careers as valuable contributors to good teams? Go for it. Want to draft and stash Leandro Bolmaro? He might still be there.
New York would also have the option of additional wheeling and dealing, perhaps if a player they're in love with drops to the late teens or early 20's, and they package a few of the last firsts to move up.
The possibilities are endless, and with Walt Perrin at the helm, that's most definitely a good thing.
Would I make the Trade?
We've heard time and time again over the last several months that Tom Thibodeau is not going to be running a day care next year, but that's what makes this draft so fascinating: players like Bane and Tillman, not to mention Grant Riller - someone who four different draft experts told me last week would go between the top five and the late lottery if he were 20 years old - are ready to come in and contribute immediately. There are a few more who fit that bill.
But that's the best part of this trade: if you take a win-now guy or two, you don't have to feel like you're selling the future short. On the flip side, if you take a few projects or a stash guy like Bolmaro, you don't feel like you've left Tom Thibodeau without proper reinforcements.
Of course - as with every trade I've pitched this week - this would come down to the drop off from 8 to 14.
My guess? If they're in love with Cole Anthony, Kira Lewis, or both, and they feel convinced that one of them will be there at the end of the lottery, they pull the trigger.
Will one of them fall? If we feel convinced that Wiseman, Edwards, Ball, Toppin, Avdija, Okongwu, Halliburton, Hayes, Okoro and Vassell will be off the board and that someone before them in the lottery takes a chance on Patrick Williams, whose stock seems to be rising, then only one other player would need to go for either Cole or Kira to drop.
And if they by some chance both get drafted before New York picks? Say hello to my not-so-little friend…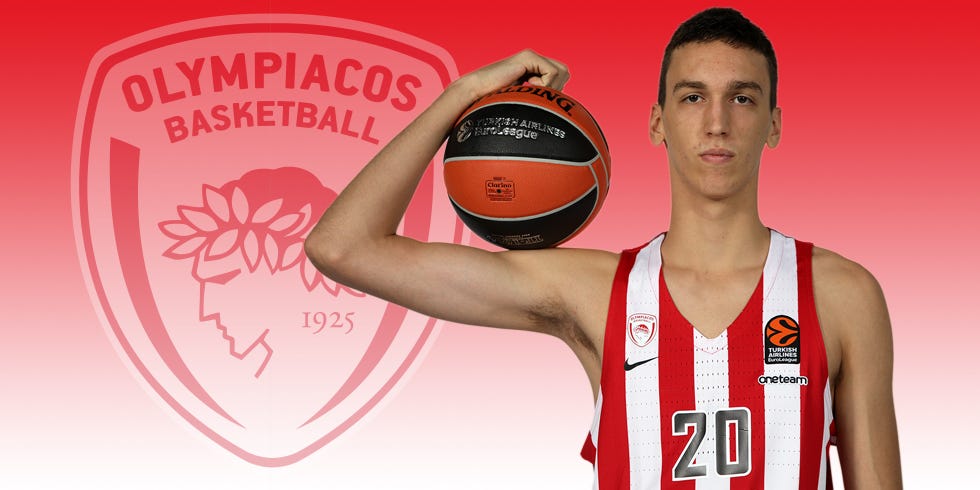 That's right folks: It's Poku time.
(I should also mention that Tyrese Maxey, the guy whose college coach the Knicks just paid $1.5 million annually to teach their youngsters to do basketball things, would probably be in consideration here).
To me, if this option is actually on the table, unless Killian Hayes slips to 8, I'd pull the trigger. There's no one else I'd be missing out on at the eighth spot that would make me feel like I couldn't make up the difference - and then some - later on.
Why do I think such a gambit would work? Three success stories stand out.
2001 - the Nets trade the 7th pick (Eddie Griffin) to Houston for the 13th pick (Richard Jefferson), the 18th pick (Jason Collins) and the 23rd pick (Brandon Armstrong). It helped catapult them to back to back Finals appearances.

2004 - the Bulls completely change the personality of their team with an influx of rookies that includes Ben Gordon, Luol Deng, Chris Duhon and Andres Nocioni. Unfortunately, they got too good, and were never able to draft high enough to get that final piece to the puzzle. I don't think that would happen here.

This year - the Miami Heat seamlessly incorporated rookies Tyler Herro and Kendrick Nunn into their rotation, not to mention Duncan Robinson, who hardly played last season.
Of course, Jason Kidd and Jimmy Butler had a lot to do with the first and third triumphs, while Gordon and Deng were top-seven picks.
Still, everything the Knicks have done this season evokes the actions of a team that knows it needs to revamp its personality from top to bottom. What better way to do that than by bringing in fresh blood who can help make that clay even easier to mold into the image you want.
That's it for today! See everyone with the Friday Edition tomorrow. #BlackLivesMatter.