Welcome to New York, Jared Harper!
We made a move. Spencer Pearlman helps break down why it matters.
THE KNICKS GOT A GUY!
THE KNICKS GOT A GUY!
THE KNICKS GOT A GUY!
It's been 140 days since New York last made a roster move, when they dealt Marcus Morris to the Clippers in exchange for a grab bag full of goodies. As such, folks been gettin' kinda antsy.
It is worth noting that all the Knicks did was claim Jared Harper off waivers, and his two-way contract with the Suns was only for one season, so they don't automatically have him on the roster for 2020-21. That said, as Bobby Marks pointed out yesterday, they'll be in a good position to keep him if they want to as he'll be a restricted free agent in the offseason.
So who is Jared Harper?
He's probably best known for leading Auburn to its first ever Final Four in 2019, defeating Kansas, UNC and Kentucky - college basketball's three winningest programs - in the process. In the Tigers Elite Eight win over the Wildcats, Harper scored 11 of his 26 points in overtime while also going 11-for-11 from the line in that game. They lost to eventual champion Virginia by one point the following week.
Harper is a guy I first learned of when he almost singlehandedly led the Suns to a victory over the Knicks in Vegas Summer League last year. He only finished with 19 points but had 11 of them in the final 10 minutes of action, along with two steals. The Knicks could do nothing with him.
After Summer League, Harper spent all but three games this season for Phoenix's G-League team, where he proceeded to set the Northern Arizona Suns record for most consecutive 20-point games. He finished with averages of 20 & 5 for the year.
Being that Vegas was the first and last time I ever saw Harper play, I reached out to our resident scouting expert Spencer Pearlman to shed some more light on Harper.
Spencer was working for the Suns at the time they signed Harper following his going undrafted out of Auburn, and was a big fan of Harper leading up to draft night. He can't say that he's the reason Harper ended up in Phoenix to begin with, but I can (Hire Spencer!!!)…needless to say, he's in favor of Leon Rose's first official move as team president.
Spencer was kind enough to draft up a quick scouting report on the Knicks newest addition, and below are his thoughts on why he's a fan, some weak spots in Harper's game, and some video to show you what we're dealing with: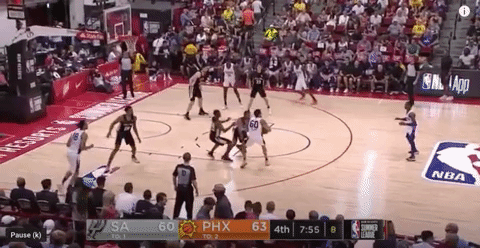 SP: First of all, he's a good shooter. Maybe a bit more streaky and less of a pure knockdown guy, but he's a good shooter. He can spot up, catch and shoot, and score off the bounce. He's very athletic and very strong. He's under six feet but has a long wingspan and his strength pops in that he plays above his size.
JM: Just noting that Harper went from a 34.4 percent shooter from deep as a freshman to 35.5 percent as a sophomore to 37.0 percent as a Junior. This year in the G-League he shot 36.2 percent on 7.1 attempts per game.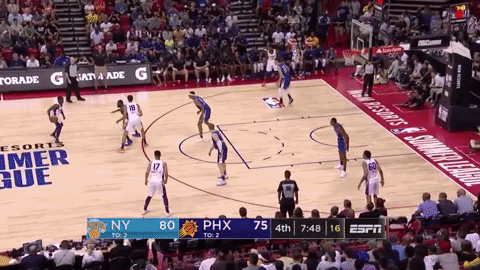 SP: He's a good passer. Not a major manipulative passer, but knows how and where to pass. His size limits him a bit in what he can see, but his ability to draw defenders into the paint and collapse the defense helps create looks. He's also a good pick and roll player, both as a passer and a scorer. Again, more good/solid reads than elite, but does a nice job splitting between passing and scoring. He's not a good finisher, but does a solid job putting pressure on the rim to draw fouls. Outside of the paint, he can score from the midrange and deep well.
JM: Check out the first couple minutes of the above video if you have time. Harper has the ability to make some ridiculous passes on the move. Impressive stuff.
SP: On defense, even though he's on the smaller size in height, his 6'5.5 wingspan is roughly average for a point guard. He does a nice job using his strength and quickness on defense.
JM: Poor RJ.
SP: Finally, I did really like him at Auburn. He's feisty, very competitive, he plays with an edge, he's athletic, strong, plays both sides of the court, and can score. Love this signing.
JM: I also love this signing! It's worth noting that half of the Suns NBA roster last season was comprised of point guards or combo guards. If there was ever a time when a guy got squeezed because of the situation, it was Harper in Phoenix.
Of course, the same could be said about Kadeem Allen on last year's Knicks, but for as much as I had a personal soft spot for the guy who David Fizdale referred to as a "tough little runt," his ceiling was always limited. Harper seems like a guy who might be able to make an impact as a backup if given the right situation.
The Leon Rose era has officially begun. Full steam ahead.
---
ICYMI…
If you follow me on Twitter you probably know that I've been doing more writing that usual for SI.com. I'll be completely transparent about the reason: it's a great group of people and I want to help make the site the premier place to go to for comprehensive, genuine, and relatively instant analysis of breaking Knicks news. Also, they got me into New York's locker room, for which I'll be forever indebted.
My increased volume there won't change anything that I do here, as these newsletters are more of a place for me to voice my own views and have some fun with stuff, and writing them continues to be the highlight of my day (outside of family time, of course…love you boo!)
In any case, once a week I'll be including my weekly pieces for SI.com here, and if you're not already following the @KnicksSI account on Twitter, definitely change that.
From this week:
Podcasts:
---
Tweet of the Day
I hope he follows this up with a rap about the gutting of the voting rights act.
That's it…it's Friday! See everyone next week. #BlackLivesMatter