Welcome to New York, Thibs
Now comes the hard part.
REJOICE.
We got him.
Rare is the day that a team as bad as the Knicks can hire someone with a track record so strong. Even putting aside the fact that he had a prominent seat on the bench for an NBA champion not too long ago, the record speaks for itself: winning nearly 60 percent of his games as an NBA coach, a Coach of the Year award to start the decade, and perhaps more than anything, a no-nonsense reputation as someone whose love of the game is felt deeply by the men he coaches.
Is he perfect? Of course not…he's ruffled feathers before and he's had a few messy exits. There's also the age - over 60, no spring chicken - and the fact that he's inheriting a roster that has some talent but is still desperately lacking in cohesion.
Still, we're talking abut a New York guy. This is his dream job.
Is five years a lot to guarantee his services? Of course. But it's a small price to pay for someone of his acumen. After all, it will take a coach with true gravitas to take an organization like the Knicks and turn them around. He'll be worth every penny, and hey...we get a great coach for five seasons!
And no, the front office hasn't yet been able to take their clearly discerning eye for talent and deliver the right players on the court, but there can't be any question that they snagged the most talented guy off of it. Mission accomplished.
Say it with me now friends: Larry Brown is the savior we've been waiting for.
Ok, fine…that was fucked up.
What can I say…the Knicks have given me a dark and twisted sense of humor after all these years. Or maybe I was just born with it.
(thinking)
Let's blame the Knicks. And I should say quite clearly, as someone who's been a Thibs advocate for months now: this is a happy day, they did get the best available candidate for the job, and Knicks fans should be hopeful.
Still, I'd be hopeful today if they had signed any of the 11 available candidates not named Jason Kidd. That's what you do when your team hires a new coach. You hope. Just as long as we're on the same page that past coaching success means squat in this league, especilly when it comes to this organization.
To wit: when Thibodeau officially signs his contract, he'll become the fifth former NBA Coach of the Year award winner to head up the Knicks this century, breaking a tie with the Lakers for most in the league.
And even that's underselling it, because if you add Phil Jackson (winner in '96) to a mix that includes Don Chaney ('91), Lenny Wilkins ('94), Mike D'Antoni ('05), and our friend Larry Brown ('01), Thibs actually makes it an even half dozen.
23 wins, $25 million, 42 different starting lineups and one indefensible Steve Francis trade later, we know how Brown's story ended in New York. It wasn't much different than the end of the regimes of the other guys listed above, if only a tad more expensive.
We're smart enough now to see the guy with the clipboard as a piece to the puzzle and not the piece. Without sound front office decision-making processes, organizational synergy from top to bottom, successful implementation of all the tools (including analytics) NBA teams have at their disposal, and, oh yeah, a decent goddamn roster, Red Auerbach himself couldn't turn things around here.
But I have a few reasons my theoretically more grounded 37-year-old self is as excited for Thibs today as 22-year-old me was for Larry Brown back then. For one, we know that in 2020, the job of a coach extends well past x's and o's. As I was chatting with @AnthonyD80 last night, he mentioned the term "CEO" in describing a coach's modern role with an NBA franchise. Nowhere is that more true than in New York, where like it or not, if you're not careful, the peripheral stuff can swallow you whole. We've seen it happen with everyone since Mike Woodson. It's not going to happen with Thibs.
Nor is he going to have an issue commanding respect in a locker room currently desperate for leadership. As has been well documented, the guys liked and respected Fiz, but certainly didn't fear him, and I don't know that there's such a thing as an effective leader who doesn't occasionally instill a bit of dread.
But fear alone can't be the motivating factor. The players have to know that their coach is in it for the right reasons, and isn't on a power trip or covering his own ass. Again, Thibodeau's history suggests this won't be a problem…if you give him the right type of players, and that gets us to the biggest wild card in this whole gambit.
The Knicks roster, unlike that which Brown inherited, is anything but set in stone. In retrospect, handing Larry Brown the NBA's version of the Brat Pack was probably not the best of ideas. Similarly, other big-name coaches have either not had enough talent in New York (Wilkins) or had the wrong players for their system (D'Antoni).
Aside from RJ Barrett, Mitchell Robinson, Julius Randle (if he's still here) and perhaps Frank Ntilikina (ditto), there is no one from last year's Knicks that Thibodeau will be outright expected to work into his rotation. That flexibility could serve him well as he attempts to achieve a better (and lengthier) record than Brown and all of the other highly pedigreed coaches who have come here before and failed.
Then again, Thibodeau's own input on the roster in Minnesota was arguably as big a factor in his downfall as any. He thought bringing in his own guys would help offset the "I just want a hug, can't anybody just hug me!" ethos of KAT and the spaciness of Wiggins. He bet that Jimmy & Co. would rise the tide and lift all ships. Instead, Butler turned out to be the torpedo that sank them to the ocean floor.
Thibs will once again have input on both the roster and the rotation. Whether that's a gift or a curse remains to be seen.
What can't be questioned is that he needs a certain mix of players to be successful. The guys the team takes its cues from - almost always the most talented players - have to be in lockstep with Thibodeau's approach to basketball. Right now, that's Julius Randle and RJ Barrett (Mitchell Robinson is many things, but vocal locker room leader is not one of them. He is the seven-foot embodiment of going with the flow).
My guess is that someone else of this ilk will be added to that group before next season (I do not think they'll successfully move Randle before games begin), and maybe a couple, depending on whether Melo wants the Coming Home Retirement Tour that awaits him should he choose.
For months now we've heard about the "disgruntled young players" that could serve as potential targets for the front office. I'll have an upcoming newsletter specifically detailing which potential trade targets are more realistic in light of Thibodeau's hire, but there is one guy who Ian Begley told us recently that the Knicks are keeping tabs on who probably wouldn't mind a reunion: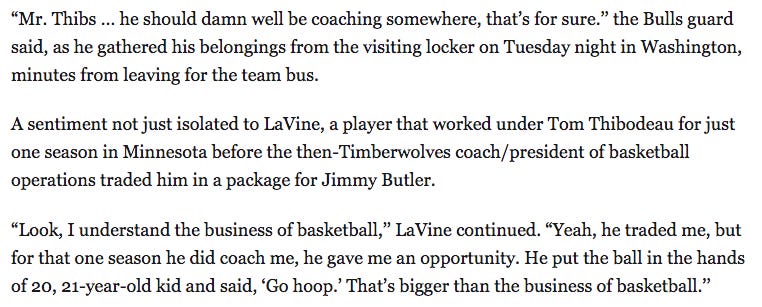 Before I make the "don't kill the messenger" joke, keep in mind: You hire a Tom Thibodeau so you can trade for a Zach LaVine-type and not have it blow up in your face. That's why the Francis trade under Larry Brown was the icing on the cake.
A head coach's job is, first and foremost, to get the most out of all of his players, but especially the most talented ones. Out of all of Fizdale's shortcomings, the fact that under his watch, the Knicks were getting outscored by nearly 13 points per 100 possessions this season with Mitchell Robinson on the court was the most egregious (under Miller, the were outscoring teams, albeit slightly, when Mitch was in the game)
While it may not be LaVine, acquiring someone who makes you hold your nose in disgust and then turning them into a valuable contributor is still the most sound team-building philosophy out there. We're just not used to it because New York has traditionally been a place where players come to get worse and improve the moment they leave.
Before anything else, that needs to change. Yes, everyone wants to talk about the effect Thibodeau will have on Mitch and RJ and Frank. Any nincompoop can pull that off (well, not any nincompoop). But what Thibs does with guys like Julius Randle or young players like Kevin Knox and Dennis Smith Jr. will be one of the primary determinants of his success or failure.
The other key is that whether it's LaVine or whoever else, the free agent and trade acquisitions the front office makes can't mix with Thibs like oil and water. He survived that scenario in Chicago with Carlos Boozer only because Boozer was outnumbered by guys who swore by Thibs and had the gravitas to render Boozer's misgivings moot. In Minnesota, the leaders of the pack never converted to the Church of Thibs, and we saw what happened.
And that's where filling out the roster will be so vital. We all think RJ will be an exemplar leader, so that's a start. Mitch will follow right in line, if I had to guess. Even Randle, for all of his on-court folly, did something of an about face after Marcus Morris called bullshit on the day Fizdale was fired.
(BTW, if they could ever trade Randle as a neutral asset before free agency starts, the notion of Morris coming back and playing under Thibs is actually kind of exciting, in a "this roller coaster hasn't passed inspection but man does it look fun, let's chance it!" kid of way)
If the Knicks acquired LaVine, would Thibs get full buy-in and be able to turn him into a serviceable perimeter defender like he once did with Derrick Rose, or would it be a repeat of what we saw with Andrew Wiggins in Minnesota?
Just as importantly, who are the ancillary pieces the front office can acquire this summer? In 2012, the Bulls signed Kirk Hinrich to a two-year deal worth $8 million. The next summer, they snagged Mike Dunleavy Jr. for two years and $6.5 million. Each of them played key roles in making the Bulls hum at both ends of the floor. Jamal Crawford and Jeff Teague in Minnesota? Not so much.
Lastly, can the Knicks draft a rookie (or rookies) that will fit seamlessly into Thibodeau's scheme in relatively short order, like Jimmy Butler did once upon a time, and Josh Okogie more recently, who played 20 minutes a game under Thibs as a Wolves rookie and was quite helpful.
We all know the grand plan is to land one or two of the big fish, but you don't get to go fishing if you don't get the little stuff right first. Proponents of Kenny Atkinson saw all the small successes he had in Brooklyn as evidence of why he most deserved this job. Thibs has worked his own magic with unheralded players, but also has some failures on his ledger (as does every coach - even Kenny - to be fair).
Ultimately, it's going to take a deft touch to build out this team a) in Thibs image and b) with the requisite shot-creation, shooting, ball-movement, and defensive chops to even be competitive against the top half of the league. The Knicks may have a lot of empty locker stalls by the time October comes around, but that doesn't mean filling in the blanks will be easy.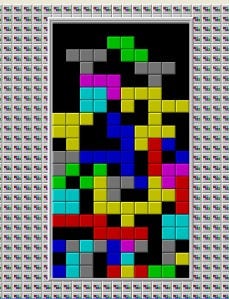 It goes without saying that there are a lot of ways this could go wrong for Thibodeau. He'll need the right mix of players. He'll need the organization to be patient. And maybe more than anything, he'll need to harness the ability he had in Chicago to seemingly always push the right buttons to get the most out of his team. Does he still have the magic touch after Minnesota went so awry, so quickly? Only time will tell.
We keep hearing the same thing from those he's coached in the past: "If you want to win, he's the coach for you" (including most recently from DJ Augustin, another possible offseason target). If ever there should be a place where a group of people is desperate for a little winning, it is here.
And maybe that is enough to differentiate Thibodeau from the many before him who have tried and failed. He carries a sense of urgency that seems to be unparalleled. He has no use for dicking around, and this team has set Guinness records for dicking around since Jeff Van Gundy walked out the door.
Hopefully the fact that his last stop turned into a nightmare is exactly what will imbue him with the humility he needs - as a rotation manager, as an x's and o's guy, and as a communicator - to make this the dream job he thinks it will be.
In a place where dreams rarely come true, that's all we can hope for.
---
THANK YOU!!!!!!
I can't express in words how blown away I was by how many people came through for the fundraiser pod to raise money for Higher Heights in America.
So many people participated, many went over and above what I asked ( a few of which didn't even want airtime on the podcast), and best of all, the conversations were of such a high quality that I had to turn it into two episodes because I really didn't want to hang up from folks that know their Knicks. Check out part one here, or through the Twitter post below (also available on all major podcast platforms).
Thank you SO much to the following generous individuals who made this possible (and for those who reached out through Twitter, I've hyperlinked their account to their name below, so feel free to give them a follow):
Prez (of Posting & Toasting fame)
Travis Sacher
Peter Storm
David Garfinkel
Gregorio Vincent
…and last but not least, Marcia Caruselle (who is not on Twitter and I pray never will be)
Finally, editing this bad boy was a massive undertaking, so huge thanks to my producer Andrew Claudio for putting these calls together so wonderfully. Check out his podcast, Final Score, if you haven't already. It's really good (and I'm not just saying that because I'm a frequent guest).
That's it for today! See everyone with another newsletter soon. #BlackLivesMatter.