What are we rooting for?
On judging this front office, and whether success can be a bad thing.
In this newsletter:

---
Before you get worried, no, I'm not ending the week with a newsletter on tanking. Every human being is born with a certain number of words they can expend on the least interesting subject in sports, and I used up all of mine last year (sorry, Dave Early).
Instead, I want to pick up on something both far more interesting and consequential.
Yesterday, I closed out the letter with some caution: yes, we were all enjoying the hell out of the Mike Miller Era, but we hadn't yet gotten to the point where we had to reassess this front office and ask ourselves "do they deserve to stick around for a while?"
Of course, Twitter listens to no man, and yesterday the debate already started to take shape: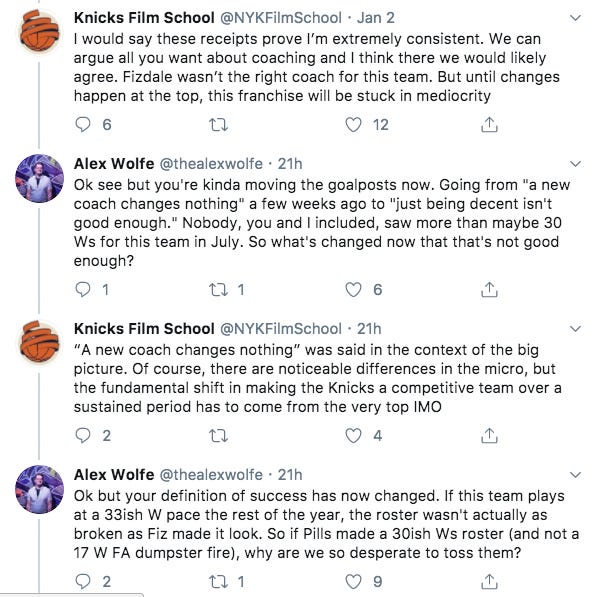 JB's response to Alex's final question was simple: "Would any NBA team hire Mills other than the Knicks? Let's get a proven winner in here."
The fact that this back and forth was happening between perhaps the two people whose opinions I respect the most when it comes to this team only made it more interesting - and difficult - for me to reconcile with.
But reconcile I must, as must we all.
The question is pretty simple: is there anything that could happen this season that should get us to recalibrate our assessment of the front office currently in place?
Looking at their current resume will only get you so far, but that's where we have to begin. A front office is responsible for five things, in by estimation: trades, signings, drafting & development, overall organizational culture/direction, and owner relations.
Taking it one by one, it's a mixed bag at best:
Trades
If I've already used up all my anointed words on tanking, then I've really used up all my anointed words on the KP trade.
I have, and will continue, to defend it in this sense: once the relationship broke down (something which was absolutely the fault of both parties, whether it's 75/25 one way or the other), they needed to move on. You might invest $158 million in an injury prone diva who really isn't a first option on a very good team, even after not having seen him play for 16 months; you don't do it if he actively despises your program, and your program isn't strong enough to withstand that ire.
But despite all of the above, and despite the fact that we all probably would have made the same trade given the KD smoke floating in the ether, three truths remain:
the main return was cap space

that cap space was not used for its intended purpose

had cap space not been the primary return, there would be a better player sitting here in KP's place than a point guard who may or may not have what it takes to be an NBA player, let alone something resembling the star his pedigree foretold (Yes, I'm assuming there was some middle ground out there between the De'Aaron Fox's and Donovan Mitchell's of the world they went after initially and the guy they ended up with it. Was that Shai Gilgeous-Alexander? Marvin Bagley? A better pick or picks? I have no idea. But it's reasonable to assume this was possible)
Wherever the 2021 Dallas pick lands, if it ends up being great, that's far more happy accident than anything else. Why does that matter? Because you can't give credit to this front office if the best result of the trade is an after-the-fact lucky break, as opposed to the reason they made it. The trade goes down as a loss, on their ledger at least.
As far as other trades, the sum total has been more "meh" than anything else, although getting a juicy second rounder in the Melo trade was a masterstroke, especially when it was OKC or bust. Speaking of which…
The Draft
They've made three picks of consequence (I'm leaving Iggy Brazeikis aside for now):
Mitchell Robinson, who has turned out so well and has so much potential that either already has been or seems likely to be actualized, that it makes up for a swing and miss, which…

Kevin Knox isn't yet, but at the very least, they don't yet get any credit for making this pick. Again, if we're forced to judge this front office this season, it matters that every NBA decision-maker would take SGA (and probably another few guys) before Knox. I'm not going to use this as a major knock against them though, simply because Knox was always slated to be a project, and the kid is nearly seven months away from turning 21. By the same token…

RJ Barrett has struggled immensely when it comes to shooting, which sort of matters in the modern game, but it's unclear that anyone else who could have reasonably been drafted in this spot would have been the better pick. RJ has shown more than enough to warrant the front office getting the benefit of the doubt in making this selection.
So let's give them a slightly above mediocre grade for their drafting record thus far. Ditto for development. Mitch has taken leaps, Knox has recently taken baby steps, Frank is finally coming around, DSJ is a flop, and RJ hasn't been here long enough to make a judgment. Also, #FreeDotForever.
This category will be a lot clearer three months from now.
Free Agency
The most complicated category. Do Scott Perry and Steve Mills get the blame for Kevin Durant and Kyrie Irving saying no? Did they err by listening to what literally everyone was saying would happen? Did they not do enough due diligence on their own? Would the Knicks even want KD and Kyrie right now? How much did KD's decision have to do with the injury? If that's true, how much blame do Mills/Perry get for leaving something so important to chance, even if the odds of such a thing happening were low?
I don't have the brain space to answer these questions. If you do, more power to you.
If we just look at the guys they signed, as much as we would all like to toss out the first 22 games like they shouldn't count, the fact is that Mills and Perry put together a roster capable of going 4-18. That matters, even if it did come under the watch of someone who may have been actively detrimental to the process.
They hired that coach, but it was likely with superstar dreams in mind, and whether Miller was their hire or not, just like they get the blame for Fizdale, they get credit for the promotion and subsequent interim hiring of his temporary successor.
Under Miller, their summer spending spree suddenly doesn't look that bad. Under the new coach, Julius Randle is playing at a borderline All-Star level. Signing Elfrid Payton also seems like a huge plus, but they also went into this season clearly overdependent on a point guard with a checkered injury history. Marcus Morris, by accident or otherwise, has been a boon. Taj Gibson has been the stabilizing force he was brought in to be. Wayne Ellington, thus far, has been a miss, but Reggie Bullock looks ready to fill that void.
Would the team rather be sitting here with a future pick and Moe Harkless instead of Bobby Portis? Almost certainly. But if that's the biggest knock on what they ended up doing, they at least get a passing grade. Whether its a B+ or a D+ depends on how much credit you want to give them for maintaining flexibility and not signing any bad long term contracts.
I'm happy to split the difference.
Culture / Direction / Ownership
I'm combining all of this, but only because I don't know how to separate them for a James Dolan-owned team.
Dolan is both a gift and a curse for Scott Perry and Steve Mills. On one hand, anything that's bad - the PR nonsense and outright gaffes, the kicking out of fans, the boneheaded press conference, the media tomfoolery, the way he presides over the organization more by fear than by trying to generate a healthy and copacetic working environment - it all gets attributed to Dolan. Perry and Mills are blameless.
But the flip side of that coin is that neither man has the ability to step in an put a stop to all of things the owner does that clearly hold this organization back.
(All things being equal, would any of this really matter? No, probably not, or at least not in any consequential sense. Winning wipes away many a dirty slate. But all things are not equal. They haven't won enough, and none of this stuff makes that goal any easier. So save me the argument that "he's butted out of basketball" so it's all OK. It's not.)
Could anyone do such a thing? My bet is that if someone came in with enough gravitas behind their name, yes, they could.
Looking at every aspect of the job Perry and Mills have done together, on its face, do they deserve continued employment, and the chance to see this through to the next step? What if enough winning occurred such that they begin to resemble the Nets of last year, or even two years ago, where you could see saplings of culture and an organizational plan emerging from the once dead soil?
I don't know how you can argue against them keeping their jobs in that scenario.
But for many people - seemingly including my former partner in crime - such a thing simply feels wrong. Part of that is likely based on the mixed bag of evidence, part of it on a gut feeling, and part of it on the idea that someone better will probably want this job.
On that last note though, if Knick fans know one thing all too well, its that the grass is rarely greener on the other side. This franchise has lacked any semblance of continuity under Dolan's reign. Continuity for continuity's sake isn't the answer either (just ask any Wizards fan) but if there are enough good signs between now and April 15, would keeping the current regime around really be the worst outcome?
If you think the answer is yes, well…then you better start rooting for losses.
(Wait…I thought you said this wasn't a tanking column? LIES.)
More than anything, that's why this discussion is so difficult: if you feel like this front office is not the answer regardless of how the rest of this season plays out, then cheering for the franchise to fail is your only real choice.
I've never been able to do such a thing, and I wouldn't blame you if you couldn't either.
So then we land here: be happy with whatever transpires. If things go well, and they keep looking like a professional basketball organization and don't make any stupid win-now trades at the cost of the future (many, many "fingers crossed" emojis), and they can feel good about how this season turned out, then sure, allow Mills and Perry to play another round.
If none of the above happens? You better believe Dolan will go big game hunting. And maybe that is for the best.
That's not the outcome I'm rooting for though. Call me crazy, but I believe that this thing is still salvageable.
Whichever way you decide to go, choose wisely.
You know someone out there is keeping the receipts.
---
Player Spotlight
Yesterday I wrote about Ricky Rubio in this space as someone to keep an eye on for tonight's Suns' game. Sure enough, he may not play. Two thoughts:
1) It's so nice that I can bring my long-running tradition of incredibly poor fantasy football team management into this column, such that the mere mention of a player equates to certain doom, and…
2) I need to highlight someone new.
How about someone I purchased shares in myself over a month ago at $1.32 and is currently trading at $1.63 following 26 points, six rebounds, three assists and three steals on New Year's day vs the Lakers: Kelly Oubre.
Oubre is projected to get 34.21 fantasy points against the Knicks, which seems like a lot, except that he's easily exceeded that total in each of his last three games:
I only own five shares of Oubre at the moment but I may double it, especially with the Knicks possibly being without Elfrid Payton tonight, leaving Frank Ntilikina to deal with Devin Booker. The trickle down effect could get dicy.
Remember, if you want to buy some shares and this is your first foray into PredictionStrike, click here and use code KFS for $10 added to your first investment of $10 or more.
---
Remembering David Stern's everlasting impact on the New York Knicks
February 1st 1984 was a day that forever lives in NBA History. A day that forever transformed a league ravaged with barren arenas, tepid enthusiasm for broadcast television, and rampant drug use amongst the players. The NBA was a league where bench clearing brawls was too often a norm. Most of the United States saw the Kermit Washington punch front and center. Furthermore, the rampant drug use led to alleged accusation of match fixing, especially by the Knicks in the early 80s. Fans lost interest in watching the games and owners and franchises were hemorrhaging money to the point where the league nearly faced contraction of 7 teams down to 16.
That's it…see everyone Monday!