What's the Point?
Predicting the Knicks starter at PG this season is no easy task. The success of the Rose/Thibs regime may also depend on the answer.
Follow my thinking here, if you will…
By all indications, the Knicks have set an internal goal next season of winning basketball games —>

The Knicks, as presently constructed, are not very good at winning basketball games —>

To get good at winning basketball games, the most important step is to get a modern, competent point guard —>

There are several potentially good point guards available in the draft, but rookie point guards are generally very bad —>

A bad rookie point guard will make it harder to win basketball games.

*shrug emoji*
It's quite the conundrum.
If ever there were a team that should draft a lead ball handler and then play that person significant minutes to work out the kinks, it is the 2020-21 New York Knicks. They have a pick to make it happen, a desperate need at the position, and no discernible chance of making the playoffs next season anyway.
But why on earth would you take the scenic route when there's a perfectly good briar patch nearby that might be able to save you a few minutes on the trip? New York has often been accused of going out of their way to do the hard thing when an easier, perfectly sensible option is staring them in the face. Not using this season to break in a potential long term answer point guard would certainly qualify.
We have reason to know, however, that this regime is thinking big. Really big. Jerome James big. They want wins sooner rather than later in the hopes of making the franchise look more appealing to the next disgruntled star or curious free agent. I'd call this plan ridiculous, but I shudder at the thought of doubting Woldwide Wes, someone who, as best as I can tell, has never failed at anything in his life.
So there's that.
My guess is that they will try to have their cake and eat it to, exiting draft night with a young lead guard and then playing that person enough to break them in but not so much as to derail their hopes of looking like a functional NBA basketball team.
Does this mean that the opening night starter won't be a rookie? That depends on a lot of factors, which is the purpose of today's column.
Before I list my top five educated guesses for who the opening night starter is going to be, we need to start with who last year's opening night starter should have been: Elfrid Payton.
That statement may be a shock to the system of the Frank Hive, but facts are facts, and Payton was far and away the best point guard the team had last year. The advanced stats (courtesy of Cleaning the Glass) bear this out pretty undeniably: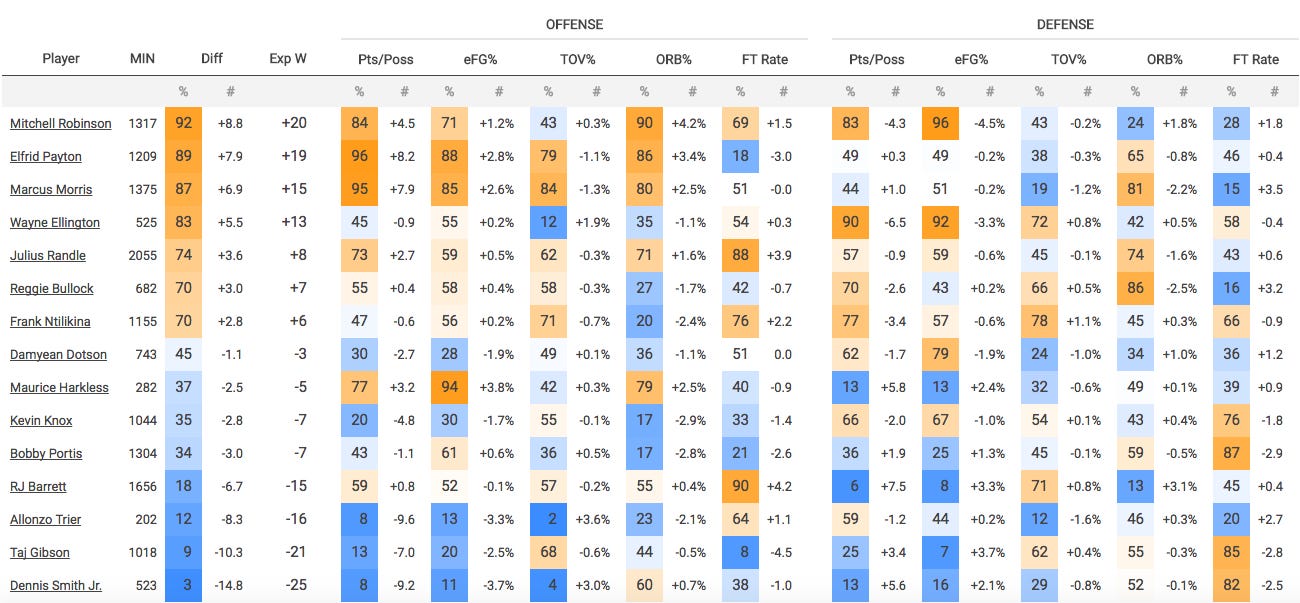 The Knicks were nearly eight points per 100 possessions better with Payton on the floor than when he was off, second on the team only to Mitch. Elf was obviously nowhere near the defender that Frank was, but his offense made up for it and then some (see all the bright orange numbers adjacent to his name). With Payton on the floor, the Knicks had a 109.4 offensive rating - within shouting distance of a league average unit. With Marcus Morris on the court, that number rose to 111.3, damn near in the top ten.
All of this is incredibly impressive. It also isn't enough to get Payton anywhere near the top five you'll see below. Why? Simple:

These are the only five point guards in the league who started the majority of their team's games last season that also averaged under one made 3-pointer per 36 minutes.
Leaving Ben Simmons out of the discussion, as he's something of an anomaly in terms of his overall offensive impact, the only player remotely close to Payton was Markelle Fultz. Fultz was the number one overall pick in the draft just three years ago and the Magic have a decent incentive to try and rehabilitate his once promising shot (and career). Payton is entering his seventh season without any of the shot drama that has followed Fultz around. He is what he is at this point, and what he is is a non-shooter.
And that's fine! Payton can and should remain employed as a high-end backup for many years, ideally on a team that can provide him with extra spacing on the second unit. Maybe that team will be New York next season. We'll see.
What can't be denied is that the Knicks need to go in a new direction. Moving forward with a point guard who can't make a shot from outside 10 feet simply isn't a sustainable offensive philosophy unless that player has freakishly outstanding parts of his game elsewhere (and even then, we're seeing Philly trot Simmons out at the four in Orlando).
With that as the backdrop, let's go through some honorable mentions for players I thought about before getting to what I consider to be a pretty clear top five, roughly in order of least to most likely.
Again, these are listed in order of likelihood by my own nonsensical estimation, not in the order of who I'd want to see have the job. My comments to that effects follow each name.
A WORD OF WARNING: Some of the names you'll see below might seem batshit crazy, and that's because they are. The reason is that, for the reasons I laid out above and some others I'll get into with individual players, there is no obvious answer to this question. As such, I'm preparing myself for anything, and so should you.
Also, I couldn't sleep last night and wrote most of this between 2 and 4:30 am, so please factor that in as well.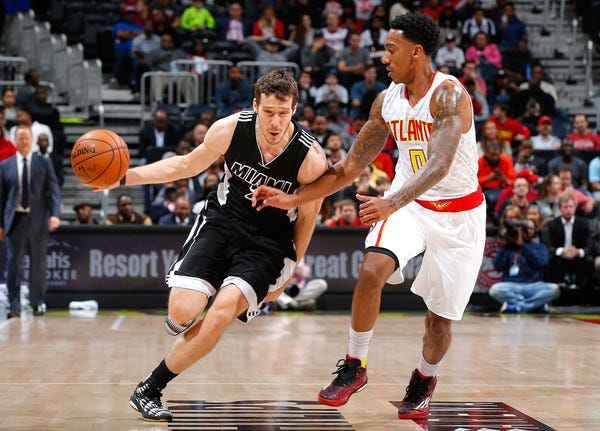 Honorable Mentions
Rajon Rondo - He's a name, which I could see carrying some weight this offseason, and he knows how to run an offense. He's also not much different than Payton at this point in his career, although he's made about a three per game over the last two seasons at a barely respectable 34.5 percent clip. Has a player option for $2.6 million that he could very well pick up.
Collin Sexton - If the Cavs got a high pick, and if they felt like they couldn't pass up LaMelo Ball, and if the Cavs didn't want to deal with the headache of one too many ball-handlers (but were somehow OK dealing with the headache of one Ball handler - see what I did there? Tips in the jar, thanks…), and if the Knicks were up for paying what I'm sure would be an astronomical asking price, then, and only then, could I see this happening.
Terry Rozier - I sincerely hope that whoev-
(pauses)
(grabs water)
Sorry, I just threw up in my mouth a little.
Anyhow, I sincerely hope that whoever in the front office was a fan of Scary Terry around the trade deadline is no longer vested with decision-making input. I'd be somewhat shocked if they were willing to take on the $18 million Rozier is due in the '21-22 season, but he's also shown (wildly inconsistent) defensive chops before, and he shot 40 percent from deep this season. I could see the wrong person talking themselves into Thibs turning Rozier into a winning player.
Aaron Holiday - My preferred trade target, although I have no idea what we have that Indiana would want. Maybe if Herb Simon really is strapped for cash, there's a deal to be had.
Dennis Smith Jr. - Aside from being maybe one of the five worst rotation players in basketball last season, his approach to the game is not exactly what I imagine when I think of a typical Tom Thibodeau player.
Reggie Jackson - He's had success in the league before, and could wind up being the starting point guard on the 2020 NBA Champions before all is said and done. He's also a free agent and New York is probably the only team that would even remotely entertain giving him a starting job. Shot 40 percent from deep so far this season (45 percent in nine games with LA), and probably wouldn't mind a "starter emeritus" role where he played less time than his rookie backup.
Michael Carter-Williams - Did you know MCW will be 29 in October? This floored me for some reason. In any case, he kinda learned to shoot this year? Maybe? I don't know…this would scream that Scott Perry still has a heavy influence within the front office. That said, Orlando's offense has hummed this year when he's been in the game.
Fred VanVleet - Even putting him this high is probably generous. I don't see the Knicks going multiple years, either via free agency or in a trade, on a player they can't talk themselves into having an All-Star ceiling. VanVleet had an argument to make the team this year, but that was on the well-oiled Raptors. I think he's going to want at least three years and I think someone is going to give it to him. I just don't think it'll be the Knicks.
Goran Dragic - On paper, he should probably be number one. He's arguably the best guy that the Knicks can get on a one-year deal, and at 34 years old, I'm not sure who in the league is giving Dragic multiple years or a guaranteed starting job.
I just…I don't know. There's something about this that doesn't pass the smell test. Is Dragic, after spending five-and-a-half years in Miami, really going to pack it up for a few extra bucks from New York? Something about him and Thibs also doesn't quite jive for me.
Very happy to be pleasantly surprised and dead wrong about this.
Jeff Teague - Almost as scary as Scary Terry. Teague is just not very good anymore. He ran the offense just fine in Minnesota but he doesn't have what it takes to defend at a passable level anymore, try as he might. Still, I'm probably kidding myself by keeping him out of the top five here.
Dennis Schroder - makes sense on a lot of levels - he's expiring, has a contract that could be dealt straight up for Randle and a draft asset, shot 38 percent from deep this year, and his defense kind of reminds me of a pre-injury Derrick Rose (not ideal but spry enough to be functional) - but something tells me that if Sam Presti and Leon Rose are going to swing a deal, it's going to be for the big kahuna.
Kira Lewis / Killian Hayes / Tyrese Halliburton - I'm cheating a bit by grouping these three together, but that's only because I have no idea what New York's draft board looks like. It's very possible that one of these names, and not the guy I have listed below, should have made the top five, but, well…keep reading.
The Top Five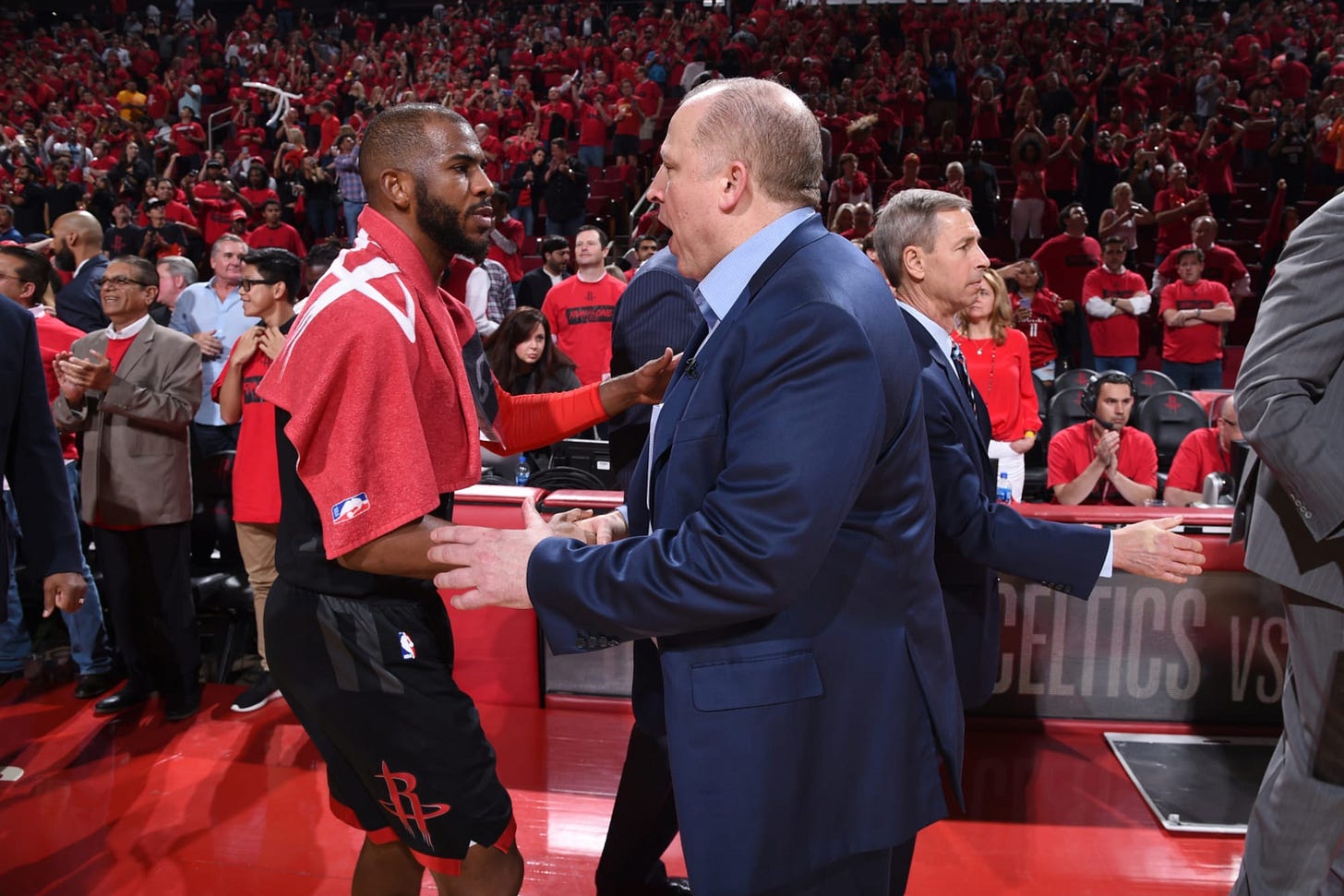 5. Chris Paul
Who blinks first?
I'm betting that, all things being equal, the Knicks will make the internal determination that taking on the final year of Chris Paul's contract - $44 million in 2021-22, holy Lord - will be worth what he brings to the team on the court and in the locker room next year.
In a universe where New York trades for Paul, their worst case scenario also doubles as their best case scenario: they get so good next season that a star wants to come in 2021, and they need to attach a pick to dump Paul's contract next summer in order to free up the space. First world problems, folks.
Yes, this would preclude Brock Aller from putting on his wizard's hat and spinning some cap magic by taking advantage of potentially cash-strapped teams that might be in need of a dumping ground for unwanted salary, but my guess is that all things being equal (there's that phrase again) no such available deal will outweigh the benefits they feel Paul brings them.
So what makes all things equal? If a trade for Paul doesn't require them to give up an asset that they actually value, because even if OKC was on the verge of bankruptcy, they're not trading the Point God for some future protected second round pick just to dump his salary.
What asking price is too much? I'm betting that the Knicks have already had those discussions (and that Frank Zanin, who was employed by the Thunder until a few months ago, has been a healthy part of them). My placing Paul fifth is essentially a bet that the asking price will be too high, but I don't feel particularly confident about that, and something tells me I'm putting him too low. Far too low, actually.
My guess at what would get it done: something like dumping Randle (a benefit to New York), Knox, the 2021 Dallas pick (lottery protected such that if it doesn't convey, it flips to the 2023 top-ten protected Dallas pick, which could be given with a swap option between that and the Knicks own 2023 first, but also top-ten protected), and another menial draft asset.
Would Sam Presti demanding Frank stop this deal from happening? What about significantly lessening the protections on the Knicks 2023 pick? No idea.
Last point: don't discount the possibility that Paul could offer to decline his player option in 21-22 in favor of re-signing for more years at less annual dollars, a'la Dwyane Wade in Miami a few years back. If anyone knows whether this would be an option for Paul under the right circumstances, it's probably the guy that represented him until a few months back.
4. Frank Ntilikina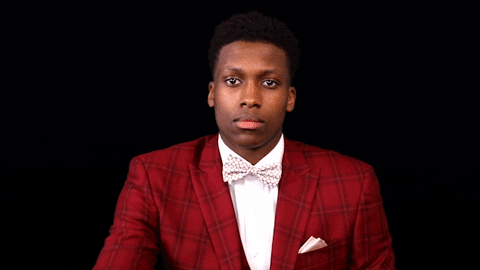 There's really only one scenario where I can imagine Frank getting the starting job next season, and it's this:
The Knicks acquire a legitimate shot creator who also is a capable ball handler - perhaps someone whose name rhymes with Mack MaVine - such that Ntilikina is a point guard in name only, and would really just function to get the team into its sets and then let others do the heavy lifting.
Other than Paul and VanFleet, Frank's defensive upside is so far and away higher than any other name on this list that it might be worth it for the Knicks to see if this can work. I don't think there's any universe where they view him as a long term answer at point, and honestly, I'm not sure they should. Even if the shot comes around, he's probably best suited in the type of role that Andre Iguodala played for Golden State.
That's still an immensely valuable player, and one I would kill to see them lock up in an extension this summer. It's just not a starting point guard.
3. LaMelo Ball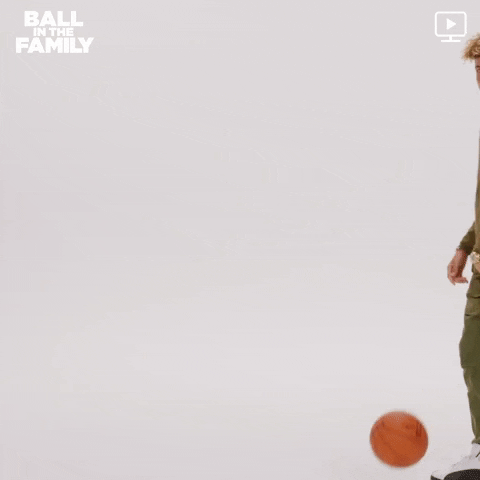 I see no world where the Knicks start LaMelo Ball next season and they aren't a bad basketball team. His shot form still needs work, his defense is going to be a train wreck, and he's going to make all the sorts of mistakes that rookie point guards typically do, except he has supreme confidence in his abilities, which, while it will help him in the long run, will probably make next year incredibly painful.
But if they draft him, I think they start him. Even saying that, what would this starting five even look like? If they started Ntilikina at the wing for make up for LaMelo's defense, barring Frank making a quantum leap from deep, the spacing will be a disaster even if they don't move Randle to another team or the bench in favor of a stretchier option. The market for capable wing defenders who can shoot is thin, and whatever options there are will likely command multiple years (keep dreaming, Joe Harris fans).
Do they start…Reggie Bullock? Re-sign Moe Harkless and hope this is one of the years his shot is semi-respectable? Or do we go full-on Crazy Town and trot out a Double Melo first five on opening night?
(thinking)
Crazy Town it is. Let's move on.
2. D.J. Augustin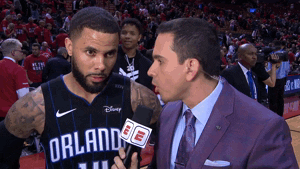 I think there's a better chance than not that he's a Knick next year. Thibs guy, put up great numbers in Chicago, can shoot, is a free agent, the advanced stats in Orlando were kind last year, he can play alongside another ball-handler without an issue…in short, he checks all the boxes.
I just have trouble believing he'll be the starter. Unless they bring in a guy like LaVine, giving Augustin the nod over a rookie would be a tough sell to the fan base.
Unless, that is, they wind up with Deni Avdija from the lottery, and have Augustin as the director of an offense that features RJ, Avdija, Stretch Four X, and Mitchell Robinson. How 'bout them apples?
1. Cole Anthony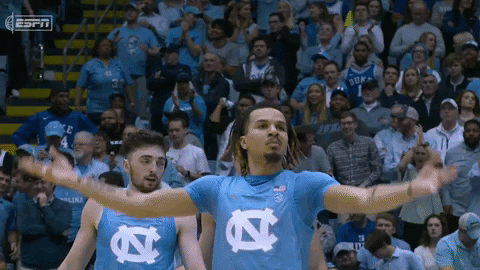 As much as I might want to talk myself out of it, he's still the guy I'd bet the most money on being the Knicks' pick in October, assuming they don't move into the top four.
All the concerns about Ball will be there for Anthony, except Cole will be a better shooter and probably a slightly better defender, at least initially. But the spacing concerns will still be there, and unlike LaMelo, Cole doesn't possess transcendent passing that will open up the offense in other ways.
If he's the opening night starter, we're probably going to be looking at a clunky offense that resembles last year's jalopy-esque outfit, especially if Randle is still with the first five. Trading for LaVine would not necessarily improve things, as Anthony is not quite the guy I'd entrust to corral LaVine and prevent him from being the worst version of himself.
And yet, of all the options, this remains the one I find to be the most likely outcome. He's the son of a former Knick and I think this regime will place value on New York not being too big a stage for him. I could also see them imagining him having a similar effect to a young Derrick Rose, as insane as that might be.
Maybe it's Kira or Tyrese or Killian, but given all the parameters, despite how I opened this very newsletter, I'd still bet on a not-very-good rookie ball handler getting the job out of the gate.
And maybe that's for the best.
That's it for today, and probably for this week, barring any news breaking today. Last call on questions for the mailbag - send 'em to KFSMailbag@gmail.com by this afternoon. Thanks for reading! #BlackLivesMatter.