Winners & Losers
The KP trade came up yet again this weekend in a discussion that only gets more complicated as time goes by.
News & Notes
The hits just keep on coming, as legendary Georgetown coach John Thompson passed away. I didn't start watching college basketball until at least my late teens, but there were still two college coaches I knew all about growing up: Coach K and John Thompson. Lots of good tributes to him were floating around yesterday; if you're on the younger side and are unfamiliar with Thompson, it's well worth your 10 minutes at some point today to read one.

David Hopkinson was named Executive Vice President of MSG Sports and President of Team Business Operation. He formerly worked as the Global Head of Partnerships for Real Madrid for two years, and before that was with Maple Leaf Sports and Entertainment for two decades.

As reported first by Ian Begley, Knicks Director of Performance Mubarak 'Bar' Malik resigning from the organization, where he had worked for 7 seasons. He announced the resignation on Instagram.

The best words in all of sports, Game 7, will be said twice in the next two days: tonight between the Jazz and Nuggets, and thanks to Chris Paul's sorcery and Russell's Westbrook's folly, tomorrow between the Thunder and Rockets.
Tweet of the Day
Read This
Drew Steele and Matthew Miranda penned a great free agency profile on Aron Baynes, who might come at the expense of Taj Gibson but is absolutely someone I would target nonetheless. Even his limited ability to stretch the floor from the 5-spot (35 percent on four 3-pointers per game last year) would do wonders for this team considering all the other helpful things he brings to the table.
Presented Without Comment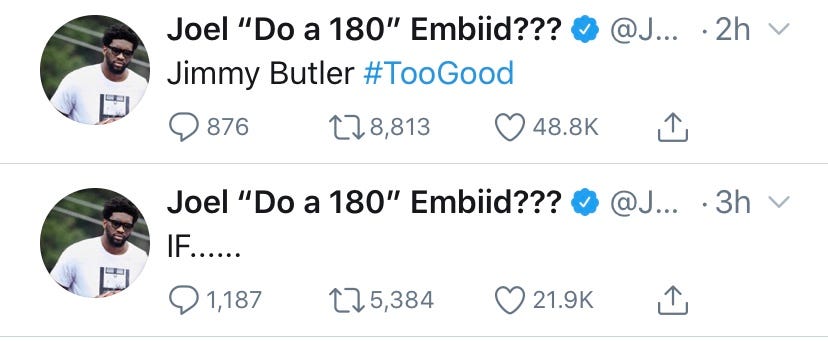 (These were sent during and after Jimmy Butler's 40-point explosion for the Miami Heat yesterday in their Game 1 victory over Milwaukee)
"Sources Say…"
As I wrote yesterday, the Oladipo noise is not going to go away anytime soon.
---
Winners & Losers
As is so often the case on NBA Twitter, the conversation regarding the KP trade - the one that sent Kristaps Porzingis, Tim Hardaway Jr, Trey Burke and Courtney Lee to the Mavericks in exchange for Dennis Smith Jr., Wes Matthews, DeAndre Jordan, an unprotected 2021 first round pick and a top-10 protected 2023 first rounder - has devolved into its simplest essence: who won, and who lost.
And don't get me wrong: in the age of hot takes, 280 characters, and generally needing to make things black and white, that devolution makes perfect sense. When the Knicks are on the losing end of such a transaction, where the national media is concerned, it really makes a lot of sense.
Unfortunately, these conversations often completely miss the point on something that will remain a topic of conversation for years to come, especially when news drops like it did this weekend about KP having suffered a partially torn meniscus, one that kept him out of the Mavs final three games versus the Clippers. The dial was then turned to 11 when Stefan Bondy sent out the following tweet on Saturday:
Some Knicks fans were a tad bit upset at the accusation that they'd ever wished ill on their former savior, along with the potshot at the organization.
And that's fair, I suppose, although I'm not sure there's a blurrier line than the one between being gleeful when someone gets injured and actively rooting for someone to get hurt. In any case, I'm not above coming right out and saying it: while the NBA fan in me hopes Luka and KP have a long, healthy career together, for next season at least, I'll be positively thrilled if one or both miss a substantial amount of time.
That's the corner that 20 years of losing boxes you into - rooting for an advantage any way you get it, even if it's due to someone's else's misfortunate. Do I feel good about it? Of course not. Would I be lying if I said I wasn't rooting for the temporary demise of both players? Absolutely.
And that gets us to the paradox of this particular deal, and part of why the conversations around it have been so fraught almost from the start. In any trade in any sport, both parties to the deal are supposed to be able to recognize an instant, cognizable benefit.
Sure, the benefit may be "Player X's upside," as was the case for Dennis Smith Jr. in this transaction. But rarely is the upside for one party so intimately tied up in the downside for another, which is exactly what happened here, and it's why talking about who "won" and "lost" this trade is more perilous than almost any other I can remember.
Yes, every trade has one team who ultimately fares better than the other. The health of Kristaps Porzingis, especially on his brand new five-year max contract, plays a massive role in that discussion. There is a thin line between an injury-prone player who can still help a team when it counts and someone who can no longer be effective given the physical limitations his maladies place on him.
Assuming Porzingis can even see the court on a regular basis over the final four years of his deal, even if he's playing the center spot - something he actively begrudged here - it won't stop other teams from repeatedly putting him into the pick and roll to garner switches, something which helped Houston effectively play him off the court in a game they played shortly before the playoffs started.
And while KP's 3-point efficiency and seemingly limitless range will always carry an immense value, there's a chance that Porzingis simply ends up as a bigger, more injury-prone Davis Bertans with the ability to isolate over smaller players. Even then though, as his 0.54 ISO points per possession this season showed, such an advantage may be an overstatement.
To be clear, that's still an incredibly useful player. Even if Porzingis does occasionally get played off the court in the playoffs, his rim protection during the regular season, to say nothing of his offense, can still swing games. Most teams would happily pay around $25 million annually for that guy even if they were only getting him for two thirds or so of an average season. But he also might not be the guy New York - or Dallas - thought it was getting when he was gifted the unicorn nickname.
Now, in a league where unicornicity (just go with it) is dependent on one's switchability on defense and play-making on offense, KP does neither. The vertical threat he poses at the rim is also balanced by the fact that everyone in the arena has to hold their breath every time he goes up to catch a lob from his wunderkind teammate.
As a result, observers are now actively wondering whether Porzingis is the proper co-star for Doncic, or whether the Mavs need to completely revamp their approach to how they handle a player whose next lower leg injury appears to be a matter of "if," not "when."
The sum total of all the above has rendered a large segment of the fan base boastful - we won! - but there's a logical leap here that I'm not sure is warranted. In short, just because Dallas may not have made out like the bandits they were originally deemed, it doesn't mean that New York should come out of this looking like some sort of victor.
Even if Porzingis never plays another game in his life, it doesn't change the fact that the assets received by New York were not as substantial as they could or should have been. To ignore this when assessing the trade from New York's perspective is irresponsible, even if it is more convenient for the Knicks to view it that way.
For starters, any conversation that begins with "let's see how the Dallas picks turn out" is already a bit of a misnomer. We already know how one of them will turn out, as the 2023 pick is top-10 protected and will remain so until it conveys, if need be, as two second rounders. As for the 2021 pick, it is an unprotected selection, which is great, but an unprotected selection from a team that currently employs one of the three or four NBA players who can carry a team to 50 wins almost by himself.
Of course Luka, like any player, could get hurt and miss much of next year (although neither his game nor his physique strike me as particularly susceptible to injury). Likewise, the Knicks could draft the next Kawhi or Giannis or Pascal or Jimmy Butler with a pick that doesn't wind up in the top ten. An All-Star getting picked late happens literally almost every year, and Walt Perrin has pulled rabbits out of his hat before.
But again, this is missing the point. If the goal of any trade is to maximize your chances that the assets coming back in the deal are good, getting one protected pick and one unprotected pick from a Luka-led team is the opposite of executing that purpose. Some have added the Clippers 1st and 2021 Detroit 2nd that New York got for Marcus Morris as another part of the return in the KP trade because Morris was signed (albeit under unusual circumstances that required some injury un-luck on Reggie Bullock's behalf) using cap space that the Dallas trade opened up, but that's a bit of a misnomer because had they never made the Mavs trade, they would have still had the cap space to sign Morris outright.
Even if we add that Morris return to the total package, unless someone can convince me that there wasn't an unprotected first being offered by another non-MVP-candidate-led franchise, I remain dubious. There's also the matter of whether any other young players were available, as opposed to a guy who is as likely to be playing for the Beijing Ducks in a few years as he is for an NBA team.
And that, really, is the question - not whether New York won or lost, or even whether they should have traded Porzingis to begin with rather than keeping him and signing him to a max extension - but whether the trade was even arguably the best one possible.
I would, without a second thought, take a single unprotected pick in the 2021 draft from the following franchises over the entire Dallas package & Morris package put together: Chicago, Detroit, Atlanta, Cleveland, San Antonio, Phoenix, Sacramento, New Orleans and Minnesota.
Of those, it's fair to assume most wouldn't have taken the plunge given Porzingis' pushiness and later-leaked wish list of preferred teams (Miami, Brooklyn, Toronto and the Clippers). But we know the Knicks had advanced talks with Phoenix when Phil Jackson was still here. There were also rumors of interest from San Antonio at least once. Sacramento has been known to have a trigger-happy finger when it comes to trades.
Would any of those teams have offered an unprotected first and a young player better than DSJ? Who knows?
Speaking of Smith Jr, while there's no way the Knicks could have known things would go this poorly, there were already red flags, starting with his horrendous shooting numbers as a rookie and continuing with his brief, petulant departure from the Mavs because he couldn't handle that Luka has taken the reigns.
Just looking the the KP-wish-list teams, one wonders if any of Shai Gilgeous-Alexander, Caris LaVert, OG Anunoby or Josh Richardson would have been on the table (I'm sure Bam and Pascal were not, but I wonder: was a call made to be sure?) As for non-wish-list teams, it's not hard to imagine one of Bogdan Bogdanovic, Derrick White or Mikal Bridges having been made available in addition to an unprotected first.
There are other young players across the league - Michael Porter Jr, Lauri Markkanen, Brandon Ingram, Jonathan Isaac and Domantas Sabonis are five that come to mind - who I wonder if the front office called about. These names may seem far fetched, but keep in mind that the calls we know New York made were about Anthony Davis, De'Aaron Fox and Donovan Mitchell. There is a vast sea of grey between these names the ones in the last few paragraphs.
But of course, they likely never stepped foot off the shore to explore any of those other deals because Scott & Steve found a team willing to take their dead weight…or at least, what they conceived of as dead weight.
Which brings us to Timmy. You may have noticed that THJ was one of 11 players to take at least seven 3-pointers per game this season while converting at least 39 percent of such looks. For the series against LA, he ended up at 17.8 points and 35.2 percent from deep on nine attempts per game...not great but not terrible. Obviously he is healthy now, and the player the Knicks traded away last February was nowhere close to the guy we've seen in Dallas. That he gets to function as a third banana is also massively helpful.
Even so, there was absolutely no need to trade him in February. As we saw when the Nets pulled off the Allen Crabbe trade in early June and then the Clippers with Paul George in early July, there's always time to dump salary when you absolutely need to.
But the Knicks' front office didn't feel the need to wait. They were sure. KD was in the bag. There are still people who believe to this day that Durant would be a Knick had he not torn his Achilles. Of those folks, I would inquire: how could anyone possibly know this, and on a related note, who benefits by putting this out into the universe after the fact?
Yes, Durant was always coming to New York, but which NBA team, from everything I heard at the time and since, was never a certainty. They had Rich Kleiman on their side. That much we know. But to bypass any of the above deals when the possibility of doing a last-minute salary dump existed, they had to be sure. And they weren't, because no such surety was there to be had.
And this is where my stance on this trade has changed since the multiple times I wrote and spoke about it when it happened. At the time, I was operating under the premonition that the decision makers in the front office had competently done their homework, and that their info on Durant was rock solid. But in retrospect, we're reminded that someone going all-in doesn't preclude them from being the sucker at the table; if anything, it confirms it.
As for the million dollar question, gun to my head, no, I probably wouldn't take KP back in exchange for the picks (and Smith, although I can't imagine Dallas would want him back). I don't miss having to hope and pray that he stays healthy, and while it may very well be another several years before the Knicks end up with someone with his talent, given the new front office, I'll take my chances (In fairness, the Mavs would also almost certainly do the deal again, although I could see them being more tepid about it than they were at the time).
But it would absolutely be a tough decision. Top-30 talent is still the hardest thing to acquire in the NBA, and I've spent all offseason concocting various schemes to get guys on the roster who might qualify as such. No one ever seems to like the deals I come up with, and that's because they're overpays for guys who don't ultimately move the needle.
Porzingis doesn't move the needle to contender status by himself, even when he is healthy. But beggars can't be choosers, and for as much as we all hope that Leon Rose can figure this thing out, until further notice, we're beggars.
As anyone who's ever been in a relationship knows, if you have to beg someone to stay, they're not worth keeping. And as we know (Steve Mills voice) Kristaps Porzingis did not want to be here.
That, to me, remains the most unsettling part of this transaction. Without playing "he said, she said," it's quite clear at this point that the Knicks wanted to be done with KP as much as he wanted to be done with them. Did they have good reason to? Yeah. He's a Prima Donna, possibly a criminal, injury prone, expensive, and his brother seems like a legitimately unfortunate character to have to deal with. They were arguably right to look to move on.
But man, would it be nice to know whether the front office truly made an all-out effort to fix the wound rather than simply picking at the scab. Maybe your view is "good for them," and that's fine. I can't argue. Me, a year and a half later, still can't get over the fact that the front office was so convinced the grass would be greener on the other side that they never fully considered whether they could or should salvage what they were leaving behind. It was arrogance emboldened by ignorance.
So with that, as I have written before, I hope these are the last words I ever have to type on KP or this trade. But I'm sure they won't be, because of course they won't be.
Oh well. Until next time.
That's it for today! See everyone with another newsletter tomorrow. #BlackLivesMatter