Worth the Patience?
Plus, Jeremy Cohen on how to land the big one
In this Newsletter:

---
I really don't have much to say about last night's loss to the Lakers.
If you didn't watch it, the game was both closer than the final score would indicate and exactly what the final score would indicate. It was closer because the lead was in the teens for most of the night, and was only 15 entering the fourth. It was accurate because the Knicks played sloppily (17 turnovers, although they also generated 20) and couldn't hit an outside shot to save their lives (4-for-20 from deep), which against the Lakers, is death.
There was a Bobby Portis moment and an Anthony Davis moment, both of which will get most of the attention today, but before we move on to today's featured piece by Jeremy Cohen, I want to take a moment to focus on two young Knicks at seemingly opposite ends of the spectrum.
First, RJ Barrett, who came out and had a largely forgettable first half. He picked up two fouls before anyone settled in their seats (oops…that doesn't tell us anything. This is LA, after all. Both fouls were within the first 1:30. There, that's better.) As a result, he had to take a seat early. He went 2-for-5 after checking back in in the second quarter and entered halftime with four points.
He finished with 19, 13 of which came in the third when the game was still a game. After halftime, Barrett came out on a mission and took it to the rim repeatedly against the swat-happy Lakers, including this fancy number:
Seeing the 19-year-old re-enter a game with a renewed sense of purpose and actually execute on that intent is the kind of thing that makes you think better times are ahead for the franchise.
Seeing the 20-year-old who was taken in last year's lottery reach perhaps the nadir of his struggles, on the other hand, does not engender quite the same reaction.
Kevin Knox finished the night with two points on 1-of-7 shooting and four missed free throws to zero makes. He is now shooting 28 percent from the field over New York's last seven games. His worst moment came when he failed to properly box out Alex Caruso, leading to an easy put back.
There's always a moment when public opinion seems to turn on someone, and for Knox, that seemed to come last night. All of the "He's only 19!" chants from a year ago have turned into "I don't care that he's only 20…he stinks!" It's enough to make you hope he meant what he said recently about getting off social media because he didn't want to deal with the distractions.
Look, I get that it's easy to be out on Knox, especially when guys taken after him in the draft are playing like future All-Stars. But he was always going to be a project with a capital "P," and development, sadly, is often not linear.
Right now, Knox cannot buy a basket. It colors everything else he does, especially when (unlike his French teammate) there's not another aspect of his game to point to and say "See! At least he's good at that!"
But I refuse to believe he is not eventually going to be a plus shooter, not with the shooting form that even his harshest critics agree is a thing of beauty. 0-4 from the line screams that these struggles are in his head, and while there's no guarantee of when or even if he snaps out of it, to think he won't seems a bit harsh. Far better (and more mature) players than him have gone through rougher patches than this.
The question really comes down to whether he's improved in any of the areas that had so many draftniks feeling like their initial concerns over Knox's feel and motor had come to fruition after a truly brutal rookie season.
To try and answer them, I went back and watched most of Knox's defensive possessions from the last few weeks. The first observation is that Mike Miller has done a great job of hiding him on the least-threatening offensive player, and as a result, he really hasn't had a ton of opportunities to guard the ball, at least not lately.
But his positioning and awareness level on plays where his man is stationed in the corner are encouraging. He's digging into the paint the proper amount, and his head has been on a swivel to avoid the back-door cuts that drove us all insane last season.
When he's had to guard the ball, the results have been mixed but encouraging. On this play from the post-Christmas beat down of the Nets, Knox gets matched up with the ball-handler in transition – never an ideal scenario. Garrett Temple uses the high DJ faux-screen to initially get Knox off balance. He doesn't slide his feet as well as you like, which helps Temple get a nice first step.
After Frank swipes at the perfect time to slow Temple just enough (these are the winning things Frank is always doing, by the way…), Knox sticks with the play, adjusts his body, and offers a nice contest: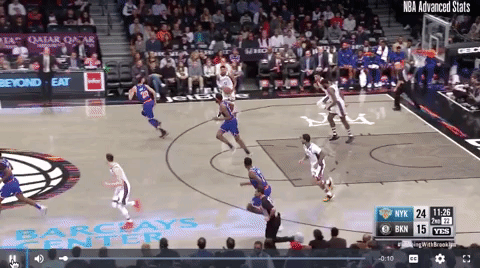 This is what good team defense is supposed to look like.
Last night, Knox found himself in a similar situation - cross-matched with the ball-handler in transition - and the results weren't nearly as kind: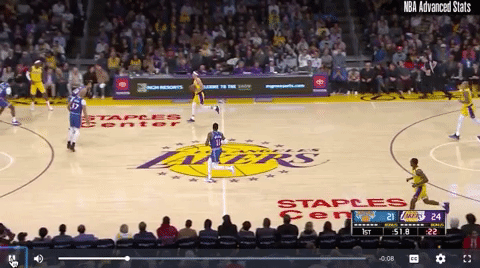 Alex Caruso sees he has an opportunity and uses KCP to leave Knox in his dust (also, thanks to Bobby Portis for showing us what the opposite of proper help defense is. Can those teams interest in him get a move on, please? He's a dawg! You know you want him!!! Woof!)
This is a reminder that Knox still struggles immensely with speedier players…and that's fine. He's in good company. This just speaks to the fact that he's better served playing the four in smaller lineups, where the likelihood of these matchups decreases.
This next one is probably my favorite defensive play from Knox over the last few weeks, and it stands out more for what he doesn't do than what he does: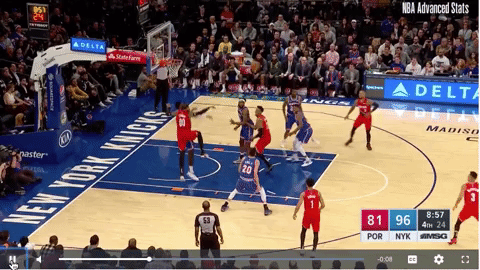 When the offensive rebound comes out to the perimeter, Knox has a choice: either sprint out to the man with the ball (which would have left an open look for his man, Anfernee Simons), sprint back to his man, leaving CJ open (wrong), or do what he did, straddling between the two just long enough for Ntilikina to recover.
This is the type of split second decision that Knox didn't properly make last season. You can see him ponder at first "I have to go to my man, right?" and then think better of it. This might seem like a small thing, but his incorrect decisions on plays like this were why you couldn't play him last year and have any hope of winning games.
This last play is also from the Portland game. Many folks continue to get on Knox for his low motor, but I really haven't seen it this season. Here, he makes a play on the inbounds and then recovers nicely, never allowing his man to take advantage of the failed steal attempt despite being 10 feet out of the play at one point:
To be clear, these are all little things. They do not add up to an NBA player, not without more on the offensive end. Part of the reason people are so frustrated is that even at his best, Knox will likely never graduate above "passable" as an NBA defender. Unlike Frank, he does not change the game on that end of the floor.
But Frank also won't ever be capable of something like this, not in his wildest dreams:
It's easy to forget all of the splash plays Knox has already made as an NBA player amidst his struggles. We haven't seen nearly as many this year, thanks as much to dwindling playing time and a diminished role as anything else.
But that player is still in there. It's why he was drafted where he was, ahead of the guys who went after him who we all knew would be good.
Knox still has a chance to join them. If the faint strands of smoke aren't enough for you to hang onto the rope, I get it. They also might amount to nothing, and he ends up like Ben McLemore, for example - nearly washed out of the league after being a top-ten pick with all the talent in the world.
But as Zach Lowe wrote about yesterday, even McLemore wasn't past redemption, and is now contributing for a contender. All it took was some time and effort.
With Knox, the effort part has never been in question, as Ian Begley wrote about on Monday.
I'm happy to give him the time. I humbly suggest that you join me.
---
Player Spotlight / Game Preview
Short turnaround for the Knicks, who now head to Utah. They go there having lost three in a row.
I, however, have faired a bit better, and enter tonight on a three-game winning streak. Following my recommendations for Mitch before his best game of the season and Kelly Oubre of the Suns, on Monday I pinpointed Danny Green, who went for 11 points, five boards, three dimes and a steal last night. His stock price shot up 13 percent, and he's currently trading at $0.76. If you'd have bought 100 shares before last night, you'd be in line for a free lunch today.
I'm looking to keep it going, and will do so with one of my favorite NBA players, Jumpin' Joe Ingles.
Joe started off the year sky high, trading at $5.73, before starting a steady decline all the way down to $1.81. He was struggling early, but has picked it up of late, averaging 16.6 points and 5.6 dimes over Utah's last 12 games, 11 of which have been Jazz wins, not coincidentally.
Ingles has been shooting a scorching 54 percent over that time, and the Knicks have struggled containing elite shooters all year long (see: Green, Danny last night).
Right now he's trading at $3.34, a nice number to get in the door at. If you haven't yet gotten in on PredictionStrike (and really, what are you waiting for?), don't forget to click here and use code KFS for $10 towards your initial investment of $10 or more. Happy investing!
---
How can the Knicks land a franchise cornerstone?
Some moons ago on a podcast, Jon and I discussed whether or not the Knicks should trade for Brandon Ingram. While we may have disagreed on whether to trade for Ingram or not, what we did agree upon was that it would take quite a bit to acquire Ingram, and that he has the potential to be an excellent wing. The trouble is that, as good as he is, he's unlikely to become a top-10 player in the NBA.
The conversation got me thinking: How can the Knicks get a top-10 player that aligns with their long term vision? What can the team do differently compared with the last time they acquired a top-10 player in a trade in Carmelo Anthony?
Over the last 30 seasons, only two championship teams have lacked a top-eight MVP finisher that season: the 2013-14 San Antonio Spurs and the 2018-19 Toronto Raptors. Notice a similarity? Both teams employed Kawhi Leonard. The Knicks have had one top-eight MVP finisher since the 1997-98 season and that was Carmelo Anthony in 2012-13. New York had its best season of the new millennium that year and finished tied for the best offensive rating in franchise history. A top-10 player having a top-eight season is crucial to a team's success.
The MVP doesn't always go to the most-deserving player but this isn't about winning an MVP award. No, this is about having someone playing at an elite level, specifically on the Knicks, for more than one season. One person's top 10 can be different from another person's. What's more, a top 10 list can change from season to season. For example, LeBron James is one of the 10 best players right now but may not be one in a season or two from now. What's important for the Knicks is acquiring a player who will be elite moving forward, as opposed to one who is set to decline. 
So I took a look at the three ways for the Knicks to obtain elite talent in the NBA: the draft, free agency, and the trade market. I then analyzed the challenges involved with each. Top talent doesn't come easily but with the right scouting, development, creativity, patience, and luck, the Knicks can get a franchise player.
Draft
The draft is New York's best way to find high-upside, low-cost talent. It's a comfort to know that the Knicks will either do poorly during the season and have a good pick or have a bad pick because they've done well during the year. The Knicks have a surplus of first round picks and are extremely likely to finish with a bottom-10 record for the sixth year in a row. What's more is that the Knicks will have two future first round picks in 2021 and 2023 from the Dallas Mavericks and will have two early second round picks in 2020 and 2021 from the Charlotte Hornets. All of that's fantastic from an asset management standpoint. 
New York has yielded mixed results in the last five drafts: Kristaps Porzingis, Frank Ntilikina, Damyean Dotson, Kevin Knox, Mitchell Robinson, RJ Barrett, and Ignas Brazdeikis. These players range from 15th man to bench player to starter to All-Star. The two best players of the bunch, Porzingis and Barrett, are former top-five picks. Coincidence? Absolutely not. It's why if the Knicks are going to continue going for upside, they should look for even higher upside with the top-five. In fact, here's a shameless plug about the importance of having multiple top-five picks on an NBA roster.
There is talent all over the board but elite talent, historically speaking, is concentrated at the top. Lucking into a top-five pick, especially if it's the first pick, is not the only way to find a game changer, but it's a tried and true method. And if you're a top executive in the front office, and you love a player you can get later in the lottery, your high pick can be used to acquire another asset in a trade down. However it's done, the team must then develop players properly. 
If Luka Doncic can become an MVP front-runner in his second year in the NBA, it's certainly possible for the next few draft classes to feature an elite talent right away. It's up to New York to be in position to draft that type of player, or trade for that player on draft day, before that player's value skyrockets to the point where his team wouldn't give him up for anything.
Free Agency
Let me preface this section by stating that after this past summer, you probably don't want to hear about future free agencies. In order to best assess the direction and potential return(s) of this year's trade deadline, we need to keep free agency in mind. We must do this, not because we should have high hopes, but because it's still an important way to obtain talent. After all, every big name is under contract through summer 2024 at the latest.
---
New Podcast!
I had the pleasure of being joined by Mike Vorkunov of The Athletic to discuss his wonderful piece on Knicks coach Mike Miller. Mike's always a great guest, and he didn't disappoint here. Give a listen (and subscribe to the KFS feed if you haven't already!)
---
News & Notes
compiled by Michael Schatz (
@mschatz99
)
Dallas Amico dropped Part 2 of his look at the Knicks offense. I can't recommend these highly enough, and that's not only because he's coming on the pod later this week.

Ian Begley wrote about the implications (or lack thereof) of Anthony Davis' decision to forgo signing for a lot of money. I wonder if he'll have second thoughts after last night's scary fall.

Last, Chris Iseman wrote about Julius Randle and how he has both reflected on his time in LA and made improvements in New York.
---
On This Date: 1969-70 Knicks named Top 10 team in NBA history
To celebrate the 50 year anniversary of the NBA, the league chose the 1969-70 Knicks as one of the Top 10 greatest teams in history. Members of the print and broadcast media that cover the NBA compiled a list of teams to nominate.
The 1969-70 Knicks had a record of 60-22 and won their first NBA championship. Four players on that team – Walt Frazier, Bill Bradley, Dave DeBusschere, & Willis Reed – were inducted into the NBA Hall of Fame. Additionally, Clyde, DeBusschere, & Reed were concurrently on the NBA 50 Greatest Players list.
That's it…see everyone tomorrow!