You Never Forget Your First Time
Frank popped his cherry.
In this newsletter:

---
I can remember it like it was yesterday.
Upstate New York, 1998…at sleep-away golf camp, of all places.
If golf camp seems like an odd place for a boy to become a man, well, you can imagine how surprised I was when I showed up on the first day and discovered that one of the other nine losers whose parents paid money for them to be there was, in fact, a girl.
The name of the camp was "Huff House," and starting from Day 1, you better believe I tried my damnedest to huff, and to puff, and to blow her house down.
It took a while, but eventually I succeeded, and it felt like a lot of first times do: underwhelming, awkward, and with a fair bit of certainty that it didn't go the way it was supposed to.
Which, of course, leads us to Frank, whose career thus has been just as underwhelming, awkward, and filled with just as much "wait…was that it?"
But last night the French Prince proved that just when you think it's never going to happen to you, it does. My guess is that, waking up this morning, his only thought is going to be "When can I do that again?"
I know…our mouths are agape too.
Let's be clear about something for the haters out there, a few of whom I know read this letter (and continuing the analogy from above, are like my roommate at said camp who, when I knocked on the door and asked if he wouldn't mind getting lost for 10 minutes, angrily said no because he was watching TV. Thankfully his little brother was two doors down and in a far kinder mood. Thanks again Joey!)
Anyway: no, last night didn't change anything about who Frank is or what he's going to be. He almost certainly wasn't an NBA starting point guard before the Wizards game, and he's still not one today. That's likely not going to change, either.
We were reminded as much when Washington tightened up its defense in the third quarter and Ntilikina's inability to beat his man off the dribble (coupled with the lack of a true shot creator in New York's second unit) resulted in the offense continuing to stagnate.
In the NBA today, if the ball is in your hands a lot of the time, there should only be about 5 to 10 guys in the league who can stop you one on one, at least if your team is trying to be good (that Ntilikina is probably one of those 5-10 guys should factor into this conversation as well, in fairness). That's not the case with Frank.
But as we saw last night, what Frank can be - a smart, unselfish, patient (but not too patient) player who has enough of an offensive knack to make stuff happen - is really, really helpful.
A lot of attention will be paid to the 20 points he scored, but I found his passing to be the most impressive part of his night, so I'm highlighting four of his 10 dimes here.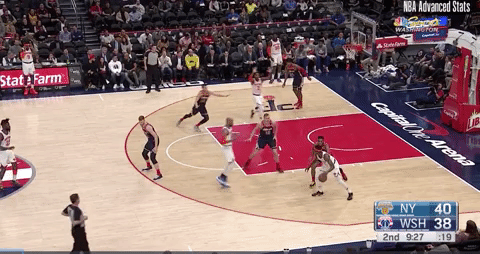 First play: super simple, smart, easy pocket pass here, but one that doesn't happen if Frank stops his penetration before getting to the right spot (what, you thought the sex analogies were over?)
Too often in his young career, we've seen Ntilikina pick up his dribble at the first sign of impeded progress. Last night – and really, for much of the last several months – he didn't do that. His aggressiveness may not have been enough to get him all the way to the hole (I promise, I'll stop now), but it forced the help defender to leave Taj and open up the pass.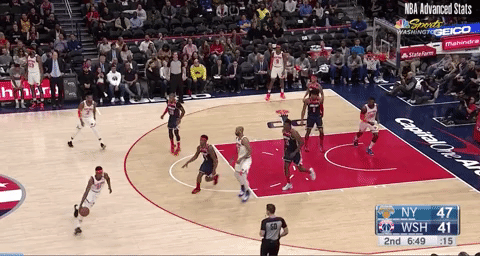 Again, this is an instance where Frank would have picked up his dribble the moment he saw Thomas Bryant waiting for him on the other side of that screen. Not here. Instead, he takes the extra dribble right at Bryant and fully opens up the lane for Gibson.
(By the way, it's a shame the Knicks couldn't find more lineups conducive to playing Frank and Taj at the same time. They have a minus 11.3 net rating in 411 minutes together, but almost all of those have been with either Randle or Morris, and 276 of them were with both. If they could have spent more time on the floor with smart shooters who moved without the ball, I'm fairly certain they could levy their collective basketball IQ into making more of the magic we saw yesterday)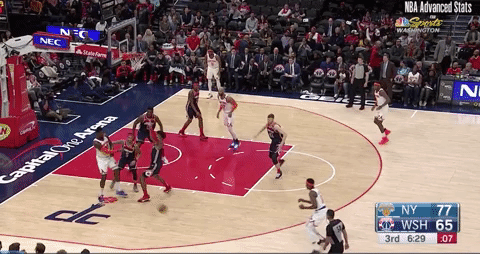 My favorite Frank play of the night.
He had the opportunity here to pull up for a jumper not once but twice: behind the arc and again at the elbow. He didn't settle for either, and instead continues to get into the paint and it results in the easiest bucket of the evening. Just goes to show that you don't need blinding speed to get into the teeth of a defense.
Also, kudos to Julius for passing out of the double-team here. Progress!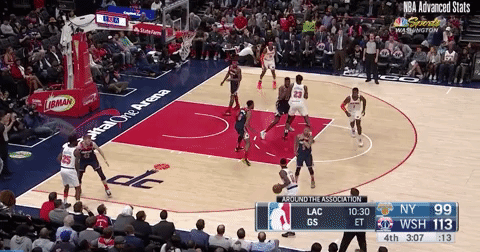 One more, this time showing a great job by Frank of being patient.
Ntilikina could have tried to hit the rolling Portis just as he approached the free throw line, but that would have been a more difficult pass and maybe even given Bryant a chance to recover and make a play at the rim.
By continuing to attack, Frank gets the Wizards' big man in the air, and it results in a bunny.
What does last night mean for the rest of this season; i.e., should Frank start? As long as Julius Randle remains in the starting lineup (spoiler alert: he will), the answer is "no," because when Randle is in the game, Ntilikina rarely looks like the player we saw yesterday, both because he's more deferential and because it's one less player who moves without the ball.
But in no uncertain terms: Frank should be playing at least half of the minutes, and he should be playing them in lineup combinations like we saw vs Washington: surrounded by three shooters (take your pick of Wayne, Reggie, Knox, Portis, or of course, #FreeDot forever) and with the freedom to operate an offense.
Is it his destiny long term to be a back up point guard? Or would he be better served alongside a primary ball-handler, perhaps even in starting units, if his shot continues to come around (he has a .488/.364./.846 slash line over his last 14 games)?
I'll worry about that next season and beyond. For right now, this is what's best for his development.
Let the good times roll.
(Just not too good. I love ya' kid, but if I get a tweet from Knicks PR in a few hours that reads "Frank Ntilikina: Questionable - sore groin" you're going to have some 'splainin to do. Now go have a cigarette. You've more than earned it.)
---
Player Spotlight
Because Knick fans can never have nice things without a curse attached, I woke up this morning to this:
I also heard from someone who would know, and can confirm that at the very least, some within the Knicks organization are sending signals that they will make a strong play for DeRozan this summer.
It's almost as if people within the team have watched this year and said to themselves, "how can we make our smartest, most devoted fans go absolutely apeshit? Oh, I know…invest tens of millions of dollars in a 30-year-old RJ Barrett clone who further complicates our spacing! That's the ticket!!!"
For all I wrote yesterday about a Chris Paul trade being kind of, maybe, sort of a good idea if you squinted hard enough and didn't overpay, this rumor (and that's still what it is: a rumor) seems to further make it clear that there is no well-thought out plan in place, and the Knicks are just going to try and get the biggest names they can this summer.
Trading for a ball-dominant, non-shooting wing to further crowd the floor for the ball-dominant, non-shooting wing you just invested the third overall pick in is about as smart as signing Julius Randle to lead your developmental efforts this year.
Could it work out? Just like the Paul thing, of course it could. DeRozan is damn good, and has played above an All-Star level over the last several months. He's averaged close to six dimes a game over the last two years, and if you put him in a lineup with RJ, Mitch, a shooting point guard and a stretch four, they could make beautiful music together. And as I wrote yesterday, for this organization especially, there is inherent value in getting on a winning track.
But to endorse that plan is to assume that a bunch of other pieces fall into place. Do we have faith that Leon Rose is playing 4D chess here? Or that his marching orders from JD were "Get names! Sell tickets! Now! Bah!" and he's going to happily follow them?
Count me as dubious.

Any-who, if you're in the mood to track DeRozan's progress over the last month of the season, he's available at the affordable price of $4.09 in PredictionStrike. Have at it.
---
Tank Talk
If you've been following me or have come into contact with me at any point over the last 2.5 seasons, you'll know there's only one thing I can say right now:
BOBBY PORTIS SZN, BABY!
I'm kidding. Although Portis did have a fantastic night offensively (despite being a blackhole on offense), today is obviously about Frank Ntilikina.
Do you hear that? That clacking noise? It sounds like… it sounds likeme TAP DANCING ON THE MOTHERFUCKING GRAVES OF FRANK'S HATERS.
I'm not afraid to admit that I screamed like a six-year old girl when he hit that final three to make it to 20 points. I'm not exaggerating. I really yelped. I said "He got it!" in a falsetto I didn't know existed since my plums descended over a decade ago. It wasn't my finest moment, but goddamn it, it was pure.
The night felt special from the get-go. Ntilikina scored a quick eight points and then he just would not stop being a two-way force. He needed a three late in what became a meaningless game, and by golly, that man got it. And while he was aggressive in finding his own shot, he still looked out for his teammates. He finished with 20 points, 10 assists, two steals, two rebounds, two turnovers, and one tech (!!!) on 6-of-9 (nice) from the floor, 3-of-5 from three, and 5-of-6 from the line. Every time there was a technical foul, he walked to the line with authority. The man has brass balls, and if we're being honest, the jostling of those brass cajones is probably what is making his groin so sore. Someone needs to get this man a wheelbarrow, Randy Marsh style.
To be serious for a moment, last night conveyed why so many fans have believed in and stuck with Ntilikina. Nights like last night are likely the exception, not the rule, but that doesn't matter. Knicks fans have been so starved of quality, young talent that many are unable to admit they don't know what development looks like. But hey, that's what happens when the last first round pick signed to an extension was Charlie Ward in 1999.
Having a defensive-minded player who can be versatile, who can be a secondary ball-handler, who can score, and who gets along with the team's stars (see: Barrett Jr., Rowan) is crucial to a team. Last night, even for a fleeting moment, is justification that the Knicks made a good call on June 22nd, 2017. The best call? Probably not, but that doesn't really matter. Why can't we envision last night as foreshadowing? Why shouldn't it be a realistic glimpse into the future? I choose to believe Frank is finally starting to arrive to the party. You may say fashionably late but I say he's right on time.
And what's more? The tank prevailed! Julius Randle, RJ Barrett, Elfrid Payton, and Moe Harkless were the true MVPs last night.
Recapping Last Night
Knicks game aside, this was a very meh night. Some separation was created between the Knicks and the Bulls, so that's good. And since the Bulls have the second-toughest remaining schedule in the NBA, it's for the best. I'll give it a 4.5/10.
Tank Standings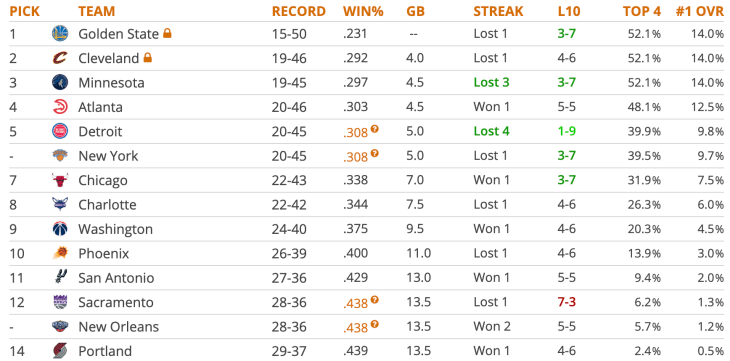 Five teams within a game of each other. It's beautiful.
This is why I want the Knicks to lose games – they're so close to being really bad. So if they're already going to be bad, they might as well be really bad and prevent falling further in the lottery… right?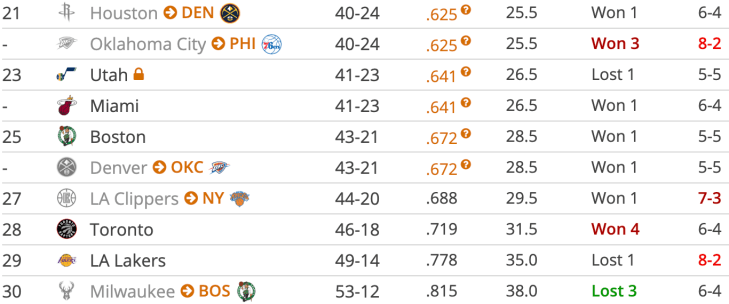 Damn the Clippers. We probably have to accept the fact that the pick won't be higher than 27. Anything can happen though!
Sim of the Day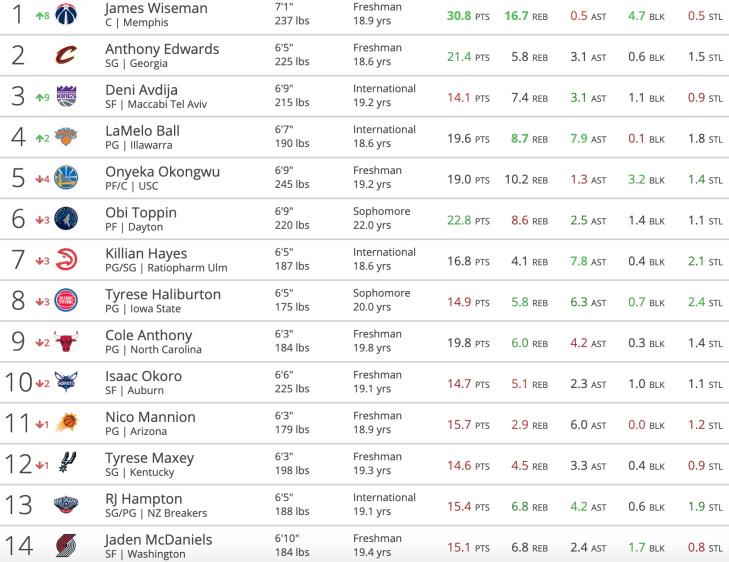 Oh hell yeah. Give me LaMelo Ball.
Average pick: 4.25
Average jump/fall: 0.75
Games Tonight
Pistons vs. 76ers
The Pistons are baaaaad. The 76ers are not, especially at home, where they're 28-2.
Who we want to win: Pistons
Philly's got this. Next.
Knicks vs. Hawks
The Wizards were up 14 on the Knicks, then the Knicks were up 18 on the Wizards, and then the Wizards were up 14 on the Knicks. SNIP SNAP SNIP SNAP SNIP SNAP.
This Knicks have won the second game of a back-to-back once this season and it was an OT thriller against the Warriors. The Hawks are a more talented team than the Warriors team the Knicks faced on December 11th. What's more, the Knicks are less talented than they were on December 11th as well. They won't get 36 from Marcus Morris but the Hawks could get 32 from Trae Young, just like the Warriors got 32 from D'Angelo Russell.
Who we want to win: Hawks
Sorry, Knicks fans. Better to be a half game ahead of the Hawks on the climb to the tank than 1.5 games. It's one thing to root for the Knicks against a good team, it's another to root for them against a bad team that could hurt lottery positioning.
Hornets vs. Heat
Hornets = bad. Heat = good.
Who we want to win: Heat
This is one of those games where, thanks to the Knicks losing against the Wizards, there's enough breathing room between New York and Charlotte to allow for a loss. A Heat win helps Miami keep pace with the Clippers while a Hornets loss improves the second round pick thanks to a Bulls win.
Jazz vs. Thunder
Two good teams in the Northwest division. Only a game separates them. Who will come out victorious?
Who we want to win: Jazz
The Jazz are closer to the Clippers and the Thunder have to give up their first round pick to the 76ers if they finish between 21 and 30. I would rather they give up two second round picks instead, per the terms of the deal. You probably wish that too.
Nuggets vs. Mavericks
Oh baby, this is easy.
Who we want to win: Nuggets
Denver is so close to the Clippers in the standings. We have to root for them.
---
Game Diary
1st Quarter
11:58: One for the thumb!! Taj Gibson loses the opening tip for the 5th straight game and the starting five we've become accustomed to trots back on defense.
10:51: Lethargic start to say the least and the Wiz lead 7-0.
10:05: Make it 9-0 and Miller calls his first TO less than two minutes into the game. Man if only we had a couple guys who we could start that play with great intensity and make an enormous defensive impact on the game. Leon should really look into getting a couple of those. . .
9:19: Beal cashes his first three of the night after Payton turns it over dribbling into traffic. 14-2 Wiz, YEESH.
8:26: RJ airballs a three, the second one he's tried and missed already. Anyone who has played 2K in the last decade knows you don't get a guy going by having him chuck contested threes as soon as the game starts. Can someone please get Mike Miller an Xbox?
7:37: Miller makes a full hockey line change after calling his second timeout of the quarter in under five minutes. Frank/Bullock/Knox/Portis/Mitch will now try to actually start the game.
6:30: Portis hits a three after Frank hit a three on this unit's first possession but the Knicks can't get a stop on the other end right now.
6:05: Frank knocks down his second three of the quarter and I'm starting to feel things! It's like he's gone through basketball puberty in the last couple weeks.
(Editor's note: I swear I didn't instruct Anthony to insert this reference)
3:46: THE FRENCH PRINCE!! 3-3 from deep!! Dragging the team out of the early hole, now down just one, 25-24 Wiz.

2:49: Knox and Frank combine for a steal, Frank feeds Bobby on the break and the Knicks take the lead 28-26. WILD quarter, Bob's got 12.
:03: Bertans drills a three to push the lead to 36-31 Wizards. That was an insane 12 minutes. I need a drink and possibly a cigarette. 8pts (changed one of his threes to a two), 4 assists, and a steal for Frank. 14pts and a block for Revenge Game Bob, because why not?
2nd Quarter
11:36: Portis picking up where he left off. Beats Bertans off the dribble and drives the lane to slam it home! This man lives for going off against his former teams.
9:56: Even Reggie Bullock making plays tonight. Converts his second and-1 of the quarter and the Knicks lead 40-38. Holy hell what a turnaround.
8:15: Frank knocks down a pair and he's got 10 pts in the first half and has played almost 12 straight minutes. Have I died and gone to basketball heaven? Absolutely no reason him and Mitch should not be starting the rest of the way.
I mean come on.
5:26: RJ finishes at the basket on a nice take for his first points of the night. He is only going to get craftier and craftier over the next couple of years. Knicks now lead by 12 after trailing 14-2 in the first five minutes.
2:35: Frank re-enters the game after Elfrid seems to have picked up some kind of ankle injury. Gets stuck with the ball late in the shot clock but gets Thomas Bryant to bite on a saucy little up and under move and finishes the layup. What a sublime evening. Ya'll having fun? I'm having fun.
:58: RJ knocks down a wide open three off a nice drop pass from Portis and the Knicks have pushed the lead to 16. Barrett has rebounded this quarter to get himself up to 9pts. You gotta love how he seems to find points even when he isn't playing great.
:01: Randle drives into a charge (hard to believe right (honestly it was a bad call)) and the Knicks lead 70-54 at the half. Beal with 13pts. on 3-11 shooting for the Wiz, really no idea why he signed that extension. Knicks being led by Bobby, Frank, and Taj, as God intended.
3rd Quarter
10:37: Harkless scored in the aftermath but my goodness Rui just blocked the shit out of Payton.
9:44: Julius puts back his own miss and he's up to 12pts. rather quietly. I swear he's at his best when you don't really notice him. The second he starts to resonate in your consciousness it can only be bad.
8:44: Elf picks up his 4th foul and Frank checks in.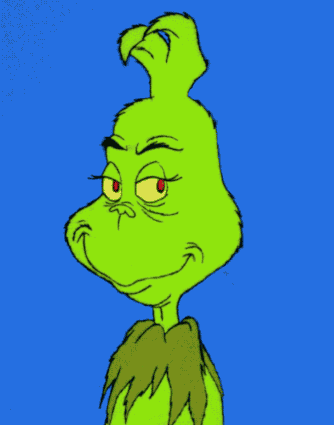 7:39: Remember that stuff I said about Randle? Yeah, he's at the forefront of my consciousness now and I'm none to happy about it. . .still up 14 though.
6:00: Frank carving up this Wizards defense with drives and dishes. He's up to 13pts. and 8 dimes and is on the way to one of the best games of his career.
4:29: Beal drills back to back threes and out of nowhere he's up to 28 pts and the lead is down to five, Knicks up 83-78. It feels a lot like this is Randle's fault and also a little bit Steve Mills'.
2:23: Frank says, "Je le ferai moi même", and drives the length of the court and scores through contact. He's got 14 and picks up quite possibly the weakest tech I've ever seen. Grow up ref, you cannot hope to stifle a Frenchman's passion with your little whistle.
:36: Brad hits another three, he's got 33 and the game is tied at 87. Don't blink folks.
4th Quarter
11:18: The Latvian Lazer hits from deep and Washington leads 90-89. Unreal.
I need so much less Wayne Ellington, so, so, so, so, much less.
8:17: Mitch had been starting to impose his will on the game aaaaand Miller pulls him to bring Randle back in. Wizards immediately get an offensive rebound and score at the rim. Great stuff Mike.
6:28: Randle barrels into another charge call (again it was probably a bad call) and there is just no excuse for him to be in this game. Mike Miller is driving the tank this evening.
5:51: Bruce Brown hits a three and the Wizards now lead by 10 107-97. This game has been a friggin' rollercoaster. If Mitch and Frank aren't in the game after this TV timeout Leon Rose should leave Mike Miller in DC.
1 for 2. Mitch, no Frank. Payton ends the initial possession by denting the ball on the front of the rim. Someone grab a new Wilson.
4:03: Miller FINALLY pulls Randle. Knicks down 113-99 and need to get on a run immediately.
1:55: Break in the action as RJ takes a shot in the chops. Knicks have the ball and after a mini-flurry are only down 113-105. Bucket here and this will get exciting.
Sigh. . .RJ drives and loses it out of bounds and Wiz get the ball after the review. Bruce Brown hits a dagger from deep on the other end. That might be all folks.
:48: FUCK YOUR SCOREBOARD FRANK NTILIKINA CAREER HIGH!!! #FRANKHIVE STAND ALL THE WAY UP!!
:00: Wizards dribble out the clock to win this one 122-115. I have just a couple numbers for you in closing tonight:
-Frank: 20pts. 10 ast. 2 steals, +17 on 67/60/83 shooting. lysm bb, sleep good.
-OUR STARTING LINEUP COMBINED: -99
-Knox, Dotson, and Trier combined minutes: 11
Leon, sir, it's time to make the call.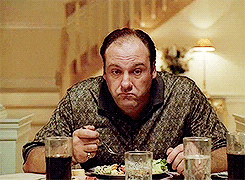 ---
News & Notes
compiled by Michael Schatz (

@mschatz99

)
Here's Alex Wolfe with the sweet recap of last night's action.

The Knicks scrapped their 50th Anniversary party thanks to all the craziness.
That's it! See everyone tomorrow!