You're a Funny Guy...
I'm bringing in the weekend with a Knicks-themed ode to a classic on it's 30th anniversary.
Quick announcement before we get to today's letter: I'll be taking Monday off to celebrate my daughter's birthday. She's turning four. Here she is in all her glory: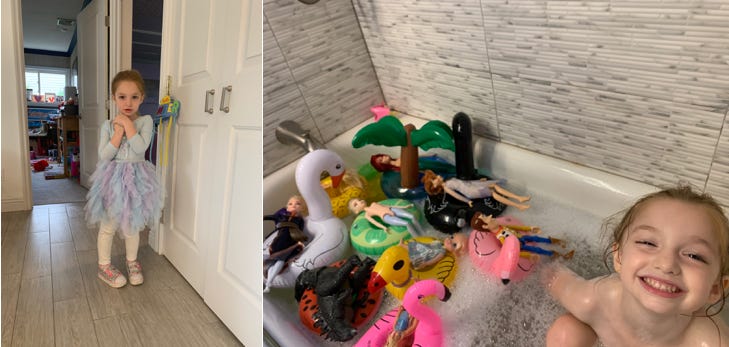 I go so hard into this newsletter and all the other Knicks content that sometimes I forget what's most important, and there's nothing more important to me than this kid right here. She's already smarter than me (not terribly impressive) and has figured out how to manipulate facts to the point that I am already losing arguments on a regular basis (slightly more impressive).
Anyway, we're shuffling around all weekend to do various socially distant visits with multiple sets of grandparents, and then Monday is the big day, which may or may not include a Barbie Dream House, assuming I don't impale myself trying to put it together. In any case, she shares me with the Knicks more than she should have to, so for the next three days, I'm all hers. Thanks for understanding :)
News & Notes
The Heat went up 2-0 on the Celtics last night, which means we're now six combined Miami / LA victories away from something that we haven't seen in over half a century: a superstar player facing his former team in the NBA Finals.

This would be quite a bit different than the last time though, as Wilt's 1967 Sixers title team played in a league with only 10 teams, and the Warriors squad they beat in the Finals - the one that traded Chamberlain away two seasons earlier - had just recently moved from Philadelphia to San Francisco themselves. Also, very few people cared about the NBA in 1967. Things have since changed quite a bit.

LeBron's Machiavellian maneuvers over the last decade is the stuff of lore that will be picked at and pined over for years to come, captivating the attention of the nation each time he had a choice to make. One of those choices - to turn his back on Pat Riley - was not one anyone had made before, and it's doubtful anyone will make again.

With the Celtics losing a tight one yesterday, we're now very much on the verge of a reckoning the likes of which we've never seen (with some business to attend to first, of course. Game 1 of Lakers vs Nuggets is tonight). If we do indeed get that matchup in the Finals, the Orlando bubble will have been worth it and then some.

The Kings hired their new head of basketball ops, and it isn't Scott Perry. Houston Rockets assistant GM Monte McNair is the new guy in charge. Speaking of which…
"Sources (Not Mine) Say…"
This caught my eye yesterday.
McNair might immediately become the most analytically focused head hoops exec in the NBA. What does that means for certain guys on the roster? I'm not sure yet. But there's some interesting pieces there that I'd be interested at the right price.
More on this to come…
Read This:
Dallas Amico put out a banger for the Strickland about ICE coverage in the Eastern Conference Finals. You should read it!
Listen Up!
Between now and the draft, I'm going to be having on draft prospect-specific guests to try and learn more about a few guys who could call New York home come November 18. This was the first of those, featuring David Jablonski of the Dayton Daily News talking about Obi Toppin and then Joshua Halickman, "The Sports Rabbi," discussing Deni Avdija and Yam Madar. Check it out:
---
You're a Funny Guy...
Tomorrow marks the 30th anniversary of the release of Goodfellas.
I'm not 100 percent sure I consider it my favorite movie - Lost in Translation, Terminator 2, A Few Good Men and Logan are all part of that conversation - but it's certainly the movie I've watched the most, which should surprise absolutely no one considering my Staten Island roots. It's also the movie I've spent the most time thinking about over the years, in regard to what it says about power, tradition, masculinity, excess, relationships, and of course, being Italian.
So naturally, to commemorate this anniversary, I'm going to connect my love of Goodfellas to the team I've spent the most time thinking about, the New York Knicks.
I present to you…
The Top 10 Knicks 2020 Offseason Storylines,
Goodfellas
Edition
10. As far back as I can remember, I always wanted to be a gangster.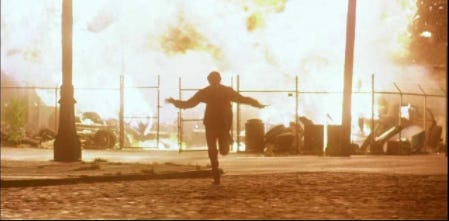 Tom Thibodeau has called the Knicks head coaching position his dream job.
He's not the first, and if history/the fate of Henry Hill is any indication, he certainly won't be the last.
But for as measured as I've been about Thibodeau's hire, I think all Knicks fans have every excuse to be totally, completely, irrationally excited about this move.
Did Henry Hill ever spend time dwelling on the pitfalls of life in the mob? Heck no. Why? Two reasons:
He was having way too much fun.

He was so wrapped up in the day to day life of a mobster that he didn't have time.
Likewise, Thibs eats, breaths, walks, talks and shits basketball. Life working for James Dolan may not be perfect, but when you're in the thick of it like Thibs is, with his irrational love of the challenge that comes with molding this team, it won't matter.
He was born for this.
9. Never rat on your friends and always keep your mouth shut.

Steve Mills has been out of a job (at least in basketball ops) for over seven months now.
In that time, we've heard a surprisingly small amount of chatter regarding how much he was to blame for the team's woes over the last several years. Even with Mills remaining on the MSG board, it would have been incredibly easy to star pouring dirt on his grave once Scott Perry was retained. Thus far, it hasn't really happened (although it was interesting that Marc Berman noted this week that Mills was the one against a Chris Paul trade last summer).
Leaks, politics and finger-pointing have always been problems at MSG. From everything I've heard, the internal culture has changed significantly since Leon Rose came aboard and started reshaping the basketball ops staff. Lets see if it continues.
(and yes, I realize the inherent contradiction in the last paragraph, but while team people may occasionally speak to outsiders - like me - about players of interest, I get the sense that the key decision makers are being incredibly tight-lipped, and that there is an overall greater sense of positivity within those walls)
8. I'm gonna go get the papers, get the papers.
The 2019-20 New York Knicks:
Everyone: We heard you the first time
(did I do that correctly?)
I've been spending a lot of time - too much time, you, sane person, might argue - thinking about all the ways the Knicks can adjust to make next season more palatable than the last one. And there are so, so many ways the offseason could go, to the point that I could probably come up with a hundred different possible rotations for opening night 2020 and none of them would be out of the realm of possibility.
(I'm not actually going to do this. Even my insanity has limits)
You know what the crazy part is though? Short of dealing a young player for peanuts or including a future unprotected pick in a trade, there's almost no scenario I can imagine that really gets me that upset. Wildly overpay for Fred VanVleet? At least he's good. Acquire a 35-year-old Chris Paul? Dude just made All-NBA 2nd team. Draft a flawed prospect like Obi or Cole? Our development staff is here to get them right.
As long as they don't run back the same mishigas, I'm fine.
7. I'm funny how, I mean funny like I'm a clown? I amuse you? I make you laugh? I'm here to fuckin' amuse
you
? Waddya mean "funny"? Funny how?
How am I funny
?
I had you going there for a hot minute…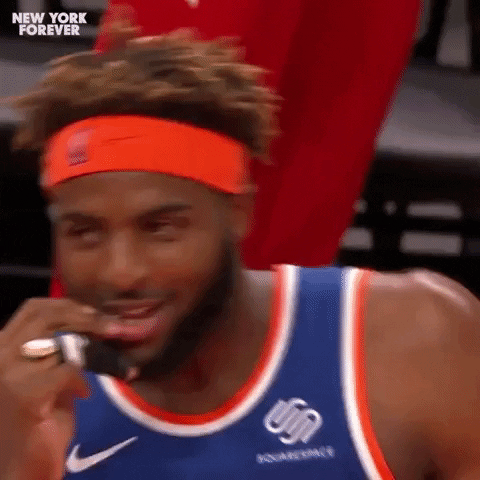 There are absolutely some theoretically sound reasons for entertaining the notion of a Mitch trade before his next contract, but to anyone who thinks it is actually a good idea to move on from the true heir to Patrick Ewing's throne, I'll borrow a Joe Pesci line from a different early 90's classic:
I'm sorry I scared you there for a bit.
No, the Knicks shouldn't be shopping Mitch; they should be planning their future around him. That's what you do when have a guy who is single handedly capable of propping up a defense from dreadful to respectable, and with some decent surrounding pieces, is downright uncharitable to opponents. Check out the on / off defensive rating splits from the five guys who played with Robinson the most last year, courtesy of Cleaning the Glass:
Do I look like a clown to you? He's not going anywhere.
6. To me, it meant being somebody in a neighborhood full of nobodies.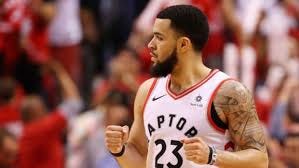 New York City isn't traditionally thought of as a town for nobodies, but on the court, that's exactly what it's been for some time now.
Over the last 19 years, five players have made the All-Star team while wearing a Knick uniform, totaling 10 appearances in all. The Lakers, meanwhile, have had 7 & 26. The Hawks had 7 & 18. The freaking Wizards had 6 & 16. The Minnesota "we've somehow won fewer games than you guys this century" Timberwolves had 6 & 14.
People talk about the pressure of playing in New York and under the bright lights of MSG, but if ever there was a guy who should want to come here and take on that burden, it's Fred VanVleet.
In Toronto, he was the sixth man on a championship team who became the third banana on squad that got knocked out in the second round. In Atlanta or Phoenix, he'll be second fiddle to one of the league's young stars. In Detroit, he'll be…in fucking Detroit (where I hear the egg noodles and ketchup isn't even that good).
Meanwhile, one All-Star birth in New York, coming off of last season, and he'll be beloved till the end of time.
Come be Somebody, Fred. You know you want to.
5. Now Go Home & Get Your
Fuckin' Shinebox
!
I don't dislike Julius Randle.
I promise, I really don't. I don't even hold it against him that he was the lowest of low talkers for every postgame interview, to the point that you might as well put your recorder away unless you could get it three inches away from his face.
Really man…I got nothin' but love for you.
But sometimes, you gotta know your place in the world. And even on this team, where the talent level is low and the need for buckets is high, Julius Randle has to know his role.
If he's here to start the season, that means none of the bullshit was saw last year. No more spins. No more attacking double teams. No more long twos (11 percent of his shot diet - a high number for a big - despite a 39 percent conversion rate). No more half-assed close outs from the paint. No more falling asleep off ball. No more impersonating a gargoyle when he doesn't have the rock. No more of any of it.
And if he doesn't listen, well…Leon Rose can make him a made guy, and then promptly whack him in a spare room on the side of the house.
(i.e., trade him to Minnesota)
4. You wasted
eight fuckin' aprons
on that guy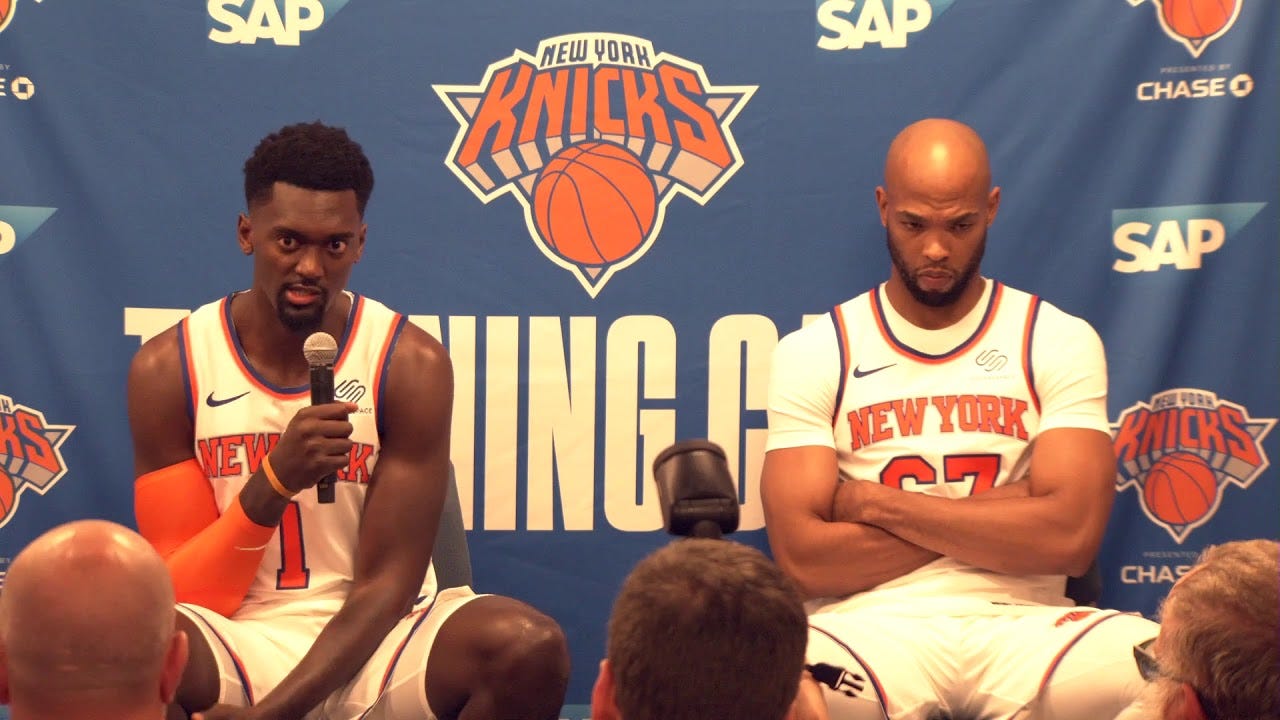 Every time I pipe up and criticize the KP trade, a few people always chime in remind me of all the cap space the Knicks got from that deal, both for last offseason and the upcoming one.
Well last summer, Steve Mills and Scott Perry turned $77 million into Julius Randle, Bobby Portis, Marcus Morris, Taj Gibson, Elfrid Payton, Wayne Ellington and Reggie Bullock.
Perry has since flipped Morris for Moe Harkless, the 27th pick and Detroit's 2021 second rounder. That's a good start, but still…I'd rather have my aprons back.
Moving forward, Bullock (barely) looks like a value contract for next season. Randle feels like he could be used as an outgoing asset in a salary dump trade, but it's unclear whether such a deal will materialize, and if it doesn't, there's a very clear basketball reason (this thing called spacing I've heard of recently) to move him to the bench, thus further depreciating any value he has left. All the other guys will be waived or moved as salary flotsam.
There's still time left for redemption though. Let's not waste any more aprons, shall we?
3. I'm an average nobody. I get to live the rest of my life like a schnook.

I know this doesn't have anything to do with the Knicks. I just thought it was funny.
2. Whenever we needed money, we'd rob the airport. To us, it was better than Citibank.
For most of the last 20 years, the Knicks have been easier to rob than the airport. You didn't even have to pretend that someone else stole something; they were willing participants in the larceny.
It could be agents stealing money, opposing GM's stealing players, better coaches stealing wins…there was no limit. As a result, we've become the absolute laughing stock of the league, if not the entire sports world. Players from other teams chuckle at our lottery misfortune. Opposing tacticians pity our fired head coaches. Nets Daily…is an old man who's probably just looking for his cheese.
Still, things have gotten bad, and they've been bad for far…too…goddamn…long.
Which leads me to…
1. One day some of the kids from the neighborhood carried my mother's groceries all the way home. You know why? It was outta
respect
.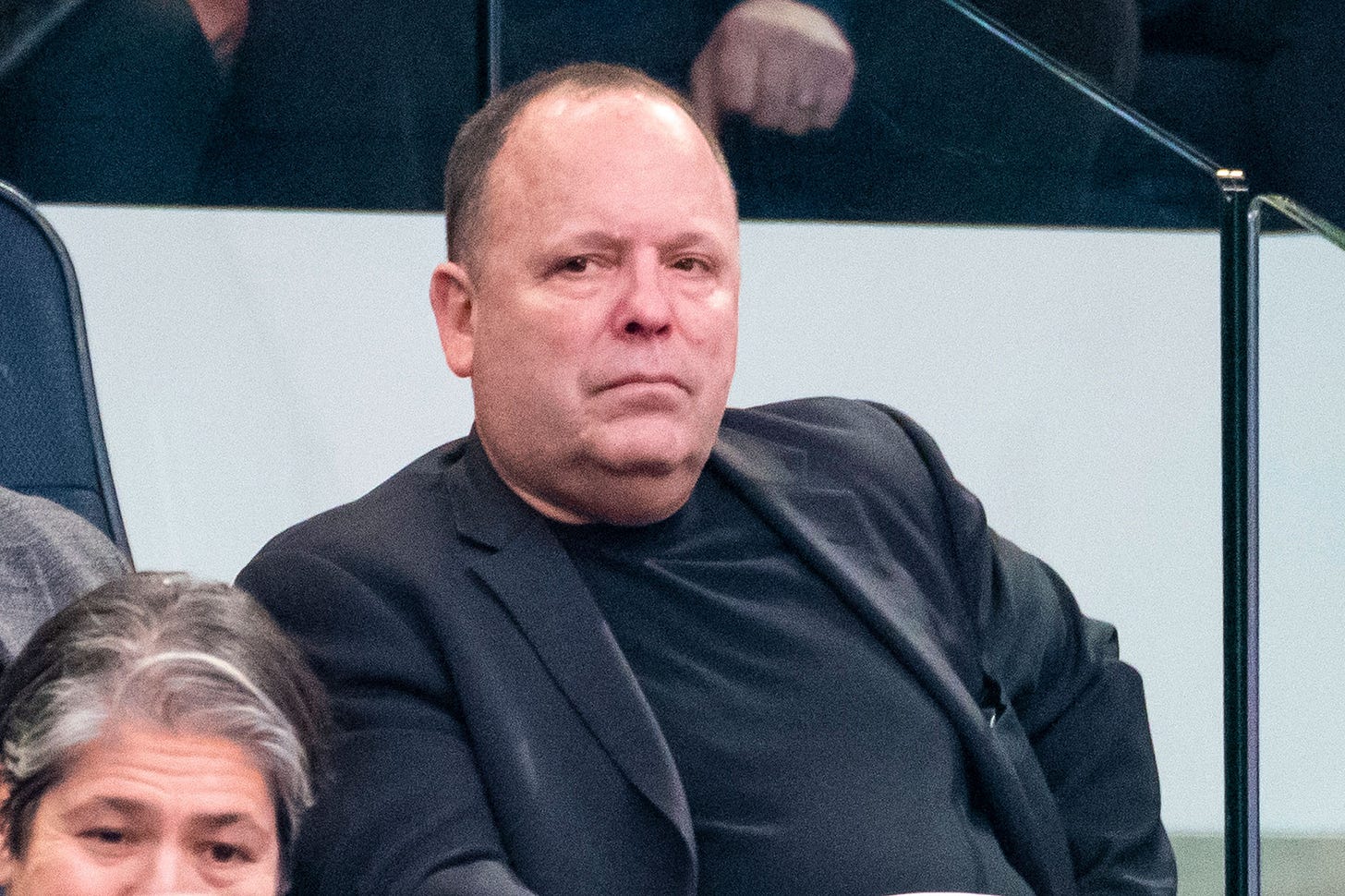 Since Leon Rose has come aboard, there's been cautious optimism amongst Knick fans and polite skepticism around the rest of the league. He's never done this job, after all, and regardless of who else he brings in to help him, the buck stops at his door.
At this point, we have no clue as to whether he'll be able to successfully translate decades' worth of success as a power agent into running a competent basketball team, let alone a competitive one.
But with the exception of Donnie Walsh, the lead executives the Knicks have had since James Dolan inherited the team have largely been laughingstocks. Isiah tried to shovel his way out of quicksand. Steve Mills was a businessman running a basketball team, and everyone in the NBA knew it. Phil Jackson pissed a lot of folks off over his two-plus decades as coach, and made even fewer friends when he came here.
Leon Rose is none of the above. He commands the respect of the league because he has earned the trust of the league. And from everything I've heard, he has the full trust of the Knicks basketball operations people as well.
But for all Leon Rose can do behind the scenes, the Knicks still need someone to do it on the court.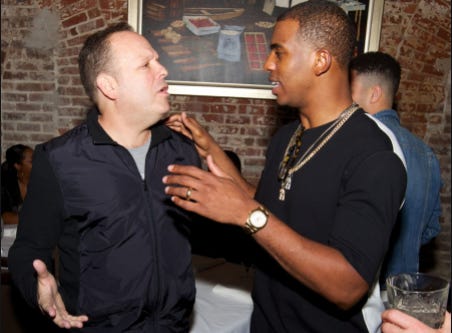 Since the possibility was first raised months ago, I've been on the fence about Chris Paul. There is, without question, a longer list of reasons to look elsewhere than there is for Rose to make him his first major acquisition. Age. Injury-risk. Lottery odds. Cap space. Opportunity cost. And that's all before we get to what Sam Presti would want for him.
But for as much as it's tempting to look at the pursuit of Paul as Same Old Knicks, to do so would be to ignore the harshest reality of the penultimate quote here. Of all that was stolen from us over the last two decades, the biggest heist was simple: our pride.
The Knicks have no pride left as an organization, and that is a tough, tough thing to get back once its gone. Yes, getting Cade Cunningham might restore it, or maybe another of 2021's best prospects. But as the cavalcade of top-three disappointments over the years proves, the draft is anything but a surety, and that's even if you can get lucky on lotto night.
Chris Paul creates his own luck. The moment he arrives, if he arrives, everything changes in an instant. It starts with carrying groceries (internal improvement), continues with a front row seat at the Copa (winning some games), and culminates in enough cocaine to make Frosty blush (2021 free agent meetings).
Will it end in witness protection? Jail? Or being found hanging on the inside of a meat freezer?
Those are questions for another day. For right now, all we need is a little respect.
And maybe a fur coat or three.
Happy weekend everyone. See you with another edition on Tuesday. #BlackLivesMatter