A Trip Down the Rabbit Hole
Join me, if you dare, on a statistical deep dive into the Knicks hidden lineup that could have ruled the NBA.
News & Notes
Marc Berman reported yesterday that Cole Anthony is pretty far down the Knicks' draft board, and that according to a source, not only would they not take him at eight, but probably not if they traded down into the mid-teens either.

I reported last month that the Knicks were doing their homework on Cole, but that he was in a tier lower than the other guys they were looking at. Yesterday we also heard from Hornets reporter Rick Bonnell that Anthony might go in the 20's, and from Jonathan Wasserman, who spoke to an exec that had Cole at 35.

Maybe this is all pre-draft smoke, but I doubt it.
Listen Up!
On today's episode I was joined by the Knicks super fan, Greg Armstrong. We talked about nearly a half-century of Knicks fandom, 27 of which have been spent as a proud season ticket holder. Listen here or subscribe anywhere fine podcasts are found.
Ask Macri
I was included on a few threads mentioning the following fake trades, so I figure I'll take a second to comment on both…
This is certainly fair value (although Bleacher Report really needs to start hiring people who know the nuances of the cap and the NBA teams they write about. Gibson's salary doesn't need to be included for this deal to work if it's held off until the next league year, and Boston has about as much interest in paying Taj Gibson $10 million next season as I do investing in a Brooklyn Nets Kyrie Irving shersey).
I'd still pass though. From what we've heard, late firsts could be for sale in this draft, and even if they are, I'm dubious that the Knicks want to roster four rookies. I know the Celtics really like Langford, and I'd trust the Knicks scouting staff if they thought he had the goods, but the guy showed nothing last season that would make me think he's a potential core piece.
This one had people in their feelings. A few thought:
Same as the Taj thing above, if the Knicks and Thunder waited until the new league year, Bobby and Elf don't need to be in here, and unless Sam Presti is drunk, I'm not sure why he'd have any interest in paying Portis $15 million next season, let alone Payton $8 million when he has both SGA and Schroder.

Yes, this is a lot to give up, and based on everything I've heard, no, the Knicks would not give up both Knox and Frank and a future first, even if it is one of the Mavericks picks.

That said, people acting like this trade proposal is some sort of war crime need to check themselves. The Knicks would be getting a guy who just made the All-NBA 2nd Team for one young player who's played like a G-Leaguer for two seasons, another that is still a jump shot away from helping a good team, and a pick that will probably fall into the end of the first round.
Would I do this trade? No. But if you put aside your feelings about the wisdom of the Knicks trading for an older player, acting like this isn't fair value, even at Paul's bloated salary, is nuts.
---
A Trip Down the Rabbit Hole
Coming off yesterday's column about players who could help the Knicks achieve Tom Thibodeau's innermost coaching desires, I decided to do some digging. Specifically, I wanted to see if I could draw any conclusions about which Knick players or lineups excelled at any of the five things he named: defense, rebounding, low turnovers, sharing the ball, and corner threes.
I do these mostly blind dives rather often, especially when I don't have anything obvious to write about in this space. Usually, my trips down the rabbit hole lead to some revelation or another that will spur my thinking in a particular direction or give me a specific angle, and voilà: column.
Today though, I thought I'd take a different route: I want you to come along with me for the journey into Wonderland rather than just showing up for the tea party. Let's get lost in some numbers, shall we?
Things started innocently enough. I checked on who, if anyone, had a discernible impact on how many corner threes the Knicks shot. The answer took me a bit by surprise, because the name atop the list was perhaps the worst shooting starting guard in the NBA: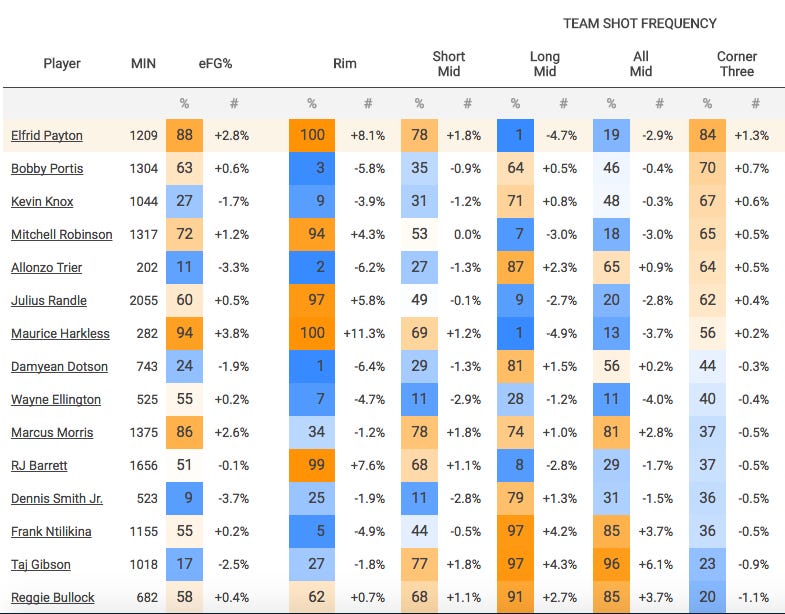 That's right…with Elf on the court, the Knicks (who have been 27th and 28th in frequency of corner threes over the last two seasons) took 1.3 percent more corner threes than when he was off, a differential that put him in the 84th percentile of the NBA according to Cleaning the Glass. Considering Payton himself took all of 11 corner threes last year, it was jarring at first.
It also made complete sense on second thought. Payton was, by a fair margin, the best floor general the team had last year, evinced by the fact that they scored 8.2 more points per 100 possessions when he played than when he didn't. That figure that ranked in the top five percent of such differentials league-wide…and it wasn't even his most impressive stat.
No, that would be how much more often the Knicks attempted shots at the rim when Payton played: 11.3 percent more, which was the best in all of basketball (again, h/t Cleaning the Glass).
It got me thinking: How many other players in the league played a decent number of minutes (I used 1000 as my bar) and finished in the top 25 percent of differentials for eFG%, rim frequency and corner three frequency? Here's the entire list:

LeBron, Luka, Lillard, Jumpin' Joe Ingles…and Elfrid Payton. Not terrible company.
The big difference, of course, is that column all the way to the right. The Knicks shot a bunch more corner threes with Payton on the court because he's much more of a drive and kick artist than either Frank or last year's version of DSJ. But what he adds there, he more than takes away in above the break threes, which New York shot 6.6 percent fewer of when Elf played - a number that was dead last in the NBA among players who played at least 1000 minutes.
That's part of the reason why even with Payton on the court, the Knicks were still barely a league average scoring team, at 111.4 points per 100 possessions, and why he'll likely be playing elsewhere next season.
As he probably should. The notion of continuing to run an offense with a point guard who teams don't respect from outside of 10 feet seems antithetical to everything about the way the sport is currently played. Threes are the name of the game, and if your lead ball-handler can't throw it in the ocean from the beach, well…that's not ideal.
But we also just saw Jimmy Butler run an offense in the NBA Finals and lead his team to a victory without ever attempting a shot from behind the arc. Elfrid Payton ain't no Jimmy Butler, but from a theoretical point of view, it got me thinking…and digging some more.
When I searched lineups featuring Payton and the other two Knicks who greatly increased New York's frequency at the rim and from the corners (Mitchell Robinson and Julius Randle) here's what I found:

You're not seeing things. During the not insignificant sample size of 813 possessions that Elf, Mitch and Julius shared the court, the Knicks essentially became the Milwaukee Bucks. When you threw in RJ Barrett (who did not have a kind effect on many lineups he touched this season at either end of the floor), the numbers dipped a little - mostly on defense - but they were still pretty damn good:

The truly impressive thing about the Elf-Mitch-Julius-RJ lineups is that they transformed the second-worst shooting team in the NBA into a better than average unit.
Best of all, they did it with a shot profile that looks a kid playing on a Nerf hoop:

That any NBA team could run out a lineup for over 500 possessions and have that lineup take nearly half of their shots at the rim (whereas the average NBA team takes about 35 percent of shots this close) is nothing short of absurd. I'm not sure what sport we were playing last year, but while those four dudes were on the court, it kinda worked.
What I was really wondering at this point though was how much better things got after Mike Miller took over for David Fizdale. Unfortunately Cleaning the Glass doesn't have a date filter, so I turned to NBA.com.
From December 7 on, the combo of Payton, Robinson, Barrett and Randle played a total of 213 minutes. Here's how they fared:

Peep that number at the end: a 56.3 effective field goal percentage. WOW! That number would have led the league by a comfortable margin had it been achieved over the course of a full season.
The foursome also got considerably stingier on defense, giving up only 102.6 points per 100 possessions, which would have finished second to the Bucks by a horn.
Even if we compare these four to other quartets with similarly small sample sizes, among 195 four-man units who played at least 200 minutes from December 7 on, New York's guys had the 57th ranked eFG%, 56th ranked offensive rating, and 31st ranked net rating (and all but a few of the foursomes ahead of them featured an All-Star). That's not half bad!
I was starting to wonder if maybe I had been too harsh on Elfrid, Julius, and yes, RJ, so I decided to check out other four-man lineups that had played at least 200 minutes from when Miller took over to see where else those three showed up: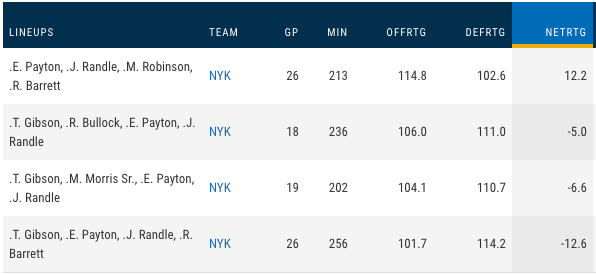 Oh I see where this is going.
Let's keep it at 200 minutes minimum, but change the search to three-man units, and rank these babies by net rating: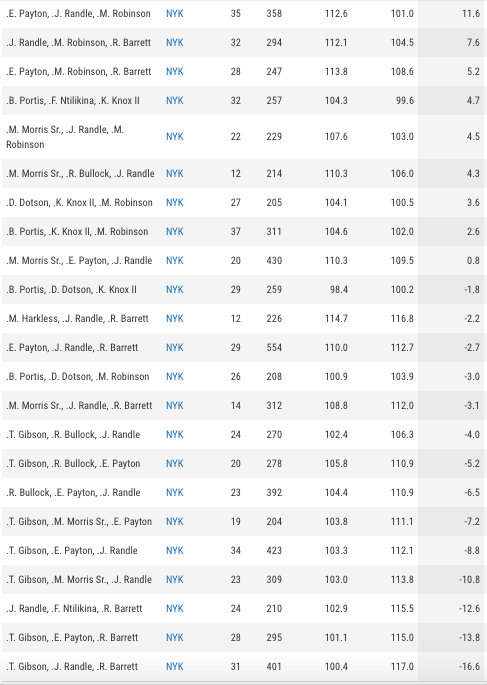 (Sorry if you just went blind…I should have told you the important part was coming up)
Now let's look and see how often each of Elf, Julius, RJ and Mitch appeared in each of these lineups (which are still sorted by best to worst net rating) to see who is really having the outsized impact: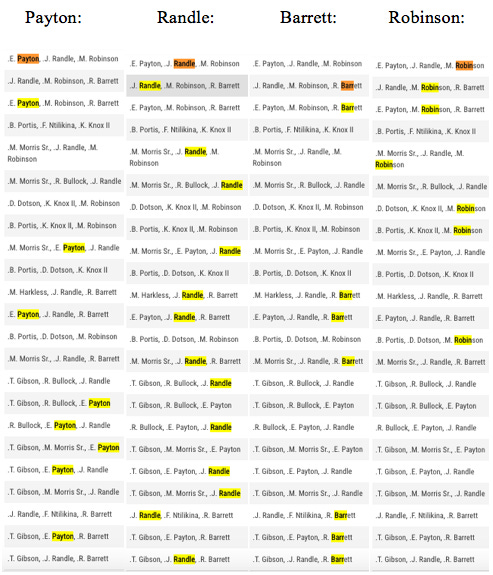 Doesn't take long to spot the outlier, huh?
And of course, on the opposite end of the spectrum (and it pains me to say this, because he can still help a team in the right role, is an awesome guy, and it's not his fault this franchise had him starting games at the damn age of 35) is Taj Gibson, who appeared in seven out of the worst nine lineups by net rating and six of the nine worst by offensive rating.
So, friends, what did we learn today? A few things:
I really need to get a life

Mitchell Robinson is really freaking good at basketball

I was going to put a crack in here about last season's Knicks analytics staff dressing up as a living human this Halloween, but I can't in good conscious put this all on them (and knowing what I know about how much Scott Perry values analytics, maybe not on them at all). I think Robinson preferring to come off the bench was a real thing. That said, less than five minutes per game for this lineup under Miller is beyond inexcusable. Even if Robinson didn't start, Leon Rose better hold the the person or people responsible for the paucity of playing time these four had together accountable.

It is possible to have a functional NBA offense with two complete non-shooters and two other shooters who defenses willingly leave open, assuming you make a concerted effort to shoot it within three feet of the hoop every other time down the court, and one of your players is a cross between a human jumping bean and Mr. Fantastic, and finally…

Holy hell am I curious to see what Mitch, RJ and Julius can do together with a point guard who has all of Elf's strengths and is capable of making more than 14 threes in a season.
And there you have it. Normally, this whole exercise would have been a precursor to me writing something about how Chris Paul really is the savior we need right now or why the Knicks need to do everything in their power to build around Mitchell Robinson, but you can use your imagination for what those would say.
(Plus I'm sure I'll need fodder for the next six weeks until the draft)
For now, I hope you enjoyed today's journey, and if you go on any fun deep dives yourself, as always, feel free to hit me up at KFSMailbag@gmail.com to let me know about it.
See ya'll on the flip side.
That's it for today! Barring any breaking news, the next newsletter will be on Tuesday, as I'll be chilling with the fam for the long weekend. See you then! #BlackLivesMatter #VOTE