Coming to Grips, Part 2
There's a lot to be excited about with RJ Barrett. But he also has a lot of work to do. Let's take a look at what those areas are, and how New York can help him succeed.
ICYMI, yesterday was Part 1 of an RJ Barrett deep dive where I explored his efficiency, defense & long-distance shooting, and made some historical comparisons based on the available evidence. Today, we're going to get into the film and look at maybe the biggest deciding factor in the type of player RJ becomes: his finishing, and just as importantly, what he can/can't and should/shouldn't do to achieve optimal efficiency.
Also, programming note: I'll have some thoughts on the Kenny Payne hire in the next couple days, but in an effort to talk less out of my ass - a new year's commitment I make every January 1 and have yet to nail - I found the two people in the media who know more about Payne (and in one case, know Payne personally) than anyone. I'll have my conversations with both on the next episode of the KFS Podcast dropping tomorrow. Feel free to subscribe :)
When RJ Barrett entered the NBA as a 6'6", 210 lb freight train, the vision was simple:
When surrounded by shooting, at his size, he'd be able to bully smaller guards off the dribble and get to the hole for easy buckets.
And on occasion, we saw exactly that:
On the surface, this is good; he scored, after all. Jeremy Lamb, weighing in at 6'5", 185, pushed RJ off his path a little, but not enough to prevent the basket.
But looking at this clip again, there are a red flags that were emblematic of Barrett's struggles last year.
For one, Barrett starts off by trying to put the moves on Lamb…and promptly gets nowhere. His handle rarely, if ever, fooled anyone.
After that, Barrett goes into his move, and we see the second major issue: his lack of burst. Instead, Barrett kind of…plods his way to the hoop. He takes these big loping gallops as he gathers the ball into the position he needs to put up the shot.
I've seen Knicks fans compare Barrett to another non-elite athlete, James Harden, on occasion. Putting aside his lack of range, comparing RJ's drives - which are occasionally stiffer than cardboard - to Harden's velvety smoothness is like putting non-fat Greek yogurt up against the Stracciatella from Grom.
This is, I want to be clear, no shade on RJ. Harden is one of the 10 best scorers to ever live.
But again, building on yesterday's theme, tossing around Barrett's name with the best of the best because you can squint your mind's eye just so and the silhouettes appear vaguely similar, well…that's just not helping get a real idea of what he is as a player.
Back to the above clip. There's nothing about Barrett's layup that's easy…he has to fully extend to avoid the outstretched arm of Lamb (who he never shook on the drive) and then put some English on the shot to get it home.
Add it all together, and it's unsurprising that Barrett makes the list below, courtesy of Cleaning the Glass: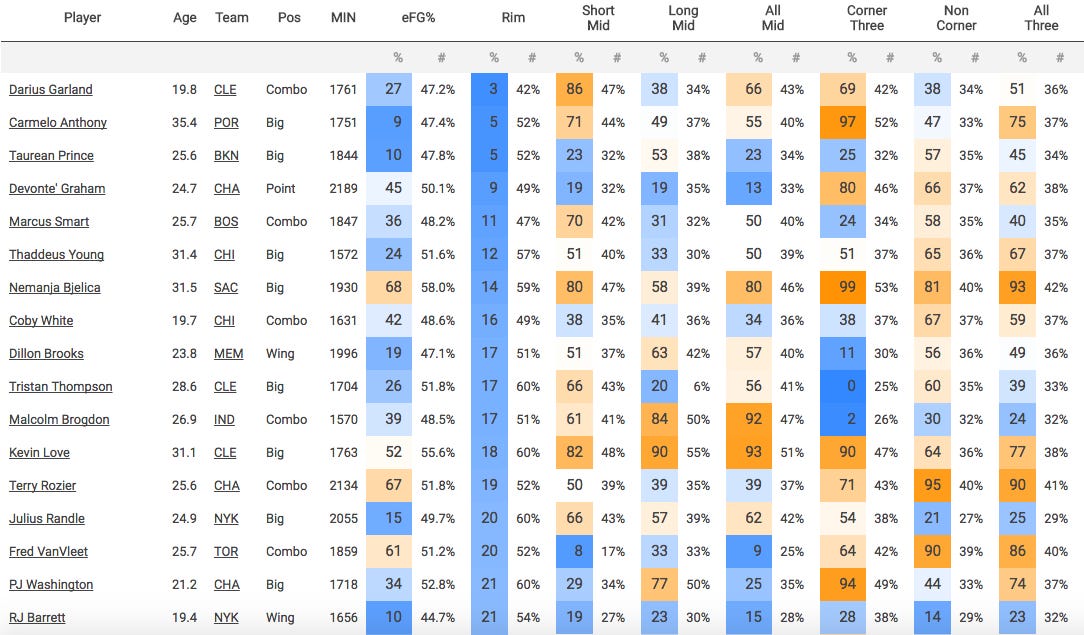 These are the worst shooters in the league at the rim (minimum of 1500 minutes played) based on where they rank against others who play the same position.
Barrett's 54 percent around the rim, compared against other wings, ranked him in the 21st percentile of the NBA. As if that wasn't bad enough on its own, with the exception of Coby White and Taurean Prince, all of the other players down here with him have at least three other areas of the court where they achieved league-average efficiency or higher (yes, even Julius Randle!). Even White and Prince are above league average in two areas.
Barrett not only didn't achieve at least league average efficiency in any area of the court, but he wasn't close. The nearest he came was his shooting from the corners, where he was better than a little more than a quarter of the NBA's wings.
This, as you might imagine, is the kind of thing All-Rookie voters might have been paying attention to when they left him off their final ballots, and why many non-Knick fans scoff at the notion of Barrett as some kind of surefire foundational piece.
It Ain't All Bad
Now that I've gotten everyone sufficiently pissed off, let's turn to some reasons for hope.
For one, four of the other bottom 21 players in rim efficiency are also top-12 picks from this year's draft (DeAndre Hunter, not pictured on the chart above, is 21st from the bottom). Rookies aren't usually good at navigating the paint, and Barrett is the youngest of the group.
More importantly, Barrett got to the rim a ton - not just for a rookie, but for everyone in the whole damn league. Check out the players who joined him atop the rim frequency standings (again, minimum of 1500 minutes played) and it's easy to see that he was in some pretty elite company: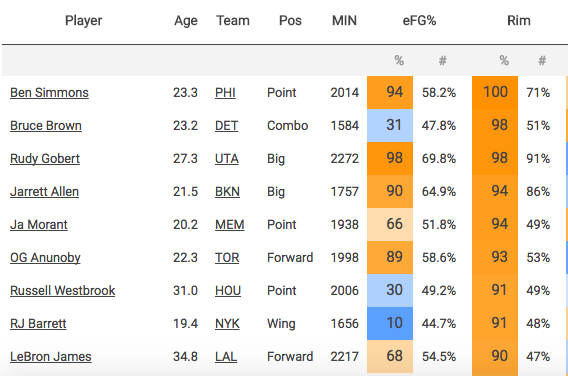 The fact that RJ was abysmal in the restricted areas wasn't as significant as it could have been thanks to how often he made the paint his home turf.
The last good sign here is that Barrett got fouled more than a decent amount. Again, among players who played at least 1500 minutes, this isn't a bad group to find yourself in: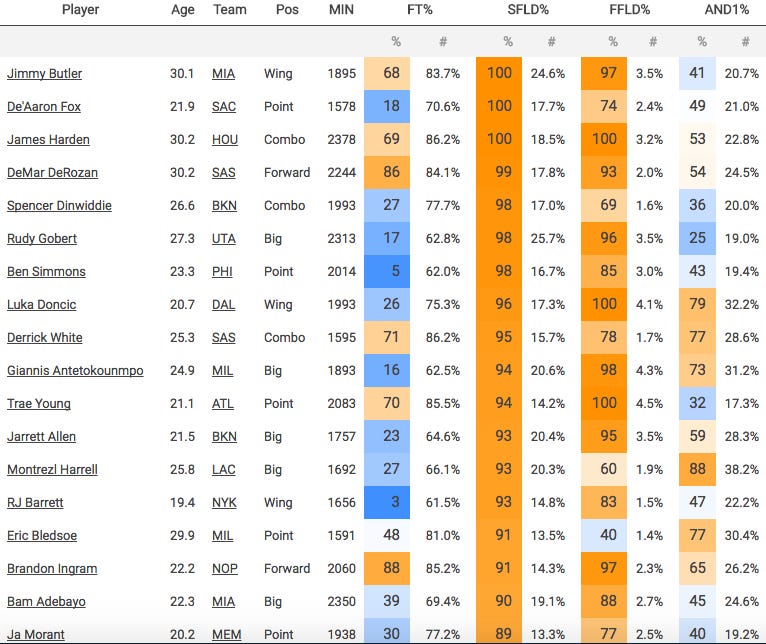 Every other player on this list with the exception of Jarrett Allen and maybe Montrezl Harrell & Derrick White is someone who has already made an All-Star team or you'd bank on making one at some point in their career. Barrett, of course, was the only teenager on both of the last two charts.
So in addition to plus passing at his size, we have:
high frequency of shots at the rim

a ton of free throws, and from yesterday's column…

a high number of self-generated looks
These are good signs to offset some of the horrendous shooting numbers we saw yesterday and that we started with today. But it's still not enough quash concerns about Barrett's long term ceiling. Even if we make him a league-average 3-point shooter and project his long term free throw percentage at something around 70-72 percent (neither an unreasonable request), living in the paint and getting to the line can only get him so far. If he really wants to make me eat my words and shut the eff up, he needs to be more efficient around the basket.
This comes down to figuring out two things:
what should he improve, and

what situation does he need to be in (aside from being surrounded by shooting - duh)
These questions (like many, many team-building inquiries throughout the NBA) are intimately tied together. Why is that? Simple: if RJ profiles better as a three or a four, he'll have to work more on his initial move, handle, first step and overall burst to get a step on the larger bodies who he won't be dislodged as easy as the Jeremy Lambs of the world.
If, on the other hand, he really is a shooting guard, then it comes down to bulking up even more (think Jimmy Butler, who lists at 230. RJ is somewhere around 215).
As always, the answer lies in the film.
This was the second 2-point basket of RJ's career, and it had everyone in New York doing a little tink tink in their jammie jams.
Derrick White - soon to be All-NBA caliber defender if he isn't already - wasn't quick enough to get in a position to draw the charge, and ended up as roadkill on Barrett's path to the basket.
On display are the two things that make RJ incredibly dangerous when he's going downhill with the ball: his understanding of angles and his footwork. The positioning of the screen allows Barrett to enter the paint at a 45 degree, which means his momentum keeps him going towards the hoop even after he bounces off White. Then after the contact, he plants, pivots, and redirects himself to the rim, all in one motion.
This is the shit you can't teach that should have everyone feeling hopeful. Unfortunately, we saw about as much of this as we did…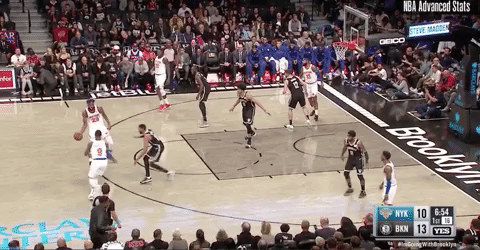 …this. Oh goodness.
For everyone who read yesterday's piece and what I've written so far today and repeatedly yelled "Spacing!!!" at their screen, while New York's lack of shooting was a problem to blame, it wasn't the problem. There were, on average, a few times per game where Barrett would be in situations like the above, where the only defenders near the play on an RJ drive were his man and whoever was guarding the roller.
You can't blame shitty spacing for the outcome here, folks. And outcomes like this - just sheer ugliness - happened a lot.
Now, good news: God willing, RJ's shot gets to a point (sooner rather than later, ideally) where he pulls up the moment anyone dares go under a screen on him.
But that didn't happen here. Instead, his man - 6'6", 194 lb Garrett Temple, a moderately sized shooting guard - slides his feet well, and has absolutely no issue keeping RJ on the outskirts of the lane, resulting into the garbage he tosses up.
Like this one, many of RJ's drives started at the top of the key last year, and when he went into a straight line drive, far more often than not, the defender would have no issue staying with him, regardless of whether or not there was a screen. Barrett wasn't able to use his physical advantage on smaller defenders because he didn't have an angle to do so and because he lacks straight line speed and/or a go-to move/elite handle.
That happened far less when RJ was positioned closer to the sideline:
This is as good a set up as you'll see for Barrett.
The strong side of the court is empty, so there's no help on the horizon, and the guy closest to being able to get in RJ's way is busy making sure Mitchell Robinson doesn't jump up to the rafters and come down with an alley-oop pass from his teammate.
We also see RJ's power on display. Carsen Edwards may be under six feet, but he's a girthy little troll. Barrett treats him like he's not even there.
Again: the angle is the key. RJ isn't attempting to use a move or his natural burst to get the step on Edwards. He just puts his shoulder down and let's his body do the rest.
Let's keep the good times rolling: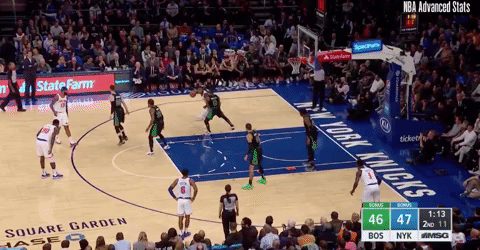 The Celtics tried to stick Kemba Walker on Barrett and hope that it wouldn't come back to bite them in the ass.
Big Mistake. Big. Huge!
Boston realizes the error of its ways and sends the double, but it's too late. Barrett already has position and uses his massive shoulder to send the mouse flying back towards the house. Even though he misses at first, the Knicks properly spaced the court for this possession and there's no one there to keep RJ from getting his own miss.
For reasons I'm not completely sure about, the Knicks only posted up Barrett 0.6 times per game last season despite the fact that he was incredibly efficient on post ups. According to stats.NBA.com, possessions that featured a Barrett post up netted 0.97 points per possession, which ranked in the 68th percentile league-wide.
Of those, only 0.4 per game resulted in a shot attempt, and Barrett shot 47.8 percent on such looks - again , not bad at all, but also a sign that he was a smart passer out of these spots.
If you're keeping track, we've now seen a lot of evidence to suggest that despite talking heads everywhere (including yours truly) suggesting that Barrett should play more at the three or the four, on offense at least, there are plenty of ways he can create advantages from one of the guard spots.
But what about when he's matched up against a big? Let's take a look
This is similar to the play against the Nets from above, except it's the opposite side of the lane and instead of a 6'6" wing, 6'10", 240 lb Maxi Kleber is in the way.
It doesn't go so well. Kleber is a good switch defender who can slide his feet, and when RJ attempts to use his shoulder to dislodge Mr. Kotex, he gets nowhere and puts up a terrible shot.
In fairness, there was neither an option to go middle nor lob it to Julius Randle, as our good friend from Latvia made sure to dispense with both possibilities. Better spacing and/or Mitch on the floor may have eliminated one or both of these issues.
Still, this is a situation that the best guards in the league dream of: matched up with a big galunk out on the three point line. Like earlier, the answer may be as simple as RJ getting more confident with his shot and playing with better shooters on the floor, but with the game on the line, he'll need to come up with better efforts than this.
Here's RJ trying to put the moves on Royce O'Neal.
O'Neal is kind of like a smaller PJ Tucker: a 6'4", 225 lb cinderblock of a human being who might be Utah's second shortest starter but functionally serves as their power forward in a lot of ways.
Here, RJ has the angle he's succeeded with against more traditionally-sized guards, but it gets him nowhere with O'Neal.
Let's now take another look at RJ at the top of the key against someone he can physically overmatch, except this time with a different result than he had against Garrett Temple above:
This is 6'4", 200 lb Austin Rivers doing whatever he can to prevent Barrett from getting to the hoop.
It's all for nought. The key, of course, is that RJ doesn't try to use his straight line speed to beat Rivers to the hoop off the dribble. Instead, he takes his time and uses his nifty footwork to get in a position where this is essentially a lay up. The spacing, not to mention the threat of a lob to Mitchell Robinson, is also key here.
I found dozens of more instances where Barrett used his size, strength and footwork (his spin move is going to become a real weapon in time) to get easy buckets on smaller dudes. The more experience he gets, the more he's going to take advantage of these situations. It's also worth noting that after the All-Star break, RJ's conversion rate around the hoop went up to 61 percent from 54 percent in those 11 games. That's still not great, but is a very encouraging sign.
So is that our answer? RJ is a two on offense, and for the time being he should get matched up against a slower player on the other end of the floor? Maybe, but when his shot comes around, the equation could change once again.
Here he is against the 6'10", 225 lb Davis Bertans: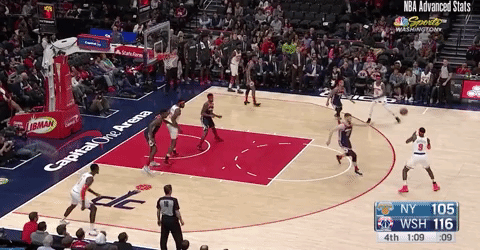 Bertans plays RJ as a threat to put it up behind the arc - a sign of respect not given to him often.
As a result, Barrett is able to get past his man and uses a nifty one-two step to get to the other side of the hoop and avoid the outstretched arms of Bertans.
So I guess the premise of yesterday's newsletter was right after all: with RJ, it really does come down to the shooting. Also, as we've seen with the film, shiftiness in the paint and finishing are the other areas of his game that need the most work.
Oh, hey, wouldn't you know…
If Drew Hanlen can work his magic and RJ is the type of worker he appears to be, perhaps next year we won't see a player whose success is largely dictated by matchups, angles and proper spacing.
Instead, we might see the guy many Knick fans already project RJ to be: a legitimate franchise centerpiece - one who might be missing the elite athleticism or freakish physical gifts of Zion or Ja, but nonetheless is able to use his unique combination of size, strength and savvy (not to mention playmaking, as I wrote about a few months ago, and is a massive part of Barrett's ceiling as a player) to become a matchup nightmare for opposing teams.
Can he do it? As much as I may have come across as pessimistic the last two days, I say yes. The kid wants to be great, and seems to be willing to put in the work to make it happen. Thibs is perhaps his ideal coach - the ultimate stickler, and someone who will force RJ to eliminate the sloppy, unnecessary inefficiencies from his game - and I wouldn't be surprised if we saw their kinship in action early and often.
So no, I wouldn't trade RJ for Tyler Herro, or anyone else in this draft class not named Ja or Zion. He may not be as much of a known quantity as a few other rookies who had better years, but I'm betting on the impeccable work ethic and character. The signs are there for uptick coming sooner rather than later.
And God knows for Knicks fans who have been waiting decades, the sooner, the better.
That's all she wrote on RJ! Thanks for sticking with these babies all the way through. #BlackLivesMatter