Coming Up Roses
More star chasing? Jeremy Cohen explains why everything old will be new again (again) for Leon Rose.
Yesterday, I took a look at the contract situations of the league's very best players and asked whether or not maintaining cap flexibility beyond this offseason was truly a necessity for the Knicks. Today, in Part 2 of his cap series, Jeremy Cohen takes a different route and argues why the Knicks will indeed want to stay as cap flexible as possible, just how much space they can open up, and most importantly, what their grand plan entails.
Coming Up Roses - Part 1
With no basketball being played and a new salary cap figure incoming, there's nothing we can discuss about the present and we have trouble accurately gauging what the near future looks like. And seeing as how Leon Rose hasn't said anything to give us an indication of what New York will do next, we're left speculating.
Last week I provided the blueprint for what I hope to explore over the course of this series. The goal is to evaluate multiple short term and long term scenarios involving the Knicks, albeit with fluctuating finances due to that pesky salary cap.
Here's what salary cap enthusiast Albert Nahmad tweeted regarding the 2020 salary cap, and what SNY's Ian Begley then kindly re-formatted for public consumption in a recent article:
"The 2020-21 salary cap could be at substantial risk if a there is a severe revenue drop this season and player salaries are not withheld — each $100 million drop by about $1.5 million, and, once you hit $400 million, each additional $100 million drop by $3.2 million. Which would mean a $500 million drop in revenue could potentially lower the 2020-21 salary cap by a bit over $9 million, to $105 million. A $750 million drop could lower it by $17 million, to $97 million. At $1.0 billion, it drops to $89 million. At $1.2 billion, $83 million. That could wind up being a disaster for the NBA, its member teams, and a whole lot of players."
So while all that impacts what summer 2021 will look like with the NBA's free agent landscape, what does it mean for summer 2020? In order for 2020 to be functional, we must consider 2021. Why? Because the front office will.
This is the scenario where the Knicks go big game hunting once again.
I refuse to believe that James Dolan brought Leon Rose in to grow the team like any small market team would. Sixteen of the last 19 seasons have ended in a sub-.500 record for the Knicks. Dolan is subject to the smattering of boos, forced to listen to fans yell for him to sell the team, both of which occur in the very building he owns.
The one thing we've frequently read and heard about Leon Rose is his connections to NBA stars. My sense is that, in Dolan's mind, Steve Mills' plan to land Kevin Durant and another max player in summer 2019 was a good one. First down.
What Dolan likely realized, however, was that Steve Mills wasn't important or qualified enough to get from the opponent's two-yard line to the end zone. Dolan went on The Michael Kay Show feeling very confident and was then made to look like a fool. Second down.
What's more, while there were likely other reasons to trade Kristaps Porzingis, the rumor that Porzingis reportedly didn't trust Mills to build a winning team is not a great reflection of the team's brass. And to top it all off, while he didn't trade future picks and we can debate whether or not Porzingis on a max contract is a wise investment, Mills kinda, sorta, went all-in on Durant and a buddy. Then Durant got injured and the plan went up in smoke. So the Knicks effectively went from up one star to down three stars in the span of five months. Third down.
If I had to guess, Dolan probably realized once the evening of June 30th rolled around that he'd need to replace Mills in the not so distant future. Then the Cavs game happened in November, dropping the Knicks to 2-8. Dolan forced Mills and Perry to speak to the media. Fourth down.
Finally, Mills tried to throw a Hail Mary by acquiring D'Angelo Russell and Dolan said no, effectively benching his quarterback and bringing in the punter instead. There was no going back at that point – Dolan let Mills go, Perry traded Marcus Morris for a future asset, and Dolan looked for Mills' replacement.
Dolan hired Rose, a power agent who, despite representing some of the biggest names in basketball, has zero front office experience. And Rose was going to hire "World Wide" Wes, who then likely backed out of the job because the parties involved realized the work he could do would be easier if he weren't a member of the New York Knicks.
Why? Tampering. You can't tamper if you don't officially work for the team. Additionally, it's been heavily rumored that Rose will go after a big name head coach like Tom Thibodeau. And although Rose likely didn't anticipate a global pandemic interrupting the season, he allegedly told current head coach Mike Miller "to play the guys he thought would win him games."
Rose hasn't officially hired anyone but it has also been reported by Stefan Bondy that the Knicks are a) interested in Elton Brand for the GM role and b) in talks with Brock Aller, who is a "capologist" for the Cleveland Cavaliers, to become the team's next assistant general manager. Aller was part of a front office that landed LeBron James, traded away Andrew Wiggins and Anthony Bennett for Kevin Love, and traded for JR Smith and Iman Shumpert. He also helped make other moves that aided in Cleveland's four-year run to the NBA Finals, although the overwhelming majority of credit goes to James, of course.
Dolan is turning 65 next month. Rose's birth year is 1961, meaning he'll be 59 before the year is over. If Thibodeau is brought in, it's important to remember that he's 62. It's hard to believe that the organization would want to be that patient when the most important parts of their brain trust are beginning to enter social security territory.
All of this seems plausible so far, yes?
Let's focus on this godforsaken year, 2020. The Knicks are set to be one of the few teams to have excess cap space. If New York doesn't enter 2020 free agency with the most cap space in the league, it likely means they've guaranteed a contract that they shouldn't have.
So while other teams are drowning in their own payroll, the Knicks can use their spending power to their own benefit. How could they use their money? There are several different avenues:
Sign starter(s) to overpaid, one-year contract(s)

Sign starter(s) to long term contract(s)

Go after restricted free agents

Take on salary dumps

Facilitate trades

All (or most) of the above
Expect the best players on the 2020 unrestricted free agent market to be Danilo Gallinari, Serge Ibaka, Fred VanVleet, Marcus Morris, and Christian Wood. With all due respect to these players, if they're the best of the bunch, you're looking at a remarkably weak free agency in regards to top end talent. They're capable second or third options but none of them will lead your team to anywhere near glory.
When you take everything into consideration with Rose and stars, one possibility is that the front office will follow a similar blueprint of building through the draft while staying financially flexible moving forward (AKA one-year deals), in the hopes of opening up two max spots in 2021.
Call it blasphemous if you want but there are only two stars worth signing in 2021 free agency: Giannis Antetokounmpo and Anthony Davis. The rest are either assuredly not leaving where they are, or are on/approaching the wrong side of 30.
Because of the expected drop in the projected 2020 salary cap, we could see two things:
Players with massive player options like Davis will either opt in, or opt out and sign a 1+1, whichever is greater; and

Antetokounmpo will turn down a supermax offer, which he likely would have done anyway
I suspect New York's plan would be to say to Antetokounmpo that prime Davis is the best player he'll ever play with, and they'll try to sell Davis on the idea that playing with Antetokounmpo in an equally massive market in the weaker conference is better than playing with James into his late-30s.
In fact, because I'm a nerd who is stuck indoors and has too much time on his hands, I created a SWOT Analysis.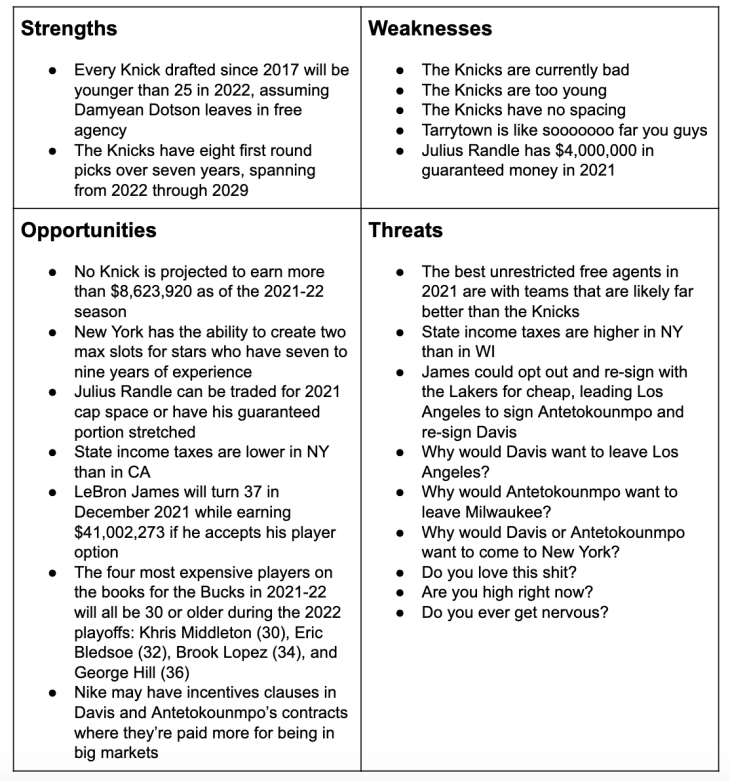 If you're unfamiliar with a SWOT Analysis, SWOT stands for "Strengths, Weaknesses, Opportunities, and Threats" and are what an organization faces. Strengths and Weaknesses are internal whereas Opportunities and Threats are external.
Whether you think it's a delusional plan or not is irrelevant. It obviously doesn't mean anything will come to fruition but I'm fairly confident that this is, at the very least, a highly considered plan. And sure, when you look at where the Knicks are at currently, it's like being down five runs in the bottom of the ninth with no runners on base and looking for the long ball. Your odds of victory are remarkably slim but it ain't over until the fat lady sings.
It's a different situation but just ask the 2018-19 Brooklyn Nets how they pulled off landing two superstars. Did it help that Kyrie Irving grew up a Nets fan? Absolutely, but they made the playoffs and their brand was revitalized as a result of it.
This is why I'm a bit skeptical that the Knicks' main goal will be to take on effectively dead money in a salary dump during 2020 free agency. Instead, they could look to sign two 2020 free agents to massive one-year overpays simply because they can. Perhaps if they fail to sign those types of players, they explore at least one salary dump.
On top of that, I asked Begley on Twitter what the odds of Carmelo Anthony returning to New York are and he believes there's an 80-85% chance of it happening. So you'd be looking at a playoff-hopeful thanks to two well-paid, high-quality starters, and also Anthony playing a secondary role, looking to make the playoffs, all while trying to enhance New York's reputation in two ways: 1) they're not the laughing stock of the league anymore and 2) who better to speak on how special being a Knick is than the man who resurrected his career after a one-year layoff and came back home?
If you looked at the SWOT Analysis and have read this far, you're probably curious about the most important question: How could the Knicks even afford two stars?
What we have a tenable grasp on is that the salary cap is unlikely to increase to $115,000,000 next year. If it will go down (and if so, by exactly how much) are up for debate.
Let's assume that a) Davis and Antetokounmpo do hit free agency at the same time in 2021 and b) the Knicks have signed two of the 2020 free agents listed earlier, each to a one-year overpay. Below is what New York's payroll for 2021 currently looks like, assuming those two players' cap holds were waived.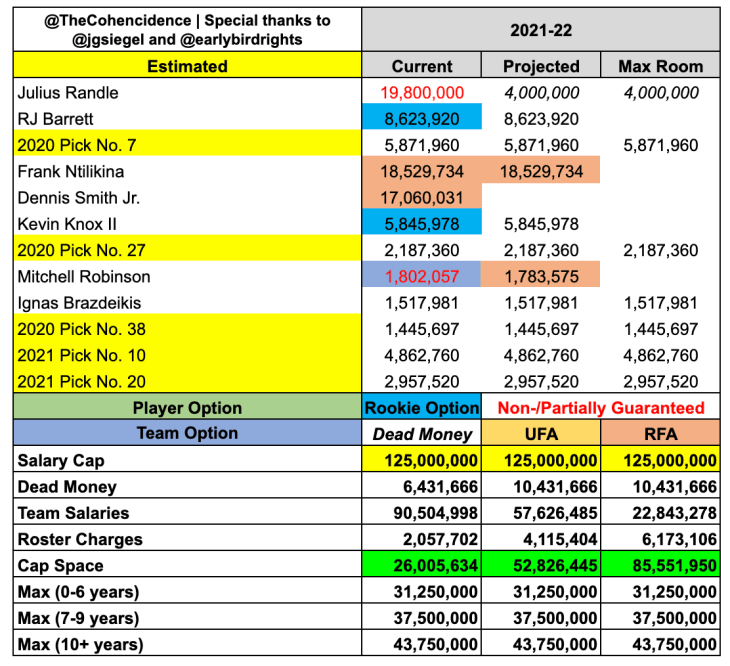 If the salary cap is still $125,000,000 in 2021, the max salaries for players with seven to nine years of experience (Antetokounmpo and Davis) are 30% of the salary cap. This means their contracts would start at $37,500,000. Two max contracts would equal $75,000,000. So we need the projected cap space to be at least $75,000,000.
The first step would be a) trading Randle for an expiring salary in 2021 or trading him into cap space during the 2021 off-season; or b) stretching Randle's salary.
The below image is if the Knicks use option A.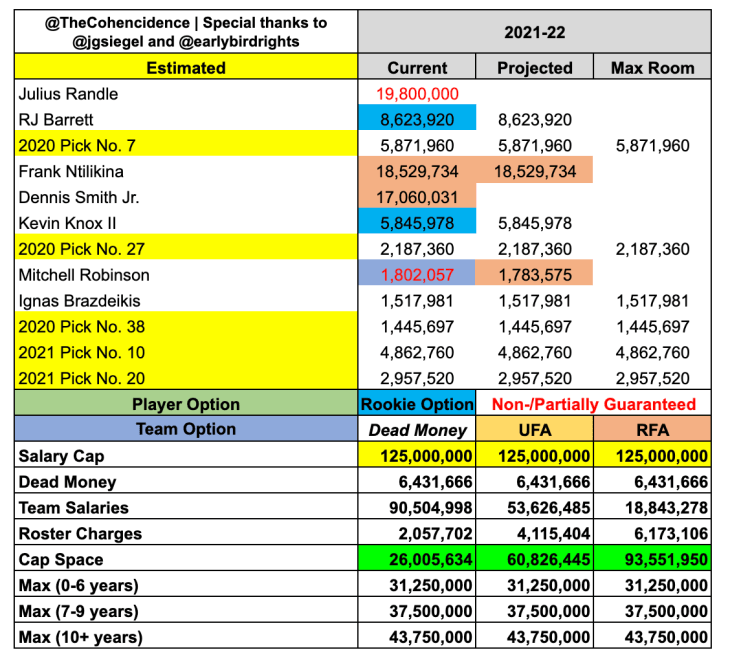 The Knicks instantly wiped away $4,000,000 in dead salary by doing this. And here's option B, if Randle's salary were stretched.
I don't think I need to tell you why having that extra $2,666,667 is important when every dollar counts. So shipping out Randle without taking on 2021 money is imperative to the proposed plan. Now, how could we get the remaining $14,173,555?
The easiest answer is renouncing Frank Ntilikina's cap hold. That's a move that wouldn't need to be done unless an agreement with both stars is already in place.
What if the Knicks want to keep Ntilikina though? Isn't there a way they can move money around?
Why yes, there's always money in the banana stand.
So the Knicks have a commitment from two stars eligible to earn 30% max salaries and want to keep Ntilikina. The easiest way to trim the fat would be trading Kevin Knox.
Like with Randle, the Knicks would either need to trade Knox for expiring 2021 salary or trade him in 2021 without taking anything back.
If the Knicks traded Knox, they would have enough money to sign Ntilikina for up to $10,202,157. New York could then use its remaining cap space to sign the two stars. It would have to be in that order as Ntilikina's cap hold is too large to sign the two stars prior.
Or if the Knicks wanted to sign someone not named Ntilikina, they could waive Ntilikina's cap hold and sign that other player for up to $10,202,157. I recognize not everyone likes Ntilikina, so I want to point out another player (or multiple players) could sign for up that number as well.
New York could then go over the salary cap to re-sign Mitchell Robinson. You could argue the team should look to deal Robinson in that case but the Lakers were doing just fine with Davis, James, and Javale McGee, for example.
And lastly, for extra shits and giggles, let's presume that the Knicks just make the playoffs, the Mavericks miss the playoffs because of injuries, and Dallas wins the lottery. How would that affect New York's cap space?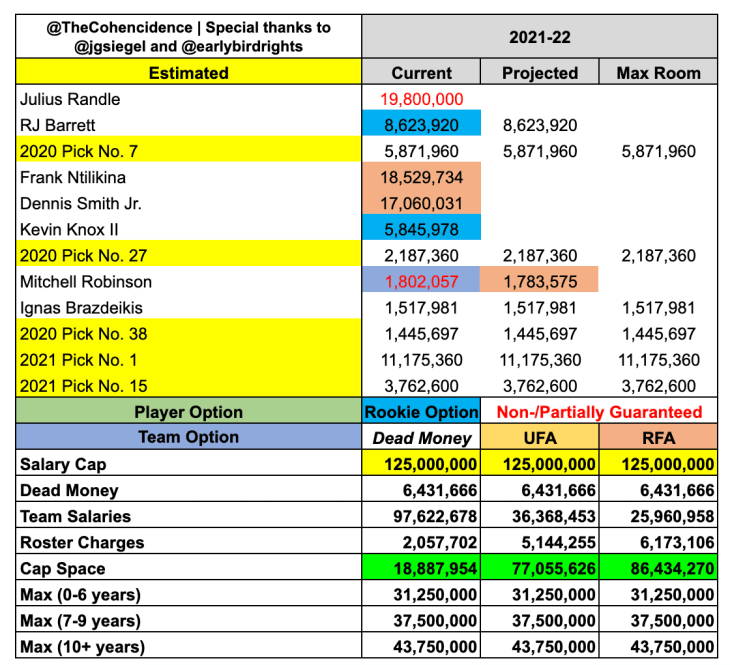 The Knicks would have to renounce Ntilikina's cap hold and trade Knox's salary. Not a bad problem to have! We can only dream.
What happens if none of this works and the Knicks don't get two stars? What would separate Rose and his GM from Mills and Perry?
If the front office can't land these two stars, we'll likely see them explore the trade market. The tricky thing is that there aren't any elite players hitting free agency in 2022, and no, I'm not counting what will be a 34-year old Stephen Curry. 2023 has Bradley Beal, Joel Embiid, and Nikola Jokic, while 2024 has Karl-Anthony Towns and Devin Booker. So New York can either try to draft a star or try to trade for one.
If 2021 doesn't work out and the goal is to keep going free agency or bust, the Knicks effectively have until 2023 free agency to find their stars. The reason for that is RJ Barrett's cap hold will be $32,701,905. Maybe he'll sign for more, maybe he'll sign for less, maybe he won't even be a Knick by then. Regardless, 2023 is the last year the Knicks would have all their players drafted from 2019 and onward on their rookie scales.
The biggest difference between the two regimes, in my opinion, is if the current front office can add cheap, quality talent through the trade market. For all we know, the players drafted under Mills-Perry could turn out better than the players drafted under Rose-X. Yet the player (i.e. not a draft pick) with the best long term outlook that the Knicks traded for under Mills-Perry was Dennis Smith Jr. That's pretty damning. My hope is that Rose-X does better than that.
Look, I get it. We're not even 12 months removed from the Durant sweepstakes and I'm selling you on a proposed plan to go after stars once again. You want to rebuild in peace and that peace doesn't include mercenaries on one-year contracts. I want that too.
We know that we don't live in the Knicks' fantasy world, but I'm not sold that ownership and the front office have learned as much. Yet it's worth mentioning that any Nets fan in spring 2018 who believed Brooklyn could land a star a year and change later would have been laughed out of the room. The same goes for any Lakers fan in spring 2017 suggesting James would join the team a year or so later. I've learned that we can't assume the reasons for why some players stay and why some players leave.
Maybe I'm too conditioned by past summers, especially 2010 and 2019. For all we know, Leon Rose is ushering in an era where we can finally stop praying for a savior to come via free agency but instead through the draft. Yet if the mandate is to show progress immediately, free agency might need to be this team's salvation.
I'm not asking you to believe in this plan but I am asking you to believe this is the plan. Or, at the very least, a very highly prioritized plan.
Next week we'll do the opposite and discuss the factors involved with signing veterans to longer contracts. Enjoy your week!