What Are We Waiting For?
New York has cornered the market on cap space. Now what the heck should they use it on?
Boy oh boy, was that awesome.
Maybe it's because we've been without actual hoops for over a month, but The Last Dance was just about the coolest thing I've ever seen. The highlights, the interviews, the commentary…they blended it all together perfectly, and managed to drop some all-timers in the first damn night.
Like, "I wasn't gonna fuck my summer up." Damn right Scottie, no you weren't.
Last night also served as perhaps the most explicit reminder of a few things NBA fans know to be true, but sometimes forget when we get so deep into the possible machinations of team-building that we can't see the forest for the trees":
If you don't have that guy, nothing else matters, and

You'll know whether you have that guy or not pretty damn soon.
I'm as big an RJ fan as anyone and I'd be the first to admit that he ain't that guy.
Last summer, we tried to entice that guy to come in free agency and, whether because or a torn Achilles, a sweet waterfront practice facility, Kookie Kyrie or James Dolan, it didn't work.
But there are other versions of that guy out there, and because contracts are shorter and player movement in free agency remains prevalent, there has been an implicit understanding here in New York that the cap flexibility the team currently has must continue to be maintained at all costs. That's what I wanted to take a deeper look at today.
ICYMI, last Wednesday Jeremy laid out, in painstaking detail, New York's salary cap picture over the next two seasons. Since then, I've spent a lot of time pondering exactly what Leon Rose is going to do with all that cash.
There are still a lot of variables in play, starting with how much the projected cap is going to decrease thanks to COVID-19, but also how much dead money the Knicks will have on the cap next season (depending on which vets they cut loose) or the season after (depending on whether they can move Julius Randle), whether Frank Ntilikina's $18 million cap hold will be on the books next summer (assuming he's even on the team), and in the news this weekend, whether they pick up the fourth year on Kevin Knox's rookie contract.
Even with all of these unknowns, it's very clear that Rose is going to have several team-building options at his disposal, including:
taking on other teams' unwanted money, something I covered here,

signing players from this summer's underwhelming free agent class,

trading for other teams' not-quite-unwanted-but-also-not-exactly-in-high-demand expensive talent, and finally,

hoarding cap space for the future (ostensibly for that guy)
If you've been reading this newsletter since Leon Rose came aboard, you can probably tell by now that I think he was brought here with a mandate to win sooner rather than later. That's why, for as much as I'd love for them to help keep another team (or teams) out of the luxury tax in exchange for pick(s) that probably won't convey for years, and not prioritize winning next year so they can be in prime position for a draft that looks to have a few of those guys, I don't expect that to be the route they take.
Nor do I see them using up all of their space this summer on multi-year contracts for "meh" free agents (although I do expect them to be selective spenders).
The big question - arguably the biggest question the franchise needs to decide in the very near future, in fact - is whether they do anything at all to jeopardize their cap space in 2021 and beyond. At the moment, as Jeremy detailed on Wednesday, they have a path to massive flexibility that summer, but it can also dry up quickly, both with small moves (not being able to unload Randle, guaranteeing Knox, keeping Frank) and large ones (say, prying Fred VanVleet away from the Raptors, or taking on a large multi-year salary via trade).
It's worth asking: is the available crop worth hamstringing yourself to the point of missing out on other possible opportunities?
To help answer the question, I looked at the All-NBA teams and organized every player who has appeared on one of those teams by the year they'll hit free agency. I only went back two seasons, because otherwise we'd have guys like DeAndre Jordan, Isaiah Thomas, John Wall and Draymond Green on the list. I also included players I assume will make an All-NBA Team this year, but their names are in italics.
2020:
Anthony Davis (player option), 27.3 years old

DeMar DeRozan (player option), 30.9 y/o
2021:
Giannis Antetokounmpo, 26.6 y/o

Kawhi Leonard (player option), 30.0 y/o

Paul George (player option), 31.2 y/o

LeBron James (player option), 36.5 y/o

Rudy Gobert, 29.0 y/o

Blake Griffin (player option), 32.3 y/o

Victor Oladipo, 29.2 y/o

Chris Paul (player option), 36.2 y/o

Kyle Lowry, 35.3

Jayson Tatum (restricted free agent), 23.3 y/o
2022:
James Harden (player option), 32.9 y/o

Stephen Curry, 34.3 y/o

Kevin Durant (player option), 33.7 y/o

Kyrie Irving (player option), 30.3 y/o

Kemba Walker (player option), 32.2 y/o

Russell Westbrook (player option), 33.6 y/o

Jimmy Butler (player option), 32.8 y/o

Bradley Beal (player option), 29.0

Luka Doncic (restricted free agent), 23.3 y/o
2023:
Nikola Jokic, 28.3 y/o

Joel Embiid, 29.3 y/o

Khris Middleton (player option), 31.9 y/o
2024:
Damian Lillard (player option), 33.9 y/o

Karl-Anthony Towns, 28.6 y/o
2025:
Ben Simmons, 28.9 y/o

Pascal Siakam, 31.2 y/o
It was staggering to write out the 2025 names, if only because my daughter will probably have a cell phone by then (or whatever technology replaces cell phones).
A couple of assumptions regarding players of note:
Anthony Davis will sign a 2+1 with the Lakers this summer so he can become a free agent again in 2022 and be eligible for a 10-year max (which allows him to sign for 35 percent of the cap, as opposed to 30 percent)

Giannis signs a 3+1 next summer for the same reason, getting him back into free agency in 2024.

Also in the summer of '21, Kawhi Leonard opts out of his player option so he can sign a new contract as a 10-year max player.
OK, time for some audience participation:
Please raise your hand if you think Antetokounmpo or Kawhi will be considering the Knicks in free agency a year from now.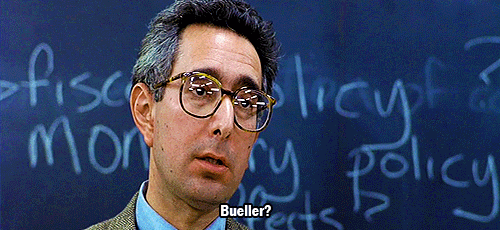 Tough crowd.
Now take a look at the rest of the names in the 2021 and 2022 free agent classes, and more importantly, their ages. Not counting the two restricted free agents who aren't going anywhere, the only players who will be under 31 years of age when they hit the market are Bradley Beal, Rudy Gobert, Victor Oladipo (who is a major question mark coming off a ruptured quad tendon in his right knee) and everyone's favorite Looney Toon, Kyrie Irving.
If the Brow does as I suspect this summer, he'll also be on that list in 2022, and will be just 29.
But similar question to the one I just asked: do we think Anthony Davis leaves the Lakers for the Knicks? Given that LeBron will be…
(checks notes)
…57 years old by then, there's a chance he does. So he and Beal make the 2022 class something to target, as it's easy to see both of those guys being top-15 players at that point, if not top-10.
But Mitchell Robinson will also be signed to a new contract by that point (assuming he isn't dealt), as would Frank and Knox, if one or both are kept. RJ Barrett would also be extension eligible, and God-willing, he's going to be someone the Knicks want to lock up sooner rather than later.
All this is to say that as Leon Rose decides how and when to use his cap space moving forward, although being judicious and prudent is something any good front office needs to do, being paranoid over keeping every available dollar probably isn't the way to go either. No move should be off the table if there's a cogent plan that can be argued along with it. Yes, it's all about getting that guy, but as we saw last summer, there are different ways to skin a cat.
For example, the Clippers made sure to keep enough space open to sign a max player outright, but they were also quickly able to pivot into a cap-clearing trade when the situation demanded it. It was far more important that they built a competent team to attract that first star to begin with. They worried about the rest later.
Meanwhile, the Knicks last summer went the other way, choosing to continue prioritizing cap space with one-year deals even thought they had just got told "we don't want any" by the NBA's elites. They said they built a real team, but we were quickly reminded that that's not something that can be faked.
Hopefully Leon Rose was watching - and taking notes - from afar.
In the weeks that follow, I'll explore some other, alternative (i.e., non-tanking) paths forward that may seem unpalatable at first, but may just happen to be the most likely way to get that guy here once and for all. Because as we were reminded last night, that really is all that matters.