Devil's Advocate
The NBA's Silly Season is about to begin. Would anything be sillier than trading for Russell Westbrook? I take a closer look, plus a full wrap up of this weekend's news.
Hello there, and welcome to Crazy Town! We're happy to have you for the next two weeks, as Christmas comes early for NBA junkies. Before we set sail, a few quick announcements…
First, JB, the former purveyor of this very newsletter and author of the new free Mets Daily Newsletter, Mets Briefing, is organizing our annual Turkey Drive. If you'd like to help feed a needy family on Thanksgiving for just $35, click here.
Second, just in time for all the madness, we have officially rebooted the KFS YouTube channel!
For now, it's just going to be videos of the KFS pods, but we have more fun stuff on the way, so subscribe now to make sure you get in on the action.
Last but not least, if you haven't been seeing this newsletter show up in your inbox over the last week, that's because you didn't subscribe! If you miss reading my musings every day and want to keep these coming daily from now on, just in time for the madness, hit the button below:
Now onto the news…
News & Notes
NBA teams can begin trading at noon today.

Gid. Dy. Up.

Schedule for the next few weeks: Trades start today, draft is Wednesday night, most player/team option deadlines are 3:00 PM on Thursday (this applies to all the Knicks option guys - Portis, Payton, Taj, Bullock and Ellington), official free agency negotiations can begin on Friday at 6 PM, and players can be signed starting Sunday at 12:01 PM ET.

Also, contrary to some early contrary reporting, free agents signed this offseason cannot be traded until February 6. Oh, and rookie extensions - which both Frank and DSJ are eligible for - need to be signed by December 21, the day before the season begins.

Here's a full look at the Knicks cap outlook heading into the next two weeks:

According to Tim Reynolds, there is no 45-day limit for two-way contract players this season, merely a 50-game limit overall. This is obviously good news for fans of Kenny Wooten and Jared Harper.

As first reported here on Friday, Marc Stein of the New York Times confirmed that the Knicks have emerged as a possible trade destination for Russell Westbrook, and if this just comes down to them taking on the contract, "there is a trade to be made." Woj later reported a "slow developing" trade market for Russ, which should surprise no one, and Marc Berman even posited that the Westbrook interest is more of a scare tactic aimed at Sam Presti on the Chris Paul front than anything else. Much more on this below.

Perhaps in part because Houston is not getting anywhere good with Westbrook deals, James Harden's name popped up last night, with Woj, Zach Lowe and Ramona Shelburne reporting that Brooklyn is "rising to the top" of James Harden's list of possible trade destinations.

Ian Begley reported that the Knicks have "considered scenarios where they pick up the option for [Elfrid] Payton and retain [Reggie] Bullock."

Kevin O'Connor reported that the Knicks may have interest in Gordon Hayward if he opts out and becomes a free agent.

Tom Thibodeau wants to win, like, now. There's a shocker.

On the Fred VanVleet front, according to Michael Grange, "league sources indicate that [Leon] Rose is acutely aware that his first big move needs to be the right one and paying top dollar for a point guard with one year as a starter on his resume comes with its own set of risks."

Contrary to some rumors, Rick Brunson will not be coming to join the Knicks organization in any capacity, per Adam Zagoria.

According to Steve Popper, Tyrese Haliburton has been left off the Knicks' "wish list" heading into the draft.

No, the Knicks are not considering moving RJ or a future first to move up into the top three of this draft, as a bad game of telephone had some believing.

Lastly, we have our first trade agreed to: OKC is sending Dennis Schroder to the Lakers for Danny Green and the 28th pick.
Support Your Independant Content Producers
Not that he needs my shout out, but CP at Knicks Fan TV continues to kill it, most recently with his spot featuring former Knick Channing Frye, the full interview of whom drops tonight. Definitely worth listening to Frye's thoughts on what Westbrook would bring to New York, and of course, hit the thumbs up for ya' boy.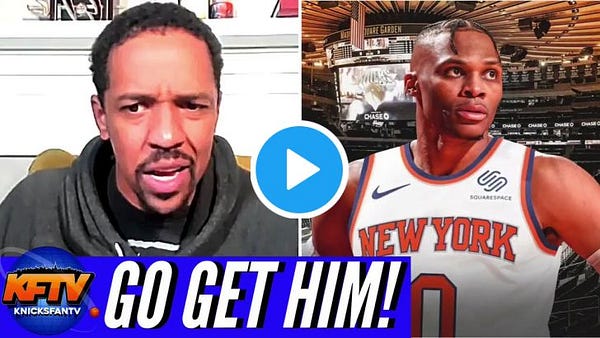 Listen Up!
Jeremy and I tackle the possibility of a Russ trade and go through our ideal offseason for the Knicks on the latest KFS Pod. Listen here or subscribe anywhere you get your pods.
Tweet of the Weekend
---
Devil's Advocate
Leon Rose hangs up the phone.
"Oh well…" he sighs "…we'll get 'em next time"
For as much as he thought the two sides were close, in the end, the asking price was too much. $132 million over three seasons is an ungodly sum of money. Taking it on is one thing; giving up real stuff for the right to do so is quite another.
"It's fine," Rose thought, reflecting on the behind the scenes staff he'd assembled over the previous six months. "We don't need Russell Westbrook to turn this thing around. We just have to be smart, savvy, and most of all, patient."
His attention immediately turned towards the draft, which saw the Knicks luck into the second point guard on their board, Killian Hayes, with the eighth pick. At 27, sharpshooting Desmond Bane unexpectedly fell to them, followed by sparkplug combo guard Grant Riller at 38. They couldn't have mapped out a better night if they tried.
Free also agency went well enough. Fred VanVleet bypassed New York's dollars to stay in Toronto, but the Knicks were able to snag Brooklyn's unprotected 2021 first rounder to take on the remaining two years of Taurean Prince's contract, giving them three firsts in a damn good draft. They also got Christian Wood to agree to a three-year, $36 million deal, snagged Justin Holiday for two years and $18 million, and inked D.J. Augustin on a one-year pact to help mentor their rookie point guard. Rose even convinced Taj Gibson to return for the room exception to continue his mentorship of Mitchell Robinson. The roster was set.
The season unfolded about as well as anyone could have expected. Robinson and Barrett each made strides, Hayes struggled but looked the part, the free agents all earned their keep, and Julius Randle was even the best version of himself. They looked competent, even in their losses.
But they also lost a lot. With a division-heavy slate, Rose saw the Knicks fight valiantly to a 24-48 record, fourth worst in the league behind the tanking Thunder, the inept Cavs and the perpetually struggling Kings.
They headed into lottery night likeliest to finish with the 6th pick but with just under the best odds of landing Cade Cunningham. They got relatively lucky and finished with the fourth choice, eventually landing G-League standout Jonathan Kuminga. The core was complete.
2021 free agency came and went with a sputter. No big names looked their way, all unwilling to be the sole star to shepherd a team of neophytes. They kicked the tires on a few trades for bigger names in the hopes of enticing Giannis or Kawhi, but nothing came to fruition, and it was decided that the best move was simply to stay the course.
Again, progress was made. Barrett led the team in scoring. Robinson, fresh off signing a four-year, $65 million extension, earned his first All-Defense selection. Hayes development curve continued, and Kuminga finished third in the Rookie of the Year voting. He looked like a safe bet to be in the All-Star conversation annually. The Knicks also made the play-in tournament, but couldn't advance to the playoffs. Again, everyone was feeling good.
With both sides basking in the good vibes, Barrett inked an extension for four years and $80 million. Unfortunately, the only prizes of the 2022 free agent class - James Harden, Anthony Davis and Bradley Beal - all re-upped with their existing teams. The Knicks remained a superstar short.
Finally, in the 2022-23 season, the team broke through, making the playoffs as a five-seed. The quintet of Barrett, Robinson, Hayes, Kuminga and Wood put a scare into the aging Nets but ultimately came up short. Free agency came and went yet again, with the only prizes - Joel Embiid and Nikola Jokic - being duplicitous with the now fully-formed Robinson. Instead, attention immediately turned to the impending free agency of league scoring champ Devin Booker, now just a year away.
The 23-24 season was another solid one: the first All-Star birth for Kuminga, Barrett establishing himself as a top-50 player, Robinson finishing second in DPOY voting, Hayes in the convo for best under-25 point guard in the league, 48 wins, another five-seed, and another tough first round loss. The Knicks, it was rumored, were giving Booker a lot to consider.
Rose was ready, but also nervous. He thought back to that moment when he hung up the phone four years prior, choosing to exercise patience like the fan base so desperately desired, and he sat with his own thoughts, wondering if it would all finally pay off.
It would have to. The 2025 free agent class was headlined by Ben Simmons, but there were already rumors of his desire to join Anthony Davis in Los Angeles. Kentucky product Jamal Murray would obviously be discussed, but it was tough to see him leaving the perennial contender he and Nikola Jokic had built in Denver. Hayes also needed to be extended, as did Robinson. Kuminga's max was peering its head around the corner as well.
Rose's entire tenure in New York would be riding on this. There was no time for regrets.
This was it.
Nice, huh?
If only we could be so lucky.
The amount of things that need to go right in the next several years - RJ and Robinson progressing, nailing this draft, getting lucky in the '21 lottery, picking the right guy, making smart signings around the edges, staying somewhat cap flexible - just to end up in a position to potentially add a star player down the line, well…they aren't insignificant.
Things go wrong. Fate intervenes. Mistakes get made, even by smart teams (did you know the Spurs were once outsmarted in a trade by Isiah Thomas? Look it up). You feel great about something one day - KP's ACL, Frank's progression, Kevin Knox's ceiling, etc, etc. - only to wake up the next and see it all having gone to shit. The best organizations withstand these interruptions thanks to a stable foundation that has been built up over years and years. They persevere undeterred, and look for the next opportunity to bounce back.
The Knicks have had no such luxury, with their pit of quicksand seemingly widening with each passing season. That sunken place can start to feel like home when you don't catch a break for a while, and the last break the Knicks caught - getting Porzingis in the 2015 draft - was squandered by a combination of bad luck and worse actions.
But they are here now, ready for a fresh start under a new regime with a new coach and as blank a canvas as one could imagine. Using this opportunity to take it slow - as many Knick fans, myself included, desperately desire - is the obvious choice, even if it doesn't feel obvious because such a thing hasn't been done around here in over three decades.
Because it's been so long, it's easy to ignore the possible pitfalls and assume that slow and steady will eventually win the race. We have that luxury.
Leon Rose does not.
As I steadied myself this weekend for the possibility of Russell Westbrook trade news at any second, I pondered Rose's plight, not out of sympathy (I mean, $8 million a year…we should all have things so tough), but out of self-interest.
I want to continue to believe in this regime. It's barely been nine months, after all. Being a fan is so much goddamn easier when you can a least talk yourself into believing the captain isn't blindfolded, heading directly into an iceberg.
(Steve Mills, meanwhile, was actually Mr. Freeze of Batman comics fame)
That's really what this whole Russ business comes down to. Yes, of course if the Knicks actually gave up even one worthwhile asset - RJ, Mitch, or one of their own draft picks - to acquire Westbrook, we can all go grab our brown paper bags and begin cutting out eye holes.
But if the only cost is essentially cap space? Yeah, I'd still disagree with the move - pretty vehemently, as my Thursday column probably made quite clear. But is it evidence of outright organizational incompetence? That's what I've been podering.
Given that the alternative - draft, develop, and hope the lottery gods gift you an All-NBA player, or that one younger than Russ becomes available on the trade market and that New York has the assets to pull off a deal - is fraught with its own level of uncertainty, the argument for Westbrook becomes easier to make.
In theory, the ability to do everything I just mentioned doesn't go away. There are only two outright, black and white negatives that come with a trade:
Cap space, which everyone seems to agree that none of the league's best players want. Also, if New York sent Julius Randle and the 27th pick to Houston, they'd still have over $20 million to take on another team's bad salary, to the extent such deals are even available.

2021 Draft position. This is the same argument the anti-Chris Paul folks have made, which is essentially a pro-tanking stance. I've written about this before. You either think that piling up losses is a wise organizational decision or you don't. Just remember, the "best player on a Finals team" level guys drafted in the last 15 years have been picked 1st (AD), 2nd (KD), 3rd three times (Doncic, Tatum & Harden), 7th (Steph), 15th twice (Giannis and Kawhi), 30th (Butler) and 41st (Jokic). Maybe Booker (13th) joins the list this year.
Really, this comes down to Russ, and the opportunity cost that comes with having him come in to be your team.
Does he help or hurt development? Do the open looks he generates matter as much if he has the ball in his hands so damn much? Do the benefits he brings - a relentless pursuit of victory, strong work ethic, etc. - outweigh the drawbacks, like the cost of a new living room table after I inevitably put my forehead through mine following one too many pull-up 19-footers with 17 on the shot clock?
These are questions Leon Rose would have to answer, and landmines Tom Thibodeau - who'd no doubt cut off a pinkie toe to get Westbrook here - would be forced to navigate.
The ways it could go wrong are many and obvious. The Knicks could play themselves out of the low lottery over the years to come and not snag the next Antetokounmpo with middling picks. Alternatively, Brodie's aging curve can turn into a slippery slope, except he's unwilling to accept the obvious (this might be a boon for the tanking folks though). His presence could hinder the progress of a young point guard, if they even draft one following a trade. His personality could rub some the wrong way.
Oh, and then there's all the ways his game seems to be slowly deteriorating, as I detailed recently.
But some of the primary arguments against a trade are less strong. The money is only as valuable as what else you can spend it on, and if you're going to overpay, overpay for someone who actually makes a difference. Whether Westbrook is the 15th or 35th best player in the league, he's still a massive plus at a vital position of need for New York. Regarding bringing in a rookie PG to learn the ropes, as he showed with Dennis Schroder two years ago and James Harden more recently, Russ is capable of playing with another ball handler. He just needs to be willing.
I also think the spacing concerns are a little overblown. Giving Russ a runway, at least in the regular season, is courting disaster, and New York can still space the floor well enough by surrounding Westbrook, RJ and Mitch with two shooters.
There's also a path where this gambit actually works. The hardest thing to do in the NBA is to get an All-NBA level player on your roster, and Russ is still that, if barely. Assuming a 3 percent cap increase (the bare minimum just agreed to) New York can also open space for a 7-9 year max next summer if they wiped away cap holds for Ntilikina and DSJ (assuming both are still here) and unloaded Kevin Knox.
(They might need to move additional salary depending on how high a pick they get in 2021, whether they hang on to 27, and the type of contract they give to the 38th pick. In short, only a top-five pick next year would force them to make a difficult choice, but again, if you're clearing room for a max player, these are wonderful problems to have.)
Would anyone actually want to come play with Russ though? If the Knicks were an 8th, 9th or 10th seed next year behind a good season from Brodie and progress from RJ, Mitch and the 8th pick, how likely is it that either Kawhi, Giannis or AD (assuming he signs a 1+1) gives them a look? Are those odds higher or lower than a possible 14 percent chance at Cade Cunningham? And how much would those odds be increased by the fact that the Knicks could turn around and parlay all of their draft assets and young players into a trade for an unhappy star?
(They could also trade for someone without making a big signing, but because of cap mechanics, this wipes away the possibility of max space for the foreseeable future)
And then of course there is this: There is a notion that the most important part of development is giving young players the belief that they can win on any given night. Westbrook, for all his faults, gives you that in spades. He also turns accountability from a buzzword to an ethos. If you aren't bringing it, the coaches won't need to tell you because Russ will take care of that shit his damn self.
In the NBA, you're a fuckin' loser until you aren't. I don't know what the Knicks would look or feel like with Westbrook at the helm, but it will almost certainly be something different than we've seen for the better part of two decades, and who knows what can happen when you finally turn that corner? Like any deal with the Devil, it's one I'd rather not make, but if I said it didn't pique my curiosity, I'd also be lying.
Again: these are all quandries Leon Rose must consider. But they are legitimate ones. It's not as if the Knicks would be banking on a hope and a prayer here, or at least no less so than if they stayed the course.
In the end, the Westbrook question comes down to a very specific tug of war between two diverse groups of Knick fans: those who want to embark on the most efficient possible route towards the mere possibility of building a contender (you, in all likelihood, if you've subscribed to this newsletter) versus people who just want a reason to watch their favorite basketball team again.
Leon Rose, as President of Basketball Operations, theoretically has to cater to the desires of the entire fan base. Such a way of thinking is antithetical to my very soul if it is in furtherance of a plan that has no chance at succeeding, but again I ask, is that the case here? Is there any reason why, if the Knicks traded for Westbrook, they still couldn't be sitting here four years from now, with the same young core as they have now and a few decent draft additions, hoping against hope that Devin Booker shines his light upon our poor souls? Maybe, maybe not.
But even if they are, it wouldn't lessen the sting of what a Westbrook trade would represent for so many in this fan base: the same organizational impatience, simply wrapped up in shinier paper and a new bow. No, they've never before had the opportunity to acquire a player of this caliber without giving up the farm, but it feels like a rush job all the same.
Whatever Rose decides, he's taking a risk.
We just have to hope he chooses wisely.
That's it for today! If you're a paid subscriber, see you tomorrow…otherwise, check your inbox in a week or two for the next free edition! #BlackLivesMatter