Just Say No
It was only a matter of time before Russell Westbrook's name came up in connection to the Knicks. Here's why it needs to stop.
News & Notes
According to Adam Zagoria, Kentucky guard Immanuel Quickley has met twice with the Knicks, in addition to the Pistons and Thunder. Quickley, an undersized two-guard who formed a three-headed backcourt along with Tyrese Maxey and Ashton Hagans, is a sophomore projected to go in the second round. He's good from deep (42.8 percent on over five attempts per 36) and came on late, scoring 20 or more eight times after the calendar flipped to 2020.

We also heard from Kira Lewis regarding his virtual meeting with the Knicks ("They got great people…It was a very comfortable interview") and from Isaac Okoro's Auburn Head Coach Bruce Pearl, who said New York has spoken to essentially everyone involved with their team regarding Okoro and that the Knicks have "liked Isaac from the jump."
Listen Up!
New Podcast! Jeremy and I take on the Russ rumors, where I play devil's advocate and try to look for reasons why the Knicks could talk themselves into a bad decision. Check it out here, or listen anywhere fine podcasts are found.
Ask Macri
Going to get to the rest of last week's Mailbag questions later this week (probably tomorrow), but in the meantime, a quickie to hold you over…
My answer should be no surprise, but I think the Chris Paul stuff has real legs. At some point this offseason I think I put them getting either Paul or Fred VanVleet at 50/50, but I'd reduce that to about 25 percent, only because I'm more confident they won't overpay than I originally was. I've had different people tell me different things about how far they'll go, but I at least know for sure that they want Paul.
As for the rest of the rumors, I don't think Fred VanVleet leaves Toronto, I don't think Leon has any interest in $132 million worth of Westbrook, and I don't think they'll beat whatever the best offer is for Oladipo. I'd probably put them trading up for Ball as the second most likely thing to happen, but even that feels far off, as I think something like 8, 27 & Frank will be their best offer, and I'm fairly certain that gets them laughed off the phone.
Sitcom…ummm…I would love to say Seinfeld, because it's built on smart humor and engaging (if not terribly well-adjusted) individuals. But that's probably too kind, so Cheers, for obvious reasons. And my first thought was that JB was the most talented content creator I'd ever seen and I was super excited to be a part of anything that he was doing. I also had no idea what I was doing, but was psyched nonetheless.
Tweet of the Weekend
---
Just Say No
"This probably isn't going to age well."
That was me on the night of the 2011 Academy Awards, when The King's Speech - an enjoyable if somewhat bland dramatization of King George VI's attempt to overcome a speech impediment while on the precipice of war with Nazi Germany - bested The Social Network.
Mine wasn't an uncommon reaction. The Social Network was, after all, an enthralling story about the genesis of a thing that arguably changed the course of humanity, told by perhaps the defining director and screenwriter of their time. It has aged beautifully, and while David Fincher and Aaron Sorkin have no shortage of career achievements to their name, it wouldn't surprise anyone if this is considered their crowning achievement when all is said and done.
And it lost to a film made by the guy who would go on to direct Cats.
While Tom Hooper may not have made the worst movie to win Best Picture (hello, Crash) or been the beneficiary of the biggest gaffe (Costner over Marty in '90 would like a word) or go down as the worst Best Director winner ever (hi Mel!), when you put it all together, he serves as perhaps Hollywood's best reminder that one gloriously fortunate awards season and a few recognized if uneven follow-up efforts (Les Misérables, The Danish Girl) aren't enough to avoid disaster.
Long-time Knick fans should know this lesson well. Twice in the team's history, they've traded for a former MVP to direct their movie, and twice it has ended in Rum Tum Tugger level tomfoolery. First they acquired Bob McAdoo, who Buffalo couldn't wait to get rid of, and proceeded to go exactly .500 in his two-plus seasons in New York.
(By the way, lest anyone think that Mills & Perry were the only front office duped into trading for a player after he put on a show against the Knicks - somewhere Dennis Smith Jr. nods glumly - then-GM Eddie Donovan traded for McAdoo the same week he put up 30 & 13 in a blowout win versus New York. Let's maybe try not to do this anymore.)
More recently, Phil Jackson thought he was getting a bargain by swiping Derrick Rose from Chicago, and promptly paired him with his old running mate Joakim Noah. We'll be paying for that gamble until 2022.
And now, if you believe everything you read on the internet - always a wise choice - there's a chance that another former MVP could wind up on the Knicks' radar.
To say Russell Westbrook's 2019-20 season was a Cats-esque disaster is probably a bit much. He did, after all, achieve the highest effective field goal percentage of his career, and put up just the 21st 27, 7 & 7 campaign in NBA history - the third time he's done so. For one three-month stretch starting on December 7, you could even say he was one of the best players in the league, as he put up 30 a night with a 52.6 effective field goal percentage.
(It helped that he was liberally rested during this stretch, taking roughly one out of every five games off)
In the 19 games before that stretch though, among 96 NBA players who played at least 10 games and 20 minutes per night and sported a usage rate over 20, Russ' 42.8 effective field goal percentage was the second worst in the league, coming in a few percentage points ahead of Knick rookie RJ Barrett. For a month and a half, Tom Hooper had nothing on Russell Westbrook.

On the whole, the Rockets were also a worse team last season when Russ played than when he didn't. Perhaps even more concerning, their offense took a dive, going from a nearly league-leading 115.4 points per 100 possessions to slightly better than league average. Things got even worse in the playoffs, when the Rockets were nearly 11 points per 100 possessions worse with Russ on the court - a number that grew to more than 17 points per 100 against the eventual champion Lakers.
All of these numbers can be explained away if you really try. After all, Westbrook was getting used to a new team early on and he was coming off an injury late. As we saw in the middle of the season, a healthy Westbrook can still get it done.
But as there always have been, the questions about the ceiling of a Russ-centric team persisted. The Rockets were just 24-12 during the 34 games Westbrook seemed like his old self for, all with the benefit of a healthy James Harden. Despite Russ going full Brodie, the Rockets were less than two points better per 100 possessions when Russ was on the court during the hot streak.
When you factor Harden (the David Fincher of this convo) into Houston's advanced numbers, Westbrook's performance becomes even less impressive. According to Cleaning the Glass, with Harden and no Russ, the Rockets offense put up an absurd 118.3 points per 100 possessions and achieved a positive 5.9 net rating this season. When Harden sat and Russ played, those figures dropped to 112.0 and negative 3.4, respectively.
We're also past the point of Westbrook's career where we can attribute his missed games to mere dings and dents. After seeming indestructible for his first five years out of UCLA, Russ had three knee surgeries in 2013, a hand surgery in 2014, a cheek surgery in 2015, another knee surgery in 2018, and then missed a chunk of the bubble with a strained quad. Physically, things are trending in the wrong direction.
The same can be said of Westbrook's effect on his teams over the last four years:

After hijacking OKC's offense en route to the 2016-17 MVP, the one-man wrecking crew seems to finally be slowing down.
It's about time. Russ has had a usage rate over 30 for 10 straight seasons. Thinking that a 6'3", 200 lb guard less than a month away from his 32nd birthday can keep this up might not be crazy if this was just a normal guard, but Westbrook's entire game is based on sheer brute force. The minute he can no longer get to the rim at will, the slippery slope he's already been sliding down will turn into the edge of a cliff.
Perhaps it's already started: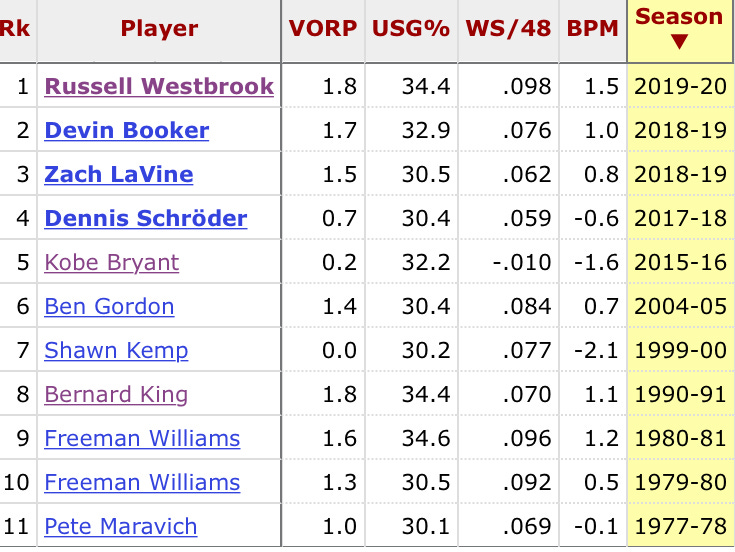 This is a list of all the players in NBA history who have had over a 30 usage rate yet have fallen below some rather middling advanced statistical baselines: a Value Over Replacement Player and Box Plus/Minus under 2.0 and fewer than .10 Win Shares Per 48 minutes.
If you take away Ben Gordon, who essentially was the bench offense for the 47-win 2004-05 Bulls en route to winning the 6th Man of the Year award, the other nine guys on the list before Westbrook led their teams to an average of 28 wins per year. That's because it's really hard to meet those lowly advanced statistical benchmarks unless you play for a bad team, and bad teams don't usually allow one player to commandeer their entire offense.
The 2019-20 Rockets, of course, were anything but ordinary. They became one of the few teams in NBA history to feature two players with a usage rate over 30, surrounding their stars with role players whose sole purpose was to amplify the talents of the main guys. It helped them achieve a 50-win pace, and earned Harden (1st Team) and Westbrook (3rd Team) All-NBA honors.
But as the numbers for each without the other show us, one was a tad more responsible for Houston's success (also peep Brodie's steady turnover average this year - 4.5, the same as the previous season - despite a precipitous drop in dimes). Even worse, this isn't the start of a trend, but the continuation of one. Check out some numbers from the 2018-19 Oklahoma City Thunder, first for when Paul George played without Russell Westbrook:

…and then from when Russ played without PG:

That's a net rating differential of 11.6, otherwise known as the gap between the world champion Lakers and your New York Knickerbockers.
But in New York more than anywhere, perfect is the enemy of the good. Sure, Russell Westbrook is set to earn $132.6 million over the next three seasons, more than any player in the NBA outside of James Harden and John Wall, but he would help close the respectability gap for this punchline of a franchise.
Isn't that, more than anything, the best argument for Chris Paul? The minute the Point God steps in the building, everyone in the NBA might not immediately fear the Knicks, but they know it's going to take an honest effort to come in and get the W. That's because aside from being pretty darn good in his own right, as I touched on last month when I showed his effect on OKC's big men, Chris Paul is perhaps the best in the NBA at making other players better.
The same can't be said for Russell Westbrook, at least not across the board. Yes, if he wore the orange and blue, the Russ/Mitch pick and role would become one of the most fearsome regular season weapons in the NBA. Daydream about those two on the court for long enough and $132 million will start to seem like $1.32.
But Robinson should become even more of a weapon this year regardless of who plays the point guard position. A lead ball-handler who is less athletic but makes more than one out of every four 3-pointers would arguably open up Mitch's game almost as much as Westbrook could.
The bigger concern is RJ Barrett. If you thought Julius Randle's "Baby in the Corner" routine last year was bad, imagine how little RJ would be involved in the offense if Russ was involved. For a preview, check out Dennis Schroder - another secondary ball handler with a questionable jumper - in his one year with Russ vs his one year with CP3 (courtesy of Basketball Reference):

With Westbrook, Schröder was the worst version of his Atlanta self. With Paul, he got a larger share of the offense and was more efficient with the looks he got. Chris Paul resuscitated his reputation as a helpful NBA player.
He can add his name to the list of guys who have had career-best years playing alongside Paul. Russ, on the other hand, not only has a middling effect on role players, but has caused both Kevin Durant and Paul George to seek greener pastures with other superstars in the league.
As for the Thunder, they won 49 games with Westbrook and Paul George a year ago and were on a 50-win pace with Chris Paul and no Paul George this season. Not to make this an either/or scenario, but at least with Paul, there is some evidence that his acquisition wouldn't be Typical Knicks. Trading for Russell Westbrook would redefine the term itself.
Luckily, there's no good evidence that Leon Rose is thinking of making the plunge. Perhaps if Houston tossed in a sweetener, the Knicks would be tempted. I've said repeatedly that they're looking at any and all ways to improve that won't cost them future assets.
If they don't draft a point guard, and if Sam Presti can milk Philly or Milwaukee for a better trade, and if Fred VanVleet stays in Toronto, I could see the idea getting a small draft asset in exchange for taking on the rest of Westbrook's deal being tempting. And honestly, despite everything I've written here, it wouldn't be insane. Even a slightly diminished Westbrook makes New York infinitely better in the near term, and when you're as bad as the Knicks are and have been, that has real value, even if you need to overpay to get it.
But it would be the NBA equivalent of selling your soul. When Russell Westbrook is on your team, your team belongs to him. When he was at his MVP peak, it got you a first round playoff exit. If he's at his worst, you get 2016-17 Derrick Rose, except with $90 million in dead weight (roughly the budget of Cats!) instead of an expiring contract.
I get that Leon Rose is under pressure to make the Knicks both entertaining and good, but there is a line you can't cross to make that happen. Giving your team over to Russell Westbrook, at this age, with this contract, and with these giant warning signs that the end may be near, represents that line. It wouldn't be the end of the world if the deal was fair, but it's time to have a higher bar for success around here.
Just say no to Cats.
That's it for today! See you tomorrow with another edition. #BlackLivesMatter #VOTE