How Low Can You Go?
Before we start arguing about tanking vs being a try-hard next season, let's take a minute to look at reality for the Knicks and possibly avoid this controversy altogether.
News & Notes
Kevin Durant went on J.J. Redick's podcast and said some words, including but not limited to: he decided on Brooklyn in February, he never wanted to be the savior of the Knicks or New York, and that after he's done playing basketball, he enjoys sitting on his couch and chilling out.

Does any of this matter? Not really. I could not possibly care less about this story from a Durant perspective. If there was a part of me that still lamented him not picking the Knicks, it would have been gone after hearing this, but it's been gone for over a year now already. As for the fact that the Knicks' front office used KP to clear cap space as opposed to acquiring the best possible assets when it's pretty clear that they should have been more diligent about gathering the best available intel, I was of this opinion already, so no great shakes there either.

Let's move on. Please.

According to Shams, the NBA season will now start no earlier than Christmas Day, with the NY Post's Marc Berman later reporting that an MLK Day start is a possibility and that February or even March could be on the table for the first game of next season.

The Rockets lost to the Lakers while giving a largely pathetic effort for 44 minutes before making a late charge. Both Los Angeles teams are now up 3-1 and the all-LA conference finals feels like an inevitability. The Clippers look to finish off the Nuggets tonight, followed by Game 7 of Boston vs Toronto. Giddy up.
Read This
A double dip from our friends at the Strickland today…
Jeremy Cohen wrote perhaps his most comprehensive big-picture roster analysis yet, and while the focus is on a topic many Knick fans find unpalatable - the possibility of trading Mitchell Robinson - the thought process he explains is more than worth taking the time to read. His view on team-building is a lot like building a portfolio in the market - buy low, sell high, read the trends - and may not be for everyone, but I hope there's at least someone in the Knicks front office asking the same questions he does, even if they come out with a different answer entirely.

The brilliant Dallas Amico let me pester him with questions about the game that we both love. Also, I apparently angered many people by not paying proper homage to a Lord of the Rings character. So there's that.
"Sources Say…"
The Chris Paul rumors refuse to go away, with Scoop Robinson the latest to chime in, noting that the Knicks have an offer lined up for the Point God.
I did some digging yesterday and the most I could get was that Leon Rose is playing this one close to the vest. My gut feeling is that the Knicks would be interested if the price were right, but that they think the cost will be too high. Does that mean they think Oklahoma City will demand more than they want to pay in a trade, or simply that the Knicks feel they can make better use of their cap space in the current financial landscape than by taking Paul into that space? My guess is that it's a little of column A, a little of column B.
As an aside, while I absolutely still think the Knicks will bring in at least one point guard to be a part of the rotation before next season, I think I've also underestimated what they think of their current crop. Frank Ntilikina, I'm told, is currently penciled in as the starter, although that can - and if I had to guess probably will - change once they tinker with the roster. I'm also told that reports of Thibs' continued belief in DSJ are absolutely legit. How much faith does he have, and how willing is he to put New York's fate in someone who was quite awful last season? Your guess is as good as mine.
---
How Low Can You Go?
As I wrote yesterday, part of the debate over Chris Paul - and really, part of any debate about the Knicks improving the roster this summer - has to come down to the effect that it will have on the Knicks' record next year.
To many fans, the notion that a team who has lost more games than just about anyone this century could suddenly win too many games is preposterous, especially if you believe that the most helpful thing the Knicks can do to get out of their two-decade-long slump is to simply quiet the noise about how much they suck.
To others, losing as many games as possible next season is clearly the best path to escape said misery. The 2021 Draft, after all, is already being talked up not only as an opportunity to land a potential franchise-changer in Cade Cunningham, but has a talent pool that contains, according to Spencer Pearlman, between six and ten players who would have been in serious conversation to go first overall in this year's draft. Eight guys was his exact guess.
With all due respect to whether or not Frank Ntilikina is any good, I think this is currently the biggest point of contention amongst the fan base: To stink, or not to stink…that is the question.
Before we go too far down this road however, if there's one thing I remember from my days practicing law, it's that the first piece of advice to give anyone who wants to sue someone else is to figure out a way not to and solve the problem amicably (unless you're a personal injury attorney, in which case you would be fired for giving this advice). Given that I took an oath to always be an upholder of justice (I think…I kind of day-dreamt through my bar induction ceremony), I'm going to do my best to resolve this dispute right now: What if, almost regardless of what the Knicks do this offseason, we could still be sure that they'd finish next season with one of the worst records in the league?
Let's break this down, shall we?
Last Season
In the 2020-21 campaign, the Knicks finished with the 6th worst record in the league, which is deceiving in ways both good and bad.
On the positive side:
From the day David Fizdale was fired until the end of the season, the Knicks had a winning percentage of 38.6. Had they maintained that for a full season (pre-shutdown), they'd have finished with the 9th worst record in the NBA.

By net rating, which is generally agreed to be a better indicator of how good or bad a team is, they were the 8th worst team from the moment Mike Miller took over with a net rating of minus 4.3, which was quite a bit better than the league-worst minus 10.5 they had under Fiz.
On the negative side:
The Miller-Knicks minus 4.3 net rating would still have been the fifth worst in the NBA - the same ranking as their year-long minus 6.5 number - from opening night until the shutdown.

That minus 4.3 was close to the pre-bubble Wizards (-3.9) and Pistons (-3.5) but was over a point away from the Boylan Bulls (-3.1) and 2.6 points away from the pre-bubble Kings, who were the next worst team at minus 1.7.

On the other end of the spectrum, record-wise, the Knicks only finished a game and a half ahead of the Cavs, who had the second worst record in the league. In other words, they were as close to 29th as they were to 24th.

The Knicks started off with a brutal schedule, and while six of those initial 18 losses under Fizdale were by six points or less, they were also defeats at the hands of Brooklyn (with Kyrie), Boston, Charlotte, Philly, Brooklyn again (sans Kyrie) and Philly again. Even if you give them three more wins, that still only moves them up to the eighth worst record behind the pre-bubble Wizards.

Of the Knicks' 21 wins, all but nine came against teams with bottom-ten net ratings, and two of those were against the Irving-less Nets. Only four wins came against teams with top-12 net ratings (the Dallas wins, Miami and Houston), whereas six of their wins came against teams with a bottom-three net rating.

By on/off differential, New York's four most helpful players last season were Mitchell Robinson (+8.8), Elfrid Payton (+7.9), Marcus Morris (+6.9) and Wayne Ellington (+5.5). Morris is gone and Payton and Ellington are likely to be sent packing as well.
The League
Via the NBA's stats page, here were all the teams that had negative net ratings last year: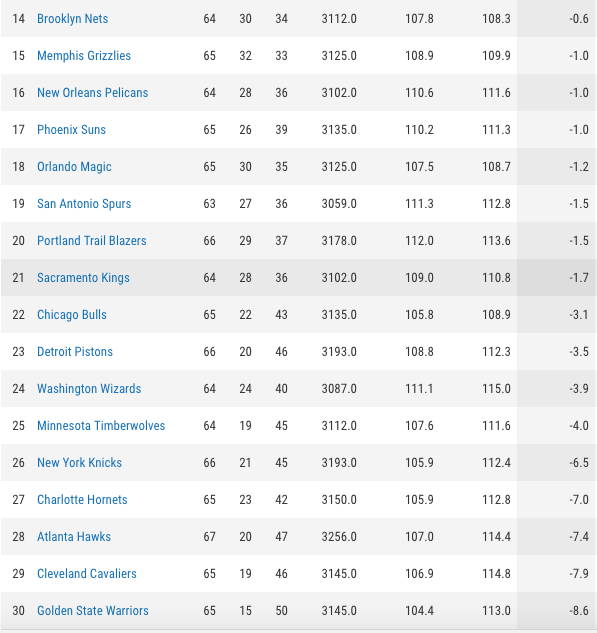 With the exception of the Oklahoma City Thunder (we'll get to them in a second), it's reasonable to assume every team that had a positive net rating last season will have one again. It's also reasonable to assume that even if the Knicks improve considerably with roster additions and better coaching, they will not have a positive net rating next season.
So this is our pool of teams that they could potentially be in contention with, record-wise. A few things:
The Warriors and Nets will not be bad again.

From the moment Zion joined the Pelicans active roster until the shut down, New Orleans had the seventh best net rating in the NBA, and will be getting a coaching upgrade.

The Phoenix Suns seemed to find something in the bubble and have money to spend this summer. Zach Lowe has noted on his podcast that if there's one Western Conference team who could feel pressure from ownership to make a playoff push next season, it's Phoenix.

The Blazers were also a different team in the bubble mostly because they got healthy. There's no reason to think they will have the onslaught of injuries next season that they experienced last year.
Now we're down to 11 teams (plus OKC) that New York could at least conceivably finish higherthen. Looking at those 11 teams, most, if not all, figure to be better next season:
Karl Anthony-Towns and D'Angelo Russell played a total of 25 minutes together last season. Minnesota also has the first pick in the draft, has been open about the possibility of trading it for a veteran, and has no incentive to tank next season having traded away their lightly protected 2021 first rounder to Golden State.

John Wall is returning and is theoretically healthy for Washington. He is only 30. The Wizards also seem set on paying Davis Bertans whatever it will take to keep him.

The Bulls are going from having the worst coach in the league to having…something other than the worst coach in the league. They also have the fourth pick in the draft and have been speculated as a possible Billy Donovan destination.

Barring DeMar DeRozan surprisingly opting out, the Spurs will largely return the same roster that was a good deal better than New York last season.

The Hawks had a league-worst minus 10.9 net rating during the 25 games John Collins was suspended and a minus 5.7 net rating after he returned. The Young/Collins/Reddish/Hunter four-man trio had a plus 6.3 net rating together in 682 possessions last season according to Cleaning the Glass, and Clint Capella has yet to play a minute for the Hawks. There have already been rumblings of a playoff-push mandate for next season from ownership.

The Magic will be missing Jonathan Isaac for all of next season, but he only played 34 games this year and Orlando was only 1.2 points per 100 possessions better when he played than when he didn't. Absent Evan Fournier leaving in free agency, a precipitous drop is difficult to forecast for the Magic.
Unless the Knicks trade for Chris Paul, I have a hard time forecasting that they'll be better than any of the above teams regardless of what else they do in the offseason, which brings us to…
The Thunder. The only way I could see them going from a team that played at a 50-win pace and sported a plus 2.1 net rating to one worse than next year's Knicks is if they sent Paul to New York. If they send him to either of the other teams that make even remotely a bit of sense - Philly and Milwaukee - that means they'd be getting actual helpful NBA players back in the deal (Horford or Harris from the Sixers; Bledsoe and stuff from the Bucks). A straight up trade with either of those teams would make them worse, but so much that they'd be better than a Knicks team without Paul? I'm not so sure.
That leaves us with the Cavs, the Pistons, the Hornets, the Kings and the Grizzlies as the only teams I could see reasonably being in the conversation with New York next season, at least in terms of record.
Memphis and Sacramento, it should be noted, both finished with much higher net ratings and better records than the Knicks in 2019-20. Jaren Jackson Jr. is expected to be ready for the start of next season, as will Marvin Bagley, who missed all but 13 games this year. But the West is brutal, and I'm not willing to say outright that an improved Knicks team won't be able to take advantage of a soft bottom of the East to eek out one more win than either of these squads (although them finishing better than either would be more than surprising).
Which leaves us with the Cavs (who will have Andre Drummond for a full season and a young backcourt that is a year older), the Hornets (who hold the 3rd pick in the draft and also has a rotation full of players who should improve) and the Pistons (who stink…and yet still managed to finish last season with a net rating 3.0 points higher than New York).
The Knicks
I'm going to lay a few ground rules before we talk about what New York could be under Thibs next season (feel free to call bullshit on any of them):
Chris Paul ends up on either Milwaukee or Philly, where he can actually help a team compete for a championship

Fred VanVleet doesn't risk leaving arguably the best culture in the NBA for the Knicks

Ditto for Goran Dragic and Miami, who can pay him an ungodly sum of money on a one-year deal

DeMar DeRozan doesn't opt out of $28 million (or he does, and the Knicks don't see the wisdom in signing him in free agency)

Davis Bertans and Joe Harris both re-up with their respective teams

The Knicks don't give up young players and/or future assets to trade for a stopgap point guard solution in Dennis Schroder

The new Bulls regime wants to play out the season with Zach LaVine
So…any lies detected? Bueller….Bueller…? Didn't think so.
Let's now assume Leon Rose knocks the rest of the free agency and the draft out of the park. They sign the best point guard option available (D.J. Augustin? Am I missing anyone?), nab a stretch four (Jerami Grant, Christian Wood or Gallo, take your pick), pick up another helpful vet (not to spoil a two-part column I have coming out next week, but how about Aron Baynes?), get a rookie who can help space the floor (Vassell), use Randle to take on bad money and trade up from 27 to get their rookie point guard (let's go nuts and give them Kira after taking on James Johnson from Minnesota), and finally, they nail the 38th pick (Xavier Tillman is really good).
So that's definitely a real NBA team that makes functional sense on both ends of the floor. Better yet, it's guided by a real NBA coach who has proven able to get water out of a rock before.
Even so, be honest…how many games does this team win:
Coach: Thibitty Thib Thibs
Starters: Augustin, Barrett, Vassell, Gallo & Mitch
Bench: Kira, Bullock, Frank, Knox & Baynes
Reserves: DSJ, Iggy, Johnson, Dotson & Tillman
Before you answer, keep in mind that they:
Will be playing a rookie point guard 20-25 minutes a night

Have less shot creation than last season

Are incorporating a rookie into the starting lineup
I know you want to say 30 wins. I can feel you dying to put it out there. OK, fine…but one last question: Who are they beating? As in, what team do they walk on the floor against and know they're more talented than?
I'll spot you Detroit.
But Cleveland, with Sexton/Garland/5th pick/Love/Drummond?
Or Charlotte, with Graham/Rozier/Bridges/Washington/Wiseman?
Or Sacramento, with Fox/Hield/Barnes/Bagley/Holmes?
Or Memphis, with Ja/Brooks/Winslow/JJJ/Valanciunas?
Or OKC with Bledsoe/SGA/Dort/Bazley/Adams?
I'm sorry, but I just don't see it.
This isn't to say they can't win games next year. Injuries happen. There are always schedule wins to be had (although if the entire season is played in multiple bubbles, how much will those lessen with the complete lack of travel between games?) Bad players get hot, and good players get cold. The Wariors, who fielded a G-League team, were on a 19-win pace. 26 to 28 wins from the above group under Thibs isn't nuts.
(Or rather, a 26 to 28 win pace isn't nuts; we all know tanking chicanery will happen ahead of next year's draft)
And for all the "losing is the worst thing ever" folks I mentioned at the top of the column, keep in mind that losing comes in different shapes and sizes. Playing a modern style, playing hard, improvement from the young players who are doing the heavy lifting, being in lots of close games…these are all things that can happen next season even if they finish with the second or third or fourth worst record in the league.
Which, finally, gets us back to the bit about the 2021 Draft. Imagine going into lottery night knowing you were going to get someone good enough to go first overall this year? Well if they finish with, say, the fourth worst record in the NBA, there's a pretty damn good chance of that happening. Via Tankathon.com: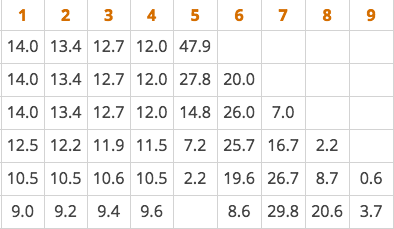 For the non-math majors, the fourth worst record means you're basically a coin flip away from either having a top-four pick or a bottom-four pick, and can do no worse than eighth (the sixth worst record - what they had this year - was more like 65/35 top four/5-9).
I guess this is an incredibly long-winded way of saying that regardless of whether you're desperate for wins or pining for losses, feel free to sit back, relax, and let come what may. If they don't trade for Chris Paul, there's a better than decent chance that next year's lottery night will be very interesting (and fruitful) regardless of what else they do.
And that's probably not the worst thing that can happen.
That's it for today! See everyone next week with a look at free agency from a playoff perspective, and some more goodies. #BlackLivesMatter