I'm Sensing a Trend
The Knicks make another addition to their coaching staff. Feel free to draw conclusions.
Good morning! ICYM yesterday's newsletter, I've started a new format, where I'll open up with some standard categories every day, and on more days than not (like today), my usual column will follow.
News & Notes
The big one: the Knicks have hired Johnnie Bryant from the Utah Jazz to be their associate head coach. The Athletic was first with the news.

Much more on this below.

As first reported by Stefan Bondy, Mike Miller will not be an assistant coach on Tom Thibodeau's staff. Steve Popper and Marc Berman later added to the report, suggesting that Miller may be back in another role with the organization if he can't find a coaching gig with another team. With the hirings of Bryant and Payne, and the impending hire of Woodson (which Popper again reported yesterday is on track to happen), it seems as if Miller has no desire to move from first to fifth on the coaching totem pole.

The Knicks, along with the other Delete Eight teams, will get to participate in group training in a campus setting from September 21 to October 6. There will be private living accommodations for all. First reported by Shams.

The draft lottery is tomorrow at 8:30. Leon Rose will rep the Knicks.
Good Reads
THE STRICKLAND IS HERE!
What is the Strickland, you ask? It's a new online hub for all things Knicks, and one in which I'm proud to be contributing to from time to time. Check out the site for yourself, read Alex Wolfe's welcome letter, and peruse all the juicy, succulent content that's already up.
If you're interested in more about Johnnie Bryant, here are a few stories that have been written about the Knicks new associate head coach:
Here's one from Eric Woodyard on the bond shared between Damian Lillard and Bryant.

Here's one by Tyus Jones from earlier this year on how Bryant helped improve Donovan Mitchell.

Here's one from Kyle Goon about Bryan's accolades as a developer of talent.
"Sources Say…"
According to Adam Zagoria of Forbes, the Knicks want Donovan Mitchell "badly" but there is some debate within the front office about whether they can play together.

Here is the text I sent to by buddies Oz and Yash after seeing this story:

On a more serious note, I'm sure there are conversations happening within New York's front office about all sorts of players and how they would fit in with the roster, just like there are for every NBA team. If anything, the fact that they may be having serious discussions about Mitchell's fit means - to me, at least - that they think there is some realistic path to getting him at some point in the near(ish) future. More power to them.

Act as if, as they say.
Ask Macri
Johnnie Bryant has been widely regarded as one of the very best developmental coaches in the league for a whole now, so I wouldn't look at this as a "Perrin hire" per se. After all, Ian Begley mentioned his name over a month ago as a possible candidate to get an interview for the head coaching position.
All this being said…it would be naive to think Perrin's presence didn't move this along significantly. Marc Berman noted recently that if Scott Perry left for Sacramento, Perrin would most likely be in line to succeed him as GM. Perrin is clearly well respected in the organization, and one wonders if the notion of a future promotion was what helped lure him from Utah to begin with.
So yeah, I think Perrin helped this happen, but no, I don't think it was all or even mostly due to his presence.
Insta-of-the-Day
Courtesy of @DailyKnicks…
Something's Brewing…
A few Knicks fans texted or messaged me yesterday - none of which are particularly optimistic by nature - all of whom shared the same general sentiment:
Dude, I'm starting to feel not completely terrible about what's happening here.
I mean, if you can't get excited about what Leon Rose has done in assembling things thus far, I don't know what to tell you.
Wes. Aller. Perrin. Zanin. The other Zanin. MacLean. The wiz kid with the glasses who looks like Harry Potter. Thibs. Payne. Bryant. And a slowly but surely growing analytics staff.
Seriously, what's not to like here? An emphasis on development for what is still the youngest roster in the league? Check. A staff that is widely respected by the very best players in the league today? Check. A chief of staff that doubles as a human abacus? Check. A front office that has been plucked from among the best organizations in basketball? Check, check, and check.
MORE. NOW.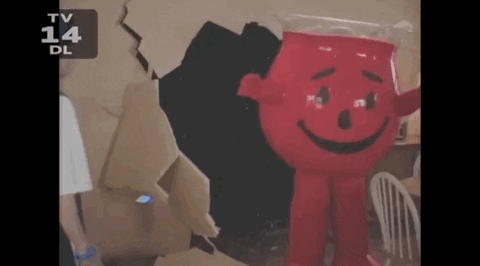 Are there quibbles? Of course there are, because aren't there always.
Mike Miller, it appears, will be gone, unless he can't find a team willing to pay him what he's scheduled to make in New York next year, or having a more prominent seat on an NBA bench is more important to him than money.
I know this upsets some people greatly, and I get it. After years of having coaches that required a mop to be kept in the bathroom, Miller at least got it in the bowl, even managing to lift the seat a few times. 'Round these parts, that deserves a goddamn medal.
But his most impressive accomplishment, by far, was keeping a straight face as he was trotted out to confront the media time and time again for things that a POBO or GM would usually handle. After that, it was getting buy-in from a group of players who had no reason whatsoever to respect him. Third, much farther down the list, was x's and o's, in which he essentially simplified Fizdale's Advanced Trigonometry defensive scheme and made it more color-by-number. He also stopped trying to use Julius Randle like LeBron James.
If he remains in what I can only imagine will be an off-court player development role, it will be a help. But this coaching staff will survive just fine without him, especially since, as I expect, there will be at least one holdover from last year's staff so the players won't be returning to a room full of strangers (although honestly, I'm not sure this would be the end of the world. Still pulling for you though, Kaleb!)
And maybe it's for the best that Miller's not going to be on the bench. Have you ever had to go from being the boss to being 5th on the depth chart? I'm guessing not, because this rarely happens in real life. That's for good reason.
As for the notion that William "I'm in the olive oil business" Wesley is pulling the strings from on high, and there is a devious subplot to make the Knicks more appealing to stars around the NBA through their series of hires, my response is: I sure the hell hope so. The man is the Keyser Söze of the NBA. Let him work his magic.
Thibs and Wes go way back. Wes and Leon go way back. Leon and Thibs go way back. I've reported that Thibs has been a huge part of the hiring process for the coaching staff.
That also doesn't mean these are his picks. Regardless, I can't for the life of me imagine that these hires are coming as some sort of a shock to him. This process has been months and months in the making. He knew what he was getting into.
As for whether the people they've brought in are sufficiently apt at development, I mean…when's the last time you've heard a Knicks player say of a New York assistant "I work as hard as I possibly can to shut him up," or "I love him to death, man," or "That's my big brother." These are all things Donovan Mitchell or Damian Lillard uttered about Bryant. Kenny Payne comes with similar list of hosannas.
But it's not about which stars have spoken up, or even what those star players have said, but why they said it that matters.

No star is going to want to come to New York because of a pre-existing relationship with an assistant coach. They're going to come because they feel their career is in good hands here. That has not been the case in decades. Coaches like Payne and Bryant have proven time and time again that they know how to handle with care when it comes to the NBA's best. You cant teach that shit. You either have the ability to connect with human beings or you don't.
"I don't look at him as Damian Lillard. I look at him as Damian, my little brother I've been knowing for so long and when we talk it's not about basketball," Bryant said. "It's about life, just how to become better people. 

Eric Woodyard, quoting Johnnie Bryant speaking about Lillard, for the Deseret News
Wes hires, Thibs hires, starchasing or no starchasing...getting more people in your building who make other people want to call your building home (and make the ones who currently call it home want to stay there) is a good thing any way you slice it.

The Knicks, it would seem, are doing just that. I'm happy to give them the benefit of the doubt that it's for the right reasons and that these moves are being executed with the proper degree of consideration to all parties involved. 

Until proven otherwise, they deserve it.
That's it for today! Now go check out the Strickland! See you soon :) #BlackLivesMatter