Welcome to New York, Uncle Kenny
The team that hasn't exactly led the league in culture just hired a guy who is a culture unto himself. Will it matter?
A week ago, before New York poached Kenny Payne from Kentucky in a move that surprised the University ("I'm not sure anyone there actually believed he would do it"), the Knicks sucked.
Now, one week later, New York employs someone who:
Was recently voted the top assistant coach in the SEC

Matt Jones, who is the czar of all things UK as head of Kentucky Sports Radio, told me is one of the four most important men in college basketball

Kyle Tucker, who wrote the definitive Payne profile last year, told me could have had any number of mid-major head coaching jobs over the years

Anthony Davis says "is why I'm able to play so well in the paint now" and that "guys who go there after he's gone would be missing out on one of the best player development coaches I've worked with"

Karl-Anthony Towns calls "one of the best coaches in the world"

Devin Booker, who went to Kentucky partly because of the relationship his dad had with Kenny, called "that uncle in your life who will be honest with you"

Bam Adebayo says put him through "hell," which "prepares you for the big stage and the opportunities that a lot of us are getting now"

P.J. Washington says "understands the league, played in the league, basically knows everyone in the league, and his work translates"

Willie Cauley-Stein says "will go in the gym with you at 3 in the morning, leave his whole family, just to help you"

And who James Dolan just made one of the highest paid assistant coachs in the NBA
…and the Knicks still suck.
That's not going to change in a week, or a month, or in all likelihood, even in the next year.
(although my interest level in October's free agency rose about 15 percent following Payne's hire, and will rise another 200 percent if the Lakers have an unceremonious exit from the playoffs that comes far earlier than expected. But I digress…)
Point is, even with maybe the most influential and well-connected college coach in the world on their payroll, the Knicks still have less of everything that a good team needs - top line talent, two-way talent, functional talent, fill-in-the-blank talent - in the entire league.
Because of this, and because it has been 155 days since they last played a basketball game and we've all run out of shit to talk about, every media person and content creator with a wi-fi connection has speculated about this star or that star who could fill the void. Payne's hire will only add fuel to that fire.
As maybe it should. But regardless of what magic tricks Leon Rose and Worldwide Wes are able to pull off before next season, there will still be young players on this roster, which for much of the last two decades has been where promising NBA talent comes to die a slow, unpleasant death.
That's why, of all the things I've read and been told about Kenny over the last week, the thing that has me most excited is what Kyle Tucker told me on the podcast yesterday: There's not a doubt in his mind that Mitchell Robinson is going to be a different player next year - in a good way - under Payne's tutelage.
Of everyone on the Knicks roster, it is Robinson who has the best chance to single handedly turn them into a top-ten unit at one end of the floor. His defensive potential is that high.
Remember that when Robinson was on the court last year, the Knicks already had the equivalent of a top-half-of-the-league defense. Once Payne starts trimming the fat from Robinson's game - all those slap fouls that keep him off the court as much as he's on it, for instance - the kid is going to be a monster.
Payne should know. As Matt Jones mentioned to me on the pod, the two worked together during Robinson's brief stint at Western Kentucky, when Mitch was just down the road. Again: this dude knows everyone.
And then on the opposite end of the spectrum, there's the matter of the two Knicks for whom there exists the greatest disparity between their talent and their current value around the league.
Julius Randle is one of seven players to put up 20 & 9 on at least a 52 eFG% over the last two seasons. He's on essentially a $19 million expiring contract, can defend when pressed to do so, and yet no one wants the dude. Why? Because they have eyes and used them to watch the Knicks play basketball last season.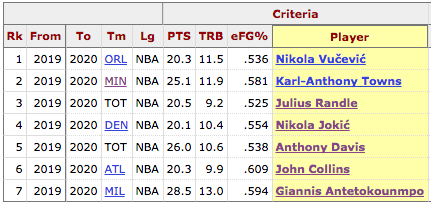 There's still an interesting player in there somewhere.
Considering Randle went back to train with Payne at Kentucky as recently as last summer - finally passing the dreaded gauntlet known as Big Henry - it's safe to assume he'll be motivated to show assholes like me that this season was an anomaly.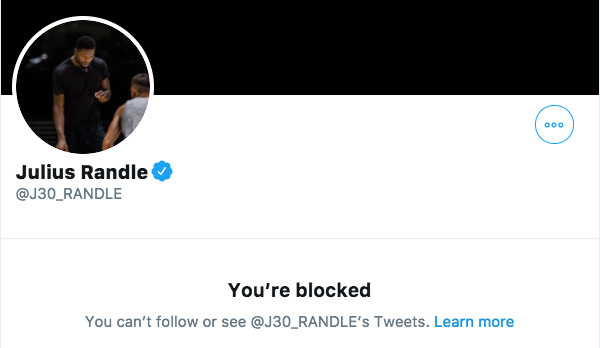 And then there is Mr. Knox, about whom Payne had this to say to Marc Berman back in June:
No question, I think a new staff comes in and can evaluate what the kid is and tell him what he needs him to do. He's starting with a clean slate. There's no prejudging of who he is. He can go out and feel comfortable and do the things to help the team win. I think he's coming back with a new and different fire. With a little adversity, you can attain greatness. And he's been through it.
Talk about going back to the future.
Now Payne is the new staff, and luckily, he knows Knox better than any coach on the planet. Kyle Tucker noted to me how Knox was not only 17 when he arrived at Kentucky, but a young 17, and raw beyond belief.
This season, as I discussed a few months ago, Knox had his head screwed with more than any young player ever had a right to. It might be time for Uncle Kenny to step in and remind the former number nine overall pick why he was taken ahead of a few guys who have since blown up in the NBA while Knox has continued to struggle.
Robinson, Randle, Knox…all big men, all assets that need a good coach to either maximize their potential or remind people that it exists at all, and maybe more, someone they'll be able to lean on when the going gets tough under Thibs.
And that, friends, is why the Kenny Payne hire should excite us most of all. "Players first" isn't a tagline at Kentucky; it's an ethos. David Fizdale may have tried his hardest to be everyone's friend, but he forgot the most important part of coaching: getting the most out of his guys.
We know Thibs comes with a reputation for doing exactly that, at least for those who buy in. Likewise, Payne is someone who, according to Matt Jones, was asked by Karl-Anthony Towns when he arrived at Kentucky to turn him into the number one pick in the draft. Payne delivered.
MSG, more than anything, needs to become a place where players feel they can come and have their careers helped and not hindered by the experience. Payne comes from a place that, while they may not win every year, players knew that their stock would be improved once they left. The Knicks newest assistant coach was at the heart of it all.
Thinking the Knicks could become the NBA's version of Kentucky is pie-in-the-sky type stuff that simply isn't realistic with the parameters of the league. But it's anything but unreasonable to think it can become a place where players know their stock will go up in value once they depart.
New York's roster is not without talent. Of the seven players who are most assured of being back next year (yes, I'm including Iggy, Bernard), five are former top-ten draft picks, and there will be another one on the way. More than Anthony Davis free agent wishes, more than Donovan Mitchell Godfather offers, and certainly more than how much ICE they run, the improvement of those dudes (or whichever ones are still here, at least) will dictate New York's immediate future more than anything.
Clean up your house first. That's what the Knicks have never done.
If they do, then maybe, just maybe, the combination of Rose's Rolodex, Wes' wizardry and Kenny's cachet will come in handy after all.
---
A Couple More Notes on RJ
Thanks to everyone who made it through both RJ Barrett pieces from the last two days. I went heavy, only because I felt like the topic deserved it.
(And I should add that even though I didn't mention Barrett above, I think he and Payne will get along as swimmingly as will he and Thibs)
Because I want to be sure that I paint a full and complete picture of both where Barrett is and where he needs to get to before we leave the topic behind, I want to include two more charts.
The first is all of the NBA rookies from the last two decades who finished their first year with under a 48 true shooting percentage - the same baseline I used for the primary comparison group in Tuesday's newsletter - except this time, I included everyone who took between eight and 12 field goal attempts per game (the original one contained everyone who took at least 12, of which RJ was one):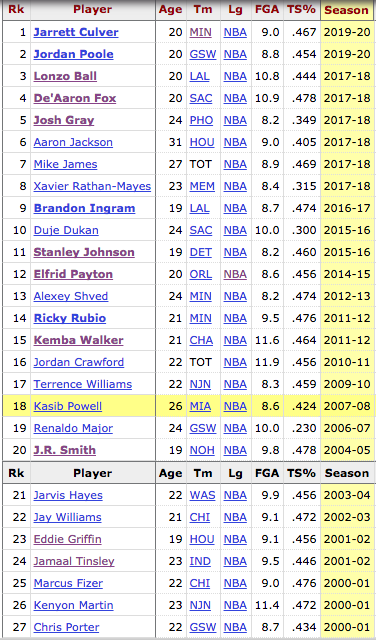 My original logic in including the 12.0 FGA baseline was because I do think there's something to the notion of being able to get into a better rhythm as a young player when you're a bigger part of the offense. Struggling with your game and struggling to get playing time can be a bad combination.
But then I thought to myself, "should there really be such a strict baseline for usage when shooting it less may have simply indicated the player was even more raw, and thus, undeserving of those looks?" By that logic, RJ would be farther along, and thus, potentially more likely to improve on his initial numbers (which we saw in his overall efficiency jump over his last 10 games).
Also, sometimes fewer attempts means you're surrounded by better players, which means easier looks (although looking at the optimal outcomes from the above list and thinking back to the situations those players were in as rookies, I'm not sure this caveat qualifies for anyone here).
Do I think this makes a huge difference in how we should judge Barrett's likely outcome? A little, yeah. I can't put him in the same athletic or physical class as Brandon Ingram, but it's a good reminder as to how rough BI had it when he first arrived. Walker and Fox also have speed and handles that RJ can't match, but the larger point is that it took a bit for them to leverage their physical gifts into on-court production. Barrett has physical gifts; it just might be a little tricker for them to convey.
Luckily, for someone who already lives at the rim, RJ won't need to get that much better to become a far more useful player than he is right now, which gets us to our second chart: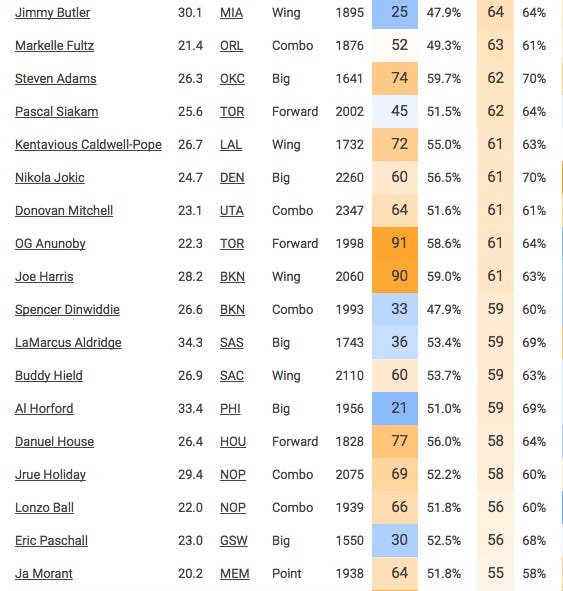 These are the players who saw at least 1500 minutes that finished between the 55th and 65th percentiles in rim finishing last year, courtesy of Cleaning the Glass.
You'll remember from yesterday that in the over-1500 minutes group, RJ was in the 90th percentile in rim frequency but only in the 20th percentile in rim finishing. The purpose of this chart is to show that he doesn't need to go from terrible to great to become much more efficient around the basket; simply getting to "a little better than the mean" will do just fine.
Jimmy Butler, a popular Barrett comp (on offense, at least), is in the 80th percentile of how often he shoots at the rim, so for him to be in the 64th percentile of converting those looks is more than enough. Dinwiddie is in the 75th percentile in frequency and 59th in conversion. Morant is in the 94th percentile in frequency and 55th in conversion.
None of those players are particularly good 3-point shooters (Butler was actually quite terrible this year), yet because of how often they got to the hole, they were valuable players simply because they were better than league average once they arrived there.
To be clear, Jimmy Butler, Ja Morant and Spencer Dinwiddie also do a ton of other stuff well, so saying that if and when Barrett can make more of his looks around the rim he'll have the same impact as those three is a complete misnomer.
Still, if we're looking for encouraging signs, this has to be right up near the top, especially given how much his rim finishing improved towards the end of the year.
See? I'm not a hater after all.
---
Last but not least…
Adam Taylor and I are still trying to build up our new general NBA podcast, The Hoops Spy, so if you're in the mood for some talk about the league as a whole, be sure to tune in to this week's episode. Our guest was Ricky O'Donnell, who covers the Bulls for SB Nation, and he gave the lowdown on the Jim Boylen situation in Chicago, as well as where the trade market stands for Zach LaVine and Lauri Markkanen. Feel free to give a listen, and if you like, subscribe away…
That's it for today! See you tomorrow when Jeremy Cohen will have another column to finish off the week. #BlackLivesMatter