Discover more from Knicks Film School
Where NBA fans learn about the Knicks.
Over 8,000 subscribers
King Me
The Kings offer perhaps the most intriguing trade partner for the Knicks this offseason. Let's have some fun, shall we?
News & Notes
The Sixers fired Brett Brown. Apparently big changes are coming within the front office, although GM Elton Brand - who was rumored to be in the running to come to New York under Leon Rose - is apparently safe. Of all the news and rumors than dribbled out about Philly yesterday, the Sixers potentially trading one of their two stars was not among the items.

According to Marc Berman of the NY Post, Auburn wing Isaac Okoro "has support" within the Knicks to be taken with the 8th pick. They've also interviewed Okoro's college coach Bruce Pearl and his staff regarding the kid who, should everything work out, looks like he could be a poor man's Jimmy Butler.

I asked Spencer Pearlman about Okoro last night after the report dropped, and specifically about the Jaylen Brown comps in Berman's article made by ESPN analyst Seth Greenberg. "Brown's decision making [in college] didn't come close to Okoro's," Pearlman told me in comparing the two. Regarding the Butler comp, Pearlman admitted that maybe Okoro doesn't get there because Jimmy's work ethic is legendarily insane, but that stylistically, "in terms of on ball/off ball defense, passing, finishing, strength, etc, it's all there." He also noted that Okoro is one of the five best finishers in this draft.

I had Okoro fifth on my personal Knicks big board last month, and I haven't moved him down yet.

Regarding the top free agent target for many Knick fans, Shams reported that the Knicks, along with Detroit and Phoenix, "are expected to emerge as suitors" for Fred VanVleet. On that note…
"Sources Say…"
According to a league source with knowledge of the Knicks thinking, some members of New York's front office are "all in" on VanVleet as a free agent target, feeling that he is the best available player on the market. Despite speculation that the front office is not looking to add any long term money to the books, the source said they are planning on being involved in the sweepstakes for the combo guard this October.

I'm also told that the Knicks are prioritizing holding on to as many assets as possible in the year ahead, with the possibility of trading up in the 2021 NBA Draft in mind. It seems the fears about Rose & Co making short-sighted moves have been greatly overstated.
Ask Macri
First of all, there are few things in this world that I am above falling for, and a little flattery doesn't make the short list. So thank you, thank you, thank you.
Second: Buddy Hield. Here's the thing about Buddy Hield…I don't like him. Not at his contract number, at least.
It's not that he's a bad player; far from it. Last season, Hield was fifth in the league in 3-point attempts per game - something he accomplished in only 30 minutes a night - and his 39.4 percent conversion rate ranked higher than anyone else in the top 15 other than Dame, Duncan Robinson and Davis Bertans. He is, without question, one of the elite long ball shooters in the NBA.
And that has real value. Bertans, one figures, is going to get paid north of $15 million annually this offseason. Bojan Bogdanovic, who can generate a good deal more offense for himself and others but isn't quite the threat that Bertans is, signed with Utah for $18.25 million a year last summer. J.J. Redick, maybe the most feared movement shooter in the league but older and more of a defensive liability at shooting guard, makes $13.25 million per.
Buddy Hield will make an average of either $21.5 million, $23.5 million or $26.5 million annually, depending on whether he hits certain contract incentives. Let's use the middle number. For just a shooter, even an elite one, $23.5 million is an overpay. For a shooter who struggles on defense, hardly ever attacks the rim, gets to the line less than any other top-50 scorer in the league, and is a meh playmaker at best, it's a significant overpay.
I wrote last week about the value of a true 3 & D wing in the current league, asking the question of whether it was really that high given how many plus shooters continue to emerge from nowhere year after year. What can't be questioned is that it's unwise to overpay for a shooter who really doesn't add much else to the pot (I'm not counting Bertans, who's deadly shooting at the four gives it enhanced value).
Even if it was purely as a salary dump - say, Hield for the 38th pick - I'd say no, and I don't think the Kings are ready to do that anyway. If this seems nuts, check out Hield's impact on his teams' offensive performance when he's been on the court (look at the last column)…

…and compare it to Bertans…

…and J.J. Redick, particularly during the prime of his career: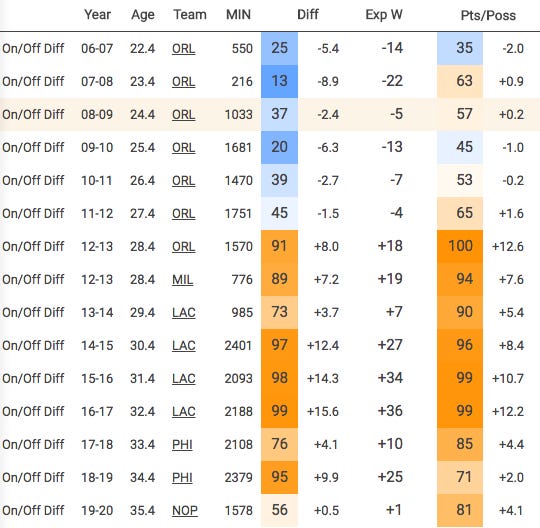 Elite shooting is supposed to make a big impact. Maybe Hield improves - he's about as old as Redick was during his final season before going to LA - but boy would this be an expensive bet to make that he does.
For me, the risk isn't worth the reward, not when there are great shooters (maybe even in this draft!) to be had if you look hard enough.
Maximizing Assets, Part 2
Before we get to my Kings trade down scenario, I mentioned yesterday how Walt Perrin had previously talked about there being a rough top-14 in this draft before a drop off. If I had to guess, just from reading all the internet tea leaves I have time to consume, this would be 13 members of that group, in the rough order I think teams (as opposed to me) have them:
James Wiseman

Anthony Edwards

LaMelo Ball

Obi Toppin

Deni Avdija

Onyeka Okongwu

Tyrese Halliburton

Killian Hayes

Isaac Okoro

Devin Vassell

Patrick Williams

Saddiq Bey

Cole Anthony
Again, this isn't based on any inside info, and isn't close to the order I'd have for the Knicks, but I do think that getting a rough sketch of the lay of the land on draft night is important for when we start engaging in these trade-down discussions.
On that note…
Sacramento Kings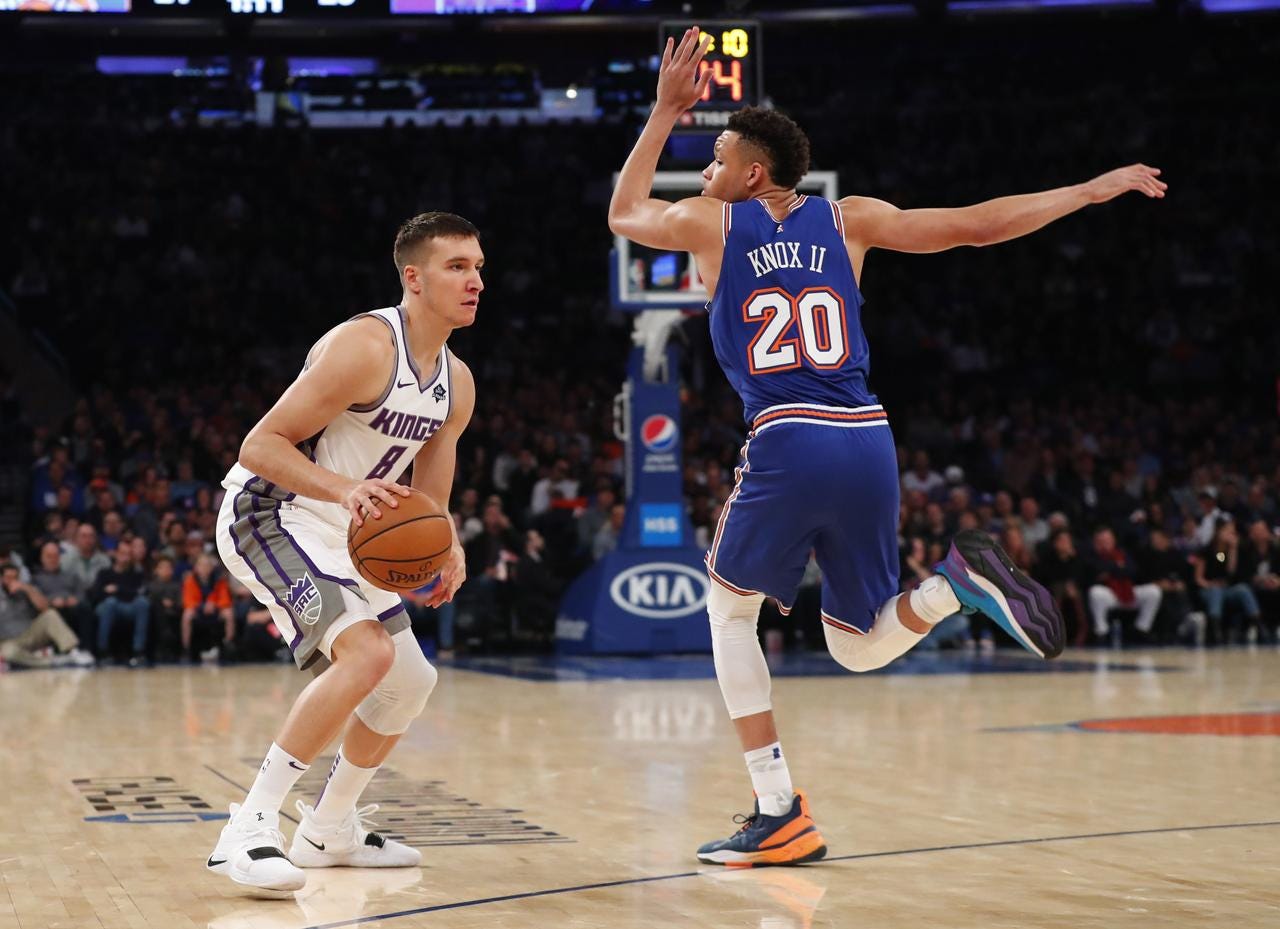 Proposed sign & trade: 8th pick, 27th pick & Dennis Smith Jr. for the 12th pick, the 43rd pick, Bogdan Bogdanovic and Cory Joseph
There's only about 47 different trade-related complications between these two teams, some of which include:
Will Scott Perry be the GM of the Knicks for this trade? The Kings? Somewhere in between? Say, Cheyenne, Wyoming, perhaps? And could compensation for Perry leaving New York to become's Sacramento's general manager be weaved into this deal?

How much are the Kings hurting financially, and how big of a motivating factor will that be in any deal? Remember: the Kings took on a lot of debt with the Golden One Center, including property in the surrounding area, which has been struggling mightily during the pandemic.

Does Nemanja Bjelica - perhaps the perfect piece in any NY/SAC trade because he's on an expiring contract, is an ideal stretch four, and is currently blocking Marvin Bagley's reentry into Sacramento's starting lineup - want to be reunited with a coach he may not be terribly fond of after inconsistent playing time in Minnesota? Would he threaten to go back to Europe - which he almost did last summer - rather than play for Thibs again?

How eager is New York to sign and/or trade for any long term contract belonging to a non-All-Star this summer? Or, from a different perspective…

What is Bogdan Bogdanovic willing to re-up for in the current financial climate? How badly does he or doesn't he want out of Sacramento, where the threesome of him, De'Aaron Fox and Buddy Hield is apparently a crowd?

How insistent would the Kings be that Kevin Knox be part of this trade instead of Dennis Smith Jr? And would it be a deal-breaker for Leon Rose? Would DSJ gripe at being traded somewhere where he'd be the clear backup?

Would the Knicks be willing to take on more potentially dead guaranteed money for the 2021-22 season, even something as small as the $2.4 million owed to Joseph that year?
And of course, the elephant in the room for all of this week's trade-down proposals: Are the Knicks OK with the drop off in player from 8 to 12 that this trade would result in?
Let's sort this out, shall we?
Would Sacramento do it?
The motivations for the Kings here would be pretty simple. They'd:
A) Have their eye on a particular player at the eighth pick, perhaps Okongwu as a theoretically ideal pairing with whatever they think Marvin Bagley is, and
B) Have made the determination that they can't unload Buddy Hield for anything close to what they feel is fair value (see above) and don't want to invest something like a third of their salary cap in two players they feel play the same position (not to mention want to unload the remaining money on Joseph's contract).
Perry - theoretically orchestrating this deal from both sides without technically being involved at all (like when a mutual friend doesn't take sides in a couple's argument but is secretly talking shit about each one to the other person) - could still have high hopes for DSJ. So there's that.
The biggest question might be whether there's a team willing to outbid the Knicks for Bogey's services. My guess is no; with the league in such an uncertain place financially and a lot of teams gun-shy at taking on money past next season (not to mention the handful or more of teams hoarding cap space for 2021), who would be willing to pay what Bogdanovic wants in restricted free agency, let alone give up assets for the right to do so?
That's the thing about RFA sign & trades: you're not only trading for the player; you're trading for the right to pay the player probably a bit more than he's worth.
Speaking of which…
Would New York do it?
Before I get to that answer, can I shed some irrational love on Bogdan Bogdanovic for a second? Here's the list of NBA players last season who averaged at least four assists, four boards & three made 3-pointers per 36 minutes and shot over 37 percent from deep:

No, Bogey isn't a primary in that he doesn't create his own shot like these other dudes. His defense, by on/off metics at least, merely graduated to "passable" this season. He also doesn't get to the line enough and rarely gets to the rim, much like Hield. If he's your best offensive player - something he would likely be for the Knicks - your offense probably isn't very good.
But that will be true of every player the Knicks could conceivably acquire this summer. It shouldn't preclude them from making a smart move, and getting a guy who is a plus shooter and playmaker (the big difference between him and Hield) in a league that values shooting and playmaking more than any other skills is a smart move.
Contractually, the Kings were in the same position with Bogey last summer that the Knicks are in with Mitchell Robinson now: the most they could offer was a four year contract worth slightly more than $50 million, which Bogdanovic predictably turned down. Last summer, Caris LaVert signed a three-year deal worth $52 million, and him and Bogey are roughly comparable players, at least in terms of their place in the NBA's hierarchy, with BB probably ranking slightly lower on the totem pole. One executive predicted earlier this season that BB would get four years and $80 million, but that was pre-COVID, so it's fair to assume that either the years or dollars will decrease.
Which gets us to the Tim Hardaway Jr. special - four years, $71 million, or whereabouts. That's basically a bet that Bogey can be one of the three best players on your team - and again, remember that you're giving up assets for the right to make that bet. The LaVert contract would be far more palatable.
This becomes even more complicated because the CBA doesn't allow you to sign and trade a restricted free agent to a team that previously signed him to an offer sheet. That means the Knicks would need to make Sacramento believe that they were signing Bogey to the offer sheet, such that the Kings would sign him themselves with the intention of trading him, under the premise that they'd rather get these assets in the deal instead of whatever they thought they could get for him on the open market at a later time. Got it? Good.
There is, of course, the possibility that the Knicks simply sign Bogdanovic to an offer sheet and hope the Kings don't match. That honestly might be the way to go. They may be set on unloading DSJ's contract at this point, and Joseph could actually help them as a combo guard who knows how to run an offense. Maybe they quibble over the picks - give the 38th instead of the 27th, get the 35th instead of the 43rd, that sort of thing - but the real cost here (besides the contract price) is the move down four spots.
Looking again at the above draft list, it's a safe bet that the top ten players will be off the board. That means the Knicks would be grabbing a tantalizing but unknown quantity like Williams, taking a chance on Cole Anthony (should he fall a bit), or drafting someone like Kira Lewis or Tyrese Maxey a bit earlier than they might be expected to go.
Oh, and for added fun: since free agency won't be starting until after the draft, barring some hot & heavy tampering (again, the Scott Perry factor), the teams would need to make picks for each other before Bogey even hits the market.
Would I Make the Trade?
I adore Bogdan, probably more than I have any right to. I can't remember the last time the Knicks have had a player like him (have they ever in my lifetime?) and they desperately, desperately need one. Until they get a few players like Bogdanovic, or an elite shot creator (don't hold your breath), their offense will continue to be stuck in mud. And mud smells.
Despite all of that, I'd waver. While I'm convinced that Bogey would be, at worst, a net neutral asset on the THJ contract, giving up real stuff just to pay a guy what he's worth makes me queasy, and I think going down from 8 to 12 has a chance to make a significant difference, especially with other possible trade-down scenarios offering a greater benefit.
I think I'd draw a line in the sand at something less than what I proposed above - maybe a simplified version of Bogey, 12 and 35 for 8 and DSJ, plus Scott Perry as your brand-spanking-new GM.
But if I was Sacramento, I'd just dare Bogdanovic to sign the offer sheet at that point and then match it, with the thinking that I can get more for him in a future trade than a late first, some minimal cap relief, and the upgrade from 12 to 8. Barring the Kings falling absolutely in love with whoever the 8th pick ended up being, I say they call the Knicks' bluff.
Now let's just all pray the Knicks don't swap the 8th pick for Buddy Hield's massive contract and we can be on our way :)
That's it for today! See everyone soon for our third trade down scenario of the week. #BlackLivesMatter.