The KFS NBA Draft Big Board
Version 1.0, because when are these things not subject to change
The NBA Draft is now officially double-digit days away.
98, to be exact. And it's been 120 days since we last saw any of these prospects in action (other than one dude who will play a prominent role in today's column).
So why do a big board now? No reason in particular, other than the fact that there isn't much else going on at the moment, but that's probably going to change awfully soon, and the next few months are going to be spent discussing the new coach, the staff, and then actual basketball.
No, the Knicks won't be involved, but I'll be spending a lot of time watching the bubble games and paying close attention to players who could or should be on New York's radar either now or in the future. It seems like as good a time to debut a draft big board as any.
Plus it's Friday, and I really do like finishing the week with a Top Ten.
That's a good place for us to start: thanks to where they finished the season, the Knicks can draft no lower than 10th come October 15. They have a 0.1 percent shot at falling all the way to 10th, or roughly the same odds of Jamal Crawford and Michael Beasley leading the Nets to an improbable Finals victory this season over the frisky Phoenix Suns.
Here's New York's full odds of landing at each pick, courtesy of Tankathon.com:

For this reason, and because I honestly haven't done enough homework yet on all of the potential first and early second-round prospects, my board is only going ten deep.
Also, I want to make very clear that this board is specific to the Knicks. In other words, if I were ranking prospects for another team, I might change the order or who appears altogether.
This should beg an interesting question: Does that mean I'm not going best player available?
Yes and no.
On one hand, no one on the Knicks is good enough to warrant passing on a potentially special talent, and the closest guy to that designation - RJ Barrett - is someone who I'm still not quite sure even has an ideal position in the NBA, let alone what it is.
On the other hand, this order is absolutely impacted by New York's specific situation, for a few reasons:
They are short on high end talent, so ceiling matters, probably more for them than most teams.

Because there is no consensus top guy (or top two or top five or top anything) in this draft, with players bunched so closely together and so much uncertainty regarding floor, ceiling, and median outcomes, tie-breaking based on fit seems reasonable.

Speaking of fit, no one is going to look good on this roster until they get a real point guard. I've spent a ton of time in this newsletter thinking and re-thinking how the Knicks should attack this position moving forward, and the only absolute conclusion I've reached is that Elfrid Payton isn't the answer.

Yay.

That said, given their apparent continued desire to remain as liquid as possible, I have an increasingly difficult time seeing Chris Paul or Fred VanVleet being a Knick come October.

Even if I'm wrong here, neither is a long term answer at the position. I expect them to bring in a veteran point guard whose shot can keep defenses honest on a one-year deal, regardless of who they take with this pick (Goran Dragić continues to make the most sense to me). But again, no long term answer there.

No one knows what the future holds, and there will surely be some trade rumor or another involving a prominent point guard before long, but as I wrote on Monday, don't expect them to be able to pull off something like that before next summer.

Lastly, this isn't the NFL, where you can just tank for the best available QB the following year. I'm higher on Cade Cunningham than most, but he's the only PG currently mocked in next year's top ten, and as we recently learned, banking on 14% does not qualify as a plan.

All this is to say that all things being equal (which, again, this draft kind of is), if there's a good point guard available, the Knicks should probably take him.

Using the same logic, any center they draft with their first better be pretty damn good.

There's still a lot of uncertainty surrounding Mitchell Robinson - How good can he be? Will the jumper ever actually become a thing? How contentious will his contract negotiations be in a year? In the modern NBA, is any player of his archetype worth the sort of dollars he'll command? - but what isn't in dispute is that right now, he's one of the few pieces on the Knicks that can definitively be labeled an asset with any cognizable value.

The moment the Knicks draft someone who figures to be a center at the next level, both that player's and Robinson's value instantly decrease, as everyone will know a trade is coming sooner rather than later. Given the fact that Robinson's trade value might not be all that high to begin with due to teams potentially being scared off by the above concerns, drafting a center with this pick just doesn't feel like the best possible use of an asset.

Lastly, I'm going into this exercise assuming the Leon Rose & Co. are going big game hunting sooner rather than later. That means a few things:

Whoever they draft might not be here for the long term,

They may have incentive to draft someone who will look really good right out of the gate, and…

Because they don't know what stars are going to become available, it makes sense to draft someone with the malleability to fit with different types of roster combinations and who can play in an a multitude of systems, both as a way to appeal to more potential trade partners and in case they wind up keeping the player and need to fit him alongside whoever they inevitably swing a trade for.
I know this last bullet point will probably piss off some people, but it's better to accept the reality of the situation than fight it, and as I've written and spoken about of late, we know what the game plan is here, and it ain't no five-year plan.
With those caveats, let's hit the Knicks Top Ten NBA Draft Prospects, starting from the bottom, and a couple of other names of note. Also, each bolded name is linked to Spencer Pearlman's Stepien scouting report on that player. He's way smarter than me. Read his reports for a more in depth view.
I wanted to address him specifically because a lot of people consider him among the best point guards in this draft.
And I'm here to agree that he may very well be, but only on the right team. I'll borrow Spencer's term here: he's a connector more than a point guard, in that he doesn't have the handle, pull-up game or aggressiveness/finishing to spearhead an offense that doesn't also contain an engine somewhere else.
In short, he might look great on a team with elite talent elsewhere on the roster, but that team sure isn't the Knicks, and while it's a lovely idea to draft with the intention of getting to that point someday soon, the ceiling just isn't there to justify such a selection.
Sorry.
(I promise, I don't have a thing against dudes named Tyrese)
Full disclosure: I like the idea of Maxey, am intrigued by Maxey, but haven't watched enough of Maxey to decided whether or not the concerns outweigh the potential for me, so I'm sticking him here for good measure.
Again, sorry.
Knicks Twitter has come around on Poku in a big way, thanks in large part to my compadre stanning like no man has stanned before.
I feel comfortable saying that Poku has as high an upside as anyone that will be on the board for the Knicks if they don't move up into the top four (and maybe even that is underselling his ceiling).
So why do I have him tied with a guy who is arguably the safest pick in the entire draft, at least in terms of being a valuable NBA contributor at a position of need and with an incredibly translatable skill set? Because upside only matters if it's given the chance to flourish, and Poku screams "project" louder than almost any potential first round target.
Will this regime invest in the resources (and have the patience) necessary to shepherd a guy who might not be ready to shoulder a heavy load on a winning team until his next contract? Or, in the alternative, would they be better off drafting a guy who can help the organization reach those ever elusive levels of competence that we all agree need to be attained before any real progress can be made?
According to my board, there's a better chance of Leon Rose being struck by lightning than having to make this choice, so it's probably moot. Still, an interesting thought exercise to consider.
I absolutely despise Toppin's fit on the Knicks current roster, especially without a supremely talented point guard to help make it look pretty. Yes, he's a theoretically a deep threat, but much like Julius Randle coming into this year, in theory and in actuality are two different things.
Also like Randle (who would certainly need to be moved if Toppin was picked - potentially not an easy feat), his preferred real estate is the low block, which is where Mitchell Robinson lives and RJ Barrett should be given as much space as possible.
It's why the notion of Toppin as a floor spacer is such a misnomer. Even if the 3-ball is an eventual real part of his game, you're not drafting this dude to hang out in the corner, not when there are far better shooters and defenders on the board. You draft Toppin to do his best Amar'e impersonation, circa 2005.
'05 Stat was averaging 26 & 9 and made All-NBA, but he was also younger by the end of that season than Toppin will be when he plays his first NBA game. This is not an upside pick; it's a "this guy can probably average 20 & 10 and win ROY in the right situation" pick.
That's why 9 is about as far as I can drop him, and even this feels gross. But if New York does some minor roster construction (Maybe Dragic and the best 3 & D wing they can get on a one-year overpay) and sufficiently stagger Toppin's minutes with Mitch and/or RJ, it could work.
Then you just have to hope prospective trade partners are only watching Toppin on one half of the court, because holy hell do I hate his defensive instincts.
Let's move on. Please.
I added all kinds of caveats to Vassell being the safest player in the draft because this guy is the safest player in the draft, full stop. He also offers enough shooting and passing upside to give you a nice ceiling that's in play.
But he's a center. Talk yourself into an Okongwu/Mitch pairing all you want, but dude is a five. The same staggering situation would apply here as with Toppin.
I don't care. He's going to be really good, and he'll help whatever team he's on. The key here is that drafting Okongwu would be a dog whistle that they're up for trading Mitch as opposed to a train whistle (i.e., drafting James Wiseman, who I really don't care for regardless of Robinson's presence). I'd make this pick and then figure out the rest later.
Still my most polarizing prospect.
Do yourself a favor and check out the video Jackson Frank puts together in the below tweet. It's 90 second long and well worth your time.
Put aside any concerns about Anthony's game for a moment. This level of shot-making at the next level is the gasoline that makes offenses go. There aren't many who do it well enough to justify the volume, and those that do so more than earn every penny of their max contracts.
And there's at least a chance Cole Anthony is a guy who will do it well.
But there's also enough evidence - more than enough evidence, actually - that he won't. I'll hear all your takes about UNC's crap spacing and how Cole was taking difficult shot after difficult shot, but a 45 eFG% is a 45 eFG% any way you cut it.
And on the 70 or 80 percent chance he doesn't reach that elite level as a scorer, what is there to fall back on? His ball handling is good, but not great. His vision is fine. Ditto for the passing ability. His decision making is…not ideal. His finishing also left a lot to be desired, and considering the spacing he's likely to encounter on the Knicks, that's kind of a big deal. He had more drives into no man's land than I can count.
The defense, despite flashes of good to great, was largely mediocre to poor, and I don't love the instincts off ball or around screens. He is already 20 and was arguably as well prepared for his freshman season as anyone in the country thanks to growing up in an NBA family. There's just a lot not to love.
I'm probably factoring in New York's need at point guard and the fact that he will 100 percent be able to handle the spotlight of MSG and all that comes with it a bit too much in having him this high, but the positional issues with the two guys below him make the choice a bit easier.
Plus, even if he doesn't hit his ceiling, his elite catch and shoot numbers on open looks (1.615 PPP - 96th percentile) gives him a floor outcome that is still very useful, and for as much as I'm not high on him defensively, I don't think it'll make much of a difference if he guards whoever is the less threatening player in an opposing backcourt.
But he's still second in my second tier of point guards after…
I keep reading about his slight frame (6'3", 165 lbs) as a major knock on his ability to be an elite defender. I'm sorry, but I don't buy it. You either get it on defense or you don't, and Lewis, well…he gets it:
I don't care if it seethes your soul to hear me and those of my ilk constantly point to Frank Ntilikina's positive impact on the defensive end, but this shit matters, and it'll be a whole lot more palatable with a guy who is an actual threat with the ball.
Which gets us to Lewis' offense, where there's a lot to like. He had a 52 eFG% this season, and his 80 percent clip from the line (on an encouraging 4.2 attempts per game) bodes well for continued improvement from deep, where he shot 36.6 percent this year on nice volume.
No, he's not on LaMelo's or Halliburton's level as a passer, but his live action passes to either side of the court show that he's more than capable of running the show.
(To drive this home: I sent this column to Spencer before publishing, just to make sure I didn't sound too dumb with any of these takes, and the sole piece of constructive criticism I got was to make sure I didn't downplay Kira's passing. "He's a legitimately good passer…his vision isn't very good but he can make high level passes, which at his speed is scary.")
His bread & butter combo of elite speed and being a truly gifted pick & roll guard should be enough to keep defenses honest at the next level.
Plus, you have to drag the guy off the court (he averaged 37.6 minutes a game) and he's almost a full year younger than Cole.
I'm honestly surprised I have Okoro this high.
He'll never be an engine on a good offense, the shot is anything but a surety, he's not an elite athlete, and for a guy who counts defensive versatility as his calling card, his wingspan is just meh.
But if you buy the shot (and people who are way better at this stuff than I am sure seem to), I see no reason why this guy won't be an incredibly valuable NBA player for a while. He's smart, has great touch around the rim (and generally) and will be a legitimately good NBA defender on Day One.
Is it dangerous to add basically the poor man's version of RJ Barrett to a team that already has the actual RJ Barrett, thus doubling your odds of "if this guy doesn't learn to shoot, we're kind of f——d"? Yes. Yes it is.
But Leon Rose shouldn't be playing not to lose, and for as inconsistent as RJ was on defense this year (see? I put it kindly), him and Okoro together offers you the possibility of some dynamite versatility.
Really though, this comes down as much to what New York thinks of Kira and Cole as it does what they think of Okoro. If they feel either of the former has real upside as a top-10 point guard that can be an offensive engine, make that pick instead. Personally, I think there's a higher chance this kid reaches his ceiling (basically a less athletic, worse playmaking Iguodala, to borrow Spencer's comp) than it is that either of the PG's reaches that lofty air.
If there was any doubt that Deni should be the fourth player (at least) on New York's board, his recent return to play should quash it.
Avdija, apparently on the Bruce Banner diet…
…is averaging 17.6 points, 5.8 rebounds and 3.3 dimes while hitting 45 percent from deep since returning to play in late June. He's almost everything you want in a playmaking wing, and he's better than you think defensively. Actually, he's damn good, Euro stereotypes be damned. He's also doing it against legit competition (speaking of Amar'e, Stat is on the same team).
I'd advise checking out the full highlight package from all of his recent games, including yesterday's, which included this fancy little number: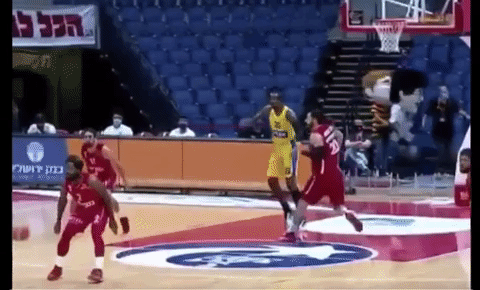 That's about as good as you're going to get as far as shot creation from Avdija, which is why, against every fiber of my being and despite my better judgment, I have him neck and neck with a player who couldn't be more different in a number of ways…
3. Anthony Edwards
There's zero chance I'm going to do a better job describing the walking enigma that is Anthony Edwards than John Hollinger did a few months ago, so I'm just going to let you read how he put it…
What if I told you about two college basketball players and said you had to pick one:

Player A is the country's leading freshman scorer, despite being younger than most freshmen (he won't turn 19 until August) and more limited playing experience since he didn't pick up hoops until he was in high school. He also has an obvious NBA physique and position, a long wingspan, the ability to slide his feet defensively, a wart-free background, and is capable of breathtaking stretches of play.

Player B struggles to play within the flow of a game and needs to stop the ball to get his offense. He is a middling jump shooter at best but mostly settles for jump shots despite overwhelming athletic ability. He's also prone to puzzling stretches of bizarre indifference, especially at the defensive end, and his team is just 15-14 on the season, including only 5-11 in conference.

Here's the catch: I've described the same player twice. It's Anthony Edwards of Georgia.
After Hollinger wrote that, Edwards had three more games before the college season got shut down, against Florida, LSU and Ole Miss. He went 11-for-45 from the field as his team lost at home to the Gators, got eviscerated by the Tigers, and then pulled away in the second half to beat the Rebels in the SEC tourney opener.
And yet, I have him ahead of Deni. Why? Simple: the value of shot creation.
Like, you can't teach any of this shit right here:
It goes without saying that "you can't teach this shit" has gotten many a general manager fired. But if they pass on this kid and he hits, forget about losing jobs…as an organization, it's the type of thing it takes years to get over (think Frank over Donovan, but worse).
IDK. I'm glad it's not my call.
2. Killian Hayes
I won't begrudge anyone who doesn't get why Hayes is neck and neck with LaMelo Ball on so many draft boards.
There's no disputing that Ball is his superior in terms of ball-handling, court vision and passing, and the major thing that Hayes is supposed to have over Ball - his ceiling as a shooter - amounted to 29.4 percent from deep this season, less than five percentage points better than LaMelo. He also may or may not know he has a right hand.
So now that that's out of the way, why is he so high? For one, the defense is legit. Whether he grows into a stopper or not, it's certainly not a red flag.
His shot, unlike the guy I have ahead of him on this board, doesn't need major adjustments, something his pristine foul shooting numbers are evidence of in addition to the eye test. He's also young - just a month older than Ball - and he already thinks the game at an incredibly high level. He's not LaMelo as a passer, but no one in this class is, and Hayes is pretty damn good.
But more than any of the above, here's why you're paying the price of admission:
This is not one to overthink. Take Hayes and run
Well, unless...
1. LaMelo Ball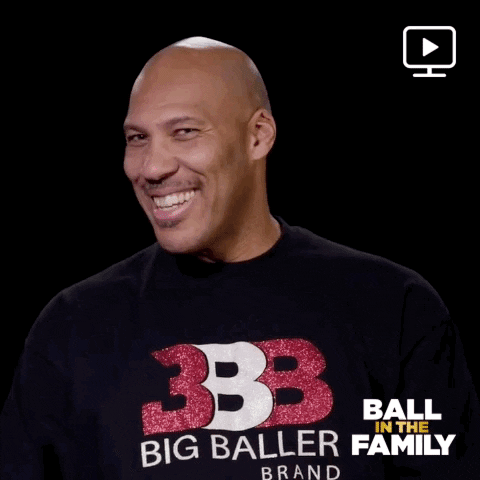 I wrote an entire newsletter about Ball here, not only about why I thought he was the top prospect in this class, but why I feel somewhat strongly that the Knicks should trade up to get him if it's even remotely feasible to do so.
In short, special skills win rings, and Ball's vision, passing ability and handle combine to form a special package. He's a jumper away from a perennial All-Star. I'll take my chances.
That's it! Hope you've enjoyed this Friday marathon Top 10! See everyone on Monday :) #BlackLivesMatter