Maxey's Moxie
The Knicks could trade down and still end up with a high pedigree kid from a blue blood school...but is he any good? Let's investigate.
News & Notes
"Sources…
are full of s—-"
A month ago, after Jalen Rose said on ESPN that he wouldn't be surprised if Mitchell didn't extend in Utah, I wrote that I had heard the same. The lesson, as always: stick to being President of Frank Island, Macri, and stop trying to break news.
Wiser words have never been spoken. That said, I also added the following to my initial Spida speculation:
Don't believe everything you hear, even (especially?) from me. If the lead up to the summer of 2019 taught us nothing, it's that there are only losers in the NBA game of telephone. That said, I find it interesting that I heard what I heard at the same time Rose went on TV and said what he said. Maybe it's juts a coincidence, but it would seem like someone is making a concerted effort to get this notion out into the ether. Who, and for what reason? Your guess is as good as mine.
I consider this a still developing story, and the other shoe I'm waiting for is what happens with Gobert this summer. Leaking that you have a wandering eye to get your team to make a certain roster move wouldn't be the worse use of an ESPN talking head (or me).
I'm also told that there were some people with the Knicks who were more than surprised by yesterday's news.
Before anyone gets nuts and thinks that Leon Rose's front office is pinning New York's future on a hope and a prayer, keep something in mind: not every tidbit about the Knicks' thinking emerges from the basketball operations department. I may be stepping on my own toes here, but Dolan has his people too, and occasionally, those people have their own delusions of grandeur which may not be in lockstep (or for that matter, have any effect whatsoever) on the actions Rose, Perrin & Co. are taking to improve this roster.
And now that I've already probably said too much, let us mercifully move on…
Tweet of the Night
Joel Embiid Feeling Feelings Tweet of the Night
Ask Macri
A few weeks ago a caught a lot of shit - a lot of shit - for daring to suggest on a podcast that I thought there would be teams in the NBA who would take Tyler Herro over RJ Barrett if they had to choose between the two.
And I get it. Aside from the obvious notion of fans defending their player and seeing only the best in them, Barrett has a very real upside that Herro will never be able to match. At RJ's size, if he progresses as a playmaker, a shooter, and a defender, he enters a class of player that Herro can't dream of. And considering Barrett's work ethic and pedigree, there's no reason to say right now that he can't improve in all three areas.
Plus, Herro gets the benefit of having not only the time the NBA was on hiatus to work on his game, but also a month just prior to the pandemic when he out with an injured foot, allowing him to sit back and take in the game from the sidelines. RJ had two weeks off this season and his numbers improved across the board when he returned. Lastly, I have real concerns about whether Herro, who is under 200 pounds soaking wet, will ever be able to avoid getting targeted on switches at the end of a tight game.
So no, I wouldn't take Herro over Barrett. But I also don't think Pat Riley would swap out his guy either, not when RJ's ceiling still involves a fair bit of projection, whereas Herro is helping Miami win games right now. Here are Herro's numbers in the last five seeding games:

And here are his numbers in the Heat's six postseason games:

Herro's shot-making has gotten most of the attention of late, but it's passes like this that would have me most excited if I were Coach Spo:
For RJ Barrett to reach his ceiling, he either needs to get to the point as a playmaker where you can have him spearheading lineups that don't contain a traditional ball-handler, or his shooting gets to a place where defenses respect him from the outside. Yes, maybe a little of column A and a little of column B will work fine too, but ideally, he reaches elite status at one or the other.
For Herro, he's already there as a shooter, but if he can continue to create off the dribble (he's shown nice flashes in Orlando) and make passes like this lob to Bam, there may even be another level he can reach.
I doubt this is the last time we have a conversation about these two.
---
Maxey's Moxie
Those of you who have been following me for a while know that getting heavy into NBA Draft prospects is somewhat of a new exercise for me. Thanks to the pandemic, I've had extra time to get into film and develop some of my own thoughts on certain guys, but I still largely rely on the opinions of experts when it comes to this stuff.
Such was the case when it came to Kentucky freshman Tyrese Maxey.
When the season ended in March, I think I had watched a total of six quarters of Kentucky basketball, if that. At no point did I ever look at Maxey and think I was seeing a high level NBA prospect. Interesting? Sure. Exciting? No. He sort of looked like another guy out there. There were a lot plays that were just…meh:
No elite handle. No burst. No attempt to take a smaller guard (Kira Lewis - luv ya bruh!) into the post. And of course, no thought about pulling up from deep, where Maxey was a hair under 30 percent for the year - only a shade better than Isaac Okoro on not terribly dissimilar volume (3.8 3PA/36 vs 2.9 3PA/36)
So you can imagine my confusion when I kept seeing his name listed anywhere from the late lottery all the way up to the top ten on mock drafts throughout the year. Given his consensus top-ten recruiting rank entering the season, it made a little more sense, but still…if guys like Jaden McDaniels and Nico Mannion had fallen off, why hadn't Maxey?
Even some of his makes made me wonder, like here, where he doesn't exactly go up strong and under control into the contact: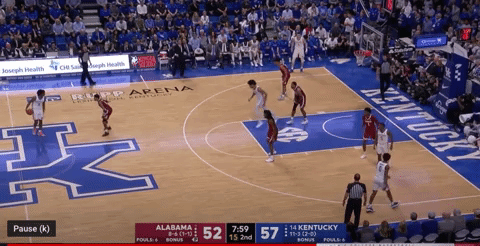 My curiosity over Maxey only increased after the Knicks hired Kenny Payne, who helped successfully recruit the Texas product and has spent the last year coaching him. There was also the fact that this draft seems to be fluid between the top three and the late lottery, and with the Knicks potentially looking to pick up an additional asset on draft night, trading down into Maxey's range theoretically makes some sense.
Well, it does if he's actually good, and that's where things get complicated. In addition to the paltry long distance numbers, Maxey's overall efficiency (47.4 eFG%) left a bit to be desired, he averaged just 3.3 dimes per 36, his usage was nothing to write home about (22.7 percent), and aside from his finishing (we'll get there soon) there was no one skill that pops from the tape as being anywhere near elite.
There just didn't seem to be enough there there on the surface to justify even a late-lotto grade.
But then again, Maxey isn't a guy you can get the full story from simply by looking at the numbers and the highlights. Let's start here:

So it's a bit of selective stat-hunting here, but this is the list of players (h/t Spencer Pearlman) with an AST% over 15, a FT% over 80 with at least 100 attempts, shot 65 percent or higher around the rim on at least 100 attempts, shot at least 35 percent on log twos on at least 100 attempts, and had a BPM of at least 3.0 this past season.
A couple conclusions:
Grant Riller is really freaking good and if the Knicks don't end up with him or Desmond Bane with the 27th pick, I will not be a happy camper.

There's a world where Maxey gets his shooting numbers up (as the free throw and long two numbers suggest he should be able to do) and becomes a jack-of-all-trades dude who can do a little playmaking (the AST%) but also provide ample value around other playmakers (the finishing) and ultimately help teams win (the BPM)
The "helping teams win" part is, if I had to guess, what would sell the Knicks more than anything. Before he was hired by the team, Payne talked up this aspect of Maxey to the Post's Marc Berman, as well as his versatility. He also brought up his age - Maxey won't turn 20 until November - as an important thing to keep in mind when tracking his development.
To that end, what we saw from Maxey on the defensive end evinced someone with far more experience:
This is something that won't find its way onto the stat sheet, but was likely the difference between a make and a miss in a close game down the stretch.
Maxey, perfectly positioned between his man at the arc and the paint, releases to help on the dive man before the entry pass even leaves the ball handler's mitt. The momentary disruption he causes on the gather is enough to allow his teammate to come over and get a get fingertips on the ball, resulting in a missed shot.
Here's another clip from earlier in the same game, this one firmly embedded in Tom Thibodeau's wet dream: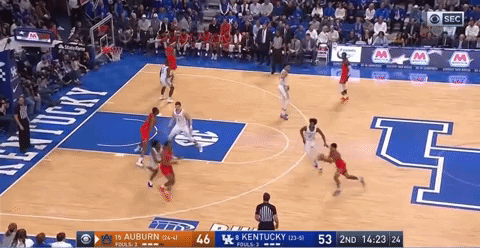 Maxey is guarding Isaac Okoro here, and is at a significant size disadvantage. As such, if he allows Okoro to curl around the screen, he'd have had a full head of steam going downhill into the paint.
Instead, Maxey senses the screen coming and gets in perfect ICE position. The footwork and stance are textbook here, and as a result, Okoro is forced to try and snake through the defense - not his strong suit. Maxey, meanwhile, stays with the play as best he can, just in case Okoro wanted to pull up or try to kick to the corner.
Again, nothing about this will find its way into a box score, but Okoro finished this game 3-for-11 from the field for a reason. Maxey is a really smart defender, and while he doesn't possess the size to guard the NBA's bigger wings, he should have what it takes to cover either backcourt spot. Most of all, this year at Kentucky showed that he's very good at executing a defensive scheme.
Here's a sequence that most definitely did make its way into the box score:
The steal here is about as perfectly timed as you could imagine, and unlike the above make, Maxey does a great job drawing the contact and then squaring up for a good look at the And-1.
Maxey's finishing numbers speak for themselves - 71 makes on 109 attempts at the rim - and his touch both in and around the painted area is excellent. While a .342 free throw attempt rate isn't great, it's not bad either, and in an offense where he should get to play alongside a traditional point guard and another smart passer in RJ Barrett, it's easy to see this part of his game getting stronger, especially once he puts some weight on his 6'3", 200 lb frame.
If the Knicks can get him out into open space, even better: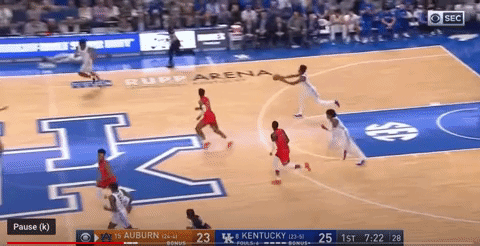 When I spoke to Kyle Tucker, who covers UK for The Athletic, on the KFS Pod last month, he was clear that Maxey is not going to be the sort of franchise changer than many Knick fans are pining for in this draft.
The tape doesn't disagree with that sentiment. This isn't a case of Devin Booker not getting a chance to show his full arsenal because Kentucky's roster was so loaded. Maxey was Kentucky's highest pedigree player this year, and he had more than his fair share of opportunities to shine.
Occasionally, he did, like in a season-opening win over Michigan State that saw him put up 26 points on 12 shots, or Kentucky's victory against rival Louisville in which Maxey scored a season-high 27. In general, Maxey seemed to rise to the occasion against the best. Other times, however, like when he went 4-for-26 over a three-game stretch in late November/early December, he just looked bad.
Even in the great games though, there's nothing that pops in the way that Cole Anthony's game occasionally did. Anthony also made a lot of poor decisions and regularly forced bad looks, something Maxey rarely did. It creates an interesting dichotomy for the Knicks if they do indeed trade down, as it wouldn't shock anyone to see them deciding between those two, perhaps along with Alabama's Lewis.
In the end, they'd be taking Maxey for the stuff he brings that can't be taught: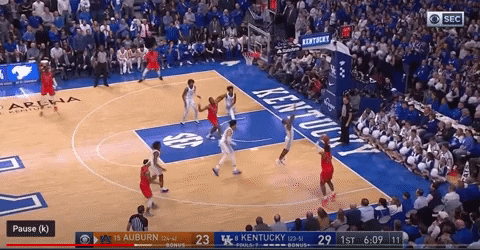 While drafting a college blue blood for the third year in a row might lack the upside of some other potential options, it's easy to see Maxey being a Tom Thibodeau favorite for his toughness, his technique, and his ability to play within a system at both ends.
If the Knicks feel that there's nobody on the board who has a realistic chance to be the system, and they can pick up an additional asset in the process, that might not be the worst move after all.
That's it for today! See everyone tomorrow for the Friday Edition. #BlackLivesMatter