The Best of Times...
The NBA Playoffs were supposed to begin tomorrow. Once upon a time, that's when New York's season was just getting started.
Hello quarantine friends. I hope this Friday edition of the newsletter finds you well.
So tomorrow was supposed to be the first day of the NBA Playoffs…
(sigh)
…not that the Knicks were going to be a part of them anyway.
(siiiiiiiiigh)
Lately, the version of the Knicks that used to be in the postseason all the damn time has actually been on my mind a lot.
What with Oak making asinine comments about Patrick Ewing, Ewing and Jeff Van Gundy appearing on the Woj pod, ESPN's The Last Dance set to transport us back to the late 90's starting tomorrow night, and NBA Twitter throwing up old highlights because, well, what the hell else better do we have to do…
…I've been thinking a lot about the days when the Knicks' season used to start on this weekend every year.
I skipped Throwback Thursday this week and last, so I'm making up for it by doing a Throwback edition of the Friday Top Ten: The Top Ten Knicks Playoff Wins since 1993.
Why 1993? Because that's when I started paying close attention to the team, and I'd never try to rank a win I didn't personally celebrate.
So with all due apologies to anything that happened in the 70's or 80's, Game 5 vs Boston in 1990, or Game 2 of the '93 Eastern Conference Finals ("The Dunk"), here are the top ten postseason wins of the last 27 years.
In terms of how I ranked them, I mostly considered how big the win was in the moment, but also factored in how much the win ended up meaning (i.e., Did they win the series? Was it a long playoff run?)
On that note, let's get started down memory lane with…
10. Game 3, 1996 Eastern Conference SemiFinals vs Chicago
There are a few quirky hoops opinions I hold near and dear to my heart, but perhaps none is quirkier than this: of the 13 total games the 95-96 Bulls lost, the worst two defeats both came at the hands of the New York Knicks.
The first, of course, was the 32-point thrashing at MSG in March - the only regular season game those Bulls would lose by more than 10 points.
The second - in my mind, at least - came in the Eastern Semis, with Chicago up 2-0 but with both withs coming in relatively competitive games. The Knicks came out at home and won in overtime, 102-99, despite 70 points combined from Jordan (46) and Pippen (24).
New York would go on to lose Game 4 by the same margin, but it wouldn't change the fact that they were the only team to beat the Bulls in the playoffs while Chicago was really trying - something I will always be convinced MJ & Co. weren't doing in Games 4 and 5 against the Sonics a few weeks later.
9. Game 3, 2013 1st Round vs Boston
They took the series in Game 6, a night in which the entire organization breathed a sigh of relief after Boston won Games 4 and 5 and produced whispers of a possible Game 7.
But Game 3 was the big one here. All season long, there was the slightest hint of "fool's gold" to the '12-13 squad, and that New York's 3-happy approach wouldn't hold up in the playoffs.
That didn't really change even after they won the first two games at home. But when they came out and whooped the Celtics in Boston 90-76 to go up 3-0, there was a distinct feeling of "holy shit…this might be legit" that swept the city.
Of course, because nothing is ever easy, J.R. just had to wake a sleeping giant before the night was over:
…which motivated Boston to take the next two games.
Would the result against Indiana have been any different if New York completed the sweep and went in more well-rested? I wouldn't bet against it.
8. Game 4, 1998 1st Round vs Miami
Everyone remembers that the Knicks became just the second No. 8 seed to upset a No. 1 when they beat the Heat in the 1999 playoffs, but few recall that when they bested Miami a year earlier, Pat Riley's crew was a two seed and New York a seven.
Of course, no one remembers the seeding - or anything else about that series for that matter - because of what happened with seconds to go in Game 4 and the win securely in hand for the Knicks:
Jeff Van Gundy, ladies and gentlemen.
Still the man.
7. Game 5, 1994 ECSF vs Chicago
The Hue Hollins game.
Was it a phantom call? You be the judge:
Even though this game will always go down as the one New York was lucky to steal, I don't feel bad in the slightest, if only because the refs in the '94 Finals would pay them back ten-fold with a whistle that was so one-sided, it had to be heard to be believed.
Either way, this win was absolutely huge. If the Knicks go down 3-2 in the series, there's a real chance they lose Game 6 in Chicago (they ended up dropping the game 93-79, the largest margin of victory out of all seven contests). But thanks to good ole' Hue, they escaped here 87-86, and took Game 7 by ten at home.
6. Game 5, 1995 ECSF vs Indiana
Up until the day I got married, the only time I'd ever cried tears of happiness in my life was after Patrick Ewing hit this shot:
Did he travel?
I don't know…I lost count after four steps. But who cares? My silly 12-year-old self jumped around the living room like we'd just won the Finals after this one went down.
It gets lost in the sands of time because Ewing will always be remembered for the missed finger roll in Game 7, but don't sleep on this bucket. The shot and the win - one that staved off elimination and brought on Ewing's famous "See ya' Sunday," a guarantee he indeed made good on - were massive.
5. Game 7, 2000 ECSF vs Miami
I wrote a column with about a dozen clips from this game a few weeks ago. Check it out here if you missed it.
As I wrote then:
We may not have realized it at the time, but this game represented the end of an era in more ways than one.

Primarily, it was the end of the second-greatest rivalry the 90's Knicks ever had, but it was also the end of the road for these two franchises as NBA powerhouses, at least for the time being. The Knicks, of course, would lose to Indiana in the next round in six games, and the series wasn't really that close. Ewing would miss games three and four, which were tellingly the only victories New York had. He was done.

Both teams would make the playoffs the following season, but neither made it out of the first round. For the Heat, their downtime would be short-lived. After two years out of the playoffs, they snagged the fifth pick in the 2003 NBA draft and selected a kid who our current President of Basketball Operations knows a bit about.

The Knicks, of course, wouldn't be so lucky.
The end of an era, indeed. But what a way to go out.
4. Game 6, 1999 ECF vs Indiana
I'll be honest: I was at a wedding during this entire game, and there wasn't even a TV at the bar.
This was before the days of the internet on your phone (believe it, kids), so I saved up my lunch money and purchased a small handheld am/fm radio that I brought with me for the festivities. It wasn't the same as watching though.
A Marcus Camby tip-in gave New York a four-point lead with just under three minutes remaining, and the Knicks would retain at least a two-possession margin for the rest of the game.
The win sent them to their first Finals in five years (and hopefully not the last one before I die). It wasn't, however, the best win of the series…
3. Game 3, 1999 ECF vs Indiana
For the life of me, I don't remember a single thing that happened in this game before this:
Funny story:
When I interviewed LJ for the podcast last year, I obviously asked him about his memories of the shot, and he - unprompted - told me what Chris Childs said to him before the free throw that would put New York ahead by one. I ended up editing it out, because we are, after all, a family friendly production. But now that we're all probably never going to leave our houses, again, what the hell:
"Motherfucker, you better hit this free throw!"
And he did.
2. Game 5, 1999 1st Round vs Miami
A first round game? Second on the list?
Hellllll yes.
This will always be my favorite basketball memory. I was old enough to know enough about the team and the sport for it to really matter on a deeper level, but also not old enough to lose that naivety where you think your squad is a team of destiny. For reasons I still can't quite explain, I knew in my bones that if the Knicks beat Miami in the first round, no one in the East was stopping us.
As far as I was concerned, this shot put New York in the Finals:
Never, ever, ever gets old.
But of course, it can't be number one here.
1. Game 7, 1994 ECF vs Indiana
Before we get to win that sent New York to its first Finals in over two decades, I have to admit: It feels a little funny to do a whole list of great playoff wins and not include a single one of New York's four victories that they achieved in the actual NBA Finals.
The San Antonio Game 3 win was…a nice parting gift? Even after it happened, deep down I - along with every honest Knick fan - knew that we didn't stand a chance.
As for the wins against Houston, the victories in Games 2 and 4 both came with the team down in the series and felt more like a sigh of relief than any great achievement. Neither was particularly memorable.
And Game 5, well…how the hell can I include a game on this list that no one outside of those in the arena saw the ending of?
Can't do it.
Which leaves us with the game that sent them there. I wrote a little about my own personal experience that night here, but suffice it to say it's the biggest win the franchise has had since Dave DeDusschere jumped into Willis Reed's arms 47 years ago next month.
The win was nearly a decade in the making, something that every Knick fan had been pining for since the day Patrick Ewing got drafted.
Does it seem a little odd that the team acted as if it had accomplished its mission one step before the end of the journey? Maybe…but I'm not about to hold that against them. Back then, getting out of the East was such a monumental accomplishment, and with Jordan gone, there was so much pressure for the Big Fella to at least get that far.
And of course, he did.
That was one of 14 playoff series wins the Knicks had in the 1990's. They've won 18 playoff games since, half of which came via the last hurrah in 2000.
And this game was the high point. Ewing's good name might be dragged through the mud nowadays, but my fondest memory of him, like it is for a lot of us, will always be this one: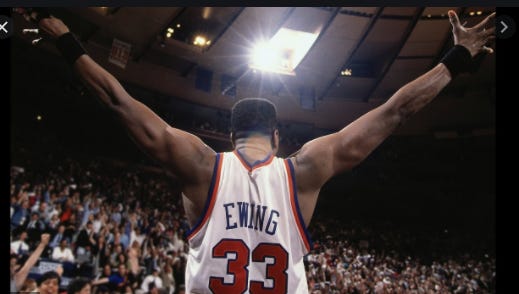 As it should be.
Have a good weekend everyone!