Worth the Trou-Ball?
Regardless of how the lottery shakes out, the Knicks should have an opportunity to grab LaMelo Ball. Here's why they should.
First things first: I have decided to try - try being the operative word - to get back to writing about basketball.
The reason is simple: I need to. The last nine days has taken its toll on all of us, and basketball, even though it isn't being played, remains my escape. I expect it might be yours too.
But even as I write those words, I recognize that for black Americans, there will be no escape until these issues are rectified once and for all. Nine days of stress from my vantage point would be a walk in a park for millions in this country. That's why even though I'll get back to producing content about the Knicks, all of our hearts and minds must remain invested in the Black Lives Matter movement. Much more action is required in addition to the words many of us have already shared.
To that end, I have some ideas about ways I can continue to use this platform to help that cause, but I want to hear from you. If you have a good idea, shoot me an email at KFSMailbag@gmail.com. On the other hand, if you are someone who doesn't take the same view as me on these matters, I'll just offer this: reach out to me, if you'd like, and we can chat. My DM on Twitter is open, and I promise, I'll find the time. Open conversation won't always solve the world's problems, but you never know. I'm willing to give it a shot.
OK, here we go…basketball! Let's see what's in the news that can get my mind off all this misery…
G—DAMMIT.
Look, I don't have much to say on this. Do I think Dolan is a racist? No, but is that even the question we need to be asking anymore? Don't we all need to reconfigure our ideas about what it means to fight against racism? Yes, his actions speak loudly, but in his position of prominence, too much is never enough. Leave no doubt where the Knicks stand on these matters.
Purely from a PR perspective, this is another example of Dolan being given a teed-up wiffle ball, only to trip on his own bat as he approaches the plate. Only Dolan could find himself in this hot water after presiding over the first all-black POBO/GM/HC trio in NBA history.
This was a layup. Putting out a toothless statement - something most teams did, unlike, say, the Wizards, who offered a powerful message with theirs - would have avoided this controversy. They'd still be critiqued locally - and rightly so - but it would have avoided all the noise, and noise surrounding the Knicks is never good.
Most of all, it wouldn't have made his players feel like they being weren't supported in a cause that means so much to them. So not only is this a bad look, but it may have really, really hurt people who work for him. That's a terrible combination. And the follow up email didn't exactly fix anything:
Let's move on, because on the list of causes I have the energy to fight for in 2020, "trying to help James Dolan get a clue" does not make the top ten. On that note, on to actual, real basketball!
Last week, I went through 30 years' worth of NBA Draft trades involving top-five picks for the sole purpose of answering one question: Assuming the Knicks don't move up in the lottery, what would it take to trade up for LaMelo Ball?
Absent from that article was any analysis whatsoever about whether such a trade would be a good idea. To quote everyone's favorite leather-clad sage:
Pessimists about Ball's game are not without merit - and that's before we even consider paying a premium for his services by giving up a young player and/or a future draft asset to move up.
Let's start with this: Just about the worst thing you can have in the NBA is a primary ball-handler who can't shoot, and Ball just completed a season where he hit one out of every four 3-pointers he attempted.
Them's Russell Westbrook numbers right there, except he doesn't balance them out by getting to the hoop with abandon. Ball took 53 shots at the rim versus 80 from behind the arc, and didn't make up for the difference with free throws either, getting to the line just 3.9 times per game.
You can sugar coat it any way you want - he never lost his confidence (see: 1-for-11 in his last pre-injury outing), he was on a relative 6-game hot streak before that final clunker (36 percent on 7.3 attempts per game), his 72 percent from the line evinces some hope - but a guy who can't shoot is a guy who can't shoot, and right now, LaMelo Ball can't shoot.
Compare that with all the other possible point guards the Knicks could take at the top of this draft, and it looks even worse:

Let's put Hayes aside for the moment, as he'll likely be gone if the Knicks stay put in the draft order. The other three have already shown a level of proficiency from deep that Ball simply hasn't.
So there's that.
LaMelo has also shown bouts of inattentiveness, ball-watching and carelessness on defense, and not just on random plays in blowouts either. Take this one from a November game his team led by two in overtime: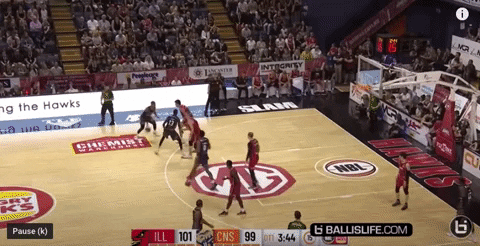 Blink and you might miss it, but Ball is about a half second late to react to the roll man strolling down the lane unimpeded. By the time he realized what was up, there was nothing he could do. The halfhearted fly-by didn't exactly help.
(Ed's note: I sent this article to Spencer Pearlman to proofread because, well, he's much, much smarter than me, and has watched a hell of a lot more tape. On LaMelo's D: "He shows some legit defensive IB off-ball most of the time. The issue is he doesn't always finish out the play on the interior and, like all young players, he's prone to ball watching")
Of course, the only reason Ball's team was even in overtime was because he hit this shot with under ten seconds left and the Hawks down three: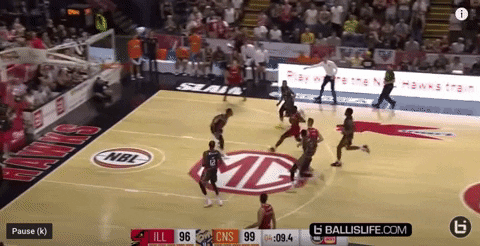 Can't teach that, can you?
There is no fearlessness in Ball, which can be a gift (if you have the game to back it up) or a curse (cue every bad J.R. Smith game ever). Such is to be expected when a kid is groomed to be Basketball Jesus from the age of nine.
Illawarra would go on to win the game, spurred by LaMelo's 32 points (on 20 shots), 13 dimes and 11 boards. It was his best outing of the year, and the loudest reminder yet that, yes, the kid has some game.
Maybe it would have spurred him to a stretch where he'd have silenced the doubters, and I wouldn't be writing this column because whoever got the first pick would be keeping it, no questions asked.
Unfortunately (or maybe fortunately for the Knicks), he'd play just one more game before a foot injury permanently derailed his season, but the progress he made over his final five games (23.2 points on 40.5 percent shooting, 30.2 percent from deep - including that 1-for-11 clunker - 8.4 assists, 9.2 rebounds) showed a player who was steadily improving. The Hawks, 3-9 with a healthy Ball, went just 2-14 after he went down.
It bears mentioning here that Ball is still just 18 - more than a year younger than both Anthony and Halliburton. His off-ball defense and shooting form - something he's continuously working on, as noted by Mirin Fader in her incomparable profile on Ball from earlier this season - should improve in time.
But it will take time. As Sam Vecenie notes in his excellent breakdown from January, Ball has a shot that is worth buying long term, but that "he will likely struggle early in his NBA career until he works through his mechanical issues and puts on strength."
Trying to parse out exactly how long is tough. Looking at other highly rated point guards who struggled shooting at some point in the early going of their career, it's a mixed bag:
Ja Morant jumped from 30.7 percent as an 18-year-old freshman to 36.3 percent as a sophomore on nearly double the attempts. He was more than serviceable as a rookie.

Collin Sexton was a 33.6 percent shooter as a 19-year-old freshman, and has been a 39.2 percent shooter (on middling volume, and often left open) in Cleveland.

LaMelo's brother Lonzo hit a blistering 41.2 percent from deep on massive volume - albeit with a funky form - as a 19-year-old at UCLA, then struggled mightily in his first two years in LA (30.5 and 32.9 percent, respectively) before bouncing back to 38.3 percent this season.

De'Aaron Fox is the only other recent premier PG prospect besides LaMelo who shot under 25 percent before coming to the pros (he hit 24.6 percent of his threes at Kentucky on just two attempts per game) and has bounced from 30.7 up to 37.1 and then back down to 30.7 percent over his three seasons in Sacramento.

Dennis Smith Jr. hit 35.9 percent at NC State and since then…you know what? It's been a shitty enough week. Let's move on.

Oh, even better: Elfrid Payton made 30 total 3-pointers in three years of college, and made 14 deep balls this season. It seems his ship has sailed.

Victor Oladipo was all over the place in college, from 30.8 to 20.8 to 44.1 percent, but never on high volume. He then improved in each of his first five years in the NBA, topping out at 37.1 percent as a fifth year pro.

Kemba Walker, another three-year college player, steadily increased his volume from 48 to 112 to 227 attempts as a junior, but never got higher than a 33.9 percent conversion rate. He was then a 31.8 percent shooter over his first four years in Charlotte before the light turned on, and he's been at 37.7 percent in the five seasons since.

John Wall is another guy who took a while to get it going. 32.5 percent at Kentucky on medium volume was an encouraging sign, but he all but abandoned the 3-ball over his first three years in Washington, hitting 49 in total. He topped out on 37.1 percent on 167 attempts in 2017-18.
Overall, the more recent results are encouraging because they've occurred in an era when there is no such thing as a proficient lead ball-hander who can't stretch the floor. At the same time, LaMelo is in a category all his own as a guy who will surely let it fly early and often regardless of how many looks he converts.
Which brings us to the Knicks. The questions about Ball in New York seem to center on how he would blend with the roster that is in place right now. In Ball, the Knicks would be adding another poor shooter to a core that already includes RJ Barrett and Mitchell Robinson.
Lest we forget how a lack of spacing manifested itself last season:
This is a legitimate consideration. If Ball follows the traditional timeline, and we accept the fact that Barrett - coming off a 32.0 percent campaign, almost entirely on wide-open looks - will have the ball in his hands a lot, it means the Knicks will likely struggle to have even a league average offense for the next two or three seasons.
(I included the "likely" caveat because while it is hard to imagine a better-than-average offense where the two primary engines are below average shooters, if the Knicks had elite shooting at the other two positions, they could probably make it work. But there's no guarantee they add one such player in the next couple years, let alone two.)
How much should that factor into New York's decision? It depends.
For one, are Barrett and Robinson such fixtures that decisions need to be made around them? Reasonable minds can differ. More importantly, the immediate future isn't all that vital.
(Cut to every Knick fan mouthing the words "we've waited two decades, what's a few more years?" )
But all of that only comes into play if the payoff is worth it, and this is where we get into what makes Ball so special in the first place. There are plus traits, there are plus plus traits, and then there's the once-every-couple-of-years, "he just did what?" type of stuff that Ball can do with the basketball.
The above compilation is under two minutes long and worth watching if you're unfamiliar with Ball's vision and passing, if only for the no-look, behind-the-back dime 25 seconds in that might be the best pass any basketball player in the world threw last year.
It should go without saying, but this level of playmaking makes teams better. A lot better. If you don't believe me, remember that Elfrid Payton - he of the 14 made threes - improved the Knicks offense by seven points per 100 possessions when he was on the court.
Although Ball is more careless at this stage of his career than the prudent Payton, he's already a much better passer. More importantly, he's operates with the ball on a string, which is what separates him from the draft's other preternatural distributor, Tyrese Haliburton.
Haliburton is the guy who, on the surface, makes eminently more sense for the Knicks than Ball. His shooting numbers are outstanding and he's 90 to 95 percent the passer that LaMelo is.
Unfortunatley he's got nothing close to Ball's handle, and his high center of gravity makes it tough for him to break down a defense in the same way as LaMelo:
Then you factor in Haliburton's iffy off-the-bounce form and numbers (as Spencer Pearlman pointed out, TH was 16-for-57 on off-the-bounce jumpers, which ranked 327th out of 383 division 1 players with 50+ attempts as of mid-February). It equates to a wonderful secondary playmaker who will likely be incredibly helpful in a connector role, but simply doesn't possess Ball's ceiling.
Haliburton, like Ball, also became known for avoiding taking it to the rack, but to a far greater degree. In 22 games, he had 28 shots in the restricted area (h/t Spencer once again) compared to the aforementioned 53 in 12 games for Ball.
Tyrese also got to the line about half as much (2.0 FTA/gm) compared to LaMelo's 3.9 - a number that was trending up towards the end of his Australian run, with games of eight, seven, and six free throw attempts, respectively. We saw enough in his stint down under to feel good about how his game around the rim will translate.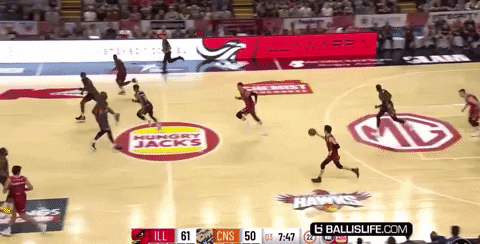 So is it worth it to give up real assets to get Ball?
With the caveat that there are far too many variables to give a definitive answer right now, yes, there's enough there to warrant going up to get him.
The reasons why, in the abstract:
The Knicks do not have anyone on their roster who they can definitively count on as their starting point guard of the future (please don't excommunicate me from Frank Island, dear citizens. I hope his shooting, handle, and willingness to attack the paint continue to improve and he becomes that player, but this is a hope, not a plan).

There is no such player on the free agent market this offseason, and only Jrue Holiday, who has a player option for the 2021-22 season and will be a 30-year-old seeking north of $30 million annually, is coming on the market a year from now. Fred VanVleet, as I discussed a few weeks ago, could be a wonderful pickup at the right price, but is not fit to be the primary ball-handler on a team without at least one other top flight offensive engine.

Bridging the gap with Chris Paul has been much discussed, and we know the benefits and the drawbacks. Regardless of where you fall, he is not a long-term solution. Ditto for Goran Dragic, who might be had on a one-year overpay after this season. But he would be a bridge to…

Cade Cunningham? He's the only point guard currently projected to go in the top ten next season, and tanking is a good idea regardless of whether they trade for Ball or not, but once again, banking on anything that has a 14 percent chance of happening does not constitute a plan.
This all leaves us with a simple fact: it would be wise for the Knicks to try and select their long-term answer at the point in this draft.
I discussed Haliburton above. Cole Anthony is a fine shot-maker and has shown real off-the-dribble chops. His decision-making should also improve, and the around the rim numbers on a UNC team that had worse spacing than the Knicks should be taken with several grains of salt.
That said, Anthony is not in the same universe of playmaker as Ball, he doesn't have the best handle, and his shotmaking would need to elevate to a much higher level to make up for these deficits. Drafting someone with the hope that he makes a marked improvement in one area to make up for a seemingly permanent deficit in another area is not a road I'd like to go down if given the choice.
Kira Lewis…I like. I really like him. Unlike Cole, who shows signs of really struggling as an off-ball defender, Lewis seems like a guy who just kinda gets in on that end of the court. He will put on weight. He's shown more as a passer than Anthony and his blazing speed makes up a bit for a handle that isn't great but looks like it can improve.
Honestly, if the Knicks left this draft with Lewis, I wouldn't be mad. But there's a reason why he was mocked in the 20's in a weak draft for as long as he was. There is nothing about him that screams "special player." Does it mean he can't be? Or that Cole can't? Or, for that, matter, Killian Hayes?
No, no and no. But there's a fair amount of projection involved with each of these players, whereas with Ball, we can see special characteristics on display right now. Championships are won with special traits.
(Regarding Hayes: there's so much to like. If the Knicks pick at 6 or 7 or 8, and he's there, they should probably take the money and run. I don't think he will be though. If they move up into the top four, they'll be close enough that Ball's ceiling makes it worth it to swing a trade and make LaVar a happy man.)
Is Ball without risk? Of course not. But again: his imperfections are the only reason a team might trade down. This is the rare chance for the Knicks to use some of their surplus of draft capitol to grab a guy who could be a difference-maker. That opportunity doesn't often present itself.
With all due respect to whoever ends up coaching this team, I fully expect the decision about whether to trade up for LaMelo Ball to be the defining one of Leon Rose's first year on the job, and possibly longer. Getting Walt Perrin - a guy who isn't shy about trading up for the right player - should help him make the right decision.
We'll see which way he leans.