The (Not So) Great Knox Debate
Kevin Knox has been tossed into more fake trades than I can count over the last several months. Would the Knicks be making a mistake if they dealt him now?
News & Notes
For the moment at least, it looks like we have an NBA Finals. The Heat came out as the more aggressive team for the first time in the series and upended the Lakers behind a 40-point triple double from Jimmy Butler.

I'm not sure if they still make VHS tapes, but if they do, RJ Barrett should find a way to record last night's game and carry it around with him everywhere he goes like a fake baby in Home Ec class. Butler's performance was not only masterful, but it was complete, 100 percent bully ball. No threes attempted, no fancy moves…he just earned it.

Now Barrett just needs to make himself into a workaholic sociopath and the most competitive player in the league, and we're in business. Maybe his new coach can give him some pointers.

According to The Athletic's Jason Jones, Buddy Hield is no longer returning the phone calls of head coach Luke Walton. More on this later this week, as I have a feeling the Knicks may kick the tires…
"Sources Say…"
I feel funny even putting this in here, because this is probably the case for every NBA team where the draft is concerned, but a league source told me over the weekend that the Bulls and Cavs have "no idea" who they're taking with the 4th and 5th picks on November 18.
Keep in mind that this is also the season of agents pulling shenanigans to try and avoid having their players end up on certain teams. I wonder if that has anything to do with things here.
Listen Up!
For today's show, we crossed over with Pod Strickland for a two-part episode on free agency. Check out Part 1 on their feed, available now, and then come back for Part 2 here.
Read This:
ICYMI from the end of last week, Prez and Tyrese London collaborated on a really thoughtful exploration of how the Knicks can solve their point guard dilemma, and make the case for Killian Hayes (not that he should need a case made for him if he's there at eight). Highly recommend you check it out.
Tweet of the Night:
#Legend
(h/t Kris Pursiainen)
---
The (Not So) Great Knox Debate
As the 2019-20 season draws mercifully to a close and we creep ever closer towards the official NBA offseason (as opposed to the unofficial purgatory the Knicks have been trapped in for the last seven months), the only certainty about New York's offseason plans seems to be that nothing is certain.
As in, there's no player or asset currently bearing the orange and blue that you'd bet your life would be a part of the franchise when next season kicks off. RJ and Mitch come the closest, but you and I both know they're only as safe as the time it takes for the next superstar to unexpectedly hit the market. Ditto for any of New York's own future picks, or for that matter, the eighth selection in this year's draft.
Other than that group of not-quite-untouchable-untouchables though, everyone and everything else seems pretty clearly on the table. I wouldn't describe it as a silent auction table, where it's only a matter of "when" and "to whom" as opposed to "if," but it's also not going to take a Godfather offer to pry this stuff away. Leon Rose may very well be able to refuse; he just may not want to.
And when it comes to players like Julius Randle or Dennis Smith Jr, most fans seem fine with that stance. The same goes, to a lesser extent, for next year's Dallas pick, assuming Brock Aller works his magic with the protections. Even Frank Ntilikina's most ardent supporters would admit that even his 95th percentile outcome as an NBA player isn't going to come anywhere near All-Star consideration.
(That isn't to say the team might not have seller's remorse if they deal Ntilikina. He's a jump shot away from being a rotation player on a good team, if not a starter on a very good one. That has real value. But it is also a known quantity. The variance on Frank as a 5th or 7th or 10th year pro isn't wide; he sort of is what he is.)
The same can't be said, it would seem, about Kevin Knox. Now two years removed from being selected ninth in what is shaping up to be a strong draft, to say Knox has underwhelmed is a bit of an understatement. As a result, he's been tossed into more imaginarily dalliances with other teams than Emma Stone in Easy A.
Hey Sam Presti, need to unload Chris Paul's salary? How 'bout some Knox!
I see Killian Hayes is falling farther in the draft than he should…Atlanta, could I give you some Knox?
Hey Leon, there's a team on the phone willing take Julius Randle, but they want a sweetener… Do you need some Knox?
For many fans, they'd pay the postage to get Knox out of town. For others, such a cavalier use of an asset that's potentially at its lowest value is exactly the sort of thing the Knicks have always done.
It's not like the latter group doesn't have an argument. Knox is ninth in his class in both minutes and points, 12th in points per game, and 13th in total rebounds. He is a less impressive 22nd in 3-point percentage (.337), but that's only one spot lower than Trae Young, two spots lower than Mikal Bridges, four spots lower than Shai Gilgeous-Alexander and five spots lower than Devonte Graham. It's also better than Anfernee Simons, Miles Bridges and one Luka "Wonderboy" Doncic.
That's where the mediocre news ends though. Advanced stats aren't the be all, end all, and team success certainly plays into the ghastly numbers you're about to see but, well…take a look at where Knox ranks against the 55 other players drafted in 2018 who have played in at least one NBA game:
Field Goal Percentage: 49 out of 56

Box Plus Minus: 49 out of 56

Win Shares per 48 minutes: 53 out of 56

Win Shares: 56 out of 56

Value Over Replacement Player: 56 out of 56
Again, it should be noted that these numbers (courtesy of Basketball Reference) don't spell certain doom.
For one, several players that have real value in the league today are near the bottom of some of these categories with him. Anfernee Simons and Collin Sexton, for example, are 54th and 55th in VORP, respectively. Simons is also 43rd in BPM, 47th in WS/48 and 42nd in Win Shares. Devonte Graham is 47th in FG%. Lonnie Walker is 46th in VORP and 41st in WS/48. I'd kill to have any of the above players in New York.
Second, Knox improved significantly from his first season, when he, as the youngest player in the NBA, was tossed into the deep end by a coach and a head of player development who we now know were in way over their heads.

That improvement came even with Knox taking a step back in his long distance shooting, thanks in part to fewer opportunities to get in a rhythm. There was also no one on the staff to help him fix a shot that developed more arch throughout the season than anything this side of St. Louis.
Perhaps most importantly, the Knicks spent a pretty penny on Knox's college coach over the summer. If there are any more stones to overturn in an effort to unlock what Kevin can do, one figures Kenny Payne can flip them.
So yes, there are reasons to be hopeful. What we have seen of Knox thus far is very likely not what we will see in two or four years. If he is a puzzle made of several intriguing skills and physical attributes, those pieces came closer together last year, but none have thus far found a partner, let alone coalesced to form a cogent picture.
But we are also now far enough into his playing career that we can be more certain of what that picture will look like if and when it is completed. After over 3000 minutes played and over 1000 field goals attempted, a few basic comparisons are warranted. For starters, here's the list of players over the past 15 seasons who have hit those benchmarks and failed to attain an effective field goal percentage of at least .450: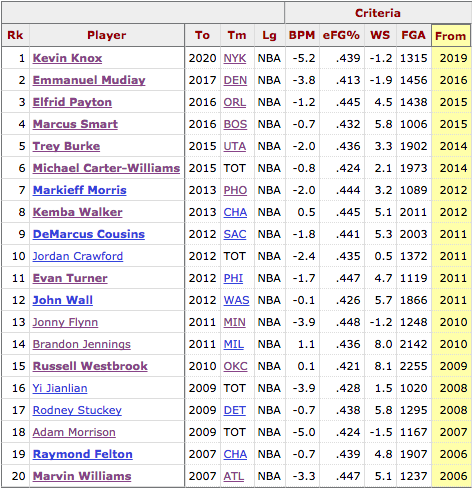 The list is fairly evenly populated with eventual All-Stars (Russ, Wall, Boogie, and Kemba), helpful players (Williams, Felton, Stuckey, Jennings, Morris, Smart), relative disappointments (Turner, Crawford, MCW, Burke, Elf, Mudiay) and notorious busts (Morrison, Yi, Flynn).
The thing that's notable (and not terribly surprising when you think about it) is that everyone on this list with the exception of Crawford was taken in the top half of the first round of the draft. Long leashes are usually only given after a substantial investment has been made. It doesn't mean that investment will pay off.
It's tempting to look at the All-Stars or even the helpful players as reasons why the Knicks shouldn't cut bait on Knox quite yet, but that's where the advanced stats come into play. Considering them in the context of these shooting numbers, it's notable that with the exception of Marvin Williams, each of the players in the All-Star/helpful category had a BPM no lower than -2.0.
Williams also makes up for his -3.3 BPM with the 7th most Win Shares on this list. Knox is dead last in BPM at -5.2, joining Morrison (-5.0) as the only players below -4.0. Knox and Morrison, along with Mudiay and Flynn, are also the only players with Win Shares in the red.
If we expand the parameters to all of NBA history, and look at guys who have played over 3000 minutes in the first two years of their careers and come out in the negative for Win Shares, we get an even more revealing list: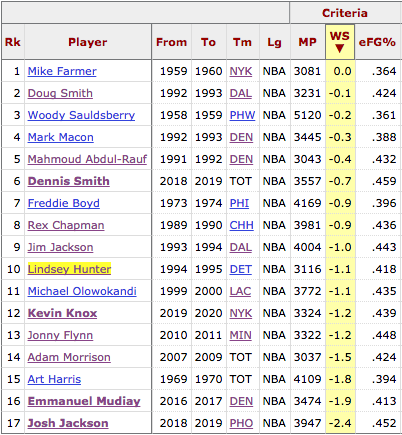 Again, perhaps unsurprisingly, there's more than a bit of crossover from the first group, except now we've added two more names who just barely crossed that initial eFG% barrier: Josh Jackson and Dennis Smith Jr. Neither inspires any additional confidence.
At the opposite end of the spectrum, it's good to see the presence of guys like Jim Jackson, Mahmoud Abdul-Rauf, Rex Chapman, and even Lindsay Hunter, all of whom had solid if unspectacular careers. Seeing Jackson is particularly encouraging, especially since he was another highly touted draft pick (4th overall after Shaq, Zo & Christian Laettner) who had an utterly disastrous first year in Dallas.
The difference, of course, is that Jackson was a rookie in 1991, when the league-average eFG% was .491. For Kevin Knox's rookie year, it was .524, and went up to .529 last season. Despite the massive jump, Jackson shot it better over his first two seasons than Knox did in the last two years. He also made a leap in all the advanced categories between year-one and year-two that dwarfed those of Knox, and set the stage for a third season during which he'd come to be considered one of the best young players in the league:

Abdul-Rauf, Chapman and Hunter - all of whom raised major red flags after their sophomore campaigns but made significant leaps as shooters between year-two and year-three - had progressions that offer more encouragement.
The difference between them and Knox is the same difference I wrote about a few months back - the one that separates Knox from nearly every other player that was given big minutes as a rookie and who didn't suffer some major injury before or during his second year: Knox absolutely had the rug pulled out from under him from a minutes standpoint last year.
That, really, is the major wild card in any proposed trade involving the Kentucky product. Looking at all of the above data, you can argue there's virtually zero chance that moving Knox will come back to bite Leon Rose in the ass. But you can also point out that what the front office and coaching staff did to Knox last year is essentially unprecedented throughout league history from a progression/developmental standpoint (to say nothing of the fact that the Knick had no actual player development program in place).
And yet, 3000 minutes is a lot of minutes, and the fact that Knox was so bad during that time has to be accounted for when deciding whether or not he should be what stands in the way of a trade for a player that will not only make the Knicks better, but the lives of the other young players on this team easier. This is where it has to be pointed out that through the entirety of NBA history, only two players have played as many minutes as Knox and been further below replacement level over their first two years:

The Candi Man at the bottom of this list - the one picked ahead of future Hall of Famers Dirk Nowitzki, Paul Pierce and Vince Carter - was the ultimate "give him time" guy, and that reputation (and status as a former top overall pick) helped him parlay five years as a middling big man into a second NBA contract. If Knox doesn't continue to improve, he'll have no such luck.
Does he have it in him? For as much as the numbers speak volumes, they're only part of the discussion. His play this past season, and specifically towards the end of it, will also help us see whether or not he showed any signs of escaping the pit of despair that all the statistics seem to indicate.
And we'll get into that end of things…tomorrow.
That's it for today…see everyone tomorrow for Part 2! #BlackLivesMatter #VOTE