The Trade Deadline of our Discontent
Or who knows...maybe they'll surprise us and be smart.
So I had on the Grizzles Mavericks game last night just as the Justise Winslow for Andre Iguodala trade was finalized.
(Btw, for any PredictionStrikers out there, if there were ever a buy low candidate to jump all over, it's Iguodala right now)
As I was watching, I noticed the following tweet:
Not mentioned here is that the Grizzlies used the cap space opened up in the Conley deal to bring in Iggy and take on a smaller salary dump from Phoenix, but the point remains nonetheless: it was a nice haul for a soon-to-be-32-year-old vet that didn't jive with where the organization was headed.
Would we care so much if the Grizzles weren't also lucky enough to snag Jaren Jackson Jr. and Ja Morant in back to back drafts? Almost certainly not. Window dressing in a hovel only does so much.
But it's also hard not to notice the methodical approach at work here. And now the Grizzlies of Memphis are as well set up as arguably any team in the NBA for the next decade.
The team they were playing last night, the Dallas Mavericks, would also be a part of that argument. They, too, got incredibly lucky, finding a team willing to trade them a generational star before he'd played his first NBA game and another that was willing to trade them the perfect compliment to said star before his 24th birthday.
Say what you want about KP, his contract, his knees, his inefficiency, his general shittiness, or the fact that the partnership with Luka has taken longer to gel than most expected, but the point remains here as well: Dallas seized on an opportunity too good to pass up, and there's not a member of the Mavs organization who wouldn't do this deal again every day of the week and twice on Sunday.
Which, of course, brings us to the team that traded him, sitting a little more than a year removed from that deal and a few hours away from this year's deadline.
Thinking of where the Knicks are, in the league they're in, I'm reminded of how the NBA is a lot like the game of Risk. It's impossible to have a foolproof plan in Risk because it ultimately comes down to the roll of a few dice. But there's more strategy involved in it than perhaps any board game. Inevitably, it comes down to knowing when to stay put and build up your strength or when to make your move. Dallas and Memphis have played the game wisely.
Last year at this time, the Knicks attempted to take over Asia with a few handfuls of army men because they thought they were playing with loaded dice. Just like we know luck factored into the Mavs and Grizz ending up with the centerpieces of their rebuilds, we'll never know for sure how much luck played a part in New York's plan going to hell.
But go to hell it did, in spectacular fashion. Their armies were left depleted, huddled together in Siberia, still licking their wounds. They're not wiped out, not by any means - they still have RJ Barrett, Mitchell Robinson, a bevy of picks (including one that is all but guaranteed to be in the top 10 this year), and more financial flexibility than just about any team in the league - but they are by no means operating from a position of strength.
Today, a year removed from that trade, they sit at a crossroads, miraculously in a position to decide their own fate, with what is perhaps a golden opportunity to get back on the road to respectability.
Or the opportunity to get wiped further off the map.
Here's the thing to remember: the Knicks are not ending today with their version of Luka Doncic or Ja Morant. That might seem obvious, but to the remains of a front office that may still be auditioning for its collective livelihood, it may need to be said explicitly.
The man who already got the axe, Steve Mills, talked often about not skipping steps.
With that in mind, there are three distinct paths to be taken:
Path 1: Mook to the Clips, Vets Disbursed
I would be positively shocked if by 2:55 today, the Los Angeles Clippers are not sitting with an offer of their own first round pick (currently 27th, and could end up anywhere from 24th to 29th) and one young player.
That young player is probably going to be Jerome Robinson (the young man they drafted in 2018 one pick after Miles Bridges, who was then flipped for Shai Gilgeous-Alexander) and not Landry Shamet, obtained from Philly in last year's Tobias Harris trade.
That's because Shamet is awesome, currently averaging 40 percent from deep on six attempts per game. He led the Clips in scoring last night, netting 10 straight points in the fourth, the last three of which came on this dagger:
If I was LA, I wouldn't give him up either, even if it did result on him going to my crosstown rivals and largest threat to a trip to the Finals.
Robinson has hardly played and is far less exciting, having struggled immensely from the field. He's also two weeks away from his 23rd birthday, making him older than most of the kids the Knicks already seem to be losing patience with.
This brings us to the first impossible question of today: should the Knicks pull off the move a sound organization would make in the same situation knowing that their failure to be a sound origination will make said move less likely to work?
I have no idea if Jerome Robinson is any good, but I do know that Jerry West thought enough of him to take him one spot ahead of Michael Porter Jr. That has to mean something.
But this is a kid that clearly needs work if and when he is ever going to become an NBA player. The same goes for whomever the Knicks would take with the Clippers draft pick, and for whatever other draft assets or middling young players they get back today in any fringe deals for vets that they can pull off.
Guys like Bobby Portis, Elfrid Payton, and yes, Julius Randle are not going to net some major bounty. Do the Kings want Bobby Portis and Reggie Bullock for Kent Bazemore, Harry Giles and one of their four second round picks? I have no idea, but I might call and ask. What about seeing if the Sixers are interested in sending us back our own second rounder this year (along with the immortal Kyle O'Quinn) in something centered around Bullock?
These are the types of moves the Knicks could make that would vaguely resemble the things that wise organizations do on the regular - buy low, develop, and reap the rewards. Hell, they could even get really frisky and try for something a little bigger…
Of course, when the Knicks have tried these sorts of things in the past - see: Mudiay, Emmanuel - it hasn't worked out so well, perhaps partly because they haven't had the in house mechanisms in place to help these seeds bear fruit.
How does that influence the task at hand today? Do they - or we - trust that the next President will help improve things internally enough to make such trades worth doing? Or, better question: is Scott Perry even thinking along those lines? That leads us to…
Path 2: Mook to Lakers, Vets Mostly Held
This is the middle ground, and I'll admit: it could be worse.
It sounds like the Lakers would be open to moving Kyle Kuzma more or less straight up for Marcus Morris. This would have to include more players going out from LA, but it could be done without touching Danny Green or KCP - two Laker rotation pieces who I have to imagine they'd like to keep: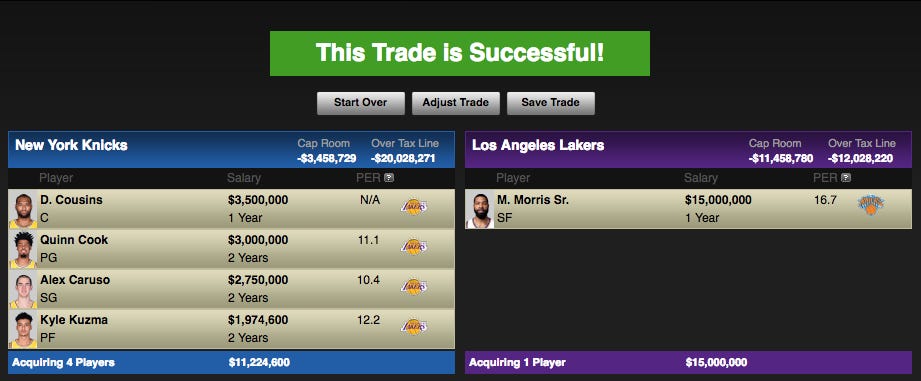 Assuming Shamut is indeed off the table, for many Knick fans, this would represent the easy choice.
And I get it. Kuzma, regardless of what you think about what he can't do (or simply won't do) is an honest-to-goodness talented NBA player. The fact that he hasn't meshed well with LeBron James is nothing to be ashamed of; better men than him have tried and failed.
He is nowhere near the star some have made him out to be, but he is a guy that has averaged 19 points, six boards and two dimes per 36 minutes over his short career with an effective field goal percentage of .518, higher than most current Knicks.
(For comparison's sake, Marcus Morris is at .533. Damyean Dotson, meanwhile, is at .526. In other news, please extend Damyean Dotson instead of trading him. #FreeDot forever)
This would seem like a no brainer move, but here's the thing: Kuzma is already extension eligible this summer. He's also repped by CAA's Austin Brown, who, wouldn't you know it…
That means if the Knicks trade for Slim Shady, he's getting paid, he's getting paid a lot, and he's probably getting paid sooner rather than later. Excuse me for a moment while I wash my mouth out with soap and water…
(musical interlude)
(For those wondering, that's Scott Perry and Allan Houston tied up at the end of the video, being forced to pay Kuzma's contract extension this summer. Either that, or Knick fans being forced to watch him not drive the lane or pass to anyone ever. Take your pick.)
All kidding aside, the Knicks are nowhere close to contention. Banking on Minnesota making KAT available and him outright demanding a trade to New York (and that's what it would take, because if you think another team won't come up with a better offer than what we have to give for a guy under contract until 2024, you're kidding yourself) is not a plan to contend; it's trying to take over Asia with the walking wounded you have left from the last bloodbath.
And yet, it would still be preferable to…
Path 3: Trade for D-Lo
In this scenario, Marcus Morris almost certainly still gets moved, but maybe it's a three-team deal to help grease the skids and help get D'Angelo Russell - also an Austin Brown/CAA client - who certainly sounded open to the idea of coming back to New York last night:
We know from various reports that the teams are still in contact even after Mills was fired. If I had to guess - and this is just a guess - I'd say that here's where the teams are at:
New York's Offer:
Kevin Knox, Frank Ntilikina, crappy salary filler, the Knicks top-ten protected 2020 first that would convert to the two Hornets seconds if not conveyed this year, and both Dallas picks
Golden State's Demand:
Mitchell Robinson, Kevin Knox, Frank Ntilikina, Marcus Morris (going to a third team, with said third team sending a young player and/or pick(s) back to Golden State), a pick swap this year, New York's unprotected 2021 first, and both Dallas picks
There is obviously a chasm between these two scenarios.
I wrote extensively about my reservations regarding trading for Russell yesterday and won't rehash them now. He was a minus-48 in 33 minutes last night. If you think he is the sort of player who can come to a shitty team and automatically make them something other than shitty, think again.
Do I think a deal will get done? No, because Golden State will have more information regarding how the lottery will shake out come draft time, and more teams should be in a position to get in on the bidding then.
(By the way, what does it tell you that Minnesota - a team closer to relevance than New York and one desperate to appease their franchise star / Russell's best friend - has bowed out of talks with Golden State because the asking price was too high? They're run by Gersson Rosas, a universally regarded NBA smarty pants who was with the Rockets when they swung for James Harden and knows a thing or two about team-building. Just FYI.)
But if the Warriors dropped their asking price just a bit? Let's say, no Mitch, and the 2021 pick with light protections that would roll over to being even more lightly protected in 2022 and then unprotected in 2023? Would New York bite?
That is my biggest fear today, because I'd be convinced at that point that Scott Perry would arrive at the podium to introduce Russell, only to pull off his mask and reveal the true identity he's been hiding all along: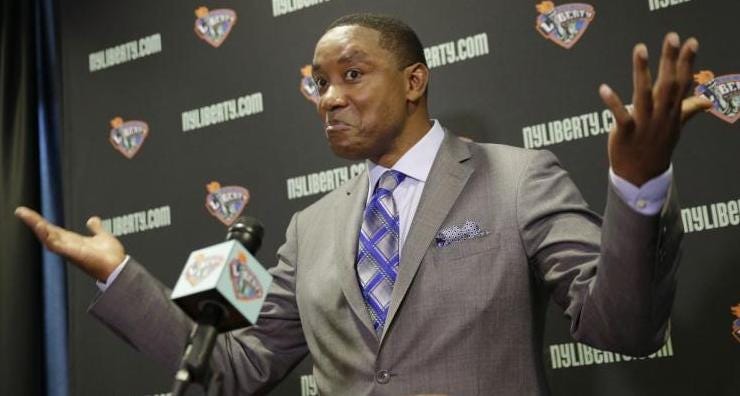 This, friends, is doomsday.
My bet? The Knicks end the day without Marcus Morris, with Kyle Kuzma, and likely most of the rest of the roster still intact.
Which, when you consider the alternatives, I guess isn't the worst thing.
Or maybe, just maybe, the front office surprises us, and does what they've been promising all along: be patient, not skip steps, learn from their own mistakes, emulate smart teams, stock the coffers, and bide their time until the right opportunity comes up.
Even if they won't be the ones to take advantage of it.
---
Player Spotlight(s)
In addition to Andre Iguodala, here are a few other quick hitters for all my PredictionStrike friends (use code KFS if you want to get in now) - guys I think could get an upshot in value based on today's events (I mentioned DSJ with this same thinking yesterday)…
That's it - see everyone tomorrow!