The True Value of the Dallas Pick
Next year's unprotected Mavs 1st-rounder has gotten me in a lot of hot water with certain fans. Today, I dive deep on what it's actually worth.
News & Notes
Tampering is apparently alive and well, with Keith Smith (among others) noting that he's heard some free agents have already reached contract agreements for next season.

Speaking of next season, according to the Lakers' Danny Green, certain players might not be there for the start of it, including his teammate LeBron James, who he theorizes could sit out the first month.

Kenny Atkinson is reportedly going to be an assistant with the Clippers under Ty Lue.
Listen Up!
Adam Taylor and I have found a new home!
After a glorious few months of general NBA podcasting on Hoops Spy, we've been picked up as the new podcast hosts for TalkBasket.net. For our first episode, we interviewed longtime NBA journalist and needler of Knick fans, Howard Beck. We talked about the impending restart, how players and teams will approach things, the fascinating Pelicans, Chris Paul's market, and yes, the Knicks.
Find us anywhere you get your podcasts by searching for "The Pick N Pod" or just click here.
Read This
Ian Begley spoke to recent KFS Podcast guest Charlton "C.Y." Young, FSU's assistant coach and head recruiter, about Devin Vassell. Among the topics discussed: Vassell's shooting form (he hasn't changed it), spectacular work ethic, and of course, that high speed Wi-Fi he gushed about on my pod.
---
The True Value of the Dallas Pick
It's not often that I feel the ire of the Knicks fan base. I am, after all, ever the optimist, willing to buy into David Fizdale's axe, Steve Mills' grand plans, and most recently, the subtle witchcraft of Worldwide Wes.
So it's been a bit jarring to come under such fire over the last several months whenever I bring up the Dallas Mavericks 2021 first round pick. With months of newsletters to fill and no Knicks basketball to be had, I've written more than a few trade pieces. Often times, I find myself sending out the Mavs pick like yesterday's bagels - still edible, but really just not what you want.
To be clear: they can and should treat this pick like a significant asset, simply because they have no reason not to. I don't need to explain why, because I get these reasons tossed at me on a weekly basis: the West is loaded, KP just had surgery, and even if you have an MVP candidate on your team, the flattened lottery odds make it so that you're one freak injury away from a top-four pick.
I'm not being hyperbolic. We've seen this happen not once, but twice in the last 20 months:
The 2018-19 Lakers entered the season with the fourth best title odds and the pre-season favorite for MVP. Los Angeles was just hitting their stride, having demolished the defending champion Warriors on Christmas day to get to 20-14, when LeBron James went down with a bum groin - the first major injury of his illustrious career. The Lakers couldn't withstand the loss, and whatever mojo they had was gone by the time James returned. They jumped from 11th to 4th in the lottery, and the rest is history.

Similarly, the 2019-20 Warriors had the 6th best title odds, lost Steph Curry to a broken finger in the fourth game of the season, and went on to win 15 games (19 pro-rated for a full slate). They ended up dropping a spot in the lottery but still nabbed the second pick.
For anyone making the "anything can happen" argument about next year's Mavs, these are your exhibits 1A and 1B.
But there is a difference between valuing an asset and overvaluing one to the point of missing out on potential opportunities. That's where the sum total of history says that the Knicks should be looking for any and all opportunities to upgrade this pick to an asset that has a far better chance of landing at the top of the draft.
There are two arms of this argument: the Mavs themselves, and Luka individually, which is where we'll start.
It's early, but as of this moment, Luka Doncic will enter the 2020-21 season as the MVP favorite. This isn't Vegas overdoing it by any means, as he just finished 4th in this year's race at the ripe age of 21.
Having the MVP front-runner entering a season doesn't guarantee you anything, but it does tilt the odds strongly in your favor. Courtesy of SportsOddsHistory.com: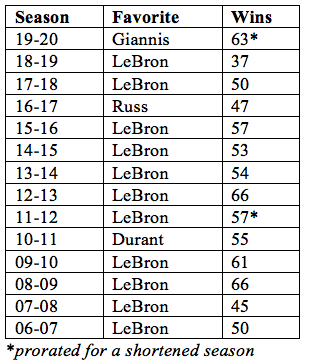 That's an average of 54.35 wins per year, with only one favorite - the aforementioned 2018-19 LeBron James - failing to make the playoffs.
The obvious response to this is "well, duh…the second greatest player ever was the favorite to win 11 of the last 14 years." That's true, and Luka Doncic is no LeBron James.
Yet. Doncic may only be entering his third year, but his performance last season is literally unprecedented in the history of the sport. No other player in NBA history has finished in the top-five in an MVP race during their age-20 season (James himself only finished 6th at the same age). Wes Unseld won it as a rookie and Kareem finished third in his first year, but they were both 22 at the time - the same age as Derrick Rose when he took home the trophy. We are officially in unchartered territory.
NBA history also tells us that generational prospects who enter the league young make a leap in their third year. LeBron went from 35 to 42 to 50 wins. Durant hopped from 20 to 23 to 50. Shaq started at 41, then went to 50, and then 57. Luka's Mavs won 33 when he was a rookie and were on a 47-win pace last year. Do the math.
In anticipation of said jump, I've seen the Dallas Mavericks installed as either a +2500, +2700 or +2800 bet to win the whole damn thing next season (and yes, those numbers came out after the KP surgery news. We're getting there).
That number is notable, as over the last decade, NBA teams that entered the year with title odds of +3000 (30-to-1) or better have ended up fairing pretty well. Courtesy of Basketball Reference: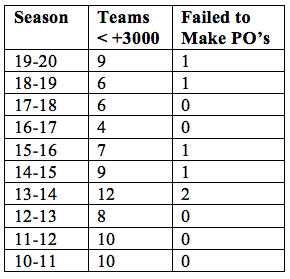 That's 81 teams that entered the last 10 seasons with +3000 odds or better, and a total of six who failed to make the postseason. Who were they? In reverse order:
The aforementioned 15-win 2019-20 Warriors, who were without two-time MVP Steph Curry for 60 of their 65 games.

The aforementioned 37-win 2018-19 Lakers, who were without four-time MVP LeBron James for 27 of their 82 games.

The 2015-16 Bulls, who finished with a 42-40 record despite losing Joakim Noah (pre-corpse edition) for 53 games. They ended up with the 14th pick in the draft.

The 2014-15 Thunder, who finished with 45 wins despite losing former MVP Kevin Durant for 55 games. They also ended up with the 14th pick.

The 2013-14 Lakers, who somehow entered the season +2500 to win it all despite an over/under of just 36.5 wins. They won 27 games.

Last and certainly least, your 2013-14 New York Knicks, who won 37 games despite entering with +2200 title odds and an even 50.0 over/under total.
That's six teams, three with former MVP's missing substantial time, another team that still finished above .500, another that had out-of-whack title odds to begin with…and the 2013-14 Knicks.
So really, when you're betting on the possibility of the 2020-21 Dallas Mavericks pick having real, franchise-changing value, you're betting on the possibility of Luka Doncic getting hurt. It's that simple.
Three other subtle things that make a jump to the top of the lottery that much more unlikely for Dallas:
The probability of a play-in game. The NBA loved it last year and my guess is that it'll be re-instituted in a 7 vs 10 and 8 vs 9 format. Even on the slim chance the Mavs fall to 9th or 10th, they'll have the best player, and thus be favored to win.

Dallas has no incentive to lose. Part of why the Lakers (and to a lesser extent, the Warriors) ultimately shut their MVP down is because they owned their own pick. The Mavs don't.

With the quicker restart, the older you are, the longer it's going to take you to ramp up. Luka is a kid, and their oldest rotation player - Seth Curry - just turned 30.
There are a few counterpoints. For one, the league is set to play a division-heavy and possibly a conference-heavy schedule. The Mavs are in the Southwest, along with the Rockets, Spurs, Pelicans and Grizzlies, and obviously play in the brutal West. There are no walkovers in their division, and unless OKC trades Chris Paul, none in the conference either (although the latter holds true for the rest of the West as well).
There is also the 7'3" elephant in the room. Kristaps Porzingis had surgery to repair his torn meniscus less than three weeks ago. We don't know the specifics of the surgery, so the recovery timeline is a question mark. It's not out of the question he could miss a solid portion of the season.
This absolutely matters in the sense that Dallas probably isn't going to make a run to the top of the Western Conference standings. But as I've cited in the past, the Mavs outscored teams by 5.7 points per 100 possessions when Luka played without KP last season, including an offensive rating (118.9) that would rank as the greatest of all time. That net rating would have ranked 5th in the NBA last season, and was better than the Mavs' overall number of 4.8.
Dallas is also set to get Dwight Powell back, who they lost to an Achilles injury in January. Care to take a guess as to Luka's most efficient partner last season by net rating? That would be Mr. Powell. In 743 minutes together, Luka and Dwight outscored opponents by 10.4 points per 100 possessions.
I think the horse is dead. Why do I beat it ever so mercilessly? To piss off Shwin, for one. Generally speaking though, I see fans valuing this pick as if there's a 50/50 chance it ends up in the lottery, and that simply couldn't be further from the truth. If you take everything into account - the history of MVP frontrunners, the progression of young generational talents, the success of teams with Dallas' championship odds, etc. - I'd conservatively say that there's closer to a 90 percent chance the Mavs make the playoffs.
If I was projecting things today, I'd guess they end up winning their division by a hair over Houston, finish fifth in the conference after the LA teams, Golden State and Denver, and end up with the 9th or 10th best record in basketball. 13th or 14th best wouldn't shock me, but neither would 3rd or 4th. I think you're looking at somewhere between the 20th and 22nd pick, and I'd sign on the dotted line today if I could guarantee they ended up with the same selection (18th) as they have this year.
Point is, if there's an opportunity to upgrade this pick in a trade, the Knicks should be chomping at the bit to do so, especially since Brock Aller can top-four protect it in any deal, just in case we get a repeat of LeBron's 2018-19 Lakers season.
What are the types of assets I'd target? Keeping in mind that the Knicks want to increase their base of tradable goodies (read: good picks and rookie-contract players), the following should be no surprise, especially if you've been reading this newsletter lately:
Pick swaps next year with any non-playoff teams except for the Wolves (who don't own their pick) and the Warriors (who will be good), plus the Magic. For the better teams among that group - Orlando, Phoenix, San Antonio, and maybe New Orleans - I'd try to negotiate a deferment option where I could defer the swap to 2022 or 2023, with the 2023 Mavs pick going back in exchange. To me, even a five pick jump from 20 to 15 next year could have immense value given what we anticipate about that class.

A package with the 27th or 38th pick to move up significantly in this draft, but only for the right player. I'm thinking Tyrese Maxey, Kira Lewis, or maybe one more guy, who I'm going to be spotlighting later this week.

Package with the 8th pick to move up to get LaMelo Ball.

Some sort of package that returns a promising young player. I have a tough time imagining such a trade though, as this would seem to be a deal that a really bad team would make - like, Process Sixers-level bad - where they're kicking the can down the road.

I could see the Thunder doing it if they didn't already have so many picks. Detroit, maybe? They're not giving up Sekou, but Luke Kennard has already been rumored to be on the table. The issue there is that Kennard is already extension eligible and his cap hold next season will be nearly $16 million as a restricted free agent, so this seems like a stretch as well.
That's it. Hopefully this puts things in perspective, if nothing else. Now can we please get to draft night already? I don't know how many more fake trade columns I have left in me before I start babbling incoherently and proposing the sorts of five-team, 19-player deals that get tossed my way via Twitter on a daily basis.
See everyone tomorrow.
And thanks again for reading! #BlackLivesMatter #VOTE